Blue Cheese Mesquite Turkey Burger with Caramelized Onions
Summertime means grilling and burgers! And lately I have been craving a really good burger – in this case, a Blue Cheese Burger with Caramelized Onions. I love taking a traditional summer food and getting creative with different flavors and toppings.
For this Blue Cheese Mesquite Burger with Caramelized Onions I decided to go with ground turkey. Besides experimenting with different flavors and toppings for burgers, I like to use different meats – like this ground turkey.
Between the moist turkey meat, blue cheese crumbles, and mesquite barbecue sauce, this burger is packed with a powerful punch of flavor and is perfect for any barbecue.
I really love Cracked Wheat Kaiser Rolls from Cobblestone Bread Co. and use them all the time for burgers, like in this recipe for my Blue Cheese Mesquite Turkey Burger with Caramelized Onions.
Next time you have a craving for a grilled burger, give this recipe a try. You won't be disappointed. For more recipes using Cobblestone Bread Co. products, check out their recipes here.
Whether you're hosting a party for family or bringing your sandwiches to a friend's house to watch the games, Cobblestone Bread Co. is perfect for entertaining for the 2015 NCAA Tournament.
More Burger Recipes on GoodLife Eats
What are your favorite sandwiches? Please share your favorite recipes with using the #ShareaSandwich hashtag!
Blue Cheese Mesquite Turkey Burger with Caramelized Onions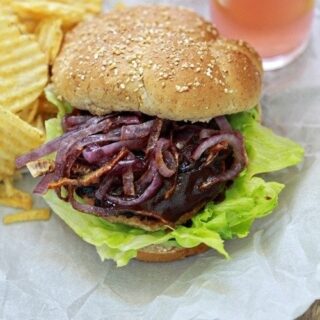 Ingredients:
For the Burgers
1 lb. ground turkey
1 ounces blue cheese, crumbles
2 cloves garlic, minced
1/2 teaspoon salt
1/2 teaspoon black pepper
1 Tablespoon Worcester shire Sauce
1 Tablespoon Mesquite BBQ Sauce
For the Onions
1 red onion, halved and sliced thin
1 tablespoon olive oil
Other Ingredients:
Mesquite BBQ Sauce
Lettuce Leaves
Cracked Wheat Kaiser Rolls
Directions:
Combine ground turkey, blue cheese, garlic, salt, black pepper, Worcestershire Sauce, and BBQ sauce. Mix well. Form into four patties. Grill or cook stove top in a pan until cooked through.
Meanwhile, heat the olive oil over medium high heat. Add the onions and cook until soft and caramelized, stirring periodically.
To assemble: place the lettuce, then burger, then onions, and top with more sauce (if desired) on the bun. Add the top bun.
This is a sponsored conversation written by me on behalf of Cobblestone Bread Company via Burst Media. The opinions and text are all mine.