Fajita Burger with Peppers and Guacamole
A couple weeks ago Eric was out of town. On the last day I told the kids that I'd take them to a certain fast food place for an ice cream. Being that it was the end of the week and I didn't feel like cooking for myself I decided that I'd let them eat dinner there too if they wanted. Not something I usually do, but they'd had a great week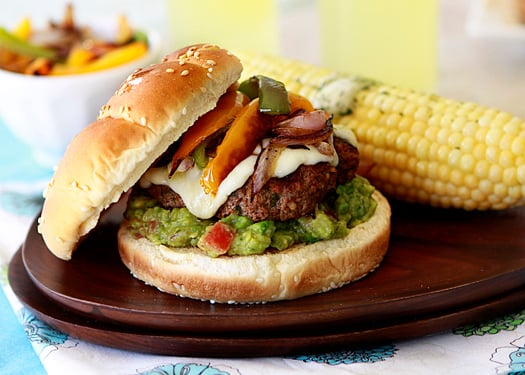 In a moment of weakness I was enticed by the Fajita Burger poster. In my delirium I must have forgotten what everyone knows: That these fast food posters always look so much better than what you're actually served.
I couldn't even make it half way through the so-called "Fajita Burger," which actually tasted like really spicy cardboard sprinkled with a few bell peppers. I knew it was time to recreate this promising meal at home.
My version of the fast-food chain's Fajita Burger is loaded with flavor. Juicy, high quality beef seasoned with a Tex-Mex flair, fresh roasted salsa verde guacamole, and the traditional fajita-style bell pepper and onion mixture makes this burger taste just like a fajita.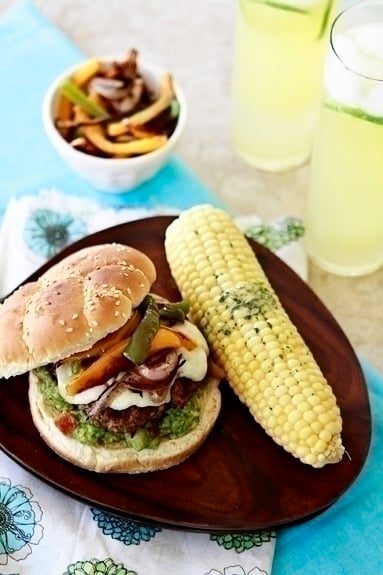 Next time you have a craving for a grilled burger, give this recipe a try. You won't be disappointed. Serve it with a side of corn, grilled or boiled, and smeared with Cilantro-Lime Butter and a glass of fresh limeade to round out the meal.
More Burger Recipes
Craving a burger? Check out these recipes:
Fajita Burger with Peppers, Onions and Guacamole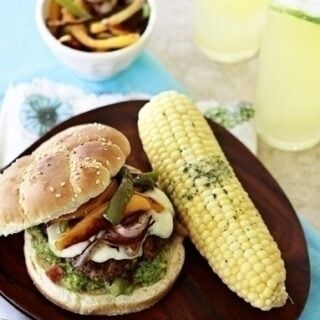 Ingredients:
1 pound lean ground beef
1/4 cup salsa
1 teaspoon Worcestershire sauce
1/2 teaspoon cumin
1 teaspoon chili powder
3/4 teaspoon salt
1/4 teaspoon pepper
2 tablespoons finely minced cilantro
4 slices Pepper Jack Cheese
1 medium onion thinly sliced, yellow or purple
1/2 green bell pepper, sliced into strips
1 red or orange bell pepper, sliced into strips
Guacamole, such as Roasted Tomatillo Guacamole
Hamburger Buns
Directions:
In a medium bowl, combine the ground beef with salsa, Worcestershire, cumin, chili powder, salt, pepper and cilantro. Using your hands, mix until the ingredients are well incorporated.
Divide mixture into 4 equal portions (using a kitchen scale helps). Form patties into rounds about 1/4 inch thick. Set aside. (This can also be done ahead and burgers can be refrigerated uncooked for a few hours, just bring to room temperature for 15-20 minutes before cooking.)
Meanwhile, prepare the onions and peppers by heating a medium saute or cast iron pan over medium-high heat. Add 1/2 - 1 tablespoon canola oil. Add the peppers and onions and let cook until they begin to brown, then stir every minute or so. Cook for total 5-7 minutes, or until desired tenderness is reached.
Prepare the grill or grill pan by heating to high heat. Cook the burgers for 2-3 minutes per side, or until desired doneness is reached. Melt sliced pepper jack cheese on top of each burger.
Serve burgers on toasted buns with guacamole and the cooked pepper and onion mixture.
This post was written on behalf of Sargento, all opinions are my own.