I recently had another opportunity to travel to San Diego. After my second trip this year, I dreaming about moving to there some day. What a gorgeous, fun city. There is always so much to see and do…and of course EAT! Here are a few of my favorite sweet treat stops from my most recent visit.
Eclipse Chocolat
San Diego Location: 2121 El Cajon Blvd., San Diego, CA
What I Tried: 3 Way Tasting Menu for Chocolate, Vanilla Bean, and Burnt Caramel, an assortment of truffles, Chocolate Covered Salted Caramels, and Drinking Chocolate with Homemade Marshmallows
My Favorites: Frozen Peanut Butter Mousse (from the tasting menu), Lavender Sea Salt Caramel Truffles, and Crème Fraîche Chocolate Covered Salted Caramels (my mouth just waters thinking about those caramels)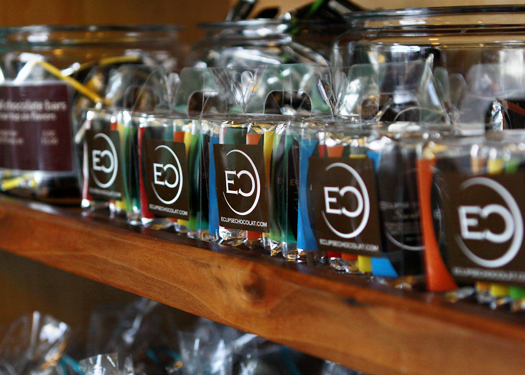 Dessert before dinner? Yep! We enjoyed the Three Way Tasting Menu at Eclipse Chocolat before our dinner one evening. "Three Way" refers to the newest addition to Eclipse Chocolat's small plate concept.
We were served one small savory item, one small sweet item, and one small class of wine/beer. Each plate was themed on a flavor: chocolate, vanilla bean, or burnt caramel.
We sampled all three of their three way menus. I couldn't get enough of the Frozen Peanut Butter Mousse (from the chocolate tasting menu) since I don't typically get to enjoy peanut butter at home due to Logan's allergy.
I also particularly enjoyed the Cocoa-glazed Bacon-wrapped Dates. Going to have to try replicating those at home someday since Eclipse Chocolat is so far away from home.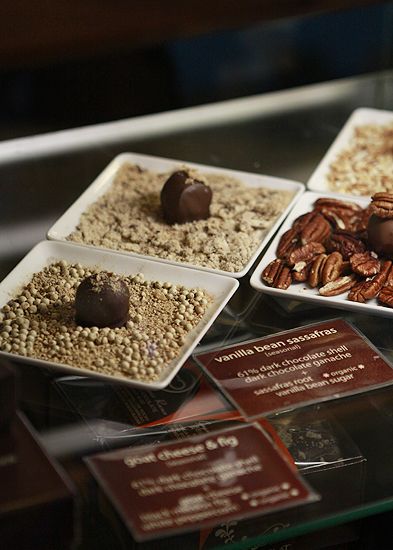 Congratulations to Eclipse on recently celebrating 4 years of mouthwatering chocolate! Eclipse Chocolat is committed to more than just chocolate. Check out the business pledge they proudly display on the wall of their shop.
Eclipse Chocolat Pledge
To provide the highest quality chocolates made from all natural and, when possible, organic ingredients. We never use additives or preservatives.
To sponsor local and regional non-profit organizations by donating 10% of our net profits.
To maintain "green" operations, using post-consumer paper products and reducing our eco-footprint.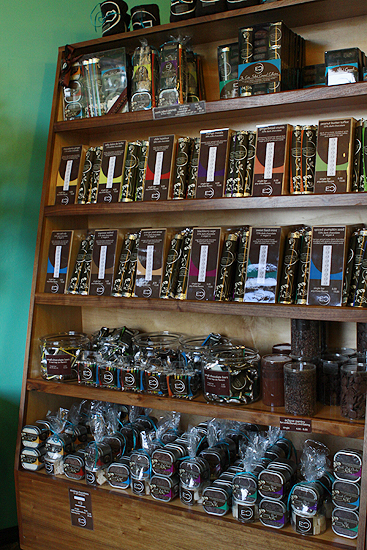 Besides their tasting menus, Eclipse offers an assortment of sweets: exotic truffles, caramels, drinking chocolates, and more. Need a chocolate fix away from San Diego? Check out Eclipse's online shop.
Extraordinary Desserts
San Diego Locations: Balboa Park and Little Italy Downtown Area
What I Tried: Pumpkin Scone (which is available seasonally for about 30-60 days) and a raspberry pastry (eek forgot the name!)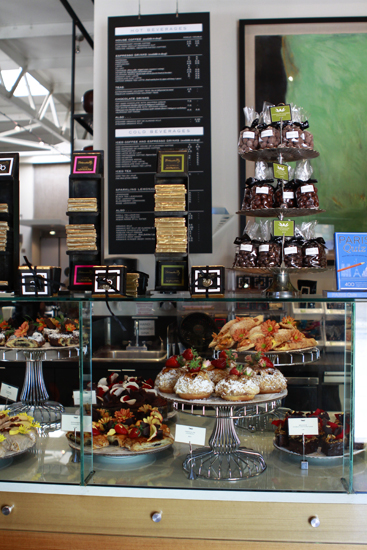 Extraordinary Desserts owner Karen Krasne, a San Diego native, graduated from the University of Hawaii in Nutritional Studies and later went on to receive a Certificat de Patisserie from Le Cordon Bleu in Paris.
Karen travels to France regularly to stay updated on the latest pastry trends, however she translates those trends to a California flair. Over the years she has found that US residents want value and size, not tiny portions often found in France.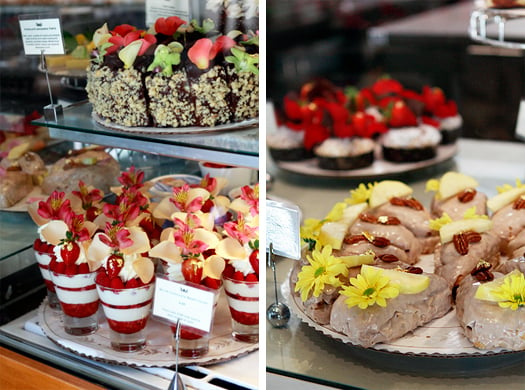 30 regular cakes and 100 case items rotate throughout the store with daily changes in the menu. Some items, like the incredible Pumpkin Scone I enjoyed are only available seasonally.
You could spend all day just trying to decide what to taste, but why bother? Order a few items to indulge in for breakfast – the least busy time of day.
Extraordinary Dessert originally opened in 1988, but now offers two locations: Balboa Park neighborhood (the original location) and Little Italy near Downtown San Diego, which opened in 2004. The newer location offers panini, salads, and artisan cheese selections in addition to their popular desserts.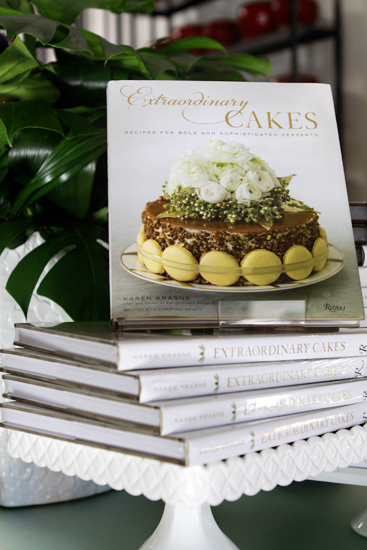 Learn from Extraordinary Desserts' Karen Krasne how to make extraordinary cakes that are as delicious to eat as they are beautiful in Karen's Cookbook: Extraordinary Cakes: Recipes for Bold and Sophisticated Desserts.
Viva Pops Popsicle Shop
San Diego Location: Normal Heights and Saturdays at the Little Italy Mercato
Flavors I Tried: Salted Caramel, Strawberry Basil, and Apple Pie Goat Cheese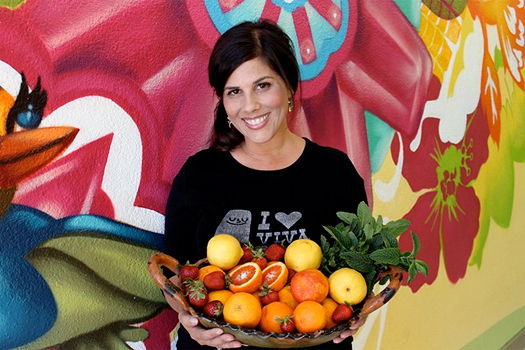 Viva Pops owner Lisa Altmann debuted her organic, seasonal gourmet popsicles at the Little Italy Mercato during the summer of 2008, but you can stop by her adorable shop in Normal Heights any time which is exactly what we did on a warm afternoon following a tour of Suzie's Farm.
I love that Lisa's popsicle flavors are constantly changing with the flavors of each season so locals and frequent visitors alike will always have new flavors to taste. Unfortunately, I was too busy eating popsicles to remember that I had a camera hanging around my neck. You'll just have to take my word for it – these were some amazing treats.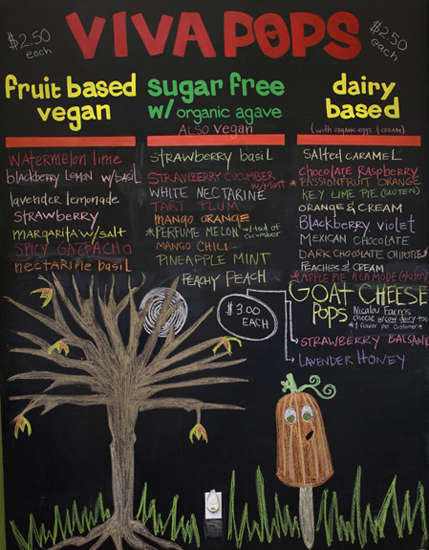 Summer is marked with the appearance of berries, watermelon and blood orange flavors on the menu. For us we had the best of both worlds – the tail end of summer and the beginning of fall (the Apple Pie Goat Cheese was incredible!).
Viva Pops proves that popsicles are not just for kids! I could have sampled popsicles all afternoon if I had the time. I can't wait to head back to San Diego with the kids in tow – we'll definitely be stopping for a popsicle fix at Lisa's shop!
Be sure to stop by the shop to see what's currently on the menu.
Big thanks to the wonderful people at the San Diego Convention and Visitors Bureau a truly delicious trip. As always, while my trip expenses were paid for, all opinions are my own.