Here is part 2 of my San Diego recap. Read on for a great Shutterfly coupon code and giveaway, details of our trip, family fun activities, great places to stay and yummy restaurants.
Read about Part 1 of our San Diego Trip at Family Fun in San Diego, California: Part 1.
Day 3: Sea World San Diego

I haven't been to Sea World since I was a child. I knew our animal lover (Madeline) would be mesmerized by all the amazing sea life, so Sea World San Diego was a must visit for us.
First up – the all-new Shamu "One Ocean" Show. The show features spectacular whale behaviors, including thrilling high-energy leaps and multiple whales performing simultaneously. At times I had to force myself to put down the camera and simply enjoy the show. It was so beautiful!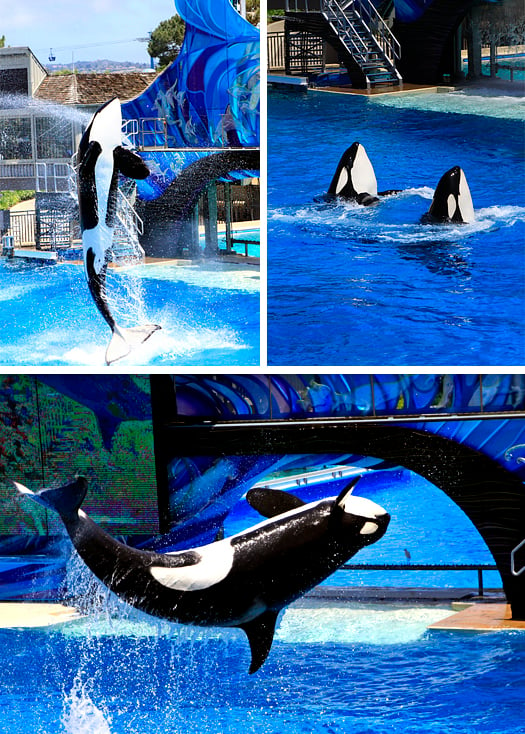 images from the beautiful "One Ocean" show, photos by me.

Shamu Stadium in San Diego featured special effects throughout the show experience, including brilliantly colored lights; soaring fountains; underwater imagery; and an original, contemporary musical score with global rhythms.
"One Ocean" carried a powerful educational message: we are all part of one world and have the power to make a difference. Aside from the powerful educational message that "One Ocean" carried, the show was incredibly entertaining. I was so fascinated by the whales.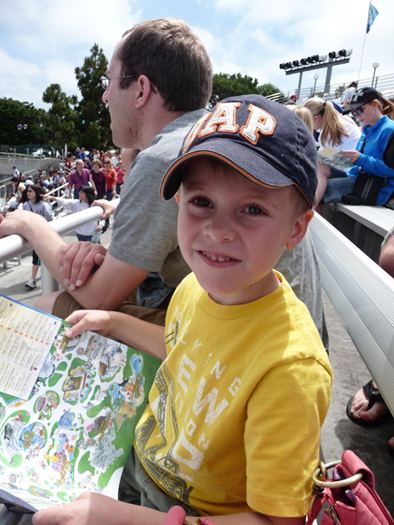 We also enjoyed a few rides, the Sea Lions LIVE, Shark Encounter, Penguins, and more. Shamu was my favorite though. I was really excited about the new Turtle Reef exhibit, but unfortunately it wasn't quite open when we were there.
Family Sleeps in San Diego
The kids were pretty tired after the day at Sea World. It was the one day that was incredibly sunny and I think it made us all just a little bit tired and cranky, so we left Sea World a bit earlier than I would have liked to head back to the hotel for some rest.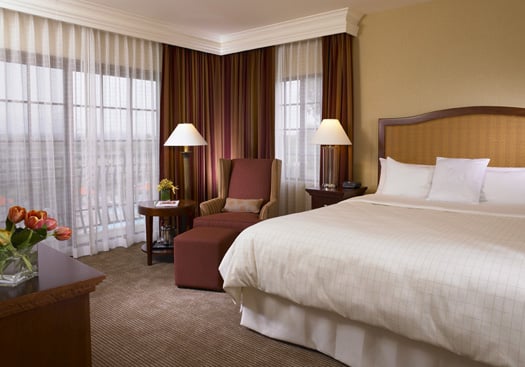 The next two nights we stayed at the Sheraton Carlsbad Resort & Spa. The Sheraton Carlsbad is situated between Los Angeles and San Diego, in the charming coastal community of Carlsbad.
If shopping is your weakness and you enjoy bargain hunting, Carlsbad Premium Outlets are just a minute away.
If you plan on attending LEGOLAND, California (like we did), this is the place to stay! You can walk to the park within minutes, or take a free shuttle ride. The room was equipped with a mini fridge, so we stored some snacks and lunch items for the following day.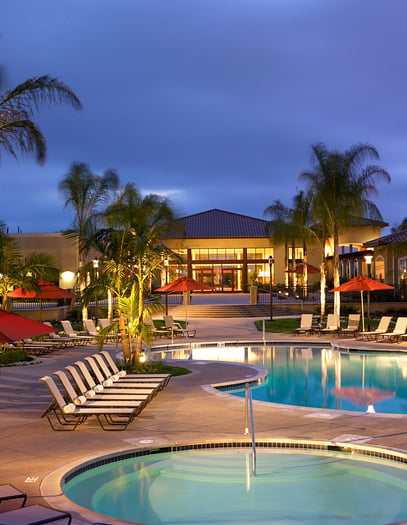 The Sheraton's room and beds were comfortable and clean so we all slept well. And again we experienced beautiful landscape that isn't the norm for us in Albuquerque. I miss all the palm trees and lush flowers! I really would love to move to San Diego. This desert landscape just isn't cutting it anymore!
We didn't have time for it, but the Sheraton also had a very nice pool area that the kids would have enjoyed.
San Diego Eats
After a little down time at the hotel we got cleaned up for dinner at the resort's Twenty/20 Grill. Twenty/20 had a great kids dinner buffet that even Logan enjoyed. It was a nice place, but not too nice that I felt uncomfortable bringing the kids with us.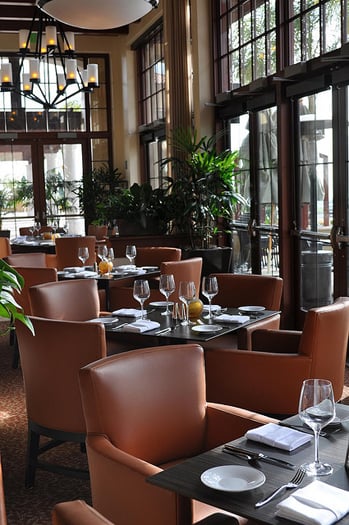 If you've heard me talk about how picky Logan is then you know that it is quite a feat to find a restaurant that he enjoys. Lots of fruits and vegetables, pastas with sauces, high quality chicken strips and more.
Twenty/20 makes it a priority to support local, sustainable, and organic practices whenever possible. Some of their partners include: Valdivia Farms, Crows Pass, Martinez Farms, Bread & Cie, Sun Grown, Patterson Farms, Lucky Farms, Suzie's Farm, Chino Farms, Brandt Beef, Knight Salumi, and Mary's Poultry.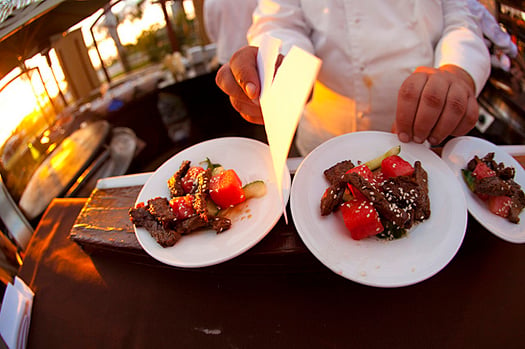 My favorite dish of the night was the Korean Beef appetizer with watermelon and cucumber. So good! We also shared a salad with our appetizer. Eric had a fish dish for dinner and I had Skirt Steak with a Chimichurri Sauce.
Dessert was fun! They brought out a tree of small, individual serving sized dessert glasses. Perfect when you need just a bite of something sweet or if you're in the mood to sample more than one sweet treat. We tried a few different desserts that night!
Day 4: LEGOLAND
I hadn't even heard of LEGOLAND until a couple of years ago. This park was absolutely PERFECT for my kids' ages.
Logan could go on almost every ride there except a couple of larger roller coasters, and he didn't care about that anyway. Madeline could go on quite a large portion of the rides too, including one of the roller coasters.
It was such a family friendly place. A lot less crowded than parks like Disneyland, etc., so if you'd like a good "starter" amusement park for your first time attending, LEGOLAND is a great option. I never felt like we were fighting crowds.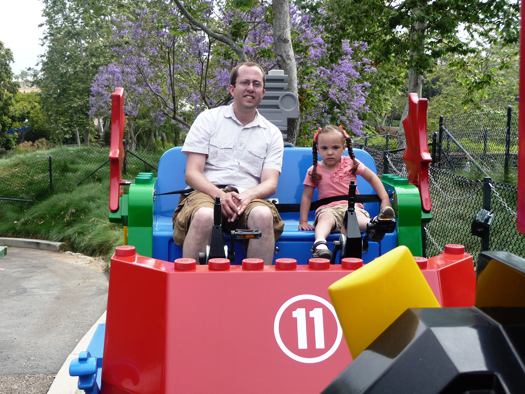 It was both of their first times to ride a roller coaster. Logan seemed to enjoy it during the ride, despite his iron grip on my arm, but afterward he said it was "too scary." But he road a second after that first ride so it must have not been too bad.
Madeline on the other hand laughed the entire time on her roller coaster. She loved it! A girl after my own heart. One great thing about LEGOLAND's rides being on the milder side was that Eric was able to enjoy the rides. Normally, he gets motion sick on roller coasters (and planes), but we were all able to ride together!
LEGOLAND has a great interactive map that helped us plan our trip in advance. You can preview height requirements of the rides and plan out your route for the big day.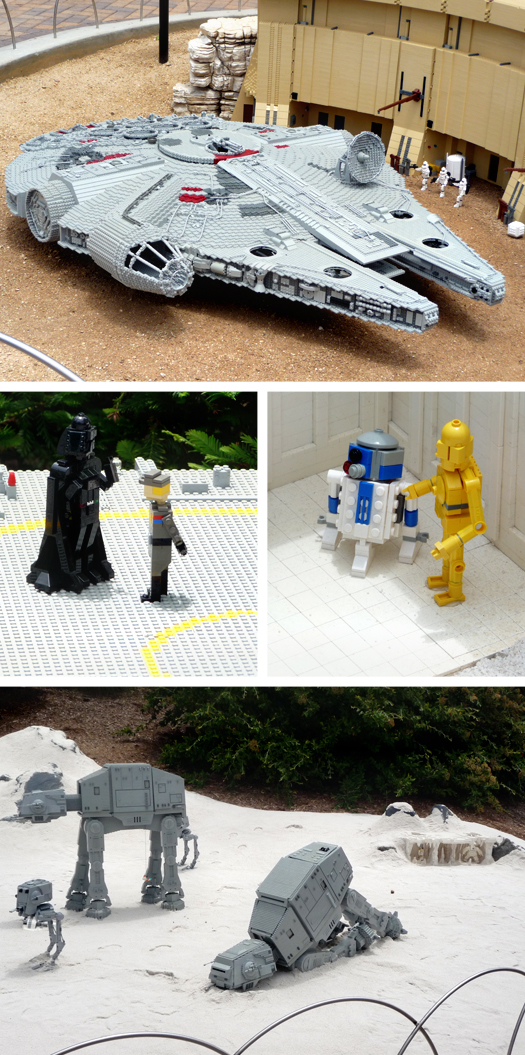 Following a chronological path through the Star Wars timeline, LEGOLAND guests retrace the major events of the beloved Saga. Some of the 2,000 LEGO models will be more than 6-feet-tall. Interactive buttons will allow children to activate animations throughout the scenes.
It was so cool seeing everything constructed out of lego's. Check out this Star Wars display in Mini Land! Logan was hilarious and tried to take a few LEGO pieces off of one of the models. I laughed and asked him if he thought the pieces wouldn't be glued together. Can you imagine? Every kid in LEGOLAND would leave with a piece or two in their pocket and there would be nothing left!
If you have two days to spend at LEGOLAND you can also check out the aquarium and waterpark. I was so bummed that we didn't have time for the waterpark, but it probably wasn't warm enough the day we were there to enjoy it anyway.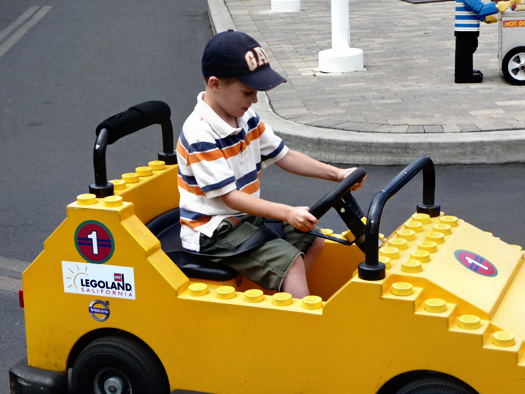 Logan trying his hand at driving. He was too cute obeying all the traffic signs!
I loved how close we were staying to the park. Half way through the day we walked back to our room at the Sheraton for a little down time and some lunch. It was relaxing mid-day and saved us some money by eating our own food.
After lunch we took the Sheraton's shuttle back to the park for a couple more hours of fun before dinner.
San Diego Family Eats
That night we enjoyed some Mexican food at Casa de Bandini. The kids loved their live entertainment. Madeline was so adorable, she would get up from her chair and start twirling in the corner by our table as the Mariachi serenaded her.
Casa de Bandini had a huge menu, so it was hard to settle on my order. I ended up with a plate of mixed enchiladas and a mock passion fruit mojito. YUM. Eric had Carne Asada. The four of us dug into a caramel flan to end our meal on a sweet note.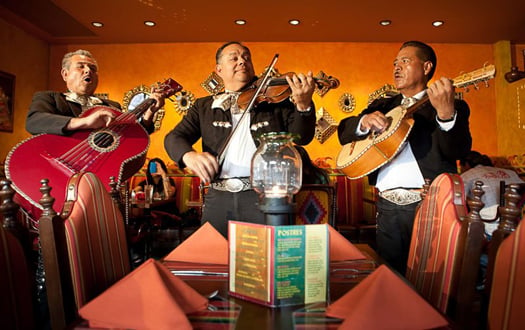 After that it was off to bed so we could head out of San Diego the next morning. Everyone was wiped and we all slept so soundly. We had a very long haul on I-40 ahead of us the next day. 13 hours to be exact….that was another adventure all in itself!
Family Adventures are Moments of Joy
San Diego was a wonderful, beautiful place for a family vacation. It certainly made our first family trip a memorable one. There were so many fun things to see and do and such a variety of food and activities. But beyond that, what mattered was that we were there experiencing this adventure together.
It wouldn't have been nearly as fun or memorable if we hadn't been together. If we hadn't been together, Madeline wouldn't have finally finished potty training (!!!). I wouldn't have woken to my two babies cuddled up together in the bed next to me whispering giddily. And I certainly wouldn't have seen the pure joy on their faces each and every day.
It's really important to me to have family adventures like this. To take some time away from life and spend it with each other without any other distractions. That, to me, is what family joy is all about.

Want a Shutterfly Coupon Code?
I'd like to hear about your moment of joy!
Share your story and upload a photo (optional), and in return Shutterfly will gift you $5 off your next photo book to commemorate life's joyous moments, and you'll be entered for a chance to win a $200 Shutterfly Gift card.
This is a sponsored conversation written by me on behalf of Shutterfly. The opinions and text are all mine. Offer valid for $5 off one photo book order and valid for one-time redemption per member. Taxes, shipping and handling will apply.
BlogFrog hosted gift card contest live from June 17th to July 14th. A winner will be randomly chosen and announced on July 18th. All participants remain the copyright holder of their photos.