I have been wanting to purchase a pair of black dress boots for a while now, but every time I go shopping for them I'm turned off by two things: the quality (when I'm looking at the lower priced boots) or the price (when I'm looking at real leather boots).
I'm not into Black Friday shopping at all. Getting up early. Big crowds. Crazy shoppers. Not my thing. I'd rather be spending time with my family, which is exactly what we did. I do, however, love Cyber Monday deals. Online shopping is just my thing. I love that I'm able to shop around in a matter of minutes and really find the best deal so that I can save as much money as possible.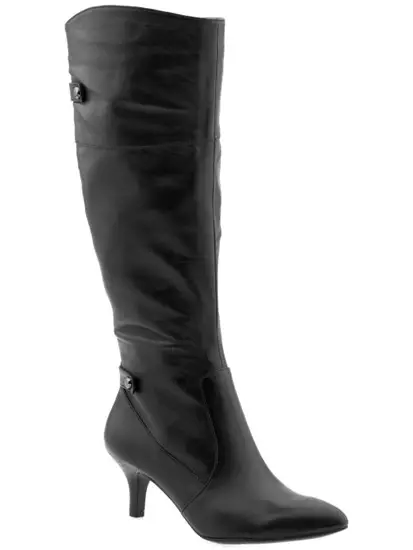 AK Anne Klein Women's Draca Boot
I received an email from Gap giving me a code for 30% off at Gap, Old Navy, and Banana Republic as well as a code for 20% off at Piperlime, the brand's shoe store. (Gap Brand's Cyber Monday Code is HUGECYBER at checkout). I hopped on over to Piperlime to take a look at the boots and found this cute pair from Anne Klein.
20% isn't really a "deep discount" for me though, so decided to take a look at Amazon. I found that Amazon is offering 25% and 30% off shoes depending on the dollar amount of your purchase (Amazon Cyber Monday Code for shoes is SHOECM11 at checkout).
Not only was the discount better through Amazon's Cyber Monday Deals, but the boots were already priced $50 dollars less than on Piperlime. I redeemed $25 of Discover Card reward points towards the purchase bringing the grand total of the boots down to $50 – for a quality pair of boots! That's $100 off Piperlime's original price.
So, if you're in the market for a new pair of shoes or boots, don't count Amazon out in your shopping. You might save on the overall price of the shoe, plus there's no tax or shipping costs when shopping through Amazon. If the shoe doesn't fit, just use Amazon's great return policy to send them back. I've done this before and the UPS man picks the shoes up right from my front door, no cost added.
Thanks to Amazon Prime, I'll be seeing the UPS man on Wednesday with my new boots! Can't wait!
Cyber Monday Coupon Codes
What deals are you looking for this Cyber Monday?