Savory Gruyere, Apple and Sage Scones
After all of our sweet treats last week with Madeline's birthday party, this week had me craving savory things to eat – like these Gruyere, Apple and Sage Scones.
One of the things I love best about fall is fall baking. I love savoring scones on cooler mornings or as a late night snack with a good book in hand. When I think of baking, my mind often goes straight to the sweeter side of recipes but that doesn't have to be the case.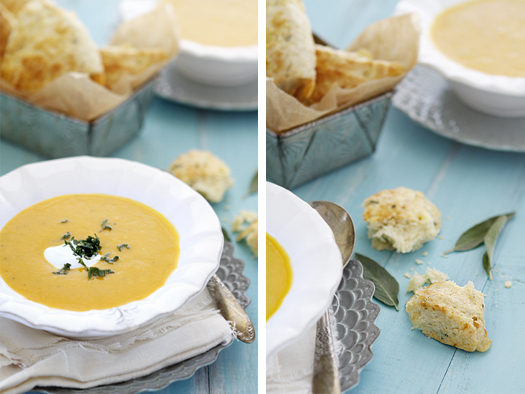 I often forget about savory baked items because I have such a sweet tooth, but after this successful savory scone experiment I know there will be a lot more savory baking in the near future. And hopefully more hearty dinners that can be paired with freshly baked breads and rolls.
Rustic Rosemary Bread has been one of our favorite savory baked goods in the past, but my little herb garden was offering up lots and lots of sage this week so I knew I needed to do something with that.
I did some tweaking to my Basic Scone Formula to come up with a savory version of my favorite scones, which wasn't very hard at all. Mostly, I just decreased the sugar.
Then I added in some finely minced sage – you don't want to get a huge mouthful of herbs so it is best to mince them finely. Along with the sage, I paired grated apple and diced gruyere cheese. Because I knew the apple would add moisture to the dough, I decreased the liquid in the recipe.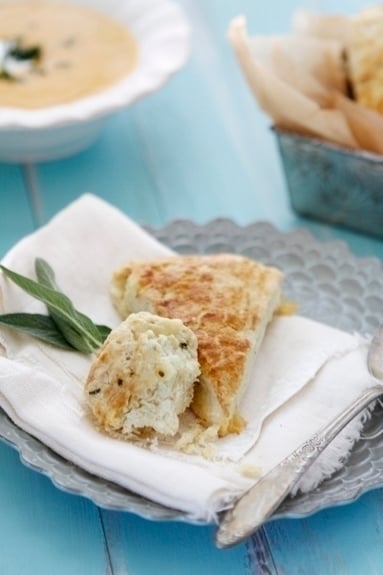 I served these Gruyere, Apple and Sage Scones alongside a bowl of Butternut Squash and Apple soup (recipe coming soon on Simple Bites) for dinner, but they are also delicious warmed in the toaster for a savory breakfast.
More Delicious Scones to Try:
Do you crave sweet or savory recipes when you are baking?
Gruyere, Apple and Sage Scones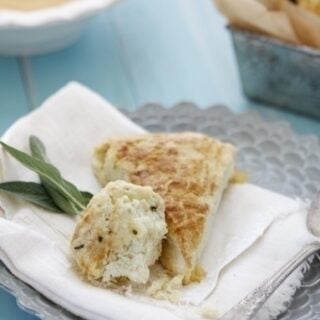 Ingredients:
4 cups flour
4 teaspoons baking powder
3/4 teaspoon salt
2 teaspoons sugar
1 cup very cold butter
2 large eggs, plus an extra for egg wash
4 - 5 tablespoons buttermilk, plus extra for egg wash
2 green or red apples, finely diced or grated
2 - 4 teaspoons finely minced sage (according to your preference)
1/3 cup diced gruyere cheese
Directions:
Preheat oven to 375 degrees F.
In a large bowl, combine the flour, baking powder, sugar, and salt. Cut or grate the butter into the flour mixture. Then, stir in the sage, apple and gruyere until well distributed. Set aside.
In a smaller bowl, combine the 2 eggs and buttermilk. Whisk until well combined. Make a well in the center of the flour mixture, pour in the egg mixture and stir until it comes together. Whisk the additional egg in a small bowl combined with 1 tablespoon buttermilk. Set aside.
Turn out on a lightly floured counter and knead a few times until it holds it's shape, adding additional flour if needed. Divide into two equal portions (a kitchen scale helps with this) and roll into an 8 or 9 inch circle. Dust the bottom of the circles with flour.
Cut each circle into 6 to 8 triangles. Place the triangles on a parchment lined baking sheet. Lightly brush with the egg wash, then bake for 15-25 minutes at 375 degrees F, or until golden and cooked through.
Cool on a wire rack until cool enough to handle. Serve.
To Freeze: cool completely, then place in a gallon sized Ziploc bag. Freeze for up to 1 month.