NOTE: There is a giveaway at the end of this post. Please read to the end for details
As I mentioned the other day when I shared Madeline's Birthday Cupcakes – Vanilla Bean Sour Cream Cupcake – we had an adorable Carnival themed birthday party for her last weekend. Madeline hasn't had a special birthday party since she turned 1, so I was extra proud of how this turned out and wanted to take a minute to share how I put the party together.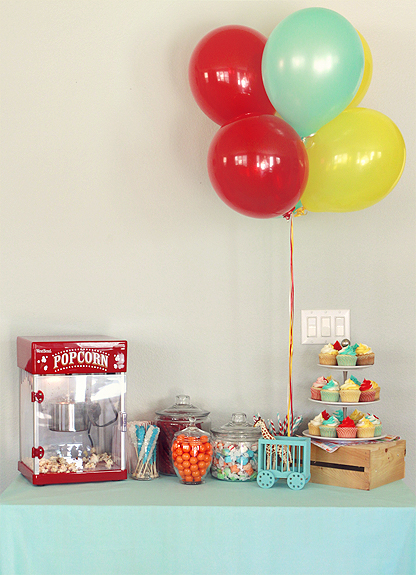 I'll try my best to document all my sources should you wish to replicate anything from this party, however if I miss something please don't hesitate to ask!
How to Host a Carnival Birthday Party
The Carnival Birthday Party Invitations
I designed our carnival birthday party invitations myself using an adorable carousel image that I found and purchased. I knew I wanted a horse theme, but one thing lead to another and soon we had the idea for the Carnival Party.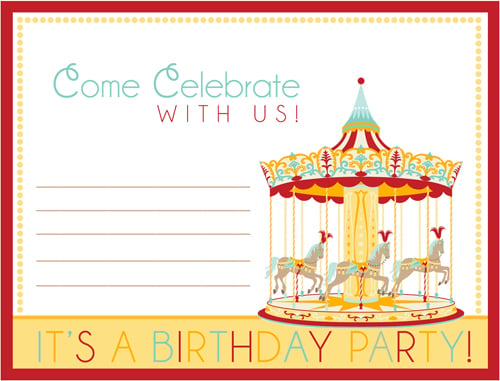 click image to download the FREE PRINTABLE invitation, then right click > save to your computer
Using Illustrator I changed the color scheme of the carousel to fit what I thought was a Carnival color scheme: Yellow, Red, and Turquoise. Originally it was pink and purple and very pretty but not quite what I had in mind for this party.
I'm offering up a generic FREE printable version of the carnival birthday party invitations that we used (name, address, party date and time removed) as well as a FREE printable matching thank you card. These cards both fit perfectly in these envelopes: 4-3/8″ x 5-3/4″ Greeting Card Envelopes.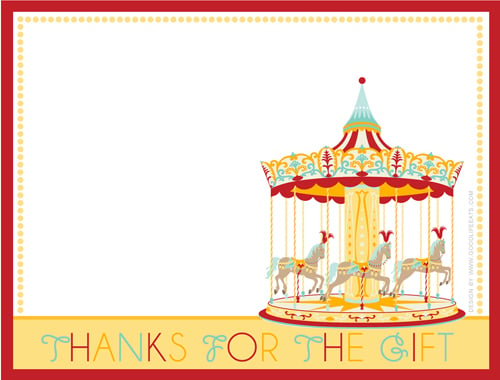 click image to download the FREE PRINTABLE thank you, then right click > save to your computer
Disclaimer: Copyright GoodLife Eats. For personal use only. These Carnival Birthday Party invitations and thank you notes are shareable, however I ask that you please credit appropriately and link directly to this post – not the printable file. Thank you for understanding!
Carnival Party Decorations
Decorations were kept pretty simple. The food tables were draped with a cute Circus print fabric and an inexpensive solid turquoise fabric that I found at one of our fabric stores.
We had a balloon bouquet in red, yellow and turquoise tied to a wooden circus train car (found at Michael's and then painted) with a toy giraffe in it.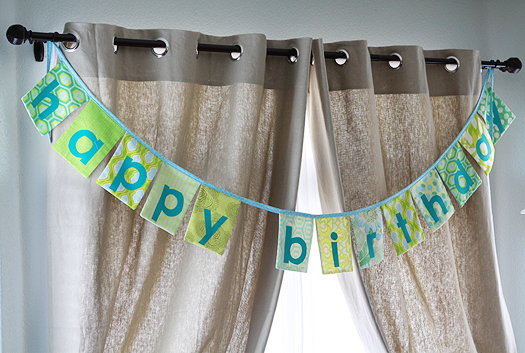 I purchased a Happy Birthday banner from Meringue Designs on Etsy that I had been wanting for a while – something I can reuse over and over that matches our home deocr – and hung that above the sliding door that heads to the back door.
The Carnival Party Food
I kept things simple with the food and selected items that most 3-5 year olds would be guaranteed to eat, but also good enough for the parents to enjoy since at this age some parents still choose to stay at the party with their child.
Easy Carnival Lunch
The party was 12:00 pm – 2:00 pm so we served a light lunch that consisted of: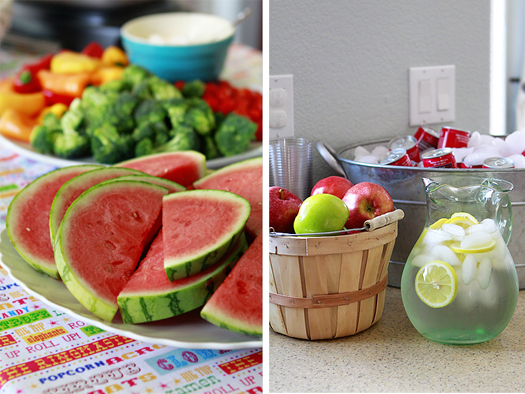 Tip: I purchased the IZZE on Amazon using the Subscribe & Save option to receive an extra 15% off my order, plus received free shipping with Amazon Prime.
This kicked an additional $3.50 off the price and saved me a trip to the store. I selected 1 case every 6 months as my delivery option. After the party, cancel the subscription to the item.
The Sweets & Treats Table
I set up a table with a few post-lunch treats and included goodie bags so the kids could take a bag of treats home after the party. In addition to the cupcakes, I chose a few other treats that in my eyes felt like they belonged at a carnival sweet stand.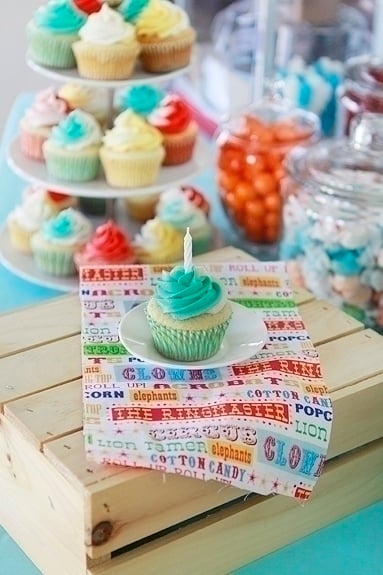 I already had the tiered cupcake tower and have been wanting to purchase a couple of apothecary jars to use for party purposes or storing things like cookies, etc. I thought these worked out great and were sturdy, thick glass options that should last a while.
Carnival Party Activities
Again, things were kept relatively simple. These are mostly preschool aged kids after all and they didn't need a ton of games to have fun playing.
They played in the back yard on the swing set, and with crouquet and ring toss on the grass. The real surprise were the ponies. I rented 2 ponies from Lazy River Pony to come to the party.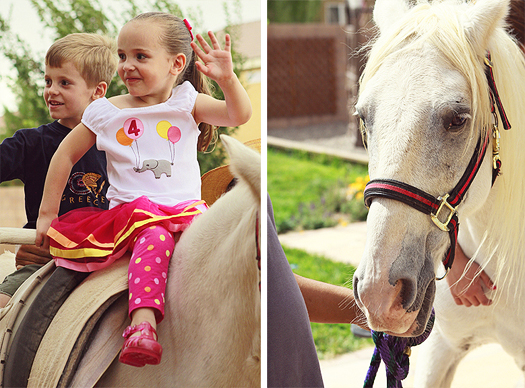 Madeline is beyond obsessed with horses and while I certainly don't have the money, space, or energy to purchase her a horse of her own I could budget to rent her two ponies to ride at her birthday party.
This was so much more memorable of a gift from Mommy and Daddy than a few new toys. She will remember this experience for the rest of her life. Not to mention, more memorable for the party guests than a bag of treats and dollar store junk that would likely get thrown away within a week.
I wasn't sure what to expect when she saw the ponies. I think she was actually a bit stunned. I imagined based on the look on her adorable face that she must have been thinking "This can't possibly be happening. Am I asleep? Or is this real?" The birthday girl was in pony heaven!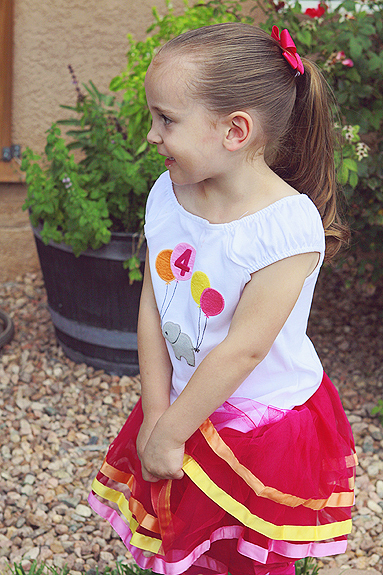 All of her other little friends caught on to the what was about to happen. We had kept it a surprise from her and only Eric, Logan, and I knew but somehow the word spread. It was so cute how giddy everyone one was and how clueless Madeline was.
She was shy at first when she say the ponies. But once she got on she was all smiles and waves!
Giveaway Prize (1 winner):
West Bend is celebrating their 100th anniversary this year on September 25th at Washington County Fair Park. In conjunction with this celebration, they are offering a popcorn popper to one GoodLife Eats reader. Please see giveaway details below.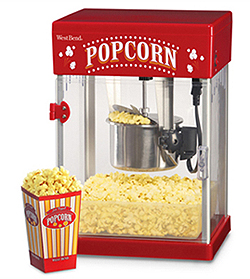 1 winner will receive a 82512 – Stir Crazy® Theater Popper, 2.5 oz. (value $119)
Giveaway Requirements:
Answer the following: What is your favorite carnival memory or treat?
Contest ends October 1, 2011 at 11:59 p.m. PST.
Contest open to US States only.
Winners will be chosen via random.org and will have 3 days to respond before disqualified and a new winner chosen.
Optional Extra Entries:
Additional entries can be earned by doing any of the following, giving you a total of 5 extra entries. Leave a separate comment for each of your entries.
1. Follow goodlifeeats on Twitter and ReTweet the following message: I entered to win a West Bend Stir Crazy Theater Popcorn Popper from @goodlifeeats http://su.pr/2RYECb #giveaway
2. Add this post to Pinterest: Pin It