Whole Grain Strawberry Oatmeal Muffins
There are a thousand ways to eat strawberries, but one of the very best ways to enjoy this springtime berry is in the form of these Whole Grain Strawberry Oatmeal Muffins. When baked into a muffin, the strawberries become jammy, and gooey, and perfectly delicious!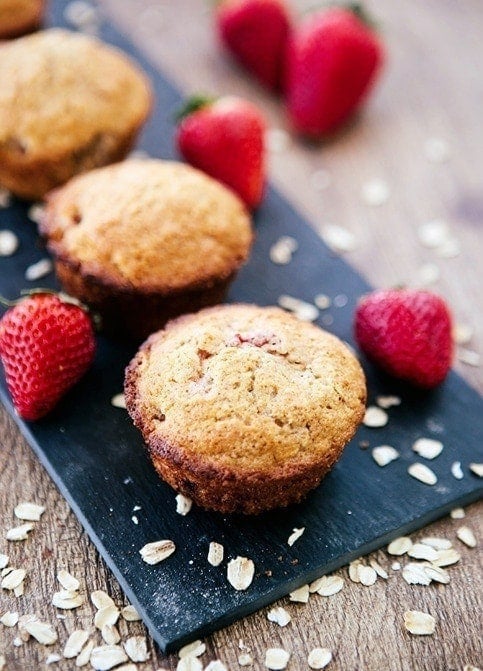 I always eagerly anticipate the arrival of strawberries at the farmer's markets and grocery stores this time of year. When I saw the first baskets of them this week I pounced and brought home enough to fill up a whole shelf in my fridge. First up on the menu were a batch of these Whole Grain Strawberry Oatmeal Muffins.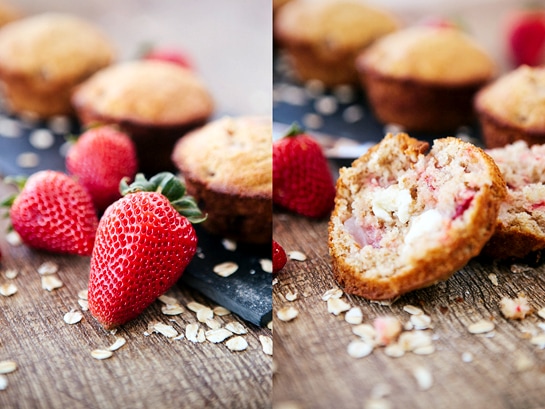 I love delicious, healthy muffins because they are so versatile. We can eat them for breakfast, a quick snack, or even add them to the kids' lunchboxes. They freeze well and reheat easily, which means this busy mom can keep healthy, whole grain snacks on hand all the time.
Every time I bake muffins, I always make an extra batch for the freezer. The instructions for freezing muffins are essentially the same as these instructions for freezing pancakes and waffles.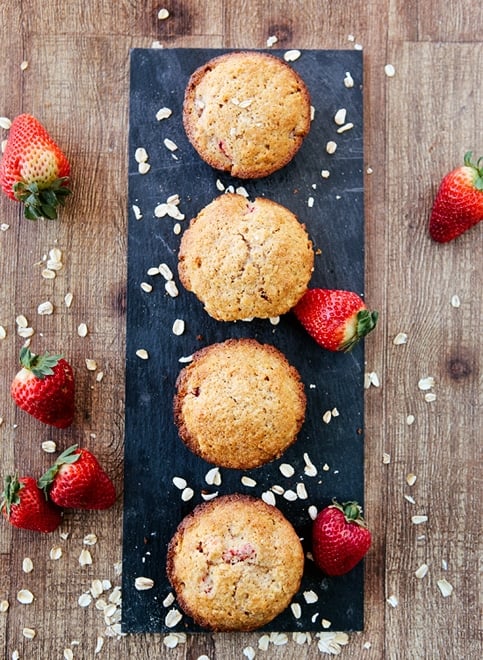 Best of all, with whole grain rolled oats and whole wheat or spelt flour, you can feel really good about feeding these muffins to your family. If you have a little extra time, you can even grind your own flour and take these muffins to the next level!
More Muffin Recipes to Try
Whole Grain Strawberry Oatmeal Muffins
Yield: 12 muffins
Prep Time: 10m
Cook Time: 25m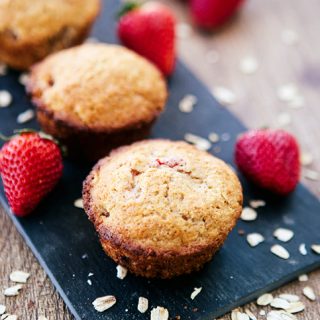 Ingredients:
1/2 cup rolled oats
1 cup whole grain spelt flour or whole wheat flour
1/2 cup all purpose flour
1/2 teaspoon salt
3 teaspoons baking powder
1 teaspoon lemon zest
1/2 cup sugar
3 tablespoons coconut oil
1 egg
1 cup milk
1 cup sliced fresh strawberries
Directions:
Preheat the oven to 400 degrees Fahrenheit. Grease a standard 12 cup muffin tin.
In a medium bowl, whisk together all of the dry ingredients. In a separate bowl, beat together all of the wet ingredients. Make a well in the center of the flour mixture and pour the wet ingredients into it. Combine the ingredients quickly, being careful not to over mix. Gently fold in the strawberries. If the batter is dry, add in more liquid a tablespoon at a time. The batter should be thick and lumpy, not smooth.
Spoon the batter into the muffin tins, filling them about 2/3 full. Bake approximately 20 minutes or until golden and the tops spring back when lightly touched. Remove from oven and cool for 5 minutes before removing from pan. Cool completely on a wire rack.