This Fresh Herb and Citrus Turkey Brine combines lots of fresh herbs with a subtle hint of citrus. Brining your turkey in this citrus brine will tenderize the meat and infuse it with a TON of flavor for Turkey Day!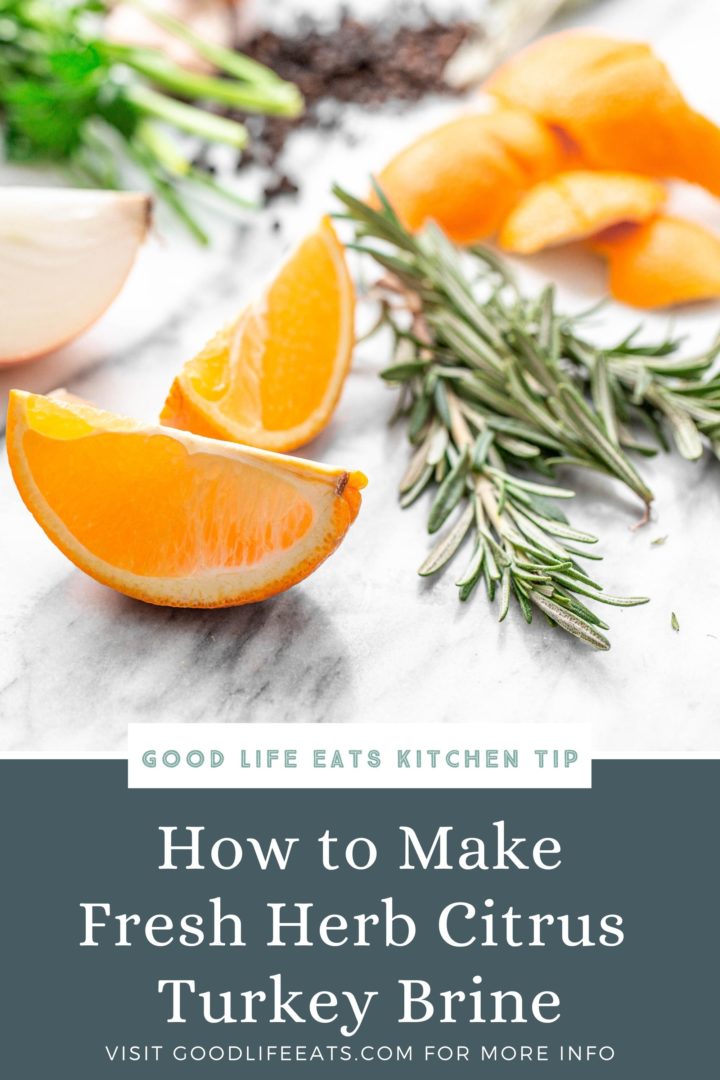 Save this recipe for Fresh Herb and Citrus Turkey Brine to Pinterest!
Picture this: 17 years ago, I am a young bride to be and I'm meeting my (now former) in-laws for the first time. It's a rainy Thanksgiving evening in Washington and my soon-to-be Mother-in-Law (now former mother-in-law) has just prepared the BEST.TURKEY.EVER.
The turkey has amazing, juicy flavor and the breast meat isn't dry at all. I think to myself, "where has this turkey been all my life?" It was definitely not the kind of turkey I ate growing up!
How to Citrus Brine a Turkey
The answer: Brining. I had no idea what turkey brining was, but I was eager to learn. I knew that I'd soon have the experience of being in charge of roasting my own turkey and I wanted it to taste just like my Mother-in-Law's did.
Nearly 2 decades later, I can tell you that for as long as I've been making my own turkey, I've been using a turkey brine, like this Citrus Brine, before roasting my turkey. I think it's the best way to ensure a delicious, moist turkey.
The Best Citrus Brine for Turkey
This fresh herb and citrus turkey brine infuses roasted turkey with so much flavor and helps keep the meat moist. It's a must have for me when I'm hosting Thanksgiving.
I happen to really enjoy the combination of sage, rosemary, thyme, and parsley in my turkey brine. Pair it with tangerine or orange peels and you have a delicious citrus brined turkey.
You can play around with the herbs for your brine, if you like, for different flavors. Just be sure to use fresh herbs. I think that makes all the difference.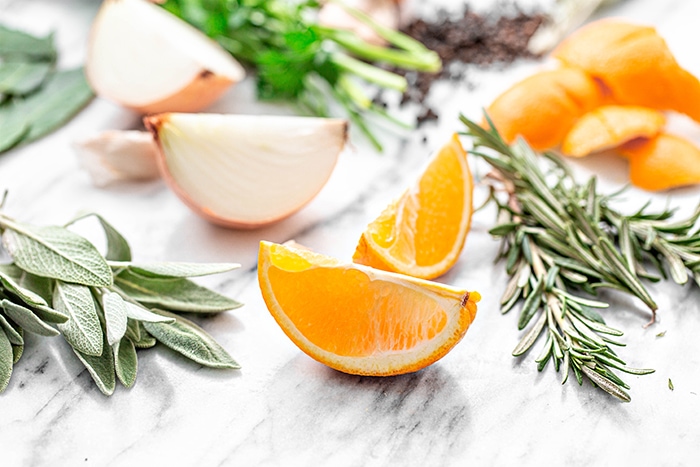 Ingredients for this Citrus Turkey Brine
This is one of my favorite turkey brine recipes for roasted turkey. You'll need the following (be sure to scroll to the bottom of this post for a free printable copy of this Citrus Brine Recipe!):
Kosher Salt
Brown Sugar
Peppercorns
Allspice Berries
Bay Leaves
Fresh Thyme
Fresh Sage
Fresh Rosemary
Fresh Parsley
Garlic Cloves
Tangerine or Orange Peels (or both!)
Water
Ice
Ever wonder if a free turkey tastes better? Find out this holiday with a FREE TURKEY (all-natural, zero antibiotic) with your first order from ButcherBox.
For the complete ingredient list and detailed instructions, scroll to the bottom of this post for the FREE printable recipe card.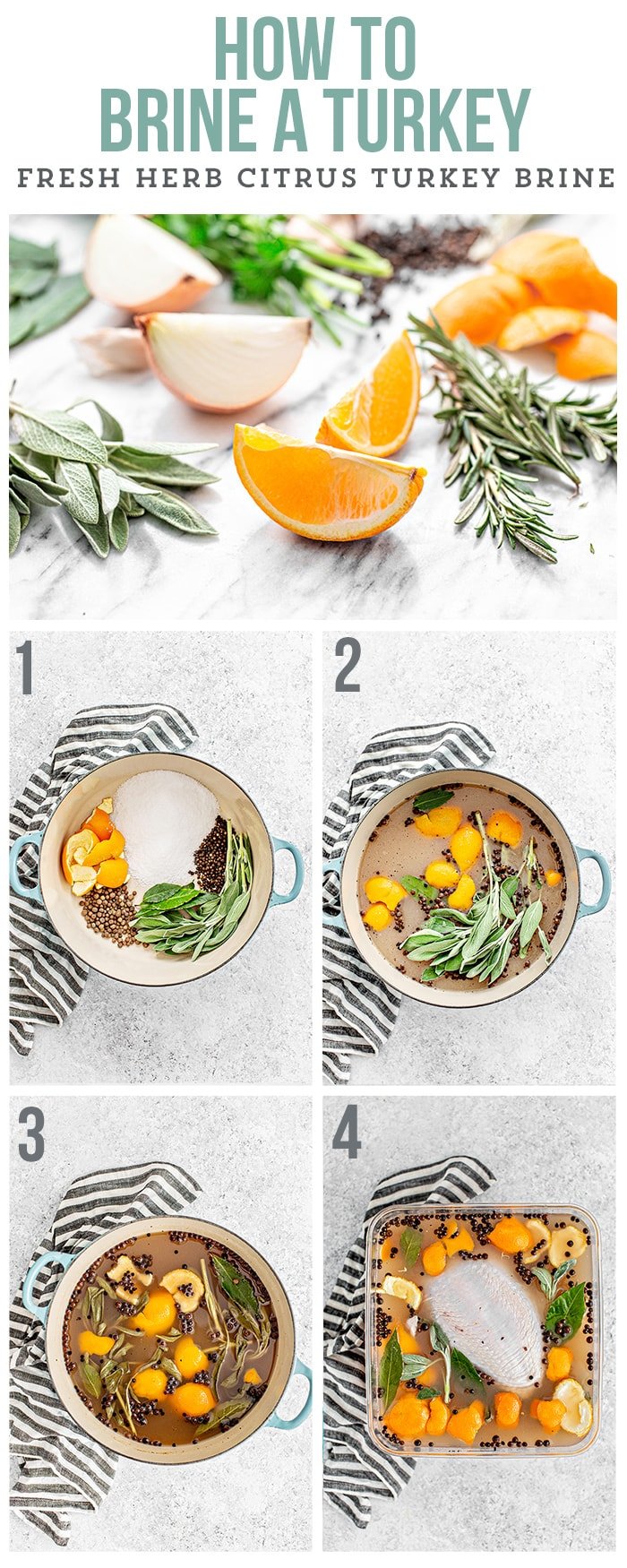 Save this recipe for Citrus Turkey Brine to Pinterest!
HOW LONG TO BRINE A TURKEY
How long you will brine your turkey in this Fresh Herb and Citrus Turkey Brine largely depends on how big the piece of meat is.
A simple boneless, skinless chicken breast or a couple of pork chops don't need more than an hour. In contrast, a large 18+ pound turkey will need several hours or up to a full day to soak in this citrus brine to fully benefit from the process.
Turkey Brining Time Guide
Whole Turkey: 12-24 hours, depending on size (or longer if it is a really large turkey)
Turkey Breast: 3-6 hours
Large Whole Chicken: 2-6 hours
Chicken Breasts: 1 hour
What do you do if due to your schedule you need to brine the turkey earlier than 24 hours before roasting?
I suggest brining it for the 12-24 hours you need. Then, remove it from the Fresh Herb and Citrus Turkey Brine and rinse it inside and out. Pat it dry with a paper towel.
Then store it in the fridge for up to an additional 24 hours until you are ready to roast. After that, you can proceed to roast as you normally would.
The above is simply a quick summary of this recipe. Check out the full recipe in the free printable recipe card at the bottom of this post for all the detailed instructions.
How to Store a Brining Turkey in a Cooler instead of Refrigerator
If your turkey is too large to fit in your refrigerator after you have placed it in the container with the brine, your can store it in a cooler as long as you are able to maintain the temperature below 40 degrees while the turkey brines.
First, you'll need to put the turkey and the citrus brine in some king of sealed bag. Extra large ziplock bags work well because they are sturdy. Once the bag is sealed with the turkey and the brine, place it in a well insulated cooler. It is best if you have a high quality insulated cooler, the type that is meant to keep cold for several days.
Then, pack ice all around the turkey. You would not want to add the ice to the brine itself because it would dilute this citrus brine, so that's why it is important to seal the turkey separately with the citrus brine.
If you live somewhere with cold weather and know that the forecast will stay under 40 degrees for the high (but not so cold that your turkey freezes by being stored outside), then you can place the cooler outside or in a garage where it is colder than your house. Make sure to keep it out of the sun and away from animals.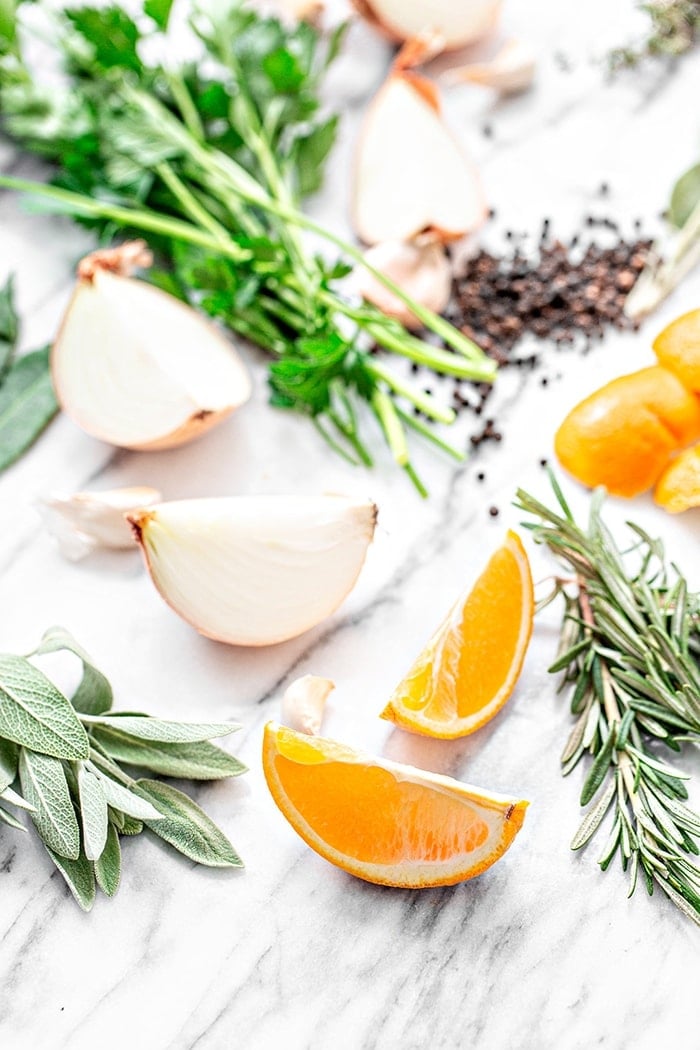 Save this recipe for Fresh Herb and Citrus Turkey Brine to Pinterest!
Tools Needed to Roast a Citrus Brined Turkey
Before you begin preparing your Fresh Herb and Citrus Turkey on Thanksgiving, you'll need to make sure you have some of the required equipment. In order to roast a turkey, you need a few things:
Turkey
Fresh Herb and Citrus Turkey Brine Recipe Ingredients
Oven
Do You Rinse a Turkey After Brining?
It isn't required, but this is also a good troubleshooting method if you are concerned about the turkey being too salty. Rinse inside the turkey cavity and the exterior to remove any excess Citrus Brine residue will decrease the saltiness.
What Size Turkey Should You Brine?
I typically choose a turkey around 16-18 lbs. It allows for some leftovers but not so much that we all get tired of it. If using a larger turkey, simply extend the roasting time and tent the breast with foil to avoid over browning.
Alternatively, you can prepare 2 smaller citrus brined turkeys if you need more meat but you want shorter cook times. Personally, I prefer this method because the exterior meat has less opportunity to dry out while waiting for the interior of the bird to finish roasting.
How Long Does it Take to Cook a Turkey?
There are a few things to know about roasting your turkey, and an important keys to success is cooking by temperature. Turkey roasting times vary depending on a variety of things, such as:
the size of the bird
internal temperature the bird when you begin
what temperature you choose to roast the turkey at
your oven – ever oven runs slightly different (some hot, some cold, some exactly right)
So, it is better to have general time guidelines and specific temperature milestones to meet rather than cooking for x number of hours.
Cook by temperature, not time. You avoid overcooked dry meat and undercooked unsafe meat when you use a digital probe meat thermometer. Place the probe in the thickest part of the breast before you begin cooking this Fresh Herb and Citrus Turkey.
Turkey Cook Time Guidelines
It is totally helpful to be able to estimate about when your turkey will be done so you can plan the rest of your meal. So, an unstuffed turkey roasted at 375 degrees F will take approximately 15-20 minutes per pound to cook to the proper internal temperature.
What Temperature is a Turkey Done
According to the USDA, a turkey is done with the internal temperature reaches 165 degrees F. This is why I love to use a digital probe meat thermometer. It eliminates all guess work!
How to Roast a Citrus Brined Turkey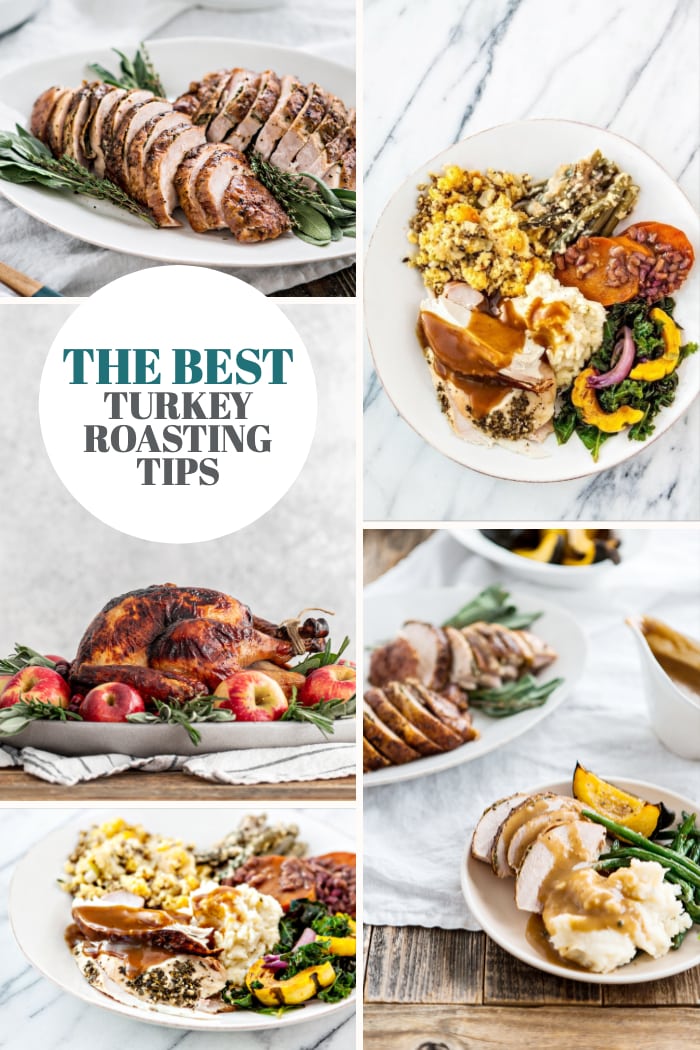 1. Preheat the oven to 375 degrees F. Pat the citrus brined turkey dry, then let it sit at room temperature for 30 minutes.
2. Slather the outside of the fresh herb and citrus brined turkey in butter
I love a mixture of finely chopped rosemary, sage, and thyme added to the softened butter. Make sure to get the butter inside the cavity of the turkey, on top of the breast meat underneath the skin, and all over the outside.
3. Place herbs under the skin covering the breast, if desired.
Stuff the cavity with additional herbs, if desired, and an onion cut into sixths. Cover the wing tips with foil. I don't recommend stuffing an uncooked turkey.
Here's why you shouldn't stuff a turkey:
The stuffing may not reach a high enough temperature to kill bacteria.
Your turkey will cook faster without a stuffed cavity.
How to Safely Stuff a Turkey
If you really love stuffing inside your turkey, there are two ways to safely stuff a turkey:
My recommended turkey stuffing method is to prepare and cook the stuffing separately while the turkey roasts. Then, place the stuffing into the turkey once it is done roasting.
An alternative is to stuff the turkey as is traditionally done by placing the stuffing in the cavity of the raw turkey. DO NOT pack it tightly so the air can circulate. You will need to take the temperature of the stuffing as well as the turkey meat. The stuffing also needs to reach 165 degrees F to be safe to eat. The problem with this method is that the meat can often reach higher temperatures and then turn out dry.
4. Use a V-Rack roaster to roast your citrus brined turkey.
Place 3 cups of water in the bottom of the pan. Add chopped onion and carrots at the bottom of the roasting pan. Place the turkey on the rack, starting with it facing breast side down. Roast for 45 minutes.
5. Remove the turkey from the oven, flip it breast side up, and baste the turkey with pan drippings. Cover the breast with foil.
6. Add an 2 more cups of water to the pan.
Roast the turkey for an additional 1 1/2 hours to 2 1/2 hours, until the meat thermometer inserted in the breast registers 160 degrees F and the leg/thigh registers at about 170 degrees F.
7. When the turkey has reached the correct temperature, remove it from the oven.
Tent the turkey with foil and let it rest for 30-45 minutes on a large cutting board before carving.
Reader Reviews for this Citrus Turkey Brine
"I made a turkey for the first time ever this year – and shared it with our family of 10 adults. I used this brine recipe then stuffed the turkey with onions, carrots, sage and thyme. This was the best we have ever had, no kidding. This brine made the turkey so moist and delicious.
My father, who is a dark meet eater because white meat is too dry, made the comment that the white meat of this turkey was better than the dark. Thanks for sharing and helping me make my first turkey experience wonderful."
More Turkey Brine Recipes
If you're looking for additional turkey brining inspiration for your Thanksgiving Menu this year, here are a few other favorite recipes to go along with this Fresh Herb and Citrus brine. Be sure to check out the whole Thanksgiving Recipes Archive right here if you need help building the rest of your menu.
Brining your turkey with this Apple Cider Sage Brined Turkey before roasting will not only infuses the meat with the delicious flavors of fresh apple cider and sage, but it will help keep the meat moist and tender.
This recipe for Garlic Herb Peppercorn Dry Brine is full of flavor and will make your turkey shine on Thanksgiving! Dry brining a turkey is really simple and produces juicy, seasoned turkey meat.
Brining a turkey in this Rosemary Beer Smoked Turkey Brine will tenderize the meat and infuse it with a TON of flavor thanks to the beer and fresh rosemary for Thanksgiving! This brine is great on a Smoked Turkey!
Not feeling a turkey this year? Or maybe you want ham to go along with your roasted turkey? Make this Slow Cooker Spiral Ham with Honey Mustard Glaze instead.
Have you ever tried a Citrus Brine for turkey before?
Love this recipe for Fresh Herb and Citrus Turkey Brine?
Sign up for Good Life Eats email updates and never miss another recipe!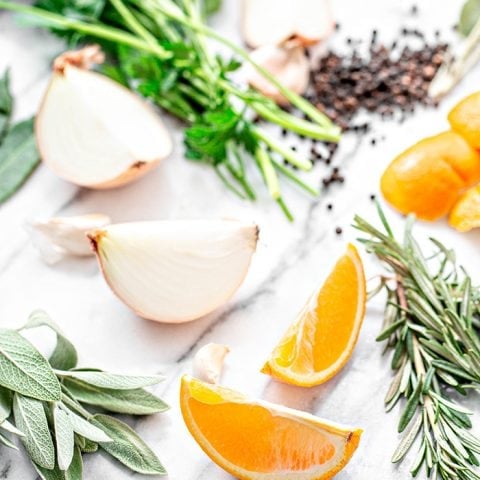 Fresh Herb and Citrus Turkey Brine
Yield:
brine for 1 turkey
Brine Cook Time:
45 minutes
This Fresh Herb and Citrus Turkey Brine combines lots of fresh herbs with a subtle hint of citrus. Brining your turkey will tenderize the meat and infuse it with a TON of flavor for Turkey Day! This brine amount works for one 16 - 20 lb turkey.
Ingredients
2 2/3 cups Morton's kosher salt*
1 cups brown sugar
1 tablespoon whole peppercorns
1 teaspoon whole allspice berries
4 bay leaves
5 stems fresh thyme
3 stems fresh sage
2 tablespoons fresh rosemary leaves
1/4 cup loosely packed parsley (stems ok)
4 cloves garlic garlic, smashed
peel of 3 tangerines or oranges
1 gallon boiling water
8 pounds ice cubes
Instructions
Combine the salt, brown sugar, peppercorns, allspice berries, bay leaves, thyme, sage, rosemary, parsley, garlic, and tangerine peel together in a large stock pot.
Add 1 gallon of water.
Bring the mixture to a rolling boil, remove from heat.
After removing from heat, steep the mixture for 45 minutes.
Then, add in enough ice to bring the brine amount up to 2 gallons (2 gallons = 32 cups).
This is very important otherwise you will have an incredibly salty turkey.
For smaller stock pots, you may have to allow the brine to cool and add the additional amount when pouring the brine into the bag in the following step.
Rinse your turkey inside and out and remove the giblets.
Place the turkey in a large zip-top bag. I recommend the Ziploc Big Bags (size large). Put the bagged turkey in a clean cooler.
Pour the brine over the turkey, in the bag, making sure the breasts are fully submerged. Zip the bag closed.
Place the cooler in a cool place, such as your garage or, and allow the turkey to soak in the cold brine for 12-24 hours.
Use gel ice packs or bagged ice around the zipped bag inside the cooler, if necessary, to keep the brine below 40°F. (Adding more ice directly to the brine would only dilute it.)
Alternatively, if you have room in your refrigerator, you may place the bagged turkey in a large foil tray rather than a cooler and store it on the fridge shelf.
After the brining process, transfer the turkey to a roasting pan and discard the brine. Roast according to your preferred method.
Notes
Salt Injected Turkey
*The salt amount listed in this recipe is for a fresh, non-salt injected turkey and explained in the post. If you plan to use a salt injected turkey, then use 1 1/2-2 cups of Morton Kosher Salt. Rinse the bird inside and out before and after brining. Do not add any extra salt to season the bird and use unsalted butter if you plan to butter it.
Kosher Salt
Depending on the brand of kosher salt you use, you'll need different amounts of salt because the different brands available on the market have different densities. I use Morton's kosher salt in this recipe, however here are the conversions:
Diamond Crystal 2 cups salt per gallon of liquid.
Morton's kosher 1-1 1/3 cups salt per gallon of liquid.
Brining Time Guide
For a smaller turkey you may make less brine; however, be careful to do so with the original proportions of ingredient still intact.
Too much salt will leave you with an incredibly salty turkey.
Also, birds less than 10 pounds will likely not need to soak for the full 24 hours to achieve the desired results.
Whole Turkey: 12-24 hours
Turkey Breast: 3-6 hours
Large Whole Chicken: 2-4 hours
TURKEY COOK TIME GUIDELINES
It is totally helpful to be able to estimate about when your turkey will be done so you can plan the rest of your meal. So, an unstuffed turkey roasted at 375 degrees F will take approximately 15-20 minutes per pound to cook to the proper internal temperature.
Recommended Products
As an Amazon Associate and member of other affiliate programs, I earn from qualifying purchases.
Nutrition Information
Yield

12
Serving Size

1
Amount Per Serving
Calories

86
Total Fat

0g
Saturated Fat

0g
Trans Fat

0g
Unsaturated Fat

0g
Cholesterol

0mg
Carbohydrates

22g
Fiber

1g
Sugar

19g
Protein

1g
GoodLifeEats.com offers recipe nutritional information as a courtesy and is an estimate only. This information comes from online calculators. Although GoodLifeEats.com makes every effort to provide accurate information, these figures are only estimates.
This post for Fresh Herb and Citrus Turkey Brine was originally part of a holiday recipe theme week with giveaways. The giveaway has been removed as it is now expired, however the original comments remain.
Click HERE to save this recipe for Fresh Herb and Citrus Turkey Brine to Pinterest!
Did you make this Fresh Herb and Citrus Turkey Brine recipe? I'd love to hear what you thought! Leave me a comment below.