Although we've felt it coming for several weeks now, Sunday marked the first official day of fall. The leaves are changing, apples are ripe for picking, and most importantly (around here anyhow), football season is in full swing!
We love to entertain friends while cheering on our favorite teams, but busy work weeks and a packed sports schedule make it tough to do a lot of food preparation in advance. Of course I want to spend as much time as I can with our friends and not slaving away in the kitchen, so I prefer to pair some quick and easy, tried and true recipes with some store bought options to ensure that my guests don't go hungry.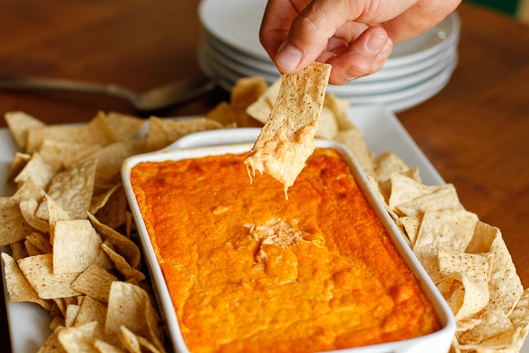 Written by: Tara of Unsophisticook
Homemade Snack Options
I have several go-to game day snack recipes that I like to rotate through, mostly simple dips or slow cooker recipes that can be kept warm for the better portion of the day. A few that always get rave reviews are:
I was perusing Katie's archives, and I think this Roasted Tomatillo Guacamole looks like another amazing option, especially paired with these Cumin Chipotle Lime Tortilla Chips. Definitely giving those a try at our next get together!
Store Bought Favorites
Your local grocery store likely has some great pre made options that you can use to round out your own homemade snacks. A few of my favorites are:
take and bake pizzas
large deli sandwiches
meat and cheese trays
fruit and dip trays
veggie trays
Whichever use choose, take a minute to transfer the items from their store bought packaging to your own platters and bowls. You'll be amazed at how much more put together and pleasant your spread looks when it's removed from the plastic and cardboard.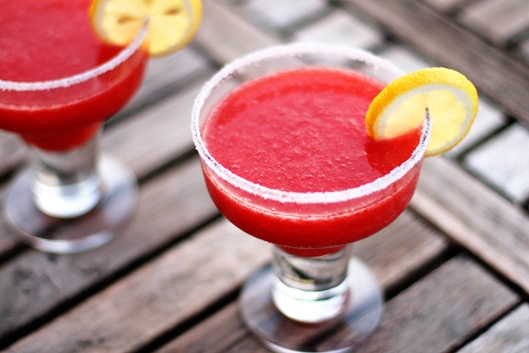 Beverage Options
When it comes to providing beverages, we typically keep it simple with just a couple of beer options. We'll occasionally treat the kids to some bottled root beer because it's a fun change of pace, but most often we just buy the small 8-oz. bottles of water. If we think our guests might enjoy a mixed drink, we'll usually choose just one option that we think will appeal to everyone, like my favorite Strawberry Daiquiri recipe.
Often I have to wait until the morning of our get together to do my shopping, so I'll make a quick run to grab a few take and bake pizzas, a veggie tray, and the ingredients for one of the dips above, along with the beverages.
I'll fire up the slow cooker as soon as I get home and get that recipe started, pop the pizzas in the oven, and then transfer any remaining items from their packaging to plates, platters and bowl. I've got it down to such a science at this point that I can shop and have everything ready in under 90 minutes, giving me plenty of time to give the house a quick once over before our guests arrive!
Do you have a favorite go-to game day recipe? Please share it with us all in the comments!