White Chocolate Raspberry Cheesecake Cookies (Copycat Subway Raspberry Cheesecake Cookie)
These White Chocolate Raspberry Cheesecake Cookies feature cream cheese in the batter, bits of raspberry jammy goodness, and melty chunks of white chocolate. They're a homemade copycat version of Subway's famous Raspberry Cheesecake Cookies.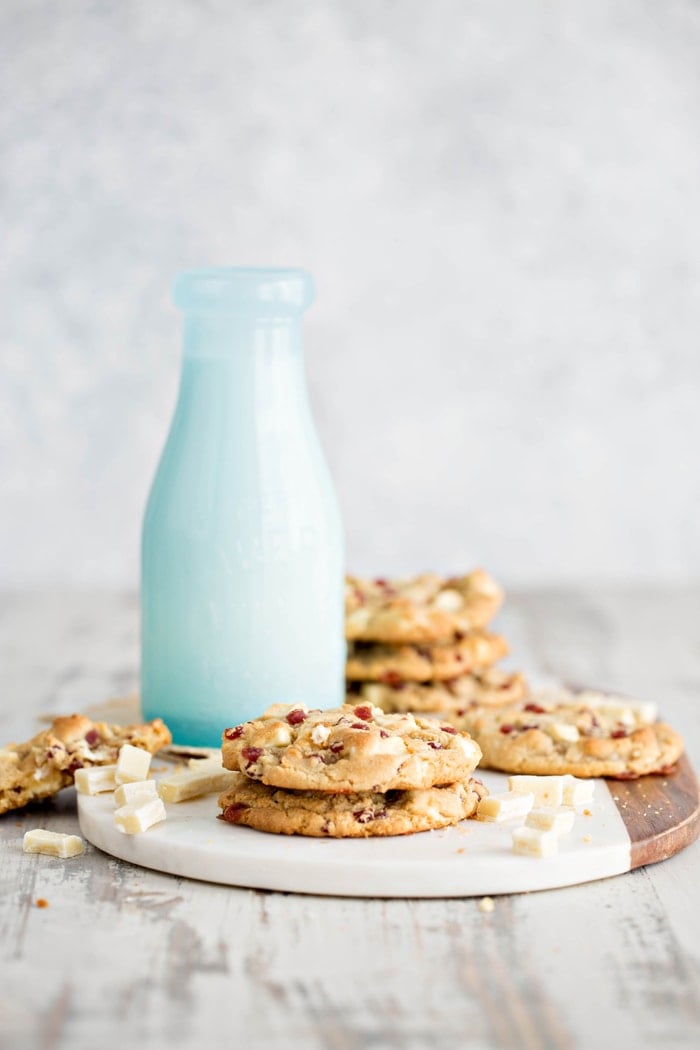 Making these Subway Raspberry Cheesecake Cookies
If you've ever set foot in a Subway restaurant, you've probably seen (and maybe even tasted) the Subway Raspberry Cheesecake Cookies. Kevin loves these cookies.
Last time we took the kids there for a quick lunch he asked me if I thought I could make something similar at home.
Challenge accepted.
My kids were at their dad's and Kevin's kids were with their mom for Spring Break.
That left me with plenty of time to do some cookie recipe testing and figure out how to make my own Subway Raspberry Cheesecake Cookie recipe.
In my google research, anyone who had already come up with a copycat of this recipe was using a raspberry muffin mix as the cookie base.
This is not usually the type of cooking and baking that I do and it didn't really sound that appetizing.
Instead, I decided I was on my own to come up with an alternative.
One that provided some of the same tastes and textures, namely the raspberry bits of flavor and a little bit of that tiny cheesecake flavor in the batter with the texture of a traditional chocolate chip cookie.
I chose to test some adaptations to my favorite chocolate chip cookie recipe.
I love the flavor and texture of this the best and I thought that it would be a good starting point.
Plus, I knew I probably couldn't go to wrong with it since it's already a tried-and-true favorite.
Worst-case scenario, it would yield a great cookie whether or not they tasted like what I was trying to imitate.
I had to figure out how to get the raspberry flavor in the cookies if I wasn't going to use the raspberry muffin mix idea.
I knew fresh raspberries wouldn't work because they would become a big mess as I mixed them in.
Another thing to consider was how to get a little bit of that cheesecake in a cookie that has a similar texture to a chocolate chip cookie.
I ended up using these Raspberry Jammy Bits and I thought they worked perfectly.
For the cream cheese flavor, I opted to substitute some cream cheese for a portion of the butter to give the cookie batter a little tang rather than having chunks of cream cheese in the cookies.
Subway's cookies don't have white chocolate chunks in them, if I recall correctly.
I knew I wanted the cookies to be White Chocolate Raspberry Cheesecake Cookies.
I thought that adding in chunks of white chocolate would give some extra color, flavor, and texture to the cookie.
Finding white chocolate that Logan can eat can be tough. Most of the options are labeled as "processed in a facility that handles peanuts" or on "shared equipment.
I ended up finding these White Chocolate Chunks on Amazon, which were a great size and they melted well in the cookie.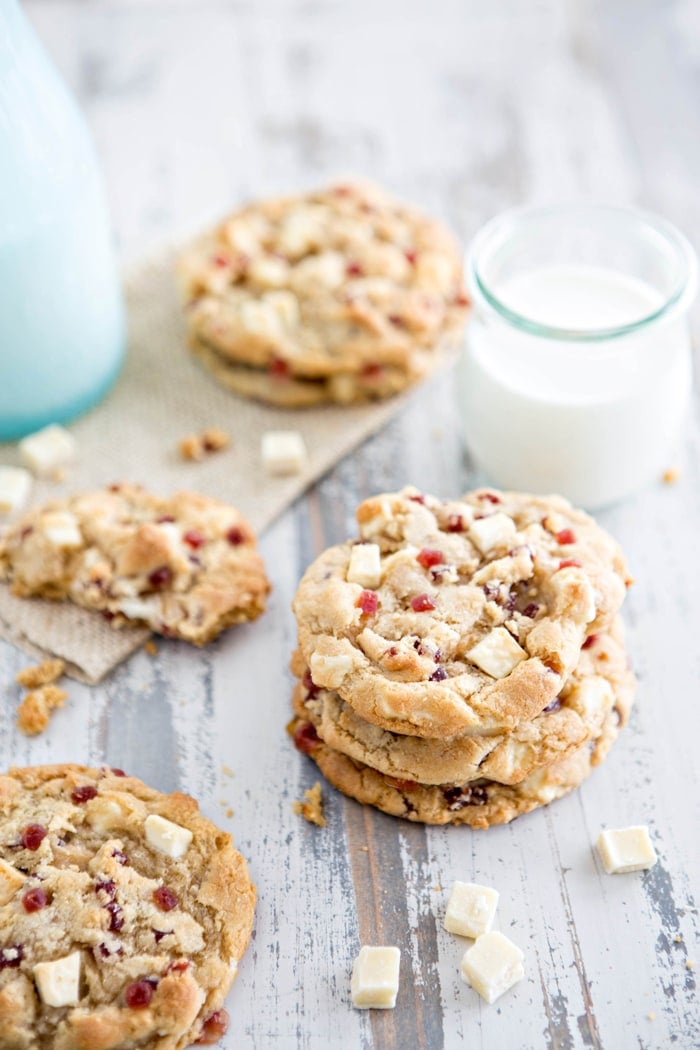 The cookie batter tasted awesome.
But I still needed to test the cookie size, baking temperature, and baking time. Luckily I made a double batch so I would have plenty to experiment with. For the first round, I only baked a couple as an experiment.
A large cookie scoop created the perfect size for the cookie, but the cookie didn't spread quite enough (thanks to the addition of the cream cheese and elimination of some of the butter).
After a few more test rounds, I found that it was best to make sure that the dough is brought completely to room temperature and soft before baking.
Otherwise, one of the side effects of substituting cream cheese for some of the butter is that these cookies are puffy, soft and don't spread quite as much is their traditional counterpart.
If you end up baking cold though the cookies won't spread, they'll just be really thick and the middle won't get done enough.
I also recommend slightly pressing down on the cookie dough balls to flatten the tops just a tad, then the oven will do the rest.
Kevin said that I totally hit the mark. These White Chocolate Raspberry Cheesecake Cookies were a win.
I love the way these cookies turned out they are definitely a winner in our house.
I think they're a really nice spring time cookie with the brightness that the raspberry flavors and the tiny bit of cream cheese paired with the big chunks of white chocolate
I made sure to save some of the cookie dough in the freezer for when the kids got home I knew they wouldn't want to miss out.
If you want to keep cookie dough on hand long term, these cookies freeze really well.
I followed the instructions in my How To Freeze Cookie Dough post so that we could save plenty of the dough for when the kids got home.
Confession: the kids have been home and we haven't shared any of the cookies with them.
Mostly it was because the first week after spring break was really crazy and busy.
It might be a little bit that we don't want to share.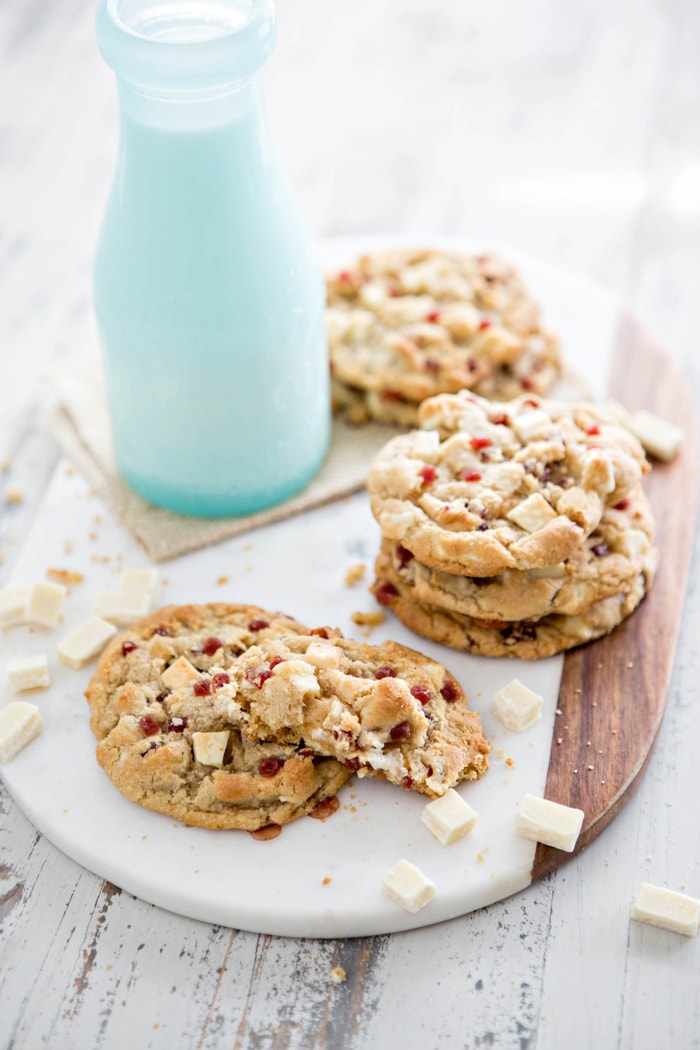 More Cookie Recipes
Looking for more cookie recipes? Here are a few of our favorites, but you can also check out the Cookies section in the Recipe Index!
Our kids (and plenty of family and friends) would straight up boycott if I ever stopped making these NY Times Chocolate Chip Cookies.
They're so well loved that I have made them several times for Army related functions that Kevin has hosted.
They are hands down, our favorite cookies to make and keep stashed in the freezer!
White Chocolate Lemon Coconut Cookies are a fun twist on the usual chocolate chip cookies and perfect for bright, sunny spring and summer days.
White Chocolate Pistachio Cookies are great for anyone who loves pistachios (pick me please!).
Oatmeal Almond Chocolate Chunk Cookies combine the best of oatmeal and chocolate cookies with a hint of nutty almond butter.
We found a way to get our peanut butter cookie cravings with Logan's peanut allergy – Almond Butter Cookies have all that classic taste without the allergen. They freeze well, too!
What are your favorite cookies?
Did you love this post?
Sign up for Good Life Eats email updates and never miss another update!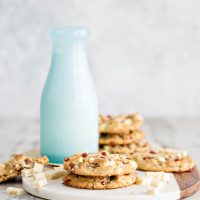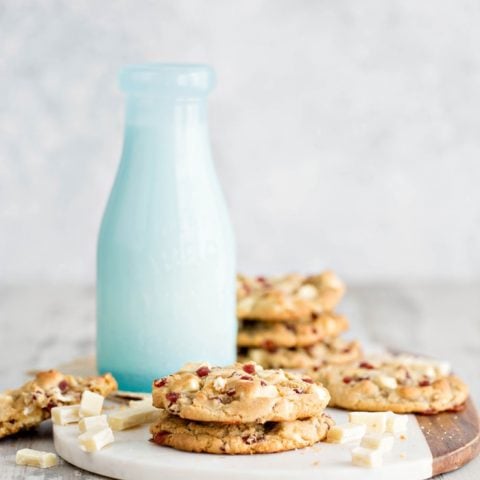 White Chocolate Raspberry Cheesecake Cookies
Additional Time:
5 minutes
Classic chocolate chip cookies get a make over.
These White Chocolate Raspberry Cheesecake Cookies feature cream cheese in the batter, bits of raspberry jammy goodness, and melty chunks of white chocolate. They're the perfect spring cookie!
Ingredients
2 cups minus 2 tablespoons (8 1/2 ounces) Cake Flour
1 2/3 cups (8 1/2 ounces) Bread Flour
1 1/4 teaspoons Baking Soda
1 1/2 teaspoons Baking Powder
1 1/2 teaspoons Coarse Sea Salt
1 1/2 sticks (12 tablespoons) Unsalted Butter, softened
4 ounces Full Fat Cream Cheese, softened
1 1/4 cups (10 ounces) Light Brown Sugar
1 cup plus 2 tablespoons (8 ounces) Granulated Sugar
1 tablespoon Pure Vanilla Extract
2 large Eggs
16 ounces White Chocolate Chunks
8 ounces Raspberry Jammy Bits
Instructions
In a medium sized mixing bowl, combine the cake flour, bread flour, baking soda, baking powder, and sea salt. Mix until well combined. Set aside
Combine the softened butter and softened cream cheese in the bowl of a stand mixer fitted with the paddle attachment.
Beat on medium high speed, stopping to scrape the sides periodically, until the butter and the cream cheese are well mixed, about 1 minute.
Add the sugars and the vanilla extract to the butter and cream cheese mixture. Beat over medium high speed until the mixture is light and fluffy, about 5 minutes. Be sure to stop the mixer and scrape the sides down periodically using a spatula.
Then, add the eggs, one at a time, to the butter and sugar mixture, making sure to mix until combined.
Reduce the mixer speed to low, then add the dry ingredients (about 1/2 a cup at a time) and mix until just combined.
Then, drop in the white chocolate chunks and the raspberry jammy bits a little bit at a time and stir on low just until they are evenly distributed.
Transfer the dough to a sealable container and refrigerate for 24 hours, or up to 72 hours.
Let the dough sit at room temperature for at least an hour, or until the dough is soft enough to scoop, before preparing to bake.
Then, preheat the oven to 325 degrees F. Line a baking sheet with parchment paper. Scoop the cookie dough into balls that are 3 tablespoons in size. I like to use a large cookie scoop for this.
Place the cookie dough balls on the prepared baking sheet, making sure to space them so they don't get stuck together as they spread.
Lightly press down on each of the cookie dough balls to slightly flatten the tops just a tad.
Place the cookies in the oven, increase the temperature to 350 degrees F and bake for 12 - 14 minutes, or until the cookies are lightly browned on top.
Remove from oven and let cool on the baking sheet for 5 minutes before removing.
Recommended Products
As an Amazon Associate and member of other affiliate programs, I earn from qualifying purchases.
Nutrition Information
Yield

36
Serving Size

1 cookie
Amount Per Serving
Calories

139
Total Fat

6g
Saturated Fat

4g
Trans Fat

0g
Unsaturated Fat

2g
Cholesterol

17mg
Sodium

181mg
Carbohydrates

19g
Net Carbohydrates

0g
Fiber

1g
Sugar

8g
Sugar Alcohols

0g
Protein

3g
GoodLifeEats.com offers recipe nutritional information as a courtesy and is an estimate only. This information comes from online calculators. Although GoodLifeEats.com makes every effort to provide accurate information, these figures are only estimates.