Want to get organized for holiday baking? Come get this Well Stocked Spice Cabinet free printable to help you get started!
I'm going to show you something a little embarrassing here.
I hope you understand.
Sometimes, despite my best efforts, my kitchen starts to look like this.
I really hate it.
I can't find what I need.
I don't know what I have and what I'm out of.
And I can't concentrate with the clutter and disarray.
Right now it is definitely not a A Well Stocked Spice Cabinet.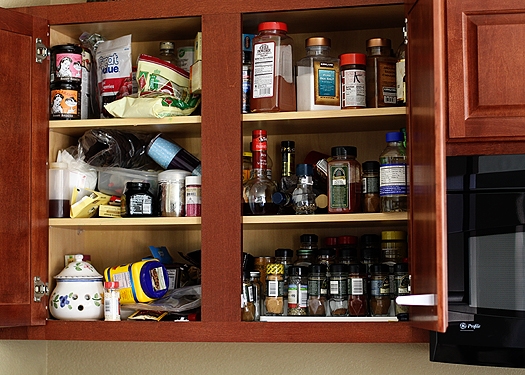 Don't think it's too bad?
Let's take a closer look.
Oh wait.
Are those child locks on the cabinets?
They sure are.
They're a recent addition to our kitchen.
And now every single cabinet in the whole house – and a few drawers too – has a child lock on it.
Because Madeline thinks it's fine and dandy to do things like dump whole bottles of curry powder all over the counter.
Or use green food coloring as hand lotion.
And no, I am not exaggerating.
What's that bottle of Excedrin doing in the mix?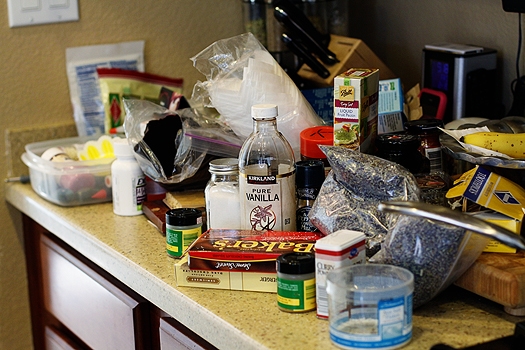 A few weekends ago I went in.
I tackled the mess.
I took everything out of the cabinet and put it on the counter.
Tossed what was old or empty, consolidated what I could, and reorganized.
I did an inventory of what's in the cupboard so I can make a note when something runs out.
And here is what it looks like now.
A Well Stocked Spice Cabinet has been achieved!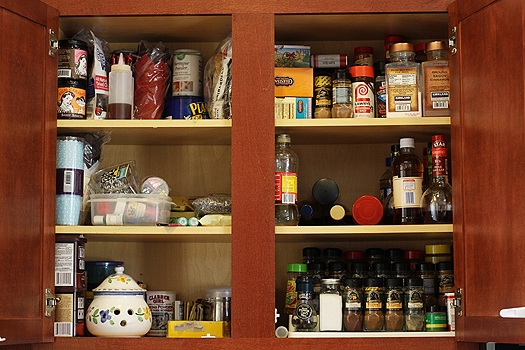 Why did I bother?
Because I like my kitchen to run like a well-oiled machine.
I like everything to be neat and tidy so that the kitchen does some of the work for me.
Holidays are quickly approaching and without an organized and well stocked spice cabinet it'll be difficult to get organized with Holiday baking.
I made a spice cabinet inventory check-list to help me keep track of what I have and when I'm running low.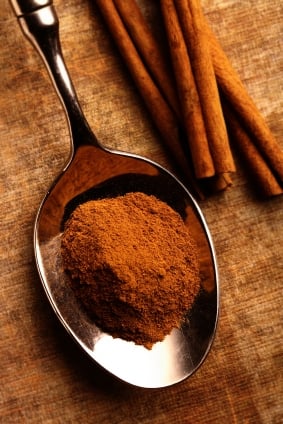 If you'd like the FREE PRINTABLE Spice Cabinet Inventory, you can download it HERE.
It works great to have this taped inside the cabinet so it's right there all the time.
There are some items that should be in this check-list, but aren't because they're located in the pantry instead.
The spice cabinet can only hold so much!
(i.e. I have dried cherries here because the bag is small, but the dried cranberries and raisins are in the pantry because the bags are large).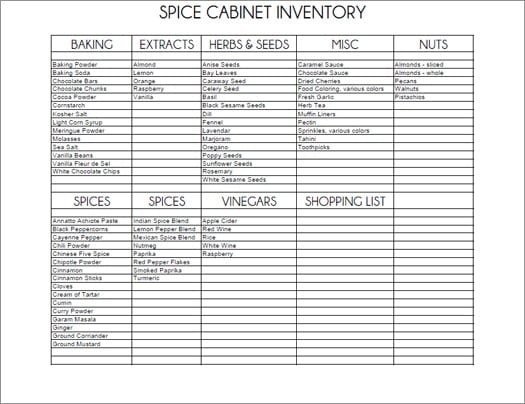 What are your essential HOLIDAY BAKING SPICES?
Mine would have to be:
Whole Cloves
Ground Cloves
Allspice
Cardamom
Cinnamon
Cinnamon Sticks
Nutmeg
Ground Ginger
Pumpkin Pie Spice
If I didn't have those, I wouldn't be able to make things like Easy Pumpkin Custard, Muffins That Taste Like Donuts, Cardamom Citrus Coffee Cake, or Pumpkin Cinnamon Rolls – all some of our favorite fall recipes!