I know some readers hate to see their favorite books made into movies – watching someone else's vision of the characters come to life can be disconcerting!
But generally, I love seeing movie version of books I love. It's so fun to see things that have only existed in my head re-imagined before my eyes.
Here are six YA books that are being turned into movies this year. Pick up the paper copy now, and then watch them at the theater later this year!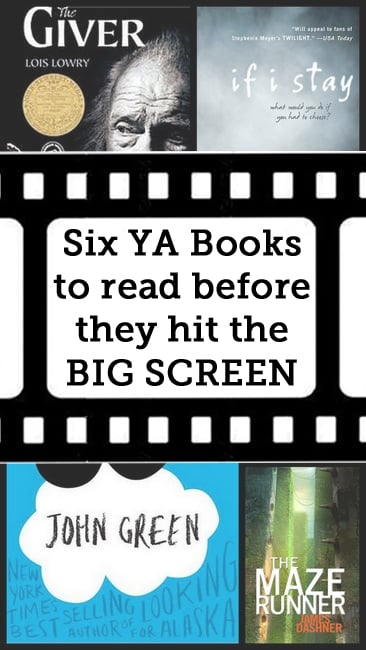 Written by: Janssen Bradshaw of Everyday Reading
If I Stay by Gayle Forman. This is one of my all-time favorite books (you can read my full review here), about a girl in a terrible car accident with her family who now must make the biggest decision of her life. I cannot wait to see this one, and I'm crossing my fingers it is as good as the book. (Movie comes out in August 2014).
Divergent by Veronica Roth. In futuristic Chicago, society is separated into five factions. When she turns 16, Tris must choose which faction to devote her life to, while also keeping a deep secret hidden. (Katie and I both share a love of dystopian books – you can check out some of her other recommendations here) (Movie comes out in March 2014)
The Fault in Our Stars by John Green. This is the book everyone is talking about, following two teenagers with cancer who fall in love. I've read it twice, and it's clever and heartbreaking. Bring your tissues to the movie theater. (Movie comes out in June 2014)
The Giver by Lois Lowry. This Newbery winner about a seemingly perfect world has been a long-time favorite of mine (and millions of other readers). I'm anxious to see Jonah's world come to life in the movies! (Movie comes out in August 2014)
The Maze Runner by James Dashner. When Thomas wakes up in a strange new place, the only thing he remembers is his name. Now, with a group of other teens who can't remember their pasts either, they have to try and escape through the ever-changing maze. No one's ever made it out alive before. (Movie comes out in September 2014)
Vampire Academy by Richelle Mead. This wildly popular series follows the adventures of humans and vampires at a secret boarding school. The movie is already out (it released in February 2014), so you can get a jump on this list immediately.