Looking for a fun twist on the traditional salted caramel recipe? These Gingerbread Caramels are a delicious and a great Christmas candy to add to your Holiday goodie making list. Caramel pairs awesomely with hints of molasses and ginger.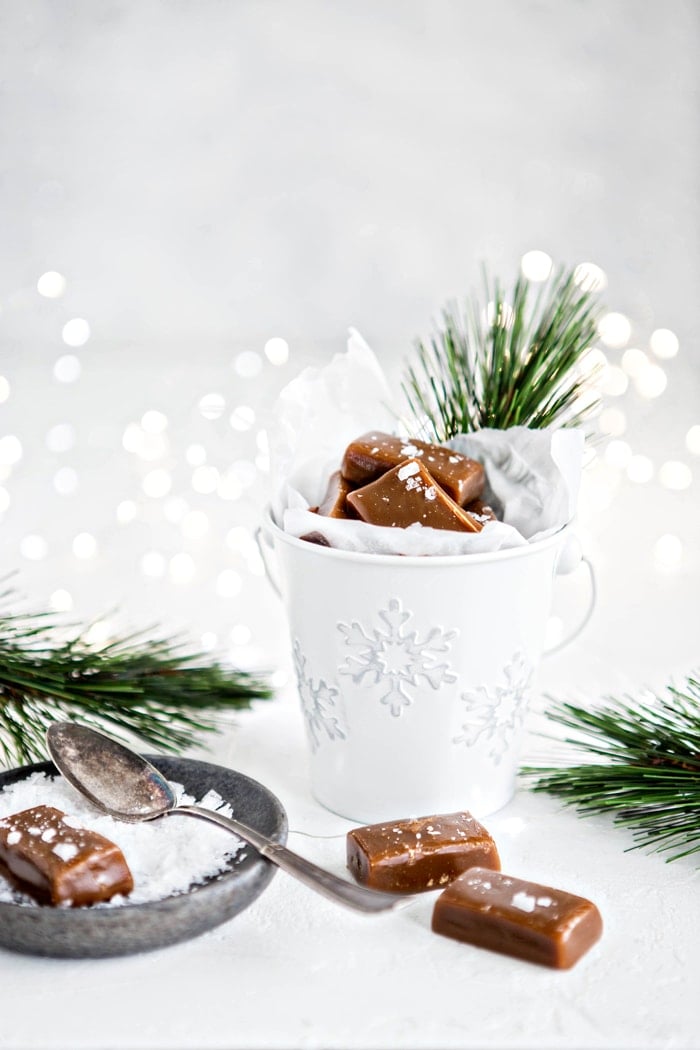 Save this recipe for Gingerbread Caramels to Pinterest!
Homemade Caramel Recipe
One of my all time favorite things to do this time of year is to make homemade sea salt caramels. And one of my absolute favorite recipes for homemade salted caramels is this recipe for gingerbread caramels.
We make this recipe every year, or at least we every year since I first shared the recipe on Good Life Eats six years ago.
We've already made them twice this month. I had to hide the first batch from the kids just so I would have enough to snap a few photos of.
Otherwise they would have inhaled them in about 2 seconds. That has pretty much been the problem with every single Christmas candy or cookie that I have made since Thanksgiving.
I had all of these great plans to test and photograph new recipes to share. And instead, the kids are eating them before I even have the chance!
We make homemade caramels, like this recipe for Gingerbread Caramels, so often that I have become pretty adept at caramel making. But it wasn't always that way. When I first learned how to make caramels several years ago, I was very intimidated.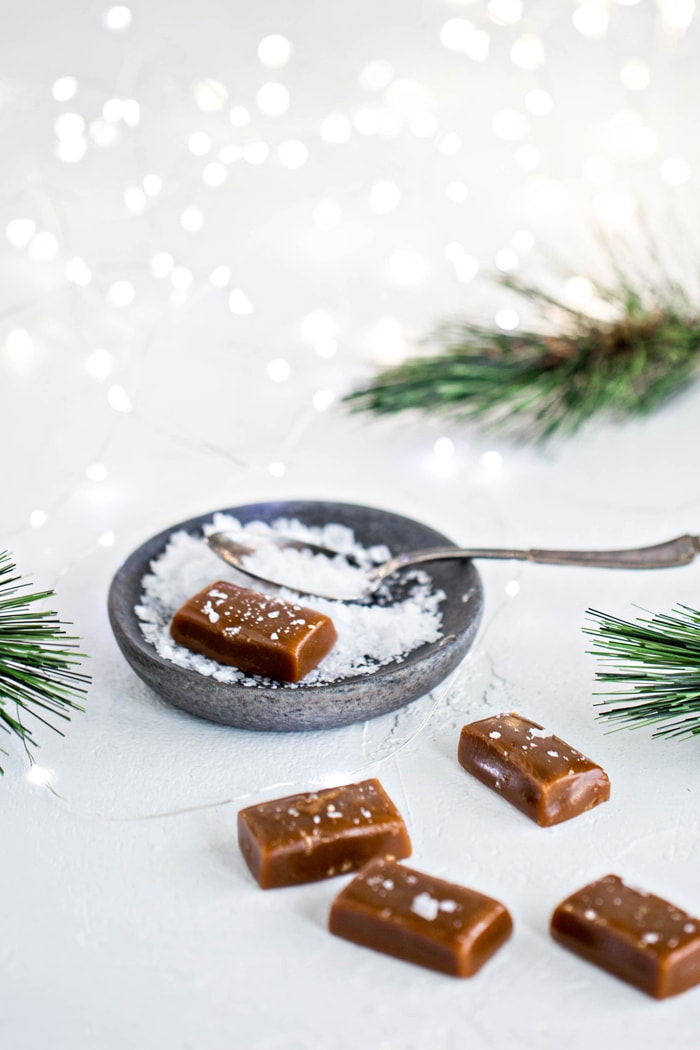 Save this recipe for Gingerbread Caramels to Pinterest!
Sometimes when I made homemade caramels they were too soft to hold their shape as caramels. But other batches turned out more like hard candy.
In a moment of frustration, I googled something like "why are my caramels turning out like hard candy?" I did some reading.
Then I googled "high altitude candy making." And then "soft caramels high altitude." After many failed batches, I finally discovered that the problem was actually relatively simple.
All I needed to do was to adjust my final temperature due to living at higher than sea level elevation.
What a difference adjusting the temperature for altitude made! Now I could make soft, chewy sea salt caramels in my own home.
Living significantly above sea level will result in hard candy rather than soft, chewy caramels if you don't adjust the temperature in the recipe. For best results, you are definitely going to want to adjust the recipe for these gingerbread caramels.
Once you figure out the best method for where you live, making caramels becomes easier and easier every time. This last time I made them, it actually took me twice as long to untangle all of the dang fairy lights I wanted to use in the photos than it did to make the recipe.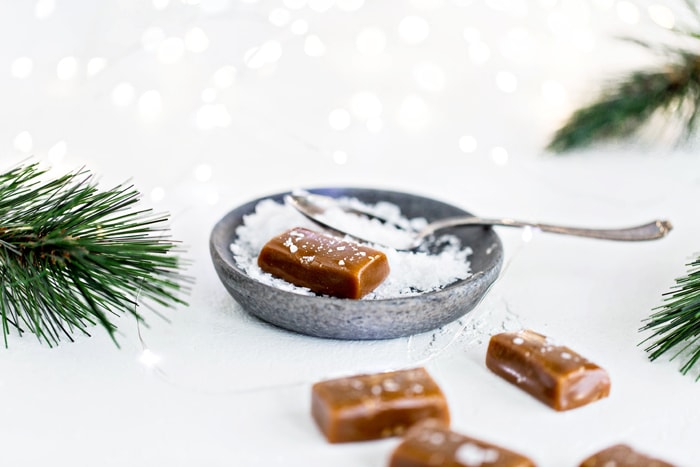 Save this recipe for Gingerbread Caramels to Pinterest!
Gingerbread Caramel Ingredients
To make this soft caramel candy recipe, you'll need the following ingredients:
Heavy cream
Butter
Granulated sugar
Brown sugar
Molasses
Water
Vanilla extract
Spices
Sea salt
For the complete ingredient list and detailed instructions, scroll to the bottom of this post for the FREE printable recipe card.
How to Make Caramels
Here's the basic rundown of how to make this soft caramel recipe:
In a saucepan, bring the butter and cream to a boil. Remove from heat.
In a separate saucepan, combine the sugar, molasses, and water.
Bring the sugar mixture to a boil and cook until the sugar has dissolved and the mixture is deep amber in color.
Carefully stir in the cream mixture.
Continue cooking until the caramel registers no higher than 248°F.
Remove from heat and immediately stir in vanilla, salt, and spices.
Pour into parchment paper-lined baking pan and sprinkle with sea salt.
Allow homemade caramels to cool completely before slicing.
The above is simply a quick summary of this recipe. Check out the full recipe in the free printable recipe card at the bottom of this post for all the detailed instructions.
Do You Need a Thermometer to Make these Gingerbread Caramels?
Yes, I definitely recommend a good, accurate candy thermometer when making any recipe for homemade caramels. This will help you be as accurate as possible to avoid too soft or too hard caramel.
This Instant Read Candy Thermometer is great! I haven't tried it before, but this Digital Candy Thermometer, Instant Read Kitchen Cooking & Candy Spatula Thermometer Temperature Reader & Stirrer in One looks really cool!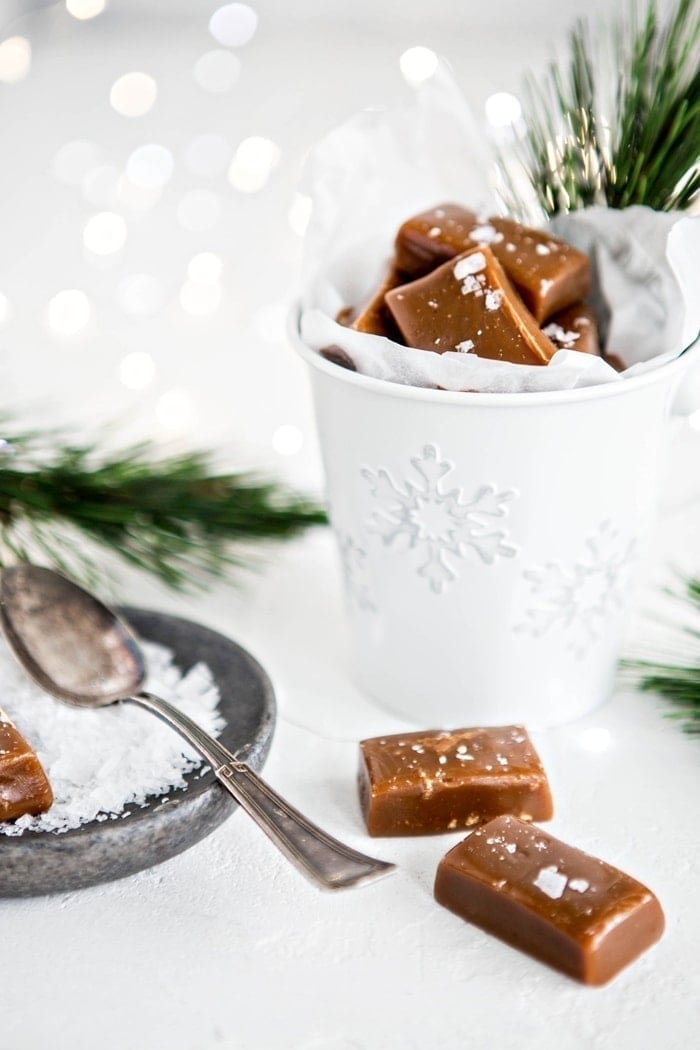 Save this recipe for Gingerbread Caramels to Pinterest!
Can I Make Chocolate-Covered Caramels?
Of course! You'd need to let the gingerbread caramels cool completely, then dip them in chocolate after they've been sliced.
The best type of chocolate to use for dipping is tempered chocolate. Tempered chocolate will cool into a hardened state with a shiny appearance. When broken or bitten into, it will break with a snap.
Learn how to temper chocolate properly – it is essential when you want to dip homemade caramels in chocolate for a chocolate covered caramel. Follow my how-to for all you need to know about tempering chocolate.
What Type of Molasses Should I Use?
Anything but blackstrap molasses will work! Blackstrap molasses is too bitter for making these homemade caramels from scratch.
Does Altitude Affect Candy Making?
Yes, definitely! Most homemade caramel recipes are written for sea level elevations, so you'll want to make adjustments if you live at a higher elevation.
The trick to successful caramel making is to know the elevation for where you live. Once you have that information, you'll factor it into the instructions for when making these Gingerbread Caramels.
I'll show you how to calculate any adjustments for high altitude caramel making below:
Making Caramel at High Altitudes
If you've never made homemade caramels before, I hope that these high altitude caramel making instructions make it just a bit easier when you make this recipe for Gingerbread Caramels for the first time. This recipe is definitely worth it!
With higher altitudes, you are going to bring the final cook temperature up lower if you live above sea level to achieve the same soft, chewy caramels.
1. First you will need to know out what your local altitude is.
We'll use my location as an example. We are just over 5,000 ft. elevation.
If you don't already know your local altitude, just google your zip code and the world altitude and you'll be able to find the information you need.
2. For every 1,000 feet above sea level you will subtract 2 degrees from the target temperature of the recipe.
5,000 divided by 1,000 is 5.
I will take 2 degrees off 5 times.
Final result 5 x 2 = 10.
3. Subtract the number of degrees you calculated previously from the recipe's original temperature.
In this recipe, the target temperature is 248 degrees F.
248 – 10 degrees for altitude adjustment = 238 degrees F.
238 degrees F is my new high altitude adjusted temperature for this recipe.
Conversion Instructions for High Altitude Candy Making
To calculate your new temperature for this Gingerbread Caramel recipe, use this simple formula:
248 – (your elevation in feet / 1000) x 2 = YOUR NEW TEMPERATURE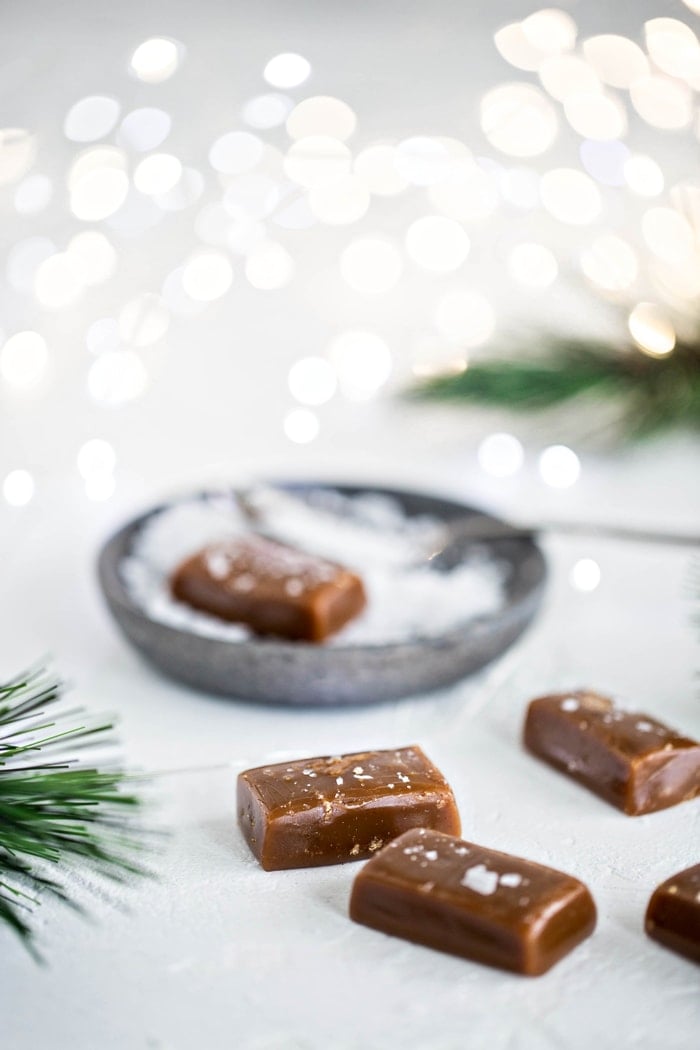 Save this recipe for Gingerbread Caramels to Pinterest!
Tips for Making This Caramel Recipe
Caramel making can be really finicky. I recommend a good, accurate candy thermometer and total focused attention. This Instant Read Candy Thermometer is great!
You definitely don't want to turn your back for even a couple of minutes because you can ruin your homemade caramels that easily.
Gingerbread caramel making is something I like to do best when the kids are either at school, not home, or asleep. That leaves me with way less chance of interruption and distraction.
My personal preference is to take the boiling gingerbread caramel mixture off the stove when I see that the thermometer reads 1 degree lower than the recipe temperature.
This helps me to ensure that I don't accidentally go from chewy caramels to hard candy in those last few seconds. Because that has definitely happened way too many times when making caramels!
Reader Reviews for these Homemade Gingerbread Caramels
"These were great! Made with Steen's Ribbon Cane Syrup for a milder taste. Covered in milk chocolate." -Jeff
"These are so yummy! We loved them! I have been trying to find a treat for my friend who has celiac's and a bunch of other allergies and these are perfect! Thank you!" -Heidi
"I made these last year and found that they were even better covered in chocolate! They were a huge hit in my house. I was just searching for the recipe to make them again this year. Can't wait!" -Carrie
Let me know if you try this recipe and what you think of it by leaving a comment below.
More Edible Christmas Gifts:
'Tis the season for holiday gifting, and for our family that means homemade candies! Homemade gifts from the kitchen, like these Gingerbread Caramels, make great holiday gifts for friends, teachers, and neighbors.
Do you love chewy caramel, crunchy rice krispies, and milk chocolate? These Milk Chocolate Caramel Crunch Bars are like Homemade 100 Grand Bars, but even better!
For classic chocolate-covered caramels, try these Chocolate-Covered Vanilla Fleur de Sel Caramels.
Chocolate Raspberry Vanilla Bean Marshmallows are a great gift paired with homemade cocoa mix and a fun new mug. You can never go wrong with another recipe for chocolate bark.
This Pumpkin Seed Brittle is just like your classic homemade brittle recipe, but without nuts. Peanut-Free Brittle is a great option for those who have nut or peanut allergies, or just want to try something different for their Christmas Candy making.
Dark Chocolate Turtle Pretzel Bark is a fun treat for kids to help make for a teacher gift. Classic Pecan Christmas Turtles meet Dark Chocolate Bark with the crunchy, salty addition of mini pretzels for a delicious sweet and salty Christmas candy treat.
Try this Bittersweet Chocolate Swirl Fruit and Nut Bark. Bittersweet chocolate, white chocolate, almonds, raspberries, strawberries, pumpkin and chia seeds combine for a delectable and colorful holiday treat.
Homemade Chocolate Dipped Candy Cane Marshmallows are easy to make! Pair a bag of these goodies with a mug or hot cocoa mix for an inexpensive (and yummy) holiday gift.
Do you like making candied nuts? Cinnamon Vanilla Glazed Walnuts and Sweet and Spicy Rosemary Bar Nuts are both simple to make and nice additions to a candy and nut gift box.
Do you know someone who loves chocolate paired with peppermint?This Triple Chocolate Candy Cane Hot Cocoa Bark would be a hit with them! Dark chocolate pairs white chocolate, milk chocolate chips, marshmallows, and mini candy canes in this Candy Cane Hot Cocoa Bark for a fun holiday treat.
What's your favorite homemade gift you've ever received?
Love this recipe for Gingerbread Caramels?
Sign up for Good Life Eats email updates and never miss another recipe!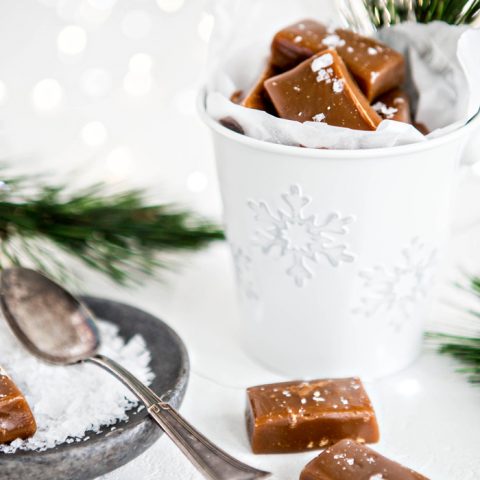 Gingerbread Caramels
Total Time:
1 hour
25 minutes
Gingerbread Caramels are a fun twist on a classic caramel recipe. Caramel pairs awesomely with hints of molasses and ginger.
Ingredients
1 1/2 cups heavy cream
8 tablespoons butter
1 3/4 cup granulated sugar
1/2 cup brown sugar
1/2 cup molasses (not blackstrap)
1/2 cup water
1 1/2 teaspoons vanilla extract
1/2 - 1 teaspoon ground ginger
1/4 - 1/2 teaspoon ground cinnamon
1/4 teaspoon ground nutmeg
1/8 teaspoon allspice
1/8 teaspoon cloves
1/2 teaspoon sea salt or Maldon Sea Salt Flakes
Instructions
Line bottom and sides of an 8 or 9-inch square baking pan with parchment paper, then lightly oil parchment. (Related: Kitchen Tip: Lining Pans with Parchment)
Bring cream and butter to a simmer in a small saucepan, then remove from heat and set aside.
Pre-measure the spices and salt out into a small bowl. Pre-measure the vanilla into another small bowl. You will need to access these ingredients very quickly at the end of the recipe.
Combine the sugar, molasses, and water in a 4 to 5-quart heavy saucepan over medium high heat.
Boil, without stirring but gently swirling pan, until all of the sugar has dissolved and the mixture is a deep amber color.
Turn heat to low. Carefully stir in cream mixture (mixture will bubble up).
Return heat to medium to medium-high and simmer, stirring frequently, until caramel temperature registers no higher than 248°F on thermometer, 10 to 15 minutes.
Turn off the heat and immediately whisk in the vanilla, salt and spices. Pour into baking pan.
Once the mixture has cooled slightly but is still tacky to the touch, sprinkle the tops very lightly with additional sea salt, if desired.
Then, allow the caramels to completely cool before cutting.
Remove caramels from pan and cut into 1 inch pieces.
Notes
ABOVE SEA LEVEL INSTRUCTIONS
Before you start this project you will also need find out what your elevation is and adjust the temperatures accordingly.
For every 1,000 feet above sea level, you will need to subtract 2 degrees from the final cook temperature.
For example, I live at 5,000 ft. above sea level, so I subtract a total of 10 degrees from the temperature indicated in the recipe, cooking until the candy thermometer reaches 238 degrees F.
Recommended Products
As an Amazon Associate and member of other affiliate programs, I earn from qualifying purchases.
Nutrition Information
Yield

40
Serving Size

2 - 1x1 inch caramels
Amount Per Serving
Calories

106
Total Fat

6g
Saturated Fat

4g
Trans Fat

0g
Unsaturated Fat

2g
Cholesterol

16mg
Sodium

64mg
Carbohydrates

14g
Fiber

0g
Sugar

14g
Protein

0g
GoodLifeEats.com offers recipe nutritional information as a courtesy and is an estimate only. This information comes from online calculators. Although GoodLifeEats.com makes every effort to provide accurate information, these figures are only estimates.
Other Homemade Gift Ideas:
Homemade BBQ Chicken Rub features a mix of brown sugar, salt, pepper, garlic powder, cumin, chili powder, and smoked paprika for a flavorful homemade spice rubI love that this BBQ Chicken Rub stores well in a jar so that you can make a large batch ahead of time and use it throughout the year.
Homemade Pancake Mix Jars are a fun way to gift a delicious and healthy breakfast recipe. Pair it with a cute mixing bowl and a wooden spoon or a nice spatula, or a bottle of your favorite maple syrup.
If you're looking for a fun family Christmas craft that can also serve as a homemade gift, Salt Dough Ornaments are the sweetest!
Still want more ideas? Check out these 35 Homemade Christmas Gift Ideas if you're looking for homemade gift ideas this holiday season.
Be sure to follow Good Life Eats on Instagram. Tag @goodlifeeats and include the hashtag #goodlifeeatsrecipes so I can see what you're cooking up in YOUR kitchen!
Save this recipe for Gingerbread Caramels to Pinterest!
© 2011 GoodLife Eats™. All rights reserved. Images, photography original text, and original recipes (unless otherwise noted) contained herein are sole property of GoodLife Eats™ and may not be used, copied or transmitted without author consent.