Gingerbread Caramel Recipe
Gingerbread Caramels are a fun twist on a classic caramel recipe.
Caramel pairs awesomely with hints of molasses and ginger.
I love Salted Caramels and I love Gingerbread Cookies.
Those are two very necessary Christmas flavors for me.
Last week I had the thought that I should combine the two flavors into a new caramel recipe.
I bring you: Gingerbread Caramels.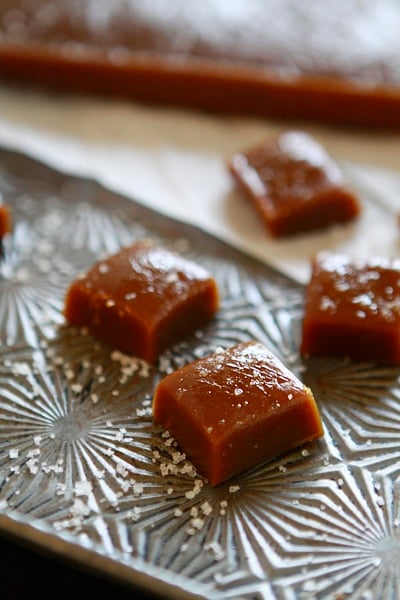 Save this recipe for Gingerbread Caramels to Pinterest!
When I first learned how to make caramels a couple of years ago, I was very intimidated.
I had many failed batches.
Some were too soft to hold their shape as caramels while others were more like hard candy.
In a moment of frustration, I googled something like "why are my caramels turning out like hard candy" or "high altitude caramel."
I finally discovered that I needed to adjust my final temperature due to living at higher than sea level elevation.
What a difference that made!
Now I could make soft, chewy caramels in my own home.
Living significantly above sea level will result in hard candy rather than soft, chewy caramels if you don't adjust the temperature in the recipe.
For best results, you are definitely going to want to adjust the recipe for these Gingerbread Caramels.
MAKING CANDY AT HIGH ALTITUDES
The trick is to know the elevation for where you live and then factor that into the instructions for this Gingerbread Caramel Recipe recipe (or any other caramel recipe).
Because, if you're wondering does altitude affect candy making?, the answer is YES.
HOW TO ADJUST CANDY RECIPES FOR HIGH ALTITUDE
With higher altitudes you are going to bring the final cook temperature up lower if you live above sea level to achieve the same soft, chewy caramels.
1. First you will need to find out what your local altitude is.
We'll use my location as an example.
We are just over 5,000 ft. elevation.
2. For every 1,000 feet above sea level you will subtract 2 degrees from the target temperature of the recipe.
5,000 divided by 1,000 is 5.
I will take 2 degrees off 5 times.
Final result 5 x 2 = 10.
3. Subtract the number of degrees you calculated previously from the recipe's original temperature.
In this recipe, the target temperature is 248 degrees F.
248 – 10 degrees for altitude adjustment = 238 degrees F.
238 degrees F is my new high altitude adjusted temperature for this recipe.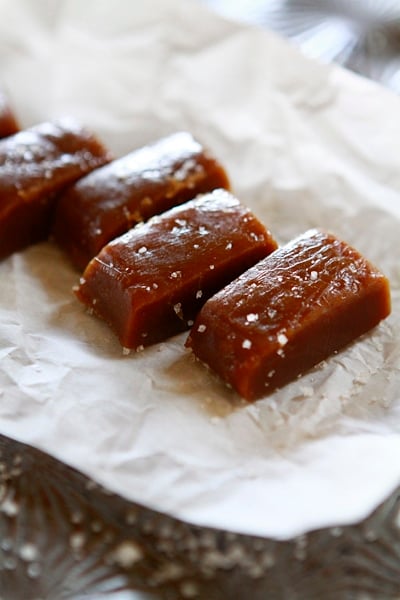 Save this recipe for Gingerbread Caramels to Pinterest!
My personal preference is to take the boiling gingerbread caramel mixture off the stove when I see that the thermometer reads 1 degree lower than the recipe temperature.
This helps me to ensure that I don't accidentally in those last few seconds go from chewy caramels to hard candy.
Because that has definitely happened way too many times when making caramels.
These Gingerbread flavored caramels were a success and hit.
My kids love them and my sister says they are addicting.
After making a repeat batch to test the recipe again I gifted half of it to friends and Madeline's Kindergarten teacher to get it out of our house before we ate them all ourselves.
The kids are already asking when we can make them again.
As a mother, I always feel that that question is my greatest measure of success.
MORE CHRISTMAS CANDIES FOR HOMEMADE GIFTING
Dark Chocolate Turtle Pretzel Bark is a fun treat for kids to help make for a teacher gift.
Classic Pecan Christmas Turtles meet Dark Chocolate Bark with the crunchy, salty addition of mini pretzels for a delicious sweet and salty Christmas candy treat.
For classic chocolate covered caramels, try these Chocolate Covered Vanilla Fleur de Sel Caramels.
Chocolate Raspberry Vanilla Bean Marshmallows are a great gift paired with homemade cocoa mix and a fun new mug.
You can never go wrong with another recipe for chocolate bark.
Try this Bittersweet Chocolate Swirl Fruit and Nut Bark.
Bittersweet chocolate, white chocolate, almonds, raspberries, strawberries, pumpkin and chia seeds combine for a delectable and colorful holiday treat.
Homemade Chocolate Dipped Candy Cane Marshmallows are easy to make!
Pair a bag of these goodies with a mug or hot cocoa mix for an inexpensive (and yummy) holiday gift.
Do you like making candied nuts?
Cinnamon Vanilla Glazed Walnuts and Sweet and Spicy Rosemary Bar Nuts are both simple to make and nice additions to a candy and nut gift box.
Do you know someone who loves chocolate paired with peppermint?
This Triple Chocolate Candy Cane Hot Cocoa Bark would be a hit with them!
Dark chocolate pairs white chocolate, milk chocolate chips, marshmallows, and mini candy canes in this Candy Cane Hot Cocoa Bark for a fun holiday treat.
Love this recipe for Gingerbread Caramels?
Sign up for Good Life Eats email updates and never miss another recipe!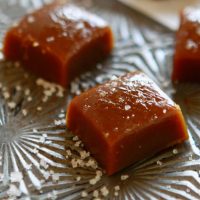 Gingerbread Caramels
Yield: one 9x9 inch pan

Prep Time: 5 minutes

Total Time: 5 minutes

Gingerbread Caramels are a fun twist on a classic caramel recipe. Caramel pairs awesomely with hints of molasses and ginger.
Ingredients
1 1/2 cups heavy cream
8 tablespoons butter
1 3/4 cup granulated sugar
1/2 cup brown sugar
1/2 cup molasses
1/2 cup water
1 1/2 teaspoons vanilla extract
1/2 - 1 teaspoon ground ginger
1/4 - 1/2 teaspoon ground cinnamon
1/4 teaspoon ground nutmeg
1/8 teaspoon allspice
1/8 teaspoon cloves
1/2 teaspoon sea salt or Maldon Sea Salt Flakes
Instructions
Line bottom and sides of an 8 or 9-inch square baking pan with parchment paper, then lightly oil parchment. (Related: Kitchen Tip: Lining Pans with Parchment)
Bring cream and butter to a simmer in a small saucepan, then remove from heat and set aside.
Pre-measure the spices and salt out into a small bowl. Pre-measure the vanilla into another small bowl. You will need to access these ingredients very quickly at the end of the recipe.
Combine the sugar, molasses, and water in a 4 to 5-quart heavy saucepan over medium high heat.
Boil, without stirring but gently swirling pan, until all of the sugar has dissolved and the mixture is a deep amber color.
Turn heat to low. Carefully stir in cream mixture (mixture will bubble up).
Return heat to medium to medium-high and simmer, stirring frequently, until caramel temperature registers no higher than 248°F on thermometer, 10 to 15 minutes. T
urn off the heat and immediately whisk in the vanilla, salt and spices. Pour into baking pan.
Once the mixture has cooled slightly but is still tacky to the touch, sprinkle the tops very lightly with additional sea salt, if desired.
Then, allow the caramels to completely cool before cutting.
Remove caramels from pan and cut into 1 inch pieces.
Notes
ABOVE SEA LEVEL INSTRUCTIONS
Before you start this project you will also need find out what your elevation is and adjust the temperatures accordingly.
For every 1,000 feet above sea level, you will need to subtract 2 degrees from the final cook temperature.
For example, I live at 5,000 ft. above sea level, so I subtract a total of 10 degrees from the temperature indicated in the recipe, cooking until the candy thermometer reaches 238 degrees F.
Recommended Products
As an Amazon Associate and member of other affiliate programs, I earn from qualifying purchases.

Be sure to follow Good Life Eats on Instagram. Tag @goodlifeeats and include the hashtag #goodlifeeatsrecipes so I can see what you're cooking up in YOUR kitchen!
Let me know if you try this recipe and what you think of it by leaving a comment below.
Save this recipe for Gingerbread Caramels to Pinterest!