Chocolate Covered Vanilla Fleur de Sel Caramels make an excellent homemade candy during the Christmas holidays.
I have a thing for sweet and salty.
My husband doesn't quite understand it.
He's not a big fan of salt sprinkled on top of baked goods or sweet candies.
For me, I think I need salty and sweet together to balance each other out.
And that's why I love salted caramels so much.
Last year I decided that I needed to learn how to make these Chocolate Covered Vanilla Fleur de Sel Caramels myself.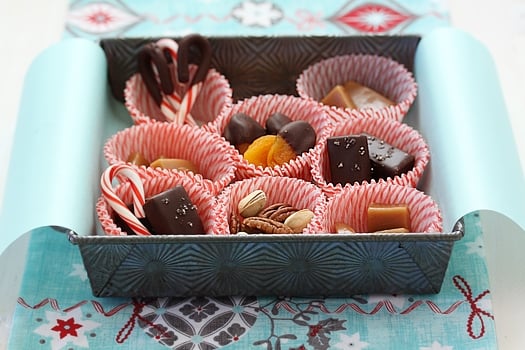 Save this recipe for Chocolate Covered Vanilla Fleur de Sel Caramels to Pinterest!
I was intimidated by caramels at first.
Over the past few years I have had a few failed batches
Some were too soft to hold their shape as caramels while others were more like hard candy.
In a moment of frustration, I googled something like "why are my caramels turning out like hard candy" or "high altitude caramel."
I finally discovered that I needed to adjust my final temperature due to living at higher than sea level elevation.
That makes a difference in the final temperature that the candy should reach.
Go too high and you'll have hard candy.
What a difference that made!
Now I could make soft, chewy caramels in my own home.
Living significantly above sea level will result in hard candy rather than soft, chewy caramels if you don't adjust the temperature in the recipe.
For best results, you are definitely going to want to adjust the recipe.
I also like to take it off 1 or 2 degrees before the final temperature just to be safe.
These Chocolate Covered Vanilla Fleur de Sel Caramels turned out so good it was a bit hard to stop snacking on them as I dipped them in chocolate.
I ended up sending a container of them with my husband to work the next day because I had eaten so many.
And then I deeply regretted it the next day after he and his co-worker had eaten them all.
The horror!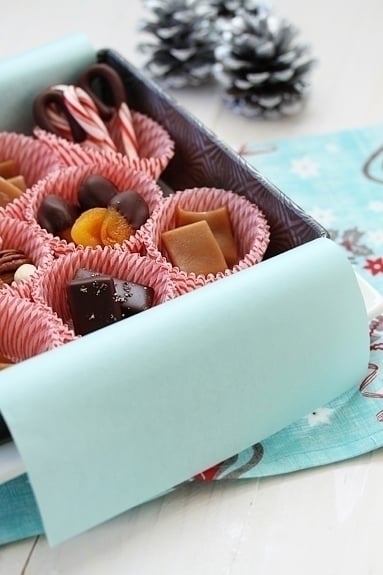 Save this recipe for Chocolate Covered Vanilla Fleur de Sel Caramels to Pinterest!
MAKING CANDY AT HIGH ALTITUDES
The trick is to know the elevation for where you live and then factor that into the instructions for this Chocolate Covered Vanilla Fleur de Sel Caramels recipe (or any other caramel recipe).
Because, if you're wondering does altitude affect candy making?, the answer is YES.
HOW TO ADJUST CANDY RECIPES FOR HIGH ALTITUDE
With higher altitudes you are going to bring the final cook temperature up lower if you live above sea level to achieve the same soft, chewy caramels.
1. First you will need to find out what your local altitude is.
If you don't already know this, just google your zipcode and elevation and you'll easily find an answer.
We'll use my location as an example.
We are just over 5,000 ft. elevation.
2. For every 1,000 feet above sea level you will subtract 2 degrees from the target temperature of this recipe for Chocolate Covered Vanilla Fleur de Sel Caramels.
5,000 divided by 1,000 is 5.
I will take 2 degrees off 5 times.
Final result 5 x 2 = 10.
3. Subtract the number of degrees you calculated previously from the recipe's original temperature.
In this recipe, the target temperature is 248 degrees F.
248 – 10 degrees for altitude adjustment = 238 degrees F.
238 degrees F is my new high altitude adjusted temperature when I make Chocolate Covered Vanilla Fleur de Sel Caramels.
If you don't have the patience to dip the Chocolate Covered Vanilla Fleur de Sel Caramels in chocolate, they are delicious plain as well.
I almost didn't have the patience, but I think most things dipped in chocolate taste better.
And so I started dipping other things in chocolate too.
Dried apricots, mini candy canes, nuts…and before you know it I had this cute little gift box of treats!
If you've never make chocolate dipped candies before, make sure you check out these instructions for How to Temper Chocolate.
Learning how to temper chocolate properly is essential when you want to make homemade candies.
Tempered chocolate will cool into a hardened state with a shiny appearance.
When broken or bitten into will break with a snap.
Think about the outer shell on a ganache truffle – you wouldn't want the outer texture of a truffle to be dull, sticky and tacky, would you?
Nope.
You want it to be a smooth and shiny shell.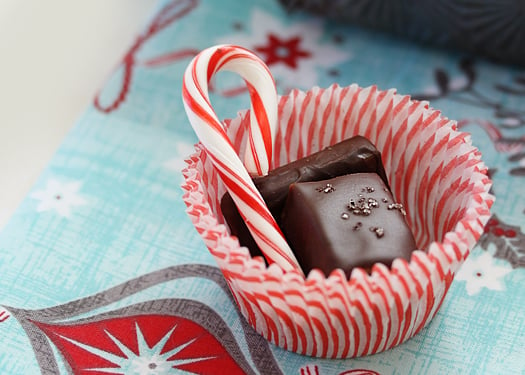 Save this recipe for Chocolate Covered Vanilla Fleur de Sel Caramels to Pinterest!
I think the only thing missing from the box were a couple Homemade Chocolate-Dipped Marshmallows.
Christmas candies are the best!
What's your favorite to make (or eat!)?
Is there a candy you love that you've never made?
MORE CHRISTMAS CANDIES FOR HOMEMADE GIFTING
Dark Chocolate Turtle Pretzel Bark is a fun treat for kids to help make for a teacher gift.
Classic Pecan Christmas Turtles meet Dark Chocolate Bark with the crunchy, salty addition of mini pretzels for a delicious sweet and salty Christmas candy treat.
Homemade Chocolate Dipped Candy Cane Marshmallows are easy to make!
Pair a bag of these goodies with a mug or hot cocoa mix for an inexpensive (and yummy) holiday gift.
Do you like making candied nuts?
Cinnamon Vanilla Glazed Walnuts and Sweet and Spicy Rosemary Bar Nuts are both simple to make and nice additions to a candy and nut gift box.
Do you know someone who loves chocolate paired with peppermint?
This Triple Chocolate Candy Cane Hot Cocoa Bark would be a hit with them!
Dark chocolate pairs white chocolate, milk chocolate chips, marshmallows, and mini candy canes in this Candy Cane Hot Cocoa Bark for a fun holiday treat.
Chocolate Raspberry Vanilla Bean Marshmallows are a great gift paired with homemade cocoa mix and a fun new mug.
You can never go wrong with another recipe for chocolate bark.
Try this Bittersweet Chocolate Swirl Fruit and Nut Bark.
Bittersweet chocolate, white chocolate, almonds, raspberries, strawberries, pumpkin and chia seeds combine for a delectable and colorful holiday treat.
Love this recipe for Chocolate Covered Vanilla Fleur de Sel Caramels?
Sign up for Good Life Eats email updates and never miss another recipe!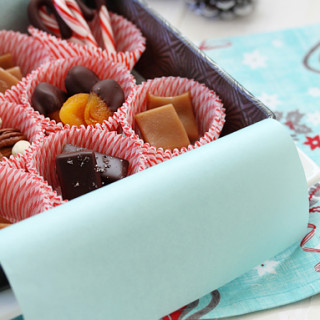 Chocolate Covered Vanilla Fleur de Sel Caramels
Total Time:
3 hours
15 minutes
Chocolate Covered Vanilla Fleur de Sel Caramels make an excellent homemade candy during the Christmas holidays.
Ingredients
For the Caramels:
1 cup heavy cream
5 tablespoons unsalted butter, cut into pieces
1 1/4 teaspoons vanilla extract
1 1/2 teaspoons Vanilla Fleur de Sel
1 1/2 cups sugar
1/4 cup light corn syrup
1/4 cup water
For the Chocolate:
10 ounces semi sweet chocolate, chopped
1/4 to 1 1/2 teaspoons canola oil
Instructions
Line bottom and sides of an 8-inch square baking pan with parchment paper, then lightly oil parchment. (Related: Kitchen Tip: Lining Pans with Parchment)
Bring cream and butter to a boil in a small saucepan, then remove from heat and set aside.
Combine sugar, corn syrup, and water in a 3- to 4-quart heavy saucepan.
Boil, without stirring but gently swirling pan, until mixture is a light golden caramel and sugar is dissolved.
Carefully stir in vanilla extract, vanilla fleur de sel, and cream mixture (mixture will bubble up) and simmer, stirring frequently, until caramel registers 248°F on thermometer, 10 to 15 minutes.
Pour into baking pan and cool 2 hours.
Remove caramels from pan and cut into 1 inch pieces, set aside.
Temper your chocolate: How to Temper Chocolate
Lay a piece of parchment paper on the counter.
Dip caramels, one at a time, in the chocolate. Place dipped caramels on the parchment.
Sprinkle with a small amount of vanilla fleur de sel.
Set aside to dry.
Speed up drying time by refrigerating the caramels until the chocolate is set, if desired.
Notes
Before you start this project you will also need find out what your elevation is and adjust the temperatures accordingly.
For every 1,000 feet above sea level, you will need to subtract 2 degrees.
For example, I live at 5,000 ft. above sea level, so I subtract a total of 10 degrees from the temperature indicated in the recipe.
adapted from Gourmet
Recommended Products
As an Amazon Associate and member of other affiliate programs, I earn from qualifying purchases.
Nutrition Information
Yield

20
Serving Size

1
Amount Per Serving
Calories

209
Total Fat

12g
Saturated Fat

7g
Trans Fat

0g
Unsaturated Fat

4g
Cholesterol

21mg
Sodium

8mg
Carbohydrates

28g
Fiber

1g
Sugar

26g
Protein

1g
GoodLifeEats.com offers recipe nutritional information as a courtesy and is an estimate only. This information comes from online calculators. Although GoodLifeEats.com makes every effort to provide accurate information, these figures are only estimates.
Be sure to follow
Good Life Eats on Instagram
. Tag @goodlifeeats and include the hashtag #goodlifeeatsrecipes so I can see what you're cooking up in YOUR kitchen!
Let me know if you try this recipe for and what you think of it by leaving a comment below.
Save this recipe for Chocolate Covered Vanilla Fleur de Sel Caramels to Pinterest!