Chocolate Pecan Tarts are a unique way to serve your pecan pie this Thanksgiving.
In my opinion, is nothing better than real butter for a pie or tart crust.
And there certainly isn't a Holiday without at least one of those at the dessert table.
My recipe for Pumpkin Pie with Caramel Pecan Topping will always be my Thanksgiving pie of choice.
But, I know that a traditional Pecan Pie recipe is a popular dessert with many during this time of year.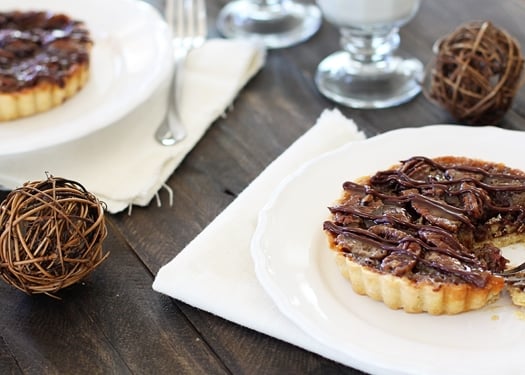 Save this Chocolate Pecan Tart recipe to Pinterest!
Confession: I have never really enjoyed traditional Pecan Pie.
That is, not until I tried this recipe for Chocolate Pecan Tarts.
I like the taste of the pecan filling so much better in this recipe and combined with the chocolate I think it's really something special.
You can make one regular sized Chocolate Pecan Tart with this recipe, or you can make 6-8 individual sized tarts (depending on the size of your tart pans.).
For individual tarts I use Wilton Excelle Elite 4-Inch Round Tart/Quiche Pan, Set of 6.
What desserts are you looking forward to on your Holiday table this year?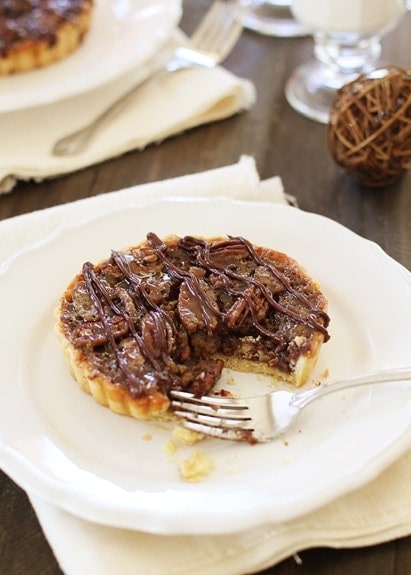 Save this Chocolate Pecan Tart recipe to Pinterest!
I'm sure you're all busy getting ready for the big day tomorrow, but I hope you'll take a moment to link up your favorite BUTTER recipe.
It doesn't need to be a new recipe, if you want to link up an old one, just edit it to make sure you include the proper linkage according to the rules.
What is your favorite recipe to use butter in? (Lately mine is this Chocolate Pecan Tart!)
Is it a sweet one or a savory one?
Come share your favorite recipe!
Check out Jamie's recipe for Pumpkin Butter Cakes.
YUMMY!
MORE THANKSGIVING DESSERTS:
If you're looking for additional dessert inspiration for your Thanksgiving Menu this year, here are a few other favorite recipes.
Be sure to check out the whole Thanksgiving Recipes Archive right here if you need help building the rest of your menu.
Chocolate Pumpkin Cheesecake with Chocolate Ganache is a decadent and unconventional way to get your pumpkin in for Thanksgiving.
If you're looking for the perfect kid-friendly Thanksgiving treat, check out this Easy Pumpkin Pudding; it combines a few pantry ingredients for a perfect autumn treat and is simple enough for younger helpers to assist in preparing.
Mini Sweet Potato Tarts with a Gingersnap Pecan Crust are divine if you are looking for individual serving desserts to make, plus it only makes 3 tarts so it is perfect if you need desserts for a smaller gathering.
This Browned Butter Bourbon Apple Crisp is a guaranteed crowd pleaser and has lots of make-ahead tips to help you simplify your Thanksgiving prep.
If you're looking for something completely different, be sure to check out this Cinnamon Pear Crostata featuring and Almond Oat Crust. Crostatas are a free form pie, so there is no need to make the crust look perfect.
This Deep Dish Apple Cranberry Pie is the kind of pie you convince yourself is perfectly okay to eat for breakfast once Thanksgiving is over.
And the pie that my Dad always asks for – let's see if he's reading hhis or not, because he texts me every year to ask where the recipe is again – Pumpkin Pie with Caramel Pecan Topping. It is a family tried and true favorite.
Love this Chocolate Pecan Tart recipe?
Sign up for Good Life Eats email updates and never miss another recipe!
Be sure to follow Good Life Eats on Instagram. Tag @goodlifeeats and include the hashtag #goodlifeeatsrecipes so I can see what you're cooking up in YOUR kitchen!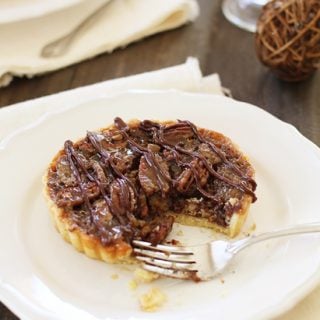 Chocolate Pecan Tart
Total Time:
3 hours
45 minutes
Chocolate Pecan Tarts are a unique way to serve your pecan pie this Thanksgiving.
Ingredients
Tart Dough
4 ounces (1/2 cup) Kerrygold Unsalted Butter, melted
2 large eggs
1/8 teaspoon salt
2 1/3 cup all-purpose flour
1/2 cup powdered sugar
Pecan Tart Filling
2 ounces (1/4 cup) Kerrygold Unsalted Butter
1/3 cup light corn syrup
3 large eggs
1/8 teaspoon salt
1 cup + 1 tablespoon packed brown sugar
3/4 teaspoon vanilla extract
1 1/4 cup pecan pieces
Chocolate Ganache
6 ounces chopped dark chocolate, at least 60% cacao
3/4 cup heavy cream
Instructions
For the tart dough:
Combine flour, sugar, and salt and set aside.
Melt the butter, cool slightly, then whisk in eggs. Add flour, careful not to overmix.
On an un-floured surface, turn the dough out and shape it into a circle, approximately 6" in diameter, kneading as little as possible.
Dust both sides of the circle with a bit of flour and wrap in plastic wrap. Freeze for 30 minutes or refrigerate for an hour.
Remove the dough from the refrigerator or freezer.
Set it aside while you dust the work surface and rolling pin with flour.
Unwrap the dough and roll with a rolling pin until the dough has formed a circle and is 1/8" thick.
When the dough is the proper size, wrap it gently around the rolling pin to transfer to the pie plate.
For individual tarts: cut 6-8 circles slightly larger than the tart pans. Press into the pans.
For the Pecan Tart Filling:
Melt the butter in a medium saucepan.
Stir in the corn syrup and brown sugar over medium-low heat.
Cook until it reaches 120 degrees F.
Cool to room temperature.
Whisk in eggs, salt and vanilla.
For the Ganache:
Bring cream to a slow simmer in a medium sauce pan.
Add the chopped chocolate and stir until melted.
To assemble the tarts:
Preheat oven to 300 degrees F.
After you've pressed the tart dough into the pan(s), brush the insides of the dough with the chocolate ganache (you will not use all of it).
Divide the pecan pieces evenly between the pans (if using individual tarts).
Divide the filling between the tarts and pour on top of the pecan pieces.
Bake at 300 degrees for 50 minutes to 1 hour for a full sized tart. 20-35 minutes for individual tarts, or until set and crust edges and lightly browned.
Cool completely and drizzle with remaining ganache.
Store any leftover ganache in the fridge for up to one week.
Recommended Products
As an Amazon Associate and member of other affiliate programs, I earn from qualifying purchases.
Nutrition Information
Yield

12
Serving Size

1
Amount Per Serving
Calories

423
Total Fat

26g
Saturated Fat

11g
Trans Fat

0g
Unsaturated Fat

13g
Cholesterol

111mg
Sodium

87mg
Carbohydrates

42g
Fiber

3g
Sugar

20g
Protein

7g
GoodLifeEats.com offers recipe nutritional information as a courtesy and is an estimate only. This information comes from online calculators. Although GoodLifeEats.com makes every effort to provide accurate information, these figures are only estimates.
How To Participate (this giveaway is now closed)
For a chance to win a $150 Kerrygold Cheese and Butter Gift Basket:
Write and post a recipe on your blog featuring BUTTER.
Include "Come join the fun at the My Baking Addiction and GoodLife Eats Holiday Recipe Swap sponsored by Kerrygold." in your blog post.
Add your link to the widget on either GoodLife Eats or My Baking Addiction (we have the same widget code, so only add it on one site).
Submit your post before Nov. 27, 11:59 AM. On Nov. 28, 12:00 AM the widget will switch to voting mode. Be sure to encourage your readers to vote for you and/or vote for your favorites.
Anyone can participate in the link up, but the prize will ship to US residents only.
More detailed info, including buttons for your posts are available here.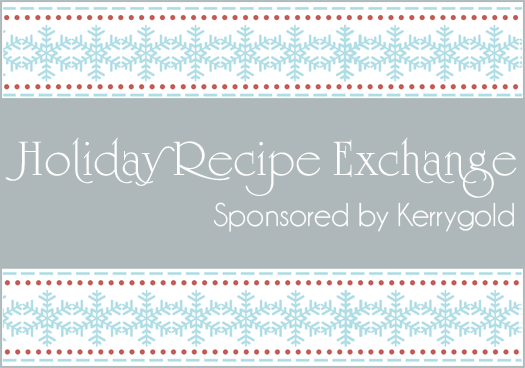 Save this Chocolate Pecan Tart recipe to Pinterest!
Link Up Your Recipes:
This Week's Prize:
$150 Kerrygold Cheese and Butter Gift Basket (1 winner), provided by Kerrygold.

Recipe Theme Schedule:
We still have three weeks open for this Holiday season.
If you would like to discuss scheduling a sponsored recipe exchange please contact Katie or Jamie to discuss availability and themes.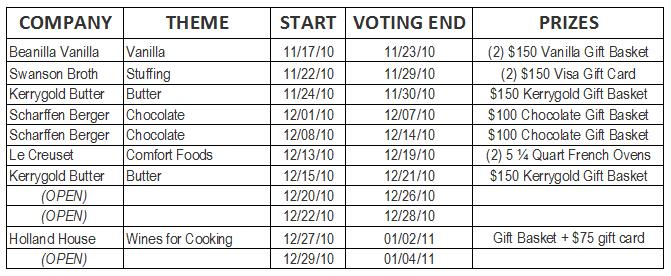 Save this Chocolate Pecan Tart recipe to Pinterest!
How To Promote:
Help us spread the word by letting your friends, family, and followers know about the contest.
Email, Facebook, Tweet, Stumble…anything you want to do to promote this post is welcome.
Sample Tweet 1: Join @GoodLifeEats and @BakingAddiction for a Holiday Recipe Exchange. See how you can participate (and WIN) here: http://bit.ly/9YCFgA Pls RT
Sample Tweet 2: Enter BUTTER recipes in @GoodLifeEats & @BakingAddiction Holiday Recipe Exchange 4 chance @ $150 @kerrygoldusa gift http://bit.ly/gmn9SG
Sample Tweet 3: Have a winning BUTTER recipe? Sharein @GoodLifeEats & @BakingAddiction Holiday Recipe Exch 4 chance @ $150 GIFT http://bit.ly/gmn9SG
Sample Tweet 4: Vote 4 my BUTTER recipe in @GoodLifeEats & @BakingAddiction Holiday Recipe Exch so I can win $150 @KerrygoldUSA basket http://bit.ly/gmn9SG
Save this Chocolate Pecan Tart recipe to Pinterest!
More Thanksgiving Recipes:
Save this Chocolate Pecan Tart recipe to Pinterest!