Leeks are tasty but you need to learn how to clean them properly because they can be rather dirty since they grow in sandy soil. Learn all about: what do leeks taste like, what are leeks, how to clean leeks, and recipes that use leeks!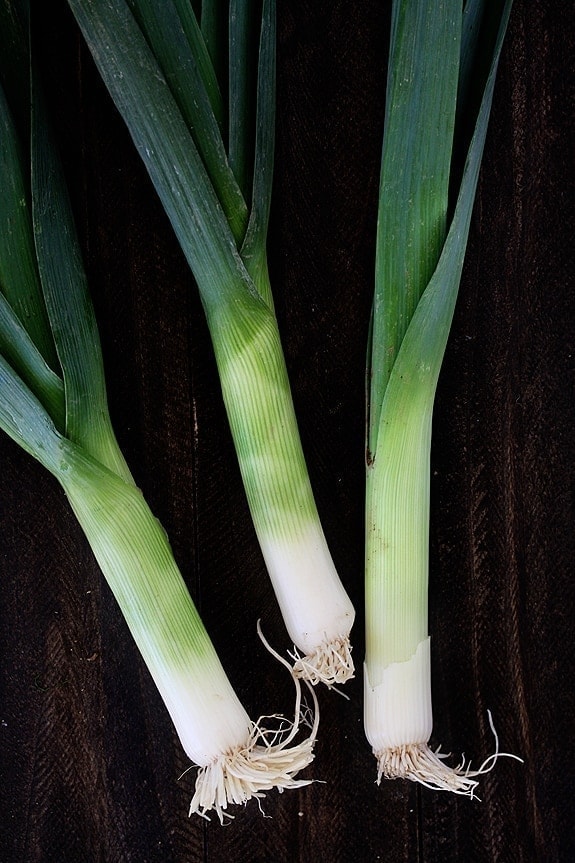 What are Leeks?
I love substituting leeks for onions in certain recipes. If you haven't ever tasted a leek before, they are related to the onion and garlic. Leeks look like giant green onions and have a mild onion flavor.
Rather than forming a bulb, like an onion, the leek resembles a stalk or stem. They are composed of many delicate layers that are often full of dirt and sand, so you have to clean them before use.
You'll also discard much of the leek because you only use the white and pale green portion of the stalk. The dark green part is tough, woody and often bitter and is better suited to your compost bin.
HOW TO CLEAN LEEKS
1. Using a knife, remove the roots portion off the bottom of the leek just above the base and discard.
2. Then, cut the dark green, woody part of the stalk off and discard. You'll only use the white and pale green portions of the leek.
3. Next, slice the white and pale green reserved portion in half lengthwise. (see photo below)
4. Chop or slice the leek halves as directed in your recipe instructions. Place all the sliced leeks in a medium-large bowl, one with enough room to add water.
5. Fill the bowl with water and submerge the leeks. Swish the leeks with your hand to help remove any sand or dirt embedded in the layers.
6. Drain the leeks and water into a colander. Give the leeks a quick rinse with cold water, swishing again with your hand. Remove from the bowl and pat dry.
7. Proceed according to your recipe instructions.
See? It's not so hard. It might seem like extra work, but really it just takes a minute once you know what to do.
And not only leeks are really yummy, they are high in Vitamin C, Potassium, and protect against heart disease (source: What are the Benefits of Leeks?). For recipe ideas, check out the below links.
Cooking Leeks
Looking for some great recipes to prepare leeks now that you know everything there is to know about cleaning leeks? Here are some of my favorite leek recipes, but feel free to browse the ingredient index and check out all the recipes featuring Leeks.
Butternut Squash and Kale Quinoa Stuffing is a fantastic vegetarian and gluten-free stuffing recipe that uses leeks. It is loaded with tons of veggies and flavors.
Colcannon is a traditional Irish dish created mostly from mashed potatoes and cabbage or kale. I took some liberty with the traditional ingredients and added mashed parsnips to the mixture and included two types of potatoes for varying flavors and richness, and enhanced the flavor with leeks!
This Spring Green Risotto is gorgeous and full of color as well as great spring vegetables – leeks, peas, and asparagus. I loved all the brightly green vegetables against the creamy background. You could serve this as a side, but we ate it as the meal itself. It was filling and packed with spring flavors.
Quiche Lorraine is the perfect springtime egg dish. It features plenty of leeks, along with bacon and gruyere cheese. SO good! I've also made a Quiche Lorraine Inspired Scone!
This Leek and Potato Soup is so good and simple! As simple and as satisfying as this soup is, I can only imagine how yummy it would be when used as a soup base like Julia Child mentions in her cookbook. I'm thinking broccoli and cheese would be delicious stirred in.
Did you love this post?
Sign up for Good Life Eats email updates and never miss another update!