Balsamic Caramelized Onion and Mushroom Loaded Baked Potatoes
A big loaded baked potato with butter, sour cream, cheese, chives, and bacon is definitely comfort food to me. But, like most comfort food, I realize these don't exactly fit into the "good for me" category of side dishes.
Balsamic Caramelized Onion and Mushroom Loaded Baked Potato is a great lighter alternative to the traditional cheese, sour cream, and bacon stuffed spuds. I love the deep flavors of rich caramelized onion and balsamic vinegar.
Mushrooms add more vegetables and a certain heartiness to the recipe. Topped with gorgonzola and chives, you still get that finishing touch of cheese and chives that the traditional loaded baked potato offers.
They're not quite as simple to prepare, because you do have to caramelize the onions and mushrooms, a task that is more time consuming than difficult.
To cut down the preparation time and make the Balsamic Caramelized Onion and Mushroom Loaded Baked Potato a busy weeknight worthy meal, do some of the preparation in advance.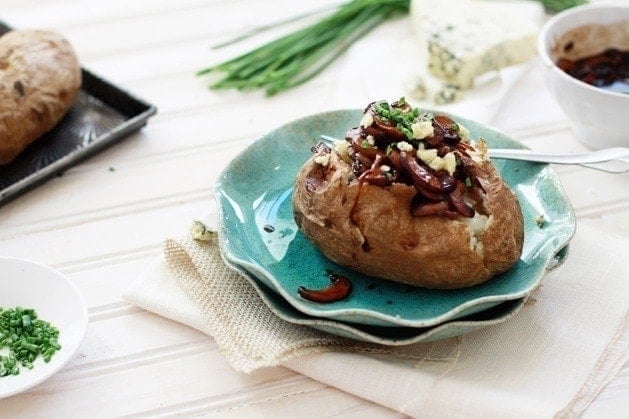 Large baking potatoes can easily be baked ahead and reheated on serving day, or if you prefer a freshly baked potato, try my time saving method for baking potatoes.
Onions can be sliced, and even caramelized in advance, when you have more time (such as on the weekend). Pick up the directions where you left off with the caramelization process on the day you plan to eat this meal and continue through the end.
What to eat with this recipe for Balsamic Caramelized Onion and Mushroom Loaded Baked Potato is completely up to you. Serve them with a side salad for a lighter, vegetarian meal or with your favorite meat, such as Roast Chicken or Pan Seared Steaks, and another vegetable. Roasted brussels sprouts, asparagus, or broccoli would pair nicely.
Whether you're serving these as a main dish or a side dish, these lighter loaded baked potatoes are sure to be a hit.
What is your favorite way to eat a loaded baked potato?
Balsamic Caramelized Onion and Mushroom Loaded Baked Potatoes
Yield: serves 4 - 6
Total Time:about an hour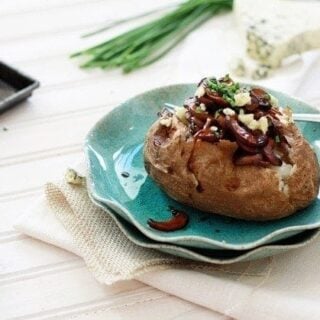 Ingredients:
4 large baking potatoes
2 tablespoons olive oil
1 large onion, yellow or red
1/4 teaspoon sugar
1 clove garlic
16 ounces baby portabella mushrooms
8 ounces red wine
3 ounces balsamic vinegar
3/4 teaspoon cornstarch
2 teaspoons fresh parsley, minced
Salt and pepper, to taste
Gorgonzola cheese, crumbled for garnish
Chives, sliced for garnish
Directions:
Prepare the baked potatoes. See: 2 Ways for Perfect Baked Potatoes .
Meanwhile, slice the mushrooms (if the package you have purchased is not already sliced) into think 1/4 - 1/2 inch slices. Cut the onion in half from end to end. Remove the skin and discard. Place the onions cut side down and slice them lengthwise to desired thickness.
In a glass measuring cup, combine the balsamic vinegar and cornstarch. Whisk to blend the ingredients together. Set aside.
In a cast iron skillet or sauté pan, heat 1 tablespoon of the olive oil over medium-high heat until it is shimmering. Add the onions and toss with the olive oil to coat. Using a wooden spoon, spread the ovens out evenly in the pan.
Lower the heat to medium. Cook, stirring occasionally, for 10 minutes. If the onions begin to brown too quickly, lower the heat to medium-low as some stovetops cook faster and hotter than others. Sprinkle the onions with the sugar and stir.
Reduce heat to medium-low to low and continue to cook for an additional 20-30 minutes, stirring every 3 - 5 minutes. Stirring too often will not allow the onions to brown, but not stirring at all will cause them to burn.
Add the remaining tablespoon of olive oil and add the garlic and mushrooms. Turn the heat up to medium and sauté until they are tender and golden, about 5 - 7 minutes. Add the red wine to deglaze the pan, stirring and scraping up any browned bits on the bottom of the pan.
Add the vinegar mixture to the pan. Bring to a boil over high heat, then reduce to medium and cook until thick and syrupy. Stir in the parsley and season to taste with salt and pepper.
Serve mushroom mixture over baked potatoes. Top with sliced chives and gorgonzola cheese crumbles.