Everyone has a favorite kitchen reference book. It is great to have a solid go-to source to rely on any time you are cooking something new. Today I'm sharing my 5 favorite kitchen reference books.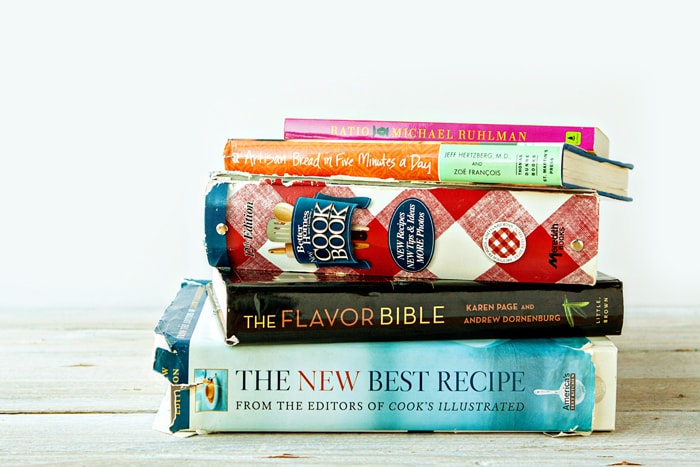 I have so many cookbooks. I sold over half of my collection last summer in an attempt to de-clutter, simplify, and earn a little extra cash. And I still have tons.
So many that I moved most of them up to a bookshelf in my office and only kept the absolutely essential books that I reference on a regular basis down in the kitchen.
It gave me a lot more cabinet space for other things that really needed to be kept in the kitchen, but it was also an interesting exercise, so to speak, to see what books I really use regularly. The ones that I knew I couldn't ever live without. Here are my top 5 favorite kitchen reference books and why.
My 5 Favorite Kitchen Reference Books
By the term "kitchen reference books," I mean the kind of book that isn't just a cookbook. It teaches you the hows and whys of cooking – both how to do things and why you do things certain ways.
Great kitchen reference books teach you the important basics so you can grow as a cook and feel confident in the kitchen…and maybe even branch out to experimenting or tweaking recipes into something new.
You can usually tell how well loved a book is by what condition it is in. I'm both happy and sad to say that 4 of these 5 books are pretty trashed. The one that isn't, is only in better condition for two reasons: 1.) It is the newest of the bunch and 2.) I also have the app, so sometimes I'm referencing the content on my phone and not the hard copy.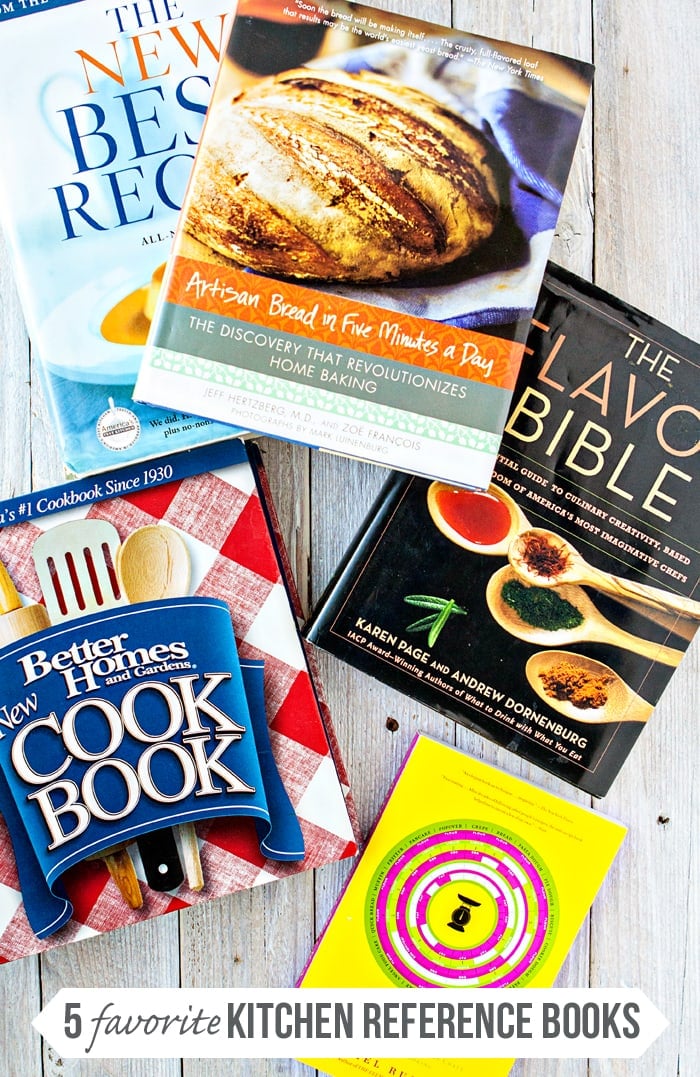 The Flavor Bible
by Karen Page and Andrew Dornenburg
I have mentioned The Flavor Bible many, many times before. I use it ALL.THE.TIME. when I want to figure out the flavor profile for a new dish I'm working on. Or if I have an ingredient that I've never used before and I want to see what pairs well with it.
I may be a bit of a food geek, but I love reading about flavor matchmaking. I have used it so much that the spin has totally given out on it. You can read my initial review of The Flavor Bible here.
The New Best Recipe
by Cook's Illustrated
I love all the research that went into The New Best Recipe and that the people at Cook's Illustrated take the time to share it with you. It is so fascinating to find out why and how they settled on a certain method of doing things. I think this is the best book ever if you're learning how to cook something new and want to get it right the first time.
A couple of months ago I experimented with cooking Prime Rib. I was totally nervous because that's a pretty special cut of beef to wreck. I did my research in The New Best Recipe to figure out what the heck I was even supposed to do with that meat. The only criticism that my friend could come up with? That I cut the meat a little too thin. Other than that, 5 stars all the way on the first try.
I make a lot of notes in the margins of this book as well. Maybe I loved the texture of the muffin recipe and felt that the sugar ratio and leavening agents were just right but I want to tweak it to a different flavor.
This book is all marked up. I imagine one day it will be something special in our family. It should come as no surprise that the spin on this book is also completely destroyed.
Better Homes and Gardens New Cookbook
I don't use my Better Homes and Gardens Cookbook as much as I used to when I was a teenager or when I was in college, but it is a favorite because it is the book that I learned to cook from.
I remember growing up and making a lot of recipes from this book since it is full of tons of great, basic recipes. I used it a lot in college too, cooking for my roommates.
I actually made the Pumpkin Bread from this last weekend because I just wanted to make a basic pumpkin bread recipe rather than grind up extra grains to make my Multi-Grain Pumpkin Cranberry Bread.
Madeline doesn't really show the same interest in the kitchen that I did at her age, though it is growing and she's been loving helping me make green juice lately, but I imagine someday this book will be a great starting point for her.
Artisan Bread in Five Minutes a Day
by Jeff Hertzberg MD and Zoe Francois
Anytime I'm going to make a homemade yeast bread, Artisan Bread in Five Minutes a Day is my go-to source. I love the methods used in this book and how easy it makes it to have fresh bread available more often, without feeling like a slave to the process.
I've used this book to make Homemade Hamburger Buns, Caramel Pecan Brioche Rolls, Amazing Pizza Crust, Light Whole Wheat Baguette and tons more. If you're new to making yeast breads, this is definitely a great book to check out along with these 5 Tips for Baking with Yeast.
Ratio
by Michael Ruhlman
Ratio is a super cool book for anyone who likes to experiment in the kitchen. It teaches you all about basic ratios and fundamental techniques a cook needs to feel empowered in the kitchen. You'll learn the relationship between the ingredients and why you need certain amounts of things, rather than just receiving a list of ingredient measurements.
Want to have the kitchen know-how to cook without a recipe? Between Ratio and The Flavor Bible you'll be totally set.
What are your favorite kitchen reference books?