Planning a visit to Crab Island Destin Florida? I'm sharing all of our favorite tips for the best visit to Crab Island in my Ultimate Guide to Crab Island in Destin, Florida. Some of these Crab Island Tips you might find on other websites, but there are also several of our own nuggets of wisdom that we learned during our visit and didn't read anywhere else before hand!
Click HERE and save this Ultimate Guide to Crab Island to Pinterest!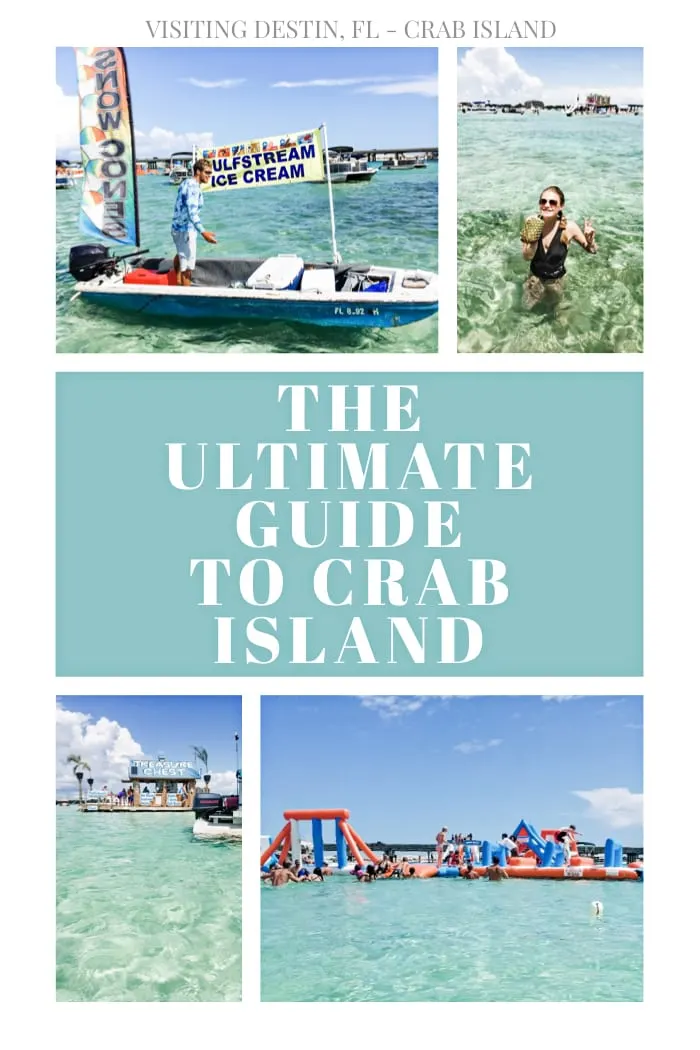 This post may include affiliate links. As an Amazon Associate and member of other affiliate programs, I earn a small commission from qualifying purchases.
Crab Island Destin Florida Tips and Tricks
This post covers everything you need to know about getting to Crab Island, planning your visit, boat rentals, weather contingencies, things to do (free and for cost), and what to bring, and DIY snack ideas to pack for the day.
Visiting Crab Island in Destin Florida
We've made it a tradition of going to Florida during the last week of July/first week of August for our family vacation.
This was our second year going to the Destin area because we all decided last year that the Emerald Coast is really the area of Florida that we like best.
Thanks to the super soft white sand, the crystal clear blue waters, and very minimal seaweed that is on the beach, the Emerald Coast is a true gem when it come to family beach travel in the United States.
In 2018 we didn't make time to visit Crab Island, and it was something we all regretted and vowed we would do during our next visit. This day trip was something we have looked forward to for the last year and it definitely didn't disappoint! We had a large group ranging in age, and it was the perfect place for whole family!
Planning Your Crab Island Destin Florida Visit
Did you know that Crab Island isn't actually an Island? At least not anymore. Years of erosion from the current has created what Crab Island is today.
These days, Crab Island is a submerged underwater sandbar. The shallow water and changing tides allow boats to anchor for the day and enjoy the popular picturesque hangout that Crab Island has become.
Where Is Crab Island
If you've been to the Emerald Coast of Destin, FL before, you've probably crossed over The Marler Bridge and seen dozens and dozens of boats anchored in the water on one side of the bridge and wondered what that was all about.
Well, that's Crab Island! It is an extremely popular place to spend the day when visiting Destin Florida, especially for large groups.
Map of Crab Island in Destin
Crab Island is located north of The Marler Bridge not too far from Destin Boardwalk and The Harborwalk Village. The Marler Bridge is a half mile long from Okaloosa Island into Destin.
From the bridge, you can see as far as the East Pass into the Gulf of Mexico in one direction. In the other direction you can see across Crab Island to the Choctawhatchee Bay, and the emerald green waters in between
How to Get to Crab Island Destin Florida
Crab Island is only accessible by boat or watercraft. You can travel to Crab Island via boat, Crab Island Shuttle Boat, kayak, paddle board, or jet ski.
If you'd like the privacy and convenience of your own boat (rather than sharing a charter with the public), but aren't experienced, you can find captains available for hire – just ask around at boat rental places.
The best way to get to Crab Island really depends on how large your group is, what you want to do when you get there, if you're comfortable driving your own boat, and how much you have budgeted to spend.
TIP: Don't let the shallow areas fool you. Crab Island is surrounded by strong currents on the Easy and West end, a lot of boat traffic, and deep channels. You can easily get swept away by strong tidal currents that run through the Destin Harbor if you attempt to swim to Crab Island. It might seem like it isn't that far, but do not, under any circumstances, attempt to swim to Crab Island.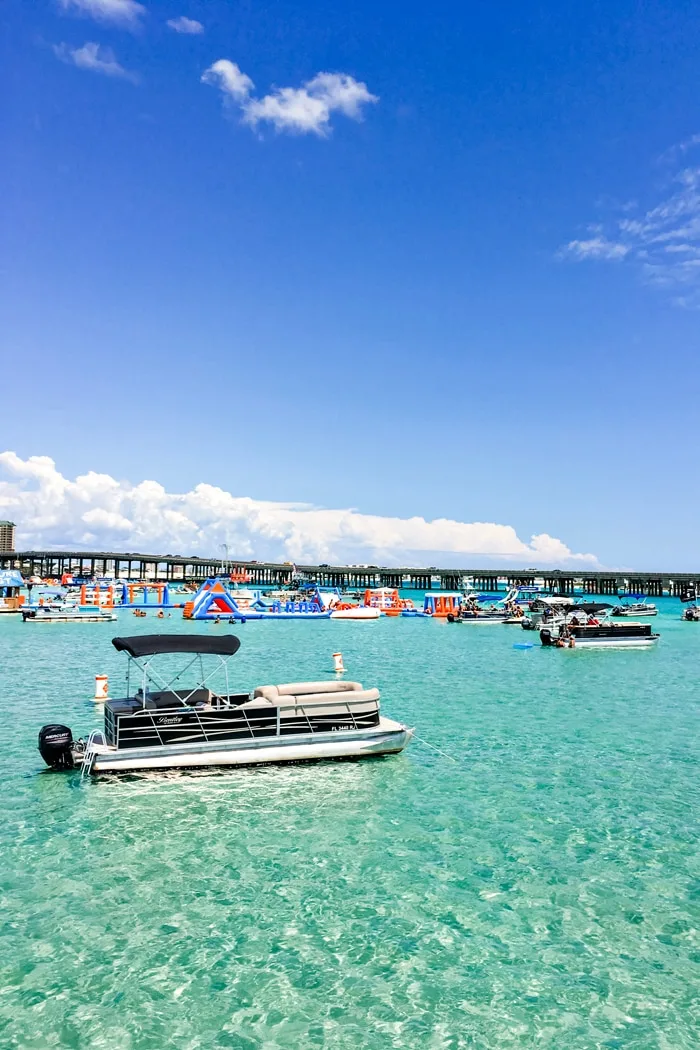 Click HERE and save this Ultimate Guide to Crab Island to Pinterest!
How Deep is the Water in Crab Island?
The water at Crab Island is usually anywhere from 1 – 4 feet deep, depending on the tide and where on Crab Island you are located. Outskirts of the emerald waters are deeper as you get closer to the open water, but many areas are shallow enough that you can easily walk through the clear waters.
Crab Island Boat Rentals
We had 2 families and 13 people total, so for us the best deal and most comfortable way to travel was renting a double-decker pontoon boat and splitting the cost between the two families.
Having our own boat allowed for the most comfort, a place to keep our stuff, and ultimate flexibility. We didn't have to rely on where the charter decided to anchor or any timeline other than our rental time block.
TIP: Shop around for your boat rental. We booked our's in Ft. Walton, which added a 20 minute boat ride to get to Crab Island. Everyone loved the ride – and even saw dolphins on the way. It provided significant savings over booking from anywhere in the immediate Destin/Crab Island area.
How Long Should I Rent a Boat For at Crab Island?
Boats are usually rented in either 4, 6, or 8 hour blocks. We chose the 4 hour block because 6 or 8 seemed like a lot.
A half day (4 hours) is enough to have plenty of fun, but if your budget allows you to book a full day (6-8 hours depending on the rental company), you should go for it.
No one in our group felt like 4 hours was too short, but everyone also wished that we had longer. Besides parking and enjoying all of the fun right in Crab Island, there is plenty to do with the extra time.
In retrospect, the kids and adults all would have loved more time on the water to do some of these other things. For future Crab Island trips, we would definitely look for a boat rental for the 6-8 hour period – especially if we can find a longer rental that overall costs significantly less per hour than a 4 hour rental.
What else to do with your boat rental time:
drive your boat over to Dewey Destin's Snowballs, dock, and get out and enjoy a snack.
dock and get out to play in the sand.
zoom around the Destin harbor and take your own dolphin tour.
go to deeper waters outside of Crab Island and fish.
TIP: Get the most out of your boat rental by arriving EXTRA early. We planned to arrive an extra 20 minutes early on top of our instructed arrival time. SURPRISE our boat was ready early and they allowed us to leave early at no extra charge.
What Type of Boat Should I Rent for Crab Island?
This is really personal preference, but after seeing what boats were out there, I would say that pontoon boat rentals are the most popular choice.
Once you get to crab island, there is no need to be boating around at high speeds. Besides transportation to and from Crab Island, your boat is mostly a place for lounging around and storing al your stuff.
If you're getting a pontoon, look into the cost of a double decker with slides vs. a single pontoon.
Our double decker with two slides was actually less expensive than a single pontoon. And it allowed our whole group to be together because the double pontoon had a passenger limit of 13 rather than 10-12.
The kids AND adults all loved the slides, plus the top level provided shade for the bottom level – this offered sun protection (no one got burned during our Crab Island visit!) as well as helped keep our food and drink cold.
TIP: Compare pricing on double decker pontoons and single level pontoons. Even if you don't need or want the second level, choosing that type of rental can be a surprising money saver.
Best Value for Boat Rentals for Crab Island Destin Florida
For 4 hours we were able to get a double decker pontoon that allowed for 13 passengers from PowerUp WaterSports. When split between 2 families, this became really affordable for our 1 big ticket item for the trip.
If our family and our friends' had each rented a single, smaller pontoon and then met up at Crab Island we would have spent significantly more.
The Single Pontoons typically hold only 10-12 and were priced at $300+ for 4 hours depending on the rental location. We had 13 in our group, so the double decker was the way to go.
TIP: Are you, or a member of your group, currently in the Military, a Veteran, or any type of first responder? Ask if the rental company offers any special discounts. Often times they do.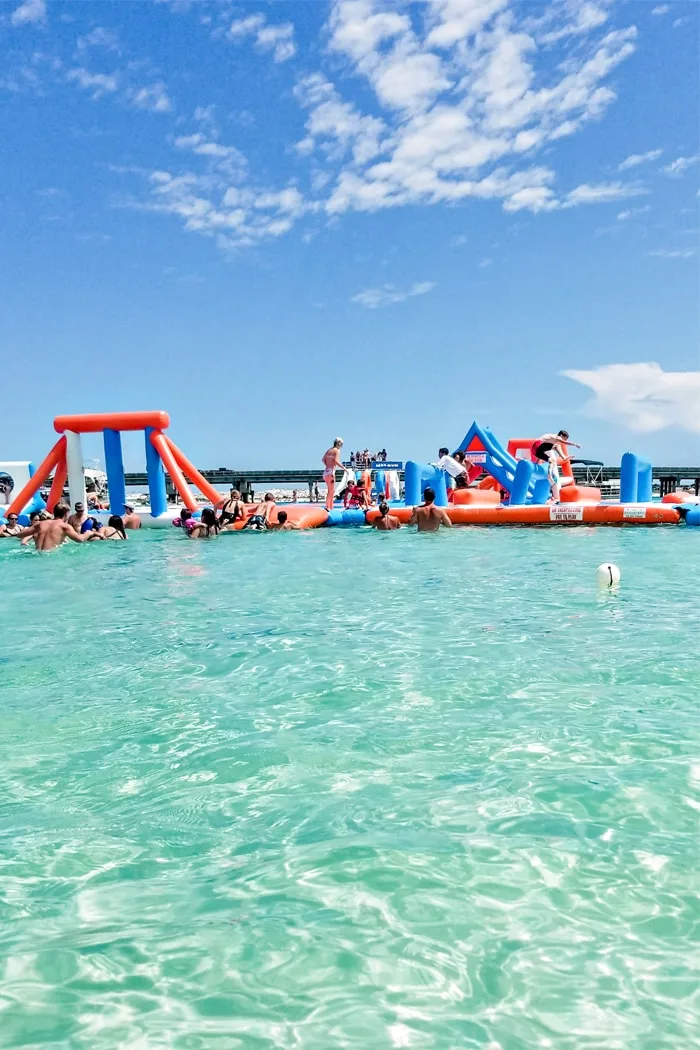 Click HERE and save this Ultimate Guide to Crab Island to Pinterest!
When is the Best Time to Go to Crab Island Destin Florida?
You'll want to plan your Crab Island Visit around High Tide and arrive as early as possible (it gets busier as the day progresses).
To find out when high tide is on the day you plan to go to Crab Island, use Tide Tracking Charts for Destin to check the Daily Tide Schedules.
Why is High Tide the Best Time to Visit Crab Island?
You'll find the clearest water at Crab Island 2 hours before and 2 hours after High Tide.
Why is the Water at Crab Island Clearer at High Tide?
High tide causes the Crystal Clear water of this area of The Gulf of Mexico waters to flow into the mouth of Choctawhatchee Bay.
TIP: Check the tide schedule for all of the days of your visit in advance. This will help you pick what the best day to visit Crab Island is. Some days high tide occurs earlier than others. Compare tide chart with the weather report to pick the optimal day for the very best experience.
Bad Weather Contingency Plans for Your Crab Island Visit
During our 2018 trip to Destin, we had a lot of rain. It was POURING rain the day we arrived and it rained quite a bit the next day. After that, there was some rain almost every day, just not all day.
After that experience, we decided when we were planning for this year that we should schedule 2 days for boat rentals so we would have a contingency plan in case the first day had a bad forecast.
We booked the same boat for Friday and for Sunday. For us, Friday was forecasted to be GREAT weather, so Thursday morning we went ahead with the plan to go to Crab Island on Friday.
When we arrived at our boat rental, we cancelled the Sunday rental since we were no longer going to need it.
Make sure you book your rentals ahead of time. Scrambling last minute to book a rental, or add another rental to compensate for bad weather, will end up costing you more, and you might have availability issues if you're traveling during busy season.
TIP: Make sure you research cancellation policies with each rental company before booking. The company we rented from allowed for cancelations with full refund with 24 hour notice. This was a total no brainer, and I felt pretty smart for coming up with the idea because we had rain on Sunday!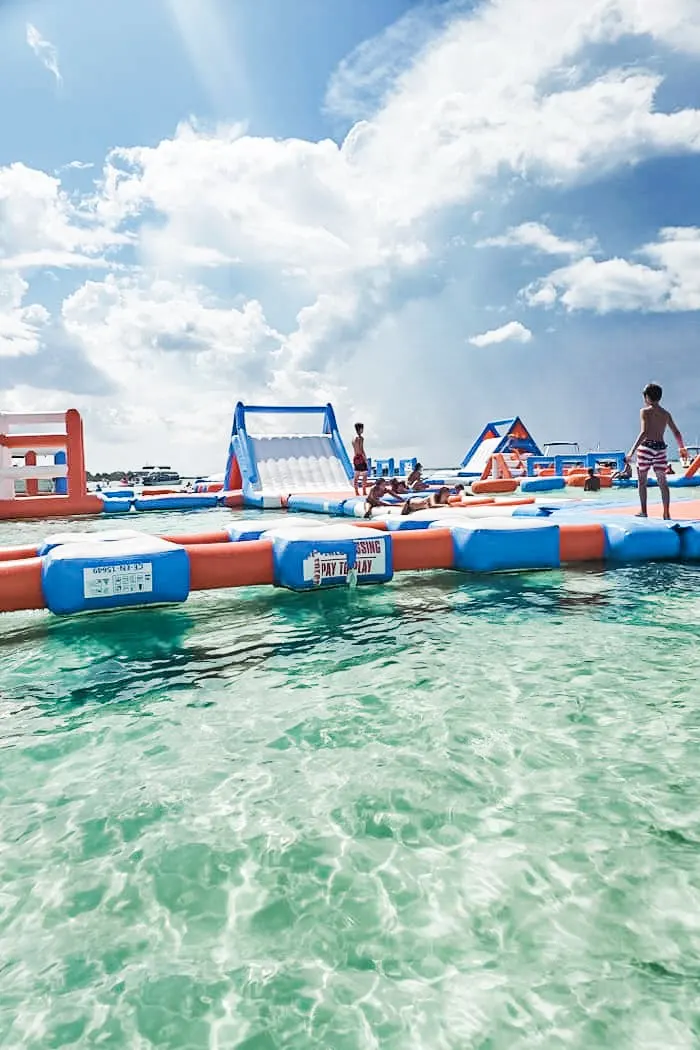 Click HERE and save this Ultimate Guide to Crab Island to Pinterest!
What to Do on Crab Island Destin Florida
There are all kinds of water activities to do on Crab Island, so it really depends on what appeals to you! Here are some of the most popular attractions and activities:
Are Jet Skis Allowed on Crab Island?
Yes! You can enjoy jet skiing while visiting Crab Island. Be aware, however, that you'll encounter "no-wake" zones throughout the area. Jet ski rental companies will typically provide a pre-ride education to update you regarding all of the current precautions and rules when it comes to using jet skis at Crab Island in Destin.
Crab Island Destin Florida Activities
Visit the Treasure Chest Water Park Inflatables at Crab Island – this is super fun for the kids. You can purchase 1 hr, 2 hrs, or all day passes to the inflatable water park. For our group of kids (9 kids between the ages of 11 and 18), 1 hour was plenty of time on the inflatable slides.
Kayak or Paddle Board – you can rent before getting to Crab Island, or rent from on the water vendors, such as the Treasure Chest.
Jet Ski
Visit the many floating food vendors
Dance on the floating dance platforms or ride the mechanical shark at Reef Burger Destin
Drink a fresh pineapple or coconut from Wild Destin
Free Things to Do on Crab Island
If you're on a budget, don't worry – there are still all kinds of free things to enjoy while visiting Crab Island. From looking to sea life, to active sports, to relaxing. Here are some of the ways we enjoys the crystal clear shallow waters of the Gulf of Mexico:
Chill on your boat with friends and listen to music
Volleyball
Throw a football or frisbee with friends.
Sunbathe
Relax and read a book while enjoying the view
Look for marine life such as crabs, hermit crabs, dolphins, fish, sea turtles (but don't touch the turtles, they're protected)
Shell hunting
Catch and release fish with a net
Swim/walk in the shallow waters of the sand bar
Fish near the edges where the water is deeper (and away from people so no one gets caught on your hook or line)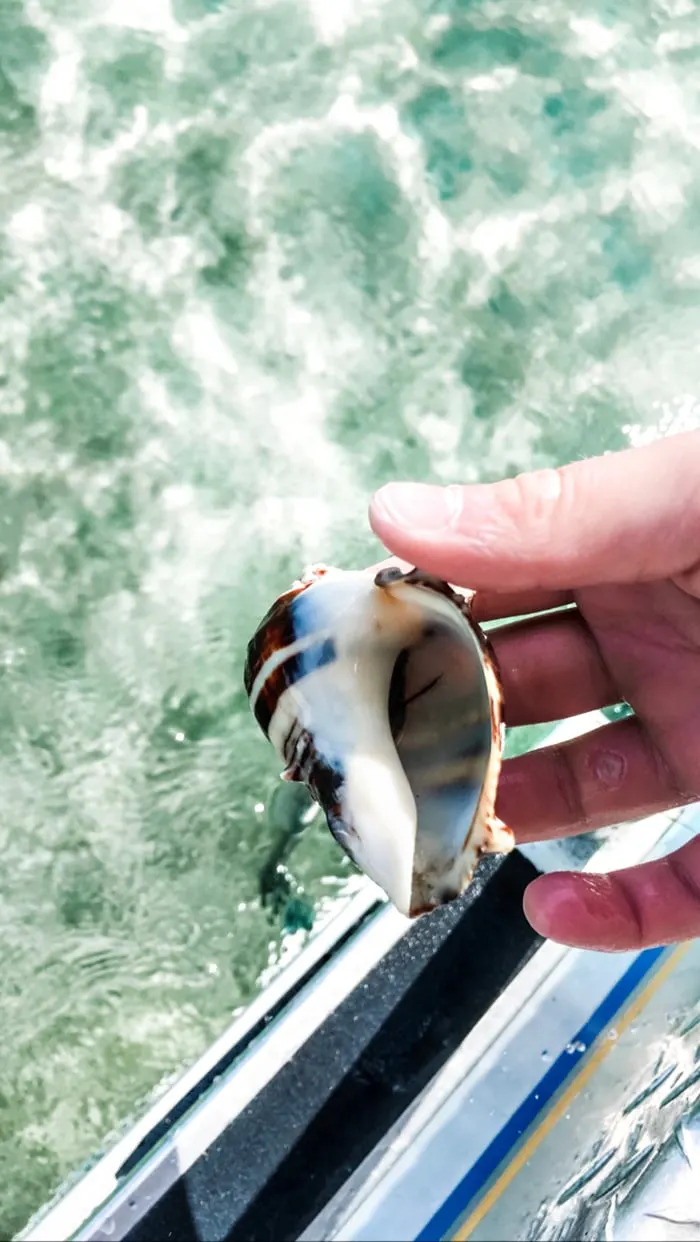 Click HERE and save this Ultimate Guide to Crab Island to Pinterest!
TIP: If you're under 16 and over 65, no fishing license is necessary. For those over 16, you can purchase a license at many places. Read more about fishing license requirements.
Special Events on Crab Island Destin Florida
Keep your eyes open and check out the local news to find out if there are any special events going on during your Florida visit.
It happened to be Shark Week while we were in Florida. Luckily, we didn't encounter any sharks, but I did see an advertisement about Shark Week Movie Night on Crab Island.
How fun would that be to watch a shark movie during shark week at Crab Island. They have a huge Splashboard screen on a boat to show the movie from Crab Island. The timing didn't work out for us, but it is something to consider next time.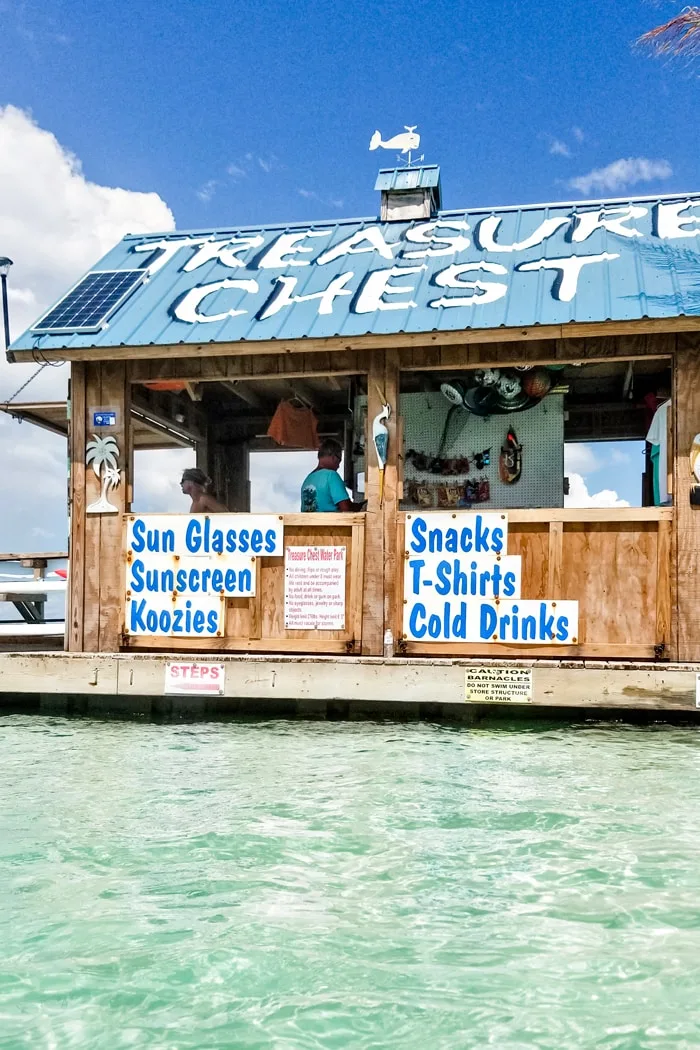 Click HERE and save this Ultimate Guide to Crab Island to Pinterest!
What to Bring on Crab Island Destin Florida
I have lots of Crab Island packing recommendations to help you make the most of your excursion.
Bring Cash to Crab Island
You might be wondering: why do I need money at Crab Island. There are TONS of floating vendors offering food and drink as well as smaller boats that zoom around and sell snacks like ice cream. And all of the activities on Crab Island cost money – there are multiple floating obstacle courses,
TIP: Some local vendors take cards, while others only take cash. It's a good plan to have a mix of both.
Vinegar for Jellyfish Sting Remedy
Yes, you can encounter Jellyfish while at Crab Island.
For the most part, we mainly saw small, lemon sized floating blobs with no tentacles, and those didn't seem to sting. However, we did encounter a few regular sized jellyfish with tentacles.
We didn't even think about this beforehand and a couple of people in our group ended up with small, minor stings. Other Crab Island attendees asked us throughout the day if we had any vinegar, so it appears to be common.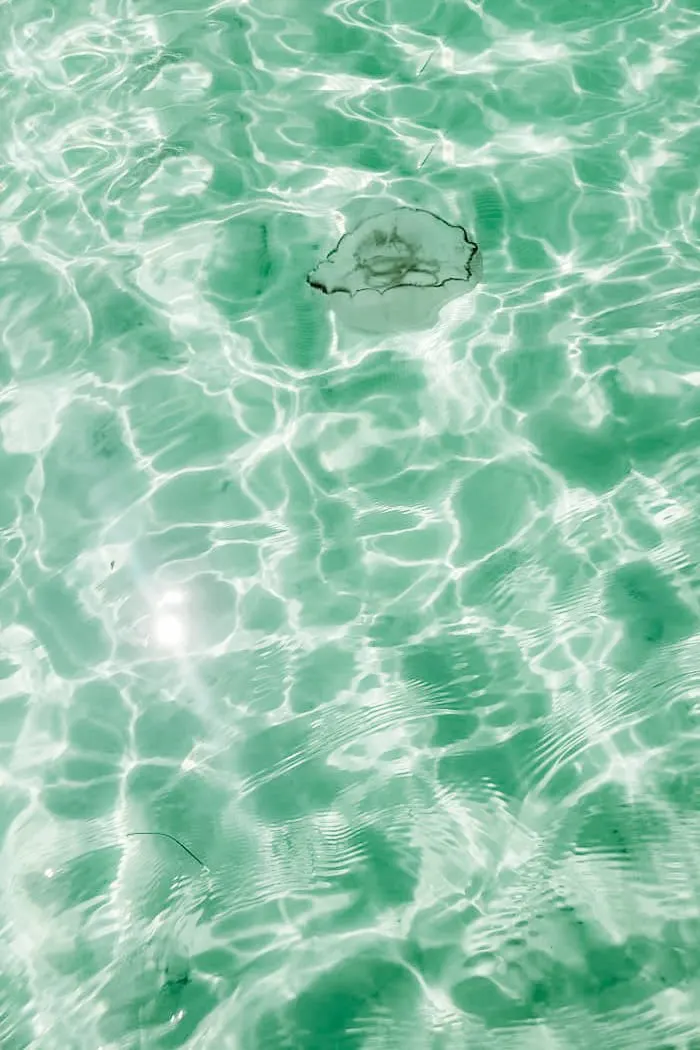 Click HERE and save this Ultimate Guide to Crab Island to Pinterest!
Rinse the affected area with vinegar for 30 seconds. Always call 911 immediately if someone displays the signs of allergic reaction/anaphylaxis following a Jellyfish sting.
TIP: Put white vinegar in a spray bottle to quickly and easily treat any jellyfish stings. We learned this tip from the ice cream guy at Gulf Stream Ice Cream when he offered his spray bottle to us.
Plenty of Sun Protection
The Treasure Chest shop sells sunscreen, but you can bet that it will be marked up and more than likely not the best quality, so it is best to bring your own. You might also want to consider bringing items like sunglasses, hats, or rashguards to protect from the sun.
We were super lucky and no one ended up with sunburns as a result of our Crab Island excursion.
We used Beautycounter Mineral Sunscreen Mist and Beautycounter Mineral Sunscreen Lotion which is water resistant for up to 40 minutes. For my face, I like to also use Beautycounter Dew Skin Tinted Moisturizer (contains SPF).
I find that we burn way less easily with mineral based sunscreens. We applied it before we got on the boat and another time about halfway through.
At the end of the day, we applied Beautycounter After Sun Cooling Gel. It cools on contact and helps soothe skin after being out on the boat all day, boosts hydration, and smells AMAZING.
Crab Island Destin Florida Entertainment
There is plenty of entertainment on Crab Island, but you can bring simple things to create your own entertainment while staying close to your boat.
A Place to Stash Your Trash
Our boat rental had a kitchen sized trash can with a bag in it that was tied to the boat. This made it super easy to collect trash since it was out in the open for everyone to find easily. It made boat clean up at the end of the day in a breeze!
TIP: Make sure you secure whatever you plan to use to collect trash so you don't inadvertently litter during your day at Crab Island. Litter is harmful to all kinds of marine life!
Beach Towels
Don't forget the beach towels! Most likely, you'll want to dry off throughout the day and for sure at the end of the day. Bring a nice, large, thick beach towel. We bought a set from Costco years ago and brought those with us in our luggage.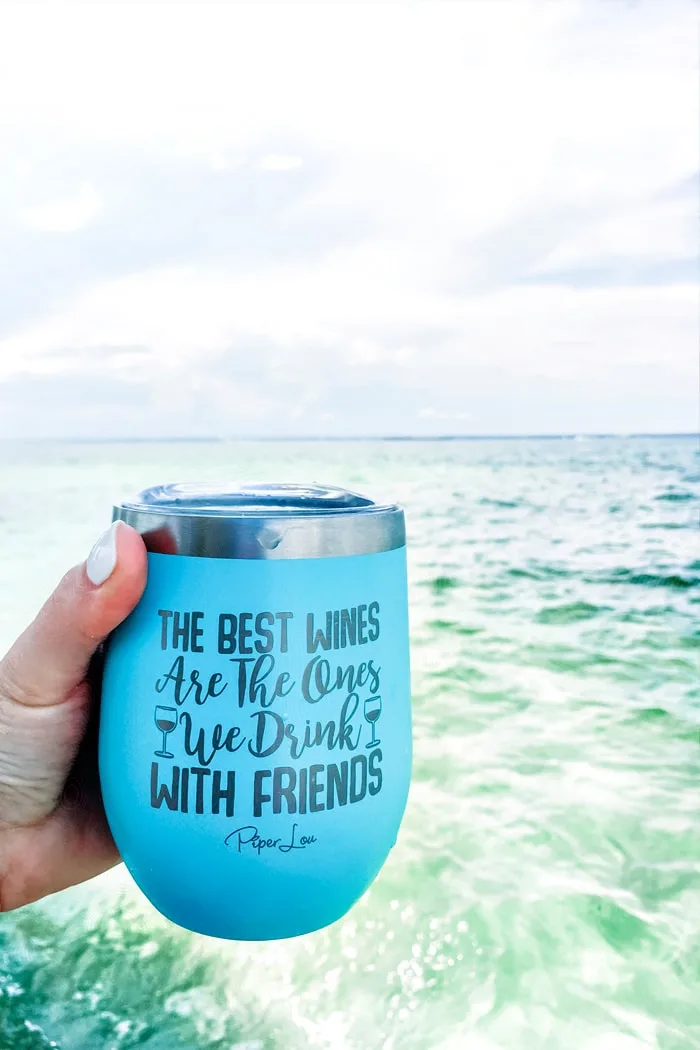 Click HERE and save this Ultimate Guide to Crab Island to Pinterest!
Bring Your Own Drinks to Crab Island
A cooler full of whatever you plan to drink is worth bringing. Alcohol sales are banned in this popular spot, so if you plan to consume, you'll need to bring it yourself.
Everything else costs money so it is a good idea to bring your own water, soda, and juice boxes for kids. Try my One Ingredient Slushies for the kids in your group.
Remember: DO NOT BRING GLASS.
TIP: Bring insulated water bottles, such as Hydro Flasks, to keep water cold. This will also eliminate the waste of plastic bottles. The 21+ crowd likes Insulated Wine Tumblers and Insulated Growlers, and Insulated Tumbler Glasses to keep adult beverages cold.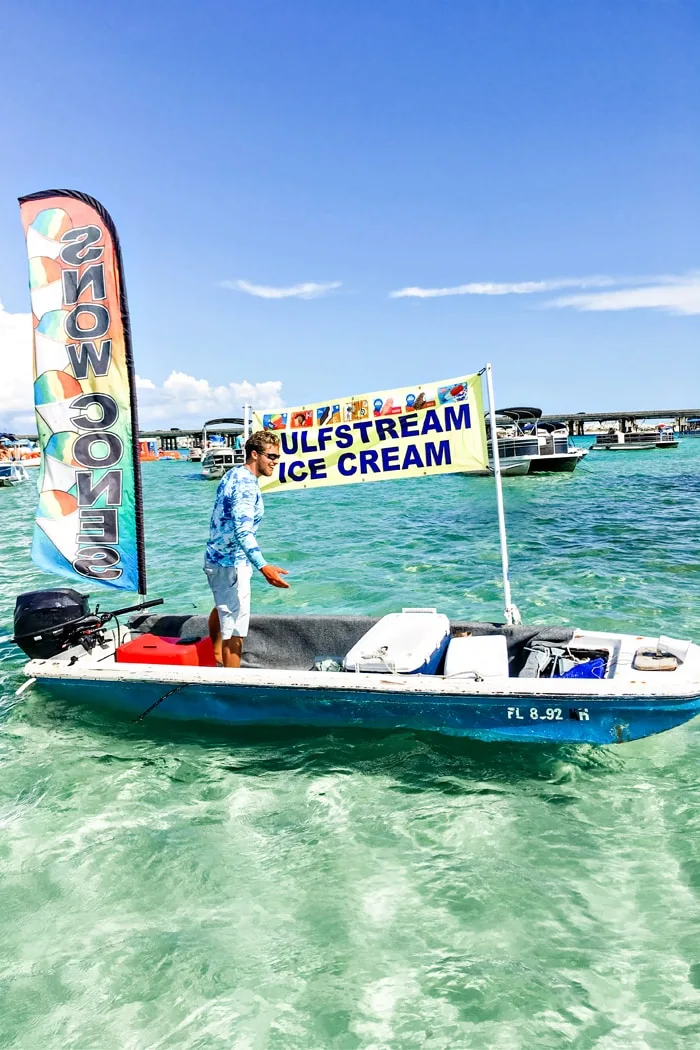 Crab Island Snacks
When you're spending 4+ hours out on the water, someone is bound to get hungry! There is plenty of food available for purchase, but I recommend bringing a cooler with some snacks to cut costs, or simply to supplement what you plan to buy.
We did purchase a few things from Wild Destin and Gulf Stream Ice Cream. Everything else we packed ourselves.
The Best Boating Snack Ideas
The best boating snacks are things that are easy to prepare and easy to eat. I prefer to pack finger foods rather than items that need utensils to eat.
Get More Recipes via Email
Did you love this recipe? Sign up to receive Good Life Eats Email Updates and never miss another recipe!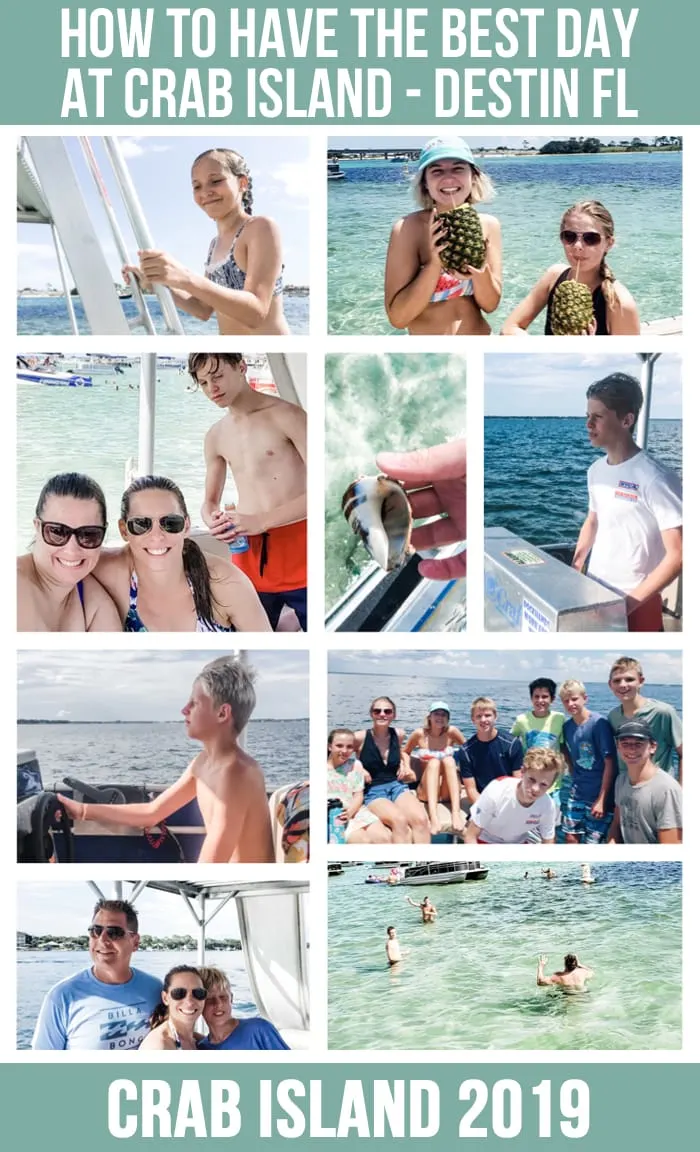 Click HERE and save this Ultimate Guide to Crab Island to Pinterest!