After receiving an invitation from the Mexico Tourism Board to visit La Paz, Mexico in Baja California I immediately had a few questions about traveling to Mexico since I'm a newbie to international travel.
While some of my questions may sound silly and unimportant, they could make my travel days a more pleasant experience, others were more serious matters.
TIPS FOR TRAVELING TO MEXICO

Is Traveling to Mexico Safe?
"What? You're traveling to MEXICO? But it's not safe there!" – Yes, those are the kind of comments I received after telling people I was going to La Paz with the Mexico Tourism Board. If I didn't hear those words, I received concerned looks. But I'll admit, I did want to know about the safety in Mexico and so before planning to attend the trip I did some research online about the area of La Paz.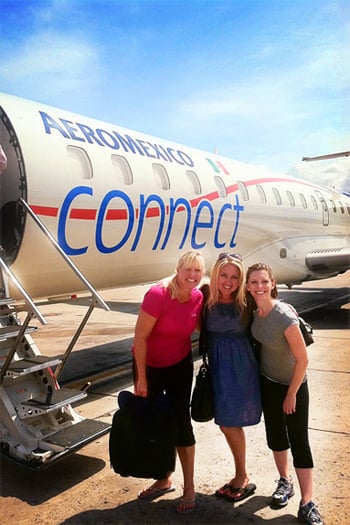 Pictured (left to right): Lori, Jenny, Me
photo credit: Kevin and Amanda
It really depends where you are going and how you are getting there. Mexico is a big country. I was going to be no where near the unrest along the boarders and I'd be traveling by plane. Not a single time during my travels to La Paz did I feel unsafe.
The airports felt pretty much just like any airport, with the exception of the Mexico City Airport being HUGE and the La Paz airport being teeny tiny (only 3 gates). I didn't have trouble communicating with anyone. Most people either knew enough English or I knew enough very basic Spanish to express my needs.
While in La Paz I had to keep reminding myself that I was in Mexico because it didn't feel like some scary foreign country. At all.
Are the Outlets in Mexico Different?
After our travels to Greece this summer and dealing with different plugs, wattage, and outlets I was so relieved to find that I wouldn't have to deal with any of that in La Paz, Mexico. My phone charger, camera charger, and hair dryer would all work just as they should without any international plug adapters.

Normally I don't love packing my hair dryer because it takes up space, but after some pretty funky hair dryers in Crete lets just say that I'm more keen on bringing my own during international travel as long as the plug still works.
Is the Water Safe to Drink?
When traveling to Mexico it is good to ask in advance whether the hotel provides bottled water for it's guests. Costa Baja Resort in La Paz had cold bottled water that was constantly replenished in the lobby. Additionally there were bottles in our room.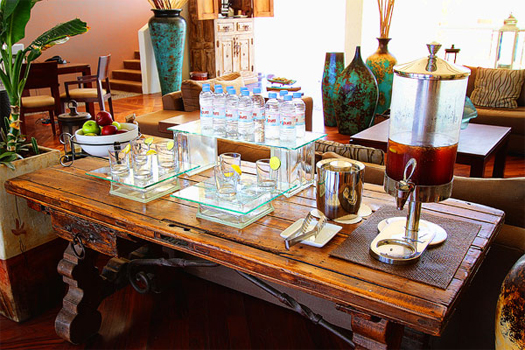 photo credit: Kevin and Amanda
I drank bottled water the entire time and was careful not to swallow water accidentally while in the shower or washing my face. I didn't want to risk anything, especially with my trip being so short I could NOT afford to get sick. But don't be afraid to ask the hotel or resort where you stay about their water filtration policies.
On a hot evening I was repeatedly offered icy cold drinks by the hotel staff and all of those drinks were on ice. And they were mighty tempting. Was the ice safe? I asked several different waiters and all of them confirmed: yes, we filter our water. I enjoyed a nice, cold virgin mojito with no unpleasant side affects.
Is Someone Going to Steal My Stuff?
Yes, I really asked that. I had never traveled to Mexico before my trip with the Mexico Tourism Board so I was unsure if it was safe to bring valuables with me. I wanted to bring my nice camera so I could capture great photos of the trip – and I'm seriously glad I did bring it – but I was concerned about carrying thousands of dollars of camera equipment with me.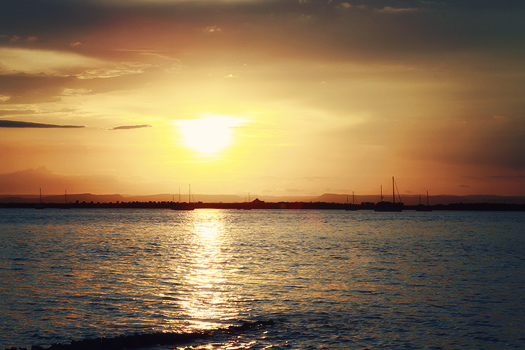 I brought my nice camera and lens so I could take photos like this while in La Paz!

On the last evening in La Paz I walked the Malencon with my camera hanging on a camera strap right across my body and not a single person flinched. I didn't let it out of my sight, other than when I left it in the hotel room packed away in it's bag (not in plain sight) but I felt fine walking around with it. I also had it with me in Todos Santos and felt just as safe.
Do Mexico Airports have Free Wi-Fi?
Yes and No…of the four airports that I visited during my travels to La Paz, all of them had Wi-Fi. Just head to your closest Starbucks and purchase something, anything – even just a water bottle. You'll get a username and password for the "free" Wi-Fi on the receipt.
Another hint? The Mexico City Airport, La Paz Airport, Guadalajara Airport and Culiacán all utilized the exact same username and password from that first Starbucks receipt I got in Guadalajara. Save your receipts just in case you don't purchase anything on your way home.
Do you have concerns when traveling to Mexico?
Stay tuned for more details and photos from my trip! Big thanks to the Mexico Tourism Board for a wonderful and safe experience traveling to Mexico – La Paz was wonderful.