My life is CRAZY. Can you believe I've slept in beds that do not belong to me more than I've slept in my own bed this month? I've been to Boulder, Chicago, New York City, Park City, and Boulder (again). From house hunting, to blogging trips, speaking in conferences, attending conferences, and more house hunting I feel like I don't even know what day it is anymore!
I'm not complaining. It's been fun, delicious, and educational. I've stayed in some really fun places and spent time with many people that I love. But I thought you might like to know why I haven't been around here a whole lot lately. Unfortunately, I was always so busy that I didn't take many photos on these trips!
One thing I have enjoyed about all this travel is all of the new restaurants I've been able to eat at!
Boulder was amazing and exhausting. We narrowed down the area we want to live in on the first trip and then went back home to begin project house hunting. While in Boulder we enjoyed some yummy family food recommendations from all of you (thanks for leaving those ideas on my last post).

The kids favorite place to eat was Turley's. Think casual family dining, breakfast served all day type of food, but with a healthy, organic twist!
The kids enjoyed huge, fluffy pancakes with fresh squeezed juice and smoothies and a side of bacon. Eric had a buffalo burger with salad and I went for a Cashew Chicken Salad Sandwich and Sweet Potato Fries. This is a place that I can see us frequenting again and again after our move this summer.
The highlight of the trip for the kids was swimming in the hotel pool. They still both do not know how to swim well and we joked that if we could stay just a few more days we'd be able to cross that off our parental responsibilities "to-do" list.

I also liked the food we ate at Shine and Pica's. I am really looking forward to the selection of new restaurants we'll have to dine at in Boulder!
Chicago was lots of fun. I got to see the Bush Beans "Team Bean" group: Kristen, Cheryl, Laura, Amy, Aggie, Sandy, and Tina. I love those girls and we always have so much fun.
We stayed in the Hard Rock Hotel while there. Each floor had a different music "theme" – mine was Annie Lennox. I had a big, comfortable king sized bed all to myself.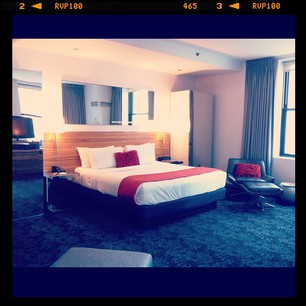 We ate a fabulous Tapas Menu at Mercat during our stay. If you're in Chicago or head there for a visit, make sure you eat there. Each bite had me almost drooling!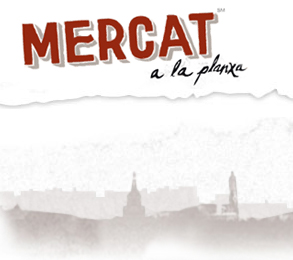 Some of my favorites were: Spanish Omelette with Spinach, Potatoes & Saffron Aioli, Bacon-Wrapped Dates Stuffed with Almonds, a salad I can't remember the name of that had avocado, green beans, mixed greens and shallot dressing…who am I kidding. I loved everything!
In New York I spoke at the IACP Conference. That was a big deal for me. I'm not much of a public speaker so I really had to psych myself up for it so I could get through the panel without letting my nerves get to me.
If you attended, I hope the panel was informative. It was a great experience for me and I loved getting to see some of my friends and meet new people. Waving hello to Kathy, Carrie, Marla, Jaden, Casey, Casey, Amber, and more that I know I'm forgetting because my brain is MUSH!

Carrie and I ventured over to Hundred Acres for dinner during one of our nights there. Delicious! We shared the Spinach Salad, with meyer lemon, hazelnuts, jalapeno vinaigrette, red onion, and feta and a Wagyu Beef Burger, with white cheddar, brioche diner bun, pickles, spiced fries. My favorite meal while in New York!
Have you had any delicious meals out lately? Where did you go?