This post is by guest author Deborah Harroun of Taste and Tell. Life is just a tad bit hectic right now with all the travel I've been doing and preparing to move. I'm so grateful Deborah could be here today to share these fun Black and White S'mores Cookies. Welcome, Deborah!
I can feel it in the air. Summer is right around the corner.
I know, I know – we just welcomed in spring. But I have so many plans for summer this year that I am eagerly awaiting its arrival.
Trips to the pool and the splash pad, lots of ice cream and sno-cones, and of course, camping.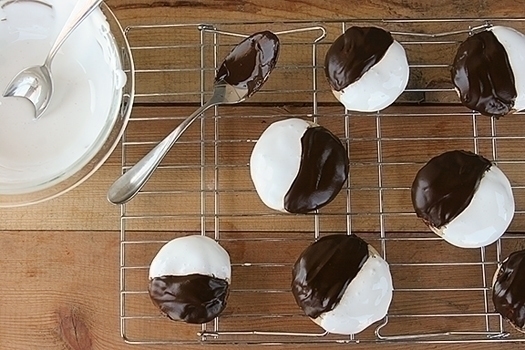 Growing up, we never had a lot of lavish or exotic vacations. With 5 kids and a budget, they just weren't possible. But what we did do a lot of was camping. I grew up in New Mexico, but less than an hour away from the Colorado boarder. Just a short drive away were the mountains, and all of the outdoor excitement we could handle.
One of my favorite things from those camping trips – and still one of my favorite parts of camping today – were the s'mores. Ooey, gooey and full of sugary sweetness, what kid can pass up a s'more? But I say – why reserve the s'mores just for those camping trips?
I know these aren't your typical New York black and whites, but I couldn't help but think of how perfectly those black and white cookies could be translated into s'mores cookies.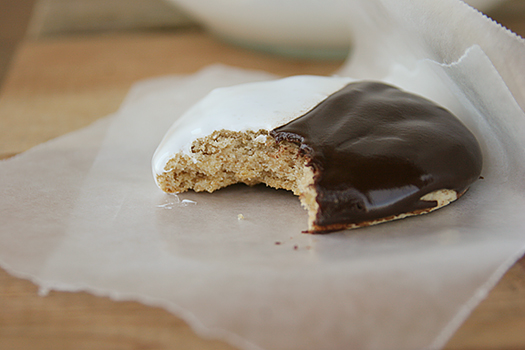 These cookies are the best of both worlds – you get the chewy cookie with 2 different icings. But you also get the gooey goodness of s'mores from the icing. These cookies do get messy, but when there is marshmallow involved, messy is a given!
Graham cracker, chocolate and marshmallow – does it even get better than that?
Do you like to camp? What was your favorite childhood camping treat?
About the Author: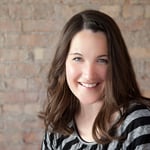 For the last five years, Deborah Harroun has been blogging at Taste and Tell where she enjoys writing about easy, family friendly meals.
When she's not blogging or cooking, you'll find her reading, taking hundreds of pictures of her two kids, or relaxing with her husband. She also loves to collect cookbooks.