How to Freeze Grapes for Snacks and Smoothies
Can you freeze grape might not be the first thing that comes to mind when you think about grapes. But, the good news is that you can! Frozen grapes make a great addition to smoothies as well as a healthy, cold snack during summer.
Grapes were recently on sale crazy cheap at the grocery store. One of my friends knows eow much Madeline and I love our green smoothies and she mentioned that green grapes were great in green smoothies (and a lot cheaper than the frozen pineapple we usually like to throw in). Since I'm trying to cut my grocery bill down a little I decided to buy a couple bags of green grapes to freeze for smoothies.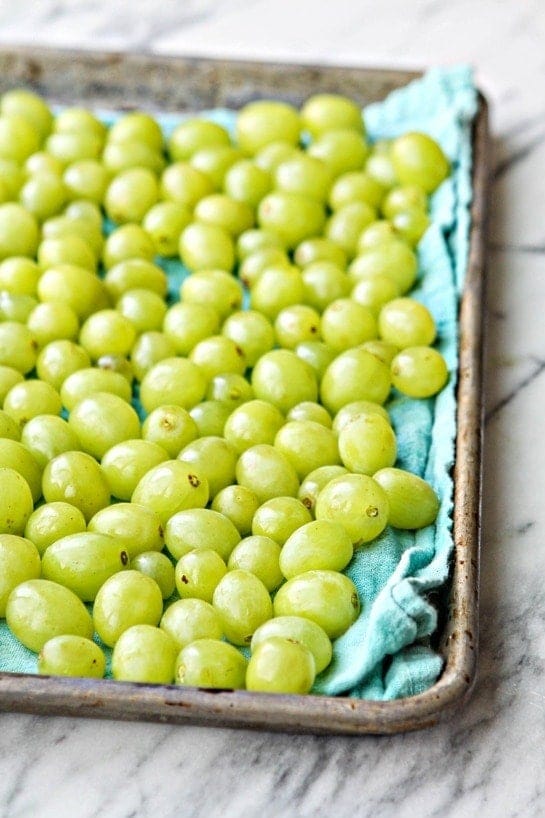 Freezing grapes is super simple. The first time around I didn't want to deal with any prep so I just stuck the grapes, stems and all, in a gallon sized freezer bag and shoved it in the freezer.
It wasn't too bad but there was the extra step in the morning of pulling the grapes off the stem and washing them before putting them in our smooth (we like a combo of green grapes, frozen peaches or mangos, fresh spinach, and orange juice).
The next week green grapes were on sale again for the same price, so I bought a couple more bags and followed the instructions below. Super easy, time saving for morning smoothies, and tasty!
BONUS: Frozen grapes make a great, cold snack on a hot day. Kids love them!
Print This

How to Freeze Grapes

1. Remove the grapes from their stems. Discard stems.

2. Place grapes in a colander. Rinse well.

3. Line a large baking tray with an absorbent towel.

4. Lay the grapes on top of the towel and allow to dry.

5. When the grapes are completely dry, transfer to another baking sheet.

6. Place the entire baking sheet in the freezer and freeze until the grapes are solid.

7. Transfer the frozen grapes to a large gallon sized freezer bag.