Red White and Blue Berry Dessert Bites
I remember when I was younger there was a man a fruit stand who tried to tell us that fruit was nature's candy. I probably looked at him like he was crazy, because what 8 year old believes that?
But now that I'm older and appreciate all the food that this world has to offer, the complexities as well as simplicities of certain flavors, I really think he was right. That's not to say that I don't still love the occasional candy or chocolate.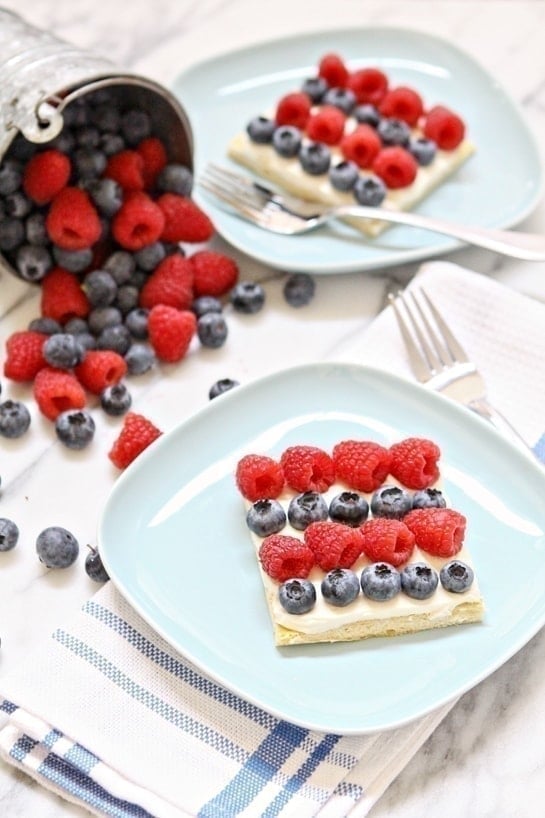 I love fresh fruit desserts during the summertime. These Red White and Blue Berry Dessert Bites are the perfect, easy Patriotic Dessert for your upcoming 4th of July Celebration. A simple crust made out of crescent roll dough is topped with a sweetened cream cheese flavored with a hint of lemon and vanilla.
You can top these Red White and Blue Berry Dessert Bites with whatever fruit you like, but for the 4th of July I think fresh raspberries and blueberries look beautiful. If those fruits don't float your boat, try strawberries, mangos, and kiwi. They would be delicious as well.
Hope you have a wonderful 4th of July weekend!
More Patriotic Desserts:
Red White and Blue Berry Dessert Bites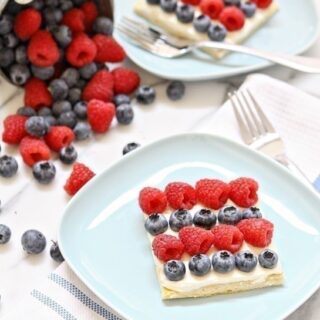 Ingredients:
2 packages refrigerated crescent rolls
2 packages (8 ounces each) cream cheese softened
1 cup confectioners' sugar
1 teaspoon Pure Lemon Extract
1 teaspoon Vanilla Extract
1 cup homemade whipped cream (not unwhipped whipping cream)
3 cups assorted fresh berries, such as blueberries and raspberries
Directions:
Preheat oven to 350 degrees F.
Unroll crescent dough onto 15x10x1-inch baking pan. Press perforations to seal. Bake 12 to 15 minutes or until golden brown. Cool completely on wire rack.
Beat cream cheese, confectioners' sugar and extracts in large bowl with electric mixer on medium speed until well blended and smooth. Gently stir in whipped cream. Spread evenly in a thin layer over cooled crust. Top with berries.
Serve immediately or refrigerate until ready to serve.