Dark Chocolate Turtle Pretzel Bark
Classic Pecan Christmas Turtles meet Dark Chocolate Bark with the crunchy, salty addition of mini pretzels for a delicious sweet and salty Christmas candy treat. This recipe was made in partnership with Fisher Nuts.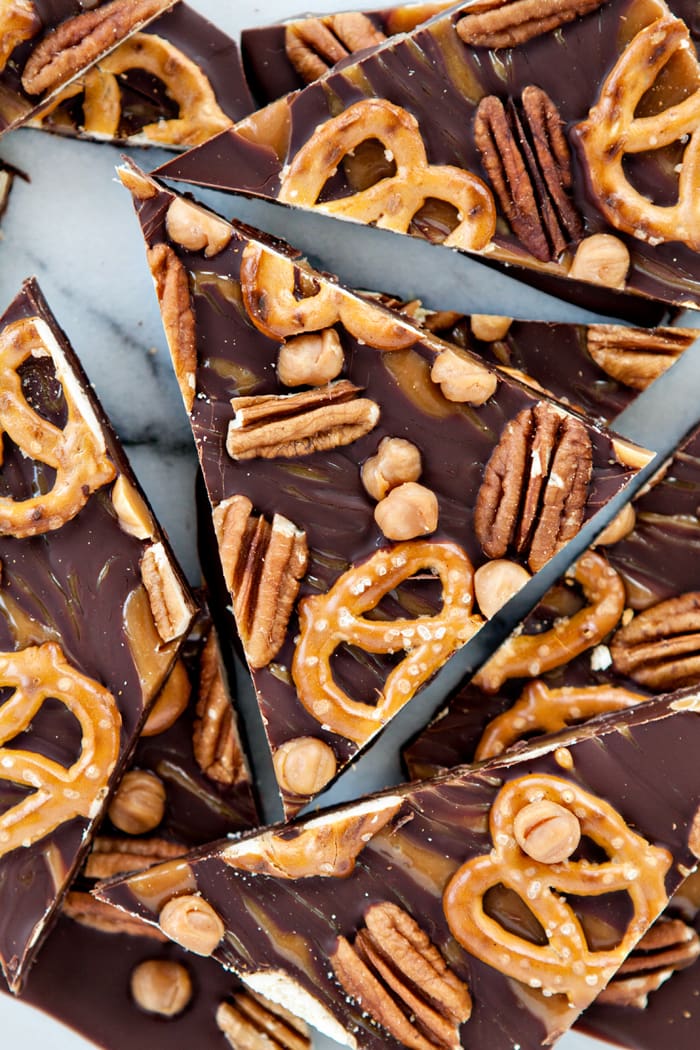 It's that time of year again for making all sorts of yummy homemade holiday sweets and treats. One of my favorite things to make, besides homemade caramels, is Chocolate Bark. It is tons of fun because the possibilities are absolutely endless.
Once you master melting the chocolate and spreading it in a thin layer on a parchment paper lined baking sheet, you can top it with literally anything you want – from sprinkles, chocolate chips, chopped up cookie chunks, dried fruits, caramels, and Fisher Nuts (which I love because they're completely preservative-free). All you have to do is consider what you or the recipients will like best paired with chocolate.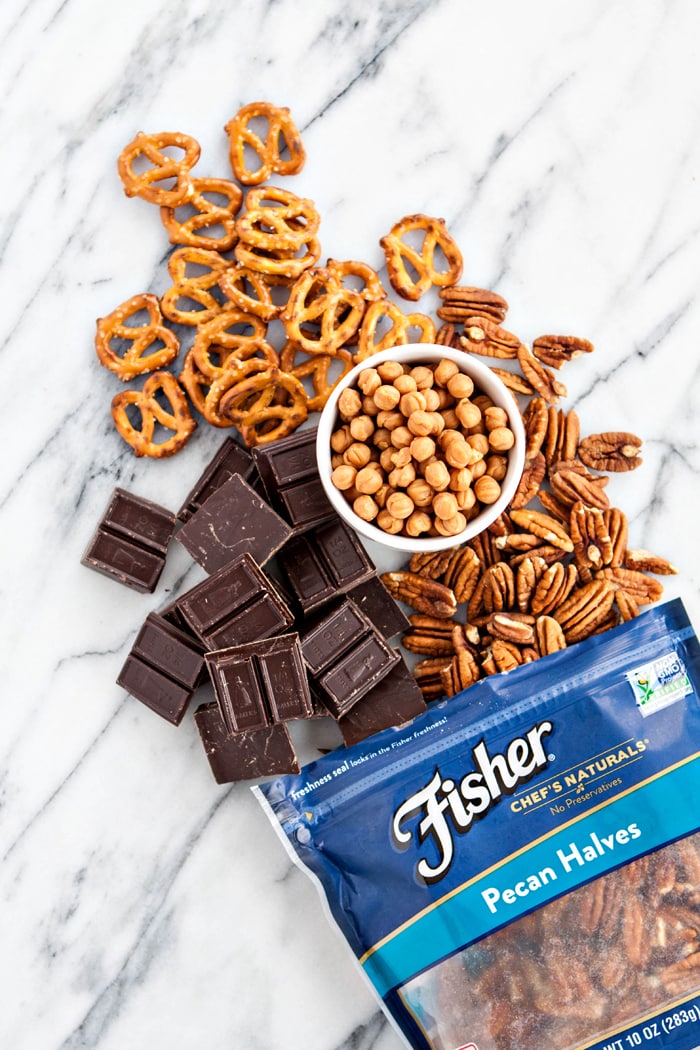 So, back to the part that you have to master – melting the chocolate. That is absolutely the trickiest part. The best bark is when you melt the chocolate low and slow without letting it get too hot. Otherwise the chocolate will lose its temper. I have a handy guide on  How to Temper Chocolate if that's something new to you. But, it really isn't as complicated as it sounds. The gist is to not let the chocolate get too hot, above 90 degrees F to be exact. Using a double boiler and the lowest heat possible on my stove did the trick.
Once you've done that, you can get to the fun part – the creative customization. Last year I had some neighborhood kids over for a chocolate bark making morning and one of the flavor combos they came up with was to sprinkle the chocolate in toffee bits, leftover Bourbon Maple Caramels, homemade bacon bits, and sea salt. It was so good!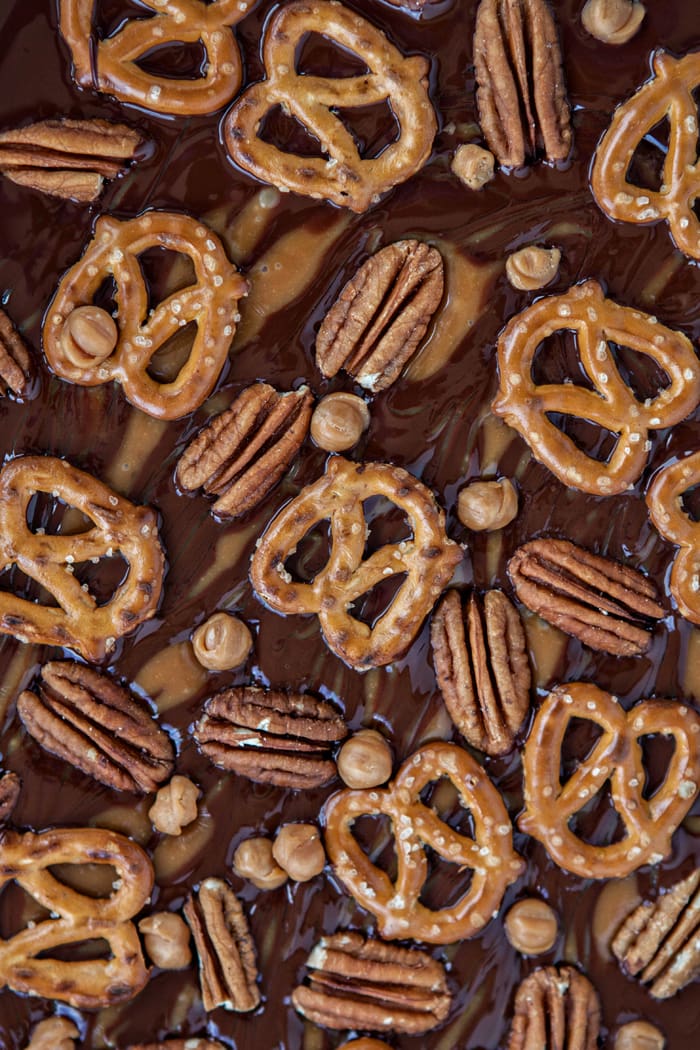 That got me thinking about other ways that I could incorporate caramel into chocolate bark, because I love caramels this time of year and I absolutely love the classic combo of caramel and chocolate together.
This year I wanted to make turtles, you know – pecans covered in caramel and chocolate. But then I thought, what if I made chocolate bark that tasted like a deconstructed turtle? My next thought was, I bet pretzels would taste really great with that and give it a nice sweet and salty taste with a little extra crisp to it along with the savory taste of the pecan to balance the sweetness of the caramel and the bittersweet chocolate.
Dark Chocolate Turtle Pretzel Bark is exactly that. You start with a base layer of dark chocolate swirled with caramel. That base is then sprinkled with pecans, mini pretzels, and extra bits of caramel. We all loved the flavor and texture combo as well as the fun and different way to present a traditional turtle. We're definitely adding this to our holiday candy rotation!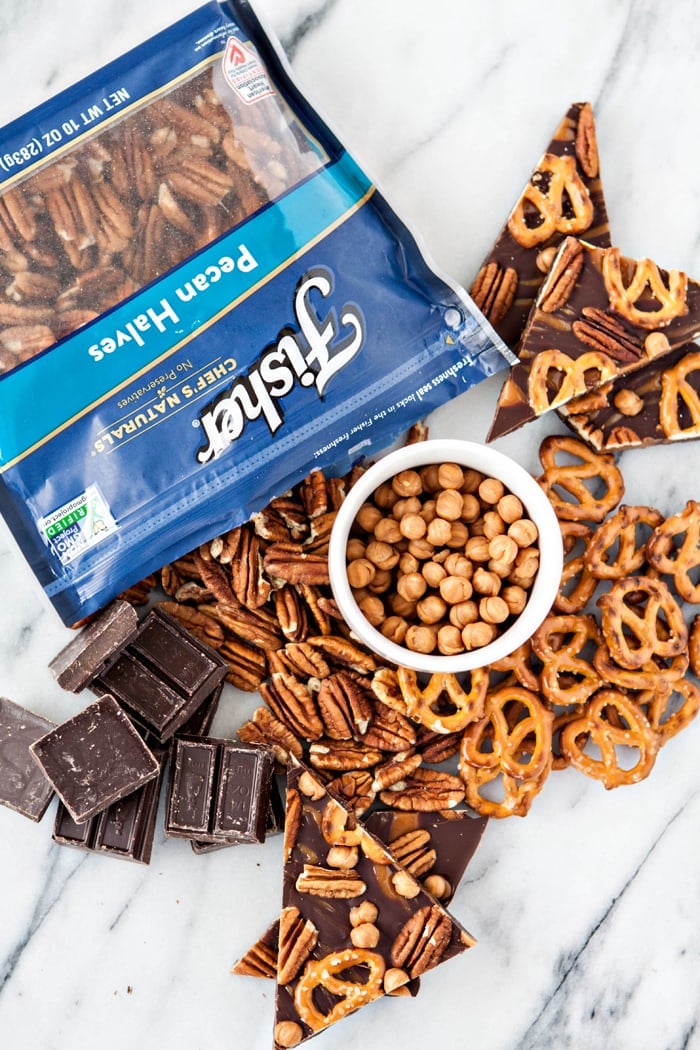 More Homemade Christmas Treats
Is homemade holiday gifting your favorite thing? Here are a few more recipes for your inspiration! Put on some Christmas tunes and pour yourself a mug of Spiked Peppermint Mocha Hot Chocolate or a glass of Spiced Pomegranate Apple Cider and whip out a few of these tasty recipes. Your friends, neighbors, and kids' teachers will thank you!
Bittersweet Chocolate Swirl Fruit and Nut Bark pairs bittersweet chocolate, white chocolate, almonds, raspberries, strawberries, pumpkin and chia seeds for a delectable holiday treat.
Chocolate Dipped Nuts are a delicious, healthy treat. Mix it up by using a variety of different nuts: pecans, walnuts, and almonds, for example.
For those who crave savory treats, these Sweet and Spicy Rosemary Bar Nuts are always a hit. Mixed nuts meet rosemary, cayenne, cumin, brown sugar, and maple syrup.
Salted Vanilla Maple Nut and Seed Clusters taste indulgent but are anything but since they're packed with all sorts of heart-healthy seeds and nuts.
If you like candied nuts, try these Cinnamon Vanilla Glazed Walnuts. They make a perfect gift when tied up in a bag with a bow, or in a pretty jar.
What are your favorite homemade holiday treats?
Dark Chocolate Turtle Pretzel Bark
Prep Time: 10 - 15 minutes
Cook Time: 10 - 20 minutes
Total Time: 20 - 35 minutes
Classic Pecan Christmas Turtles meet Dark Chocolate Bark with the crunchy, salty addition of mini pretzels for a delicious sweet and salty Christmas candy treat.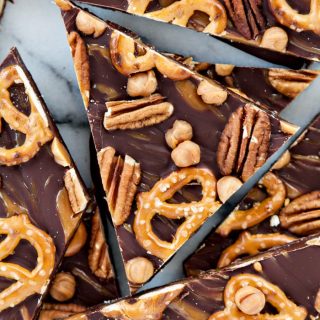 Ingredients:
28 ounces Dark Chocolate, at least 60% Cacao
14 ounces caramel, divided
2 tablespoon water
5 ounces Fisher Nut's Pecan Halves
4 ounces Mini Pretzels
Directions:
Prepare a large baking sheet by covering it in parchment paper. Set aside.
In a double boiler, slowly melt the dark chocolate over low heat. Making sure to stir the chocolate regularly.
Monitor the temperature using a candy thermometer to ensure that the chocolate does not get above 90 degrees - otherwise the chocolate will lose its temper. Turn the heat off as needed so the chocolate doesn't get too hot. Just keep stirring and eventually the chocolate will slowly melt.
Meanwhile, melt 12 ounces of the caramel pieces with 2 tablespoon of water over medium low heat in a small saucepan. Stir regularly, turning the temperature to low as soon as the caramel is melted.
If the remaining 2 ounces of caramel are not already in bite sized pieces, chop them up into small bits. Set aside.
Pour the dark chocolate on the prepared cookie sheet, spreading with a spatula to smooth it evenly. The thickness is up to you depending on how thick you'd like the finished product to be.
Drizzle large spoonfuls of the melted caramel on top of the dark chocolate, then use a butter knife or wooden skewer to swirl through the chocolate.
Sprinkle the remaining 2 ounces of caramel bits, pretzels, and Fisher Nut's Pecans on top of the still wet chocolate/caramel swirled mixture.
Let sit at room temperature until set, about 1 - 2 hours. Then, break into individual serving size pieces.
Notes:
Store in a cool, dry place for up to 1 week.
This recipe for Dark Chocolate Turtle Pretzel Bark is a sponsored conversation written by me on behalf of Fisher Nuts. The opinions and text are all mine.