This Giveaway has CLOSED.Congratulations to the winner – Morgan!
I have a tendency to complicate things sometimes. I usually over think and stew about things. Life, issues, even silly things like food. I like complex flavors and enough taste bud stimulation to keep me coming back for more. And sometimes I forget that the simplest of recipes can be just as tasty.
"Leek and Potato Soup smells good, tastes good, and is simplicity itself to make. It is also versatile as a soup base…change the formula a bit, add carrots… or anything else you think would go with it."

- Mastering the Art of French Cooking, by Julia Child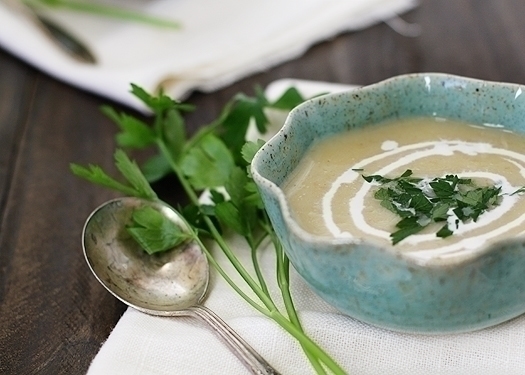 I thought it was about time I try making Julia's Leek and Potato Soup. I've eaten it before, but just never made it myself. It is simple, at only 5 ingredients, but still satisfying on a cold fall night with a big hunk of baguette to dip in the soup.
Even though I truly enjoy sitting down to a more decadent meal, a simple family dinner is really where the best family time happens. There's no huge mess to worry about cleaning up afterward. No mounds of dishes to do. No hours to spend preparing the meal. Just simple, good food and wonderful company.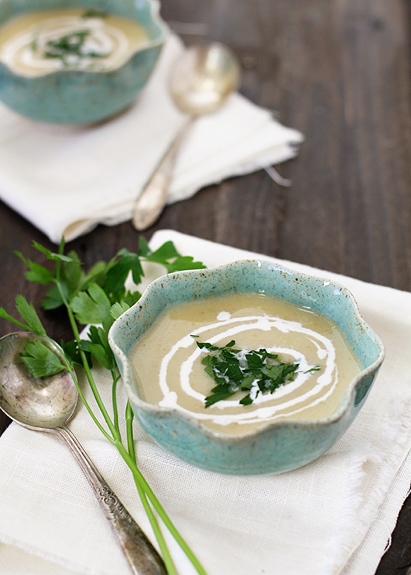 As simple and as satisfying as this soup is, I can only imagine how yummy it would be when used as a soup base like Julia mentions. I'm thinking broccoli and cheese would be delicious stirred in. Julia suggests watercress, carrots, string beans, broccoli, cauliflower, or anything else you think would go with it. Smart lady she was!
Leek and Potato Soup

Ingredients:

3 to 4 cups or 1 lb. peeled, sliced or diced potatoes
3 cups or 1 lb. thinly sliced leeks, including the tender greens
2 quarts water (I used 1 quart broth + 1 quart water)
2 teaspoons salt
6 tablespoons heavy cream

Directions:

Simmer the potato and leek in the water, partially covered, for 40 minutes or until the vegetables are tender.

Mash the vegetables in the soup with a fork or pass through a food mill (I pureed because I don't have a food mill). Season to taste - I added a bit of fresh ground pepper.

Set aside uncovered until just before serving, then reheat to a simmer.

Off heat, before serving, stir in the cream. Garnish with parsley or chives, if desired.
Before you enter the giveaway PLEASE read the rules. I have included abbreviated rules at the end of the post. The "Official Rules" can be found here: Windows Phone 7 Giveaway Rules. If you don't follow the rules, you will be disqualified.
Giveaway (1 winner)

:

Windows Phone 7 – Approximate Retail Value ("ARV"): $500
All details and features determined by Sponsor in its sole discretion.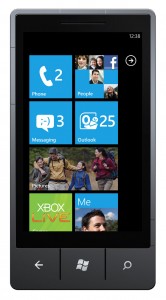 The Rules:
Valid entries will comment on the post and respond to the prompt  "Do More With Less" as it relates to food, holiday entertaining, family life, and/or cooking.
You may enter ONCE PER DAY as long as your entry is DIFFERENT each day.
You may NOT enter using multiple email addresses. Automatic disqualification.

Contest ends November 29, 2010 at 11:59 p.m. EST.
Contest open to US States only.
Official Rules can be found here: Windows Phone 7 Giveaway Rules.
Winner will be chosen via random.org and will have 5 days to respond before disqualified and a new winner chosen.
This giveaway is brought to you by the new Windows Phone 7. Less tech tired. More tech trendy: Learn about Windows Phone online and see it in person at local T-Mobile stores today.
RESPONSES - LEAVE A COMMENT BELOW