Easy Loaded Baked Potato Soup Bar
This Easy Loaded Baked Potato Soup is like your favorite loaded baked potato in soup form – sour cream, cheese, green onions, homemade bacon bits, and broccoli.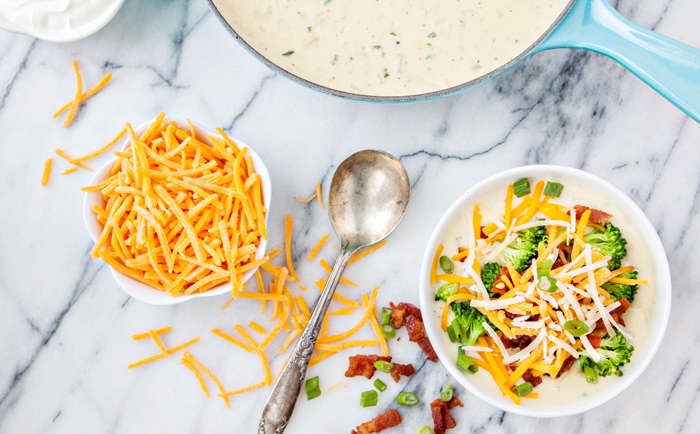 We have a pretty busy week this week, as we did last week and it seems even the week before had a lot going on as well. Maybe that is our new normal, at least for a little while.
One of the big things going on in our life this week is that I have to take Logan to Middle School registration night. And he's about to be turning 11 in less than 2 weeks, so I am a little bit in the mode of thinking about birthday plans and the fact that I am going to have an 11 year old!
What?! When did that all happen?!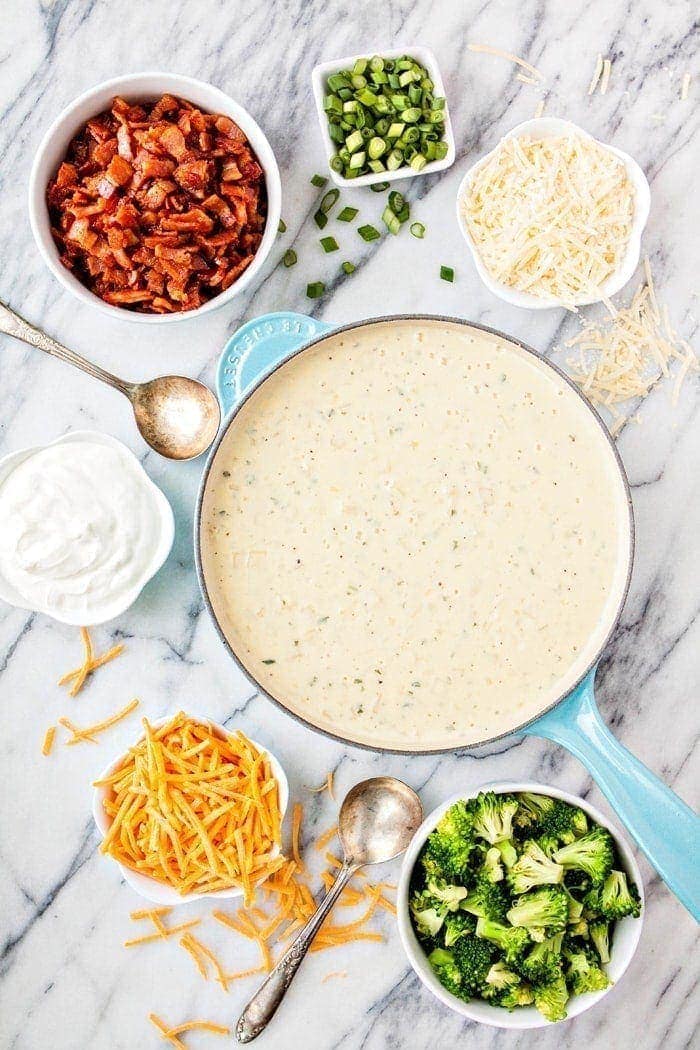 Something easy, but still yummy and warm (because after a week+ of pretty much spring weather, we are now getting snow again), was definitely in store for our dinner plans.
I thought it would be fun to do a DIY Soup Bar. It made it more interesting and fun for everyone to be able to top their soups the way they wanted and add all kinds of mix-ins to the base that I provided.
I think for kids it gives them a little bit of an illusion of control regarding what they are going to eat for a meal, when otherwise they might not be so happy with what you're offering.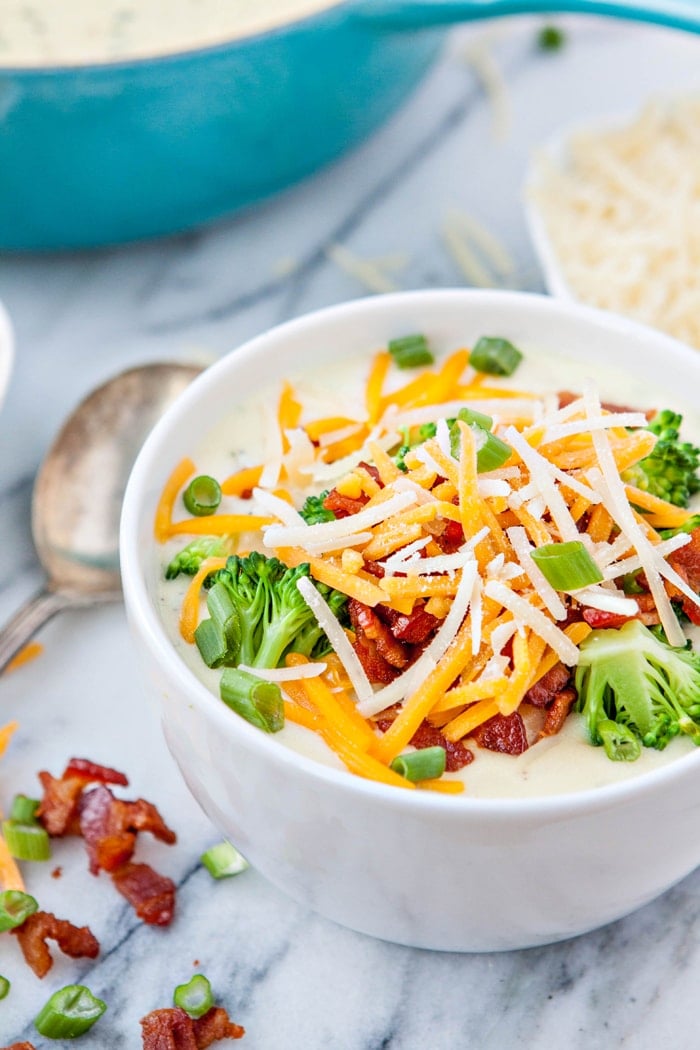 I decided I wanted to do a Easy Loaded Baked Potato Soup Bar. I Loaded Twice Baked Potatoes and thought that those elements would taste awesome in soup form. It didn't take very long at all to prep all of those elements to go along with a pot of Bear Creek Creamy Potato Soup.
So, during the day when they were at school, I chopped up some bacon and threw it in the oven to make my favorite Perfect Homemade Bacon Bits, shredded some cheese, sliced green onions, steamed the broccoli, heated the soup.
Then I put all the ingredients in individual bowls and dishes and stored it in the fridge until dinner. When it was dinner time, I just quickly reheated the soup on the stove, laid everything on the counter and told the kids dinner was ready.
It was so super easy! And it made our evening go really smooth since it was all prepped ahead of time and the mess was really minimal to clean up. Madeline did the hardest part of loading all of the dishes in the dishwasher and Logan took the trash out.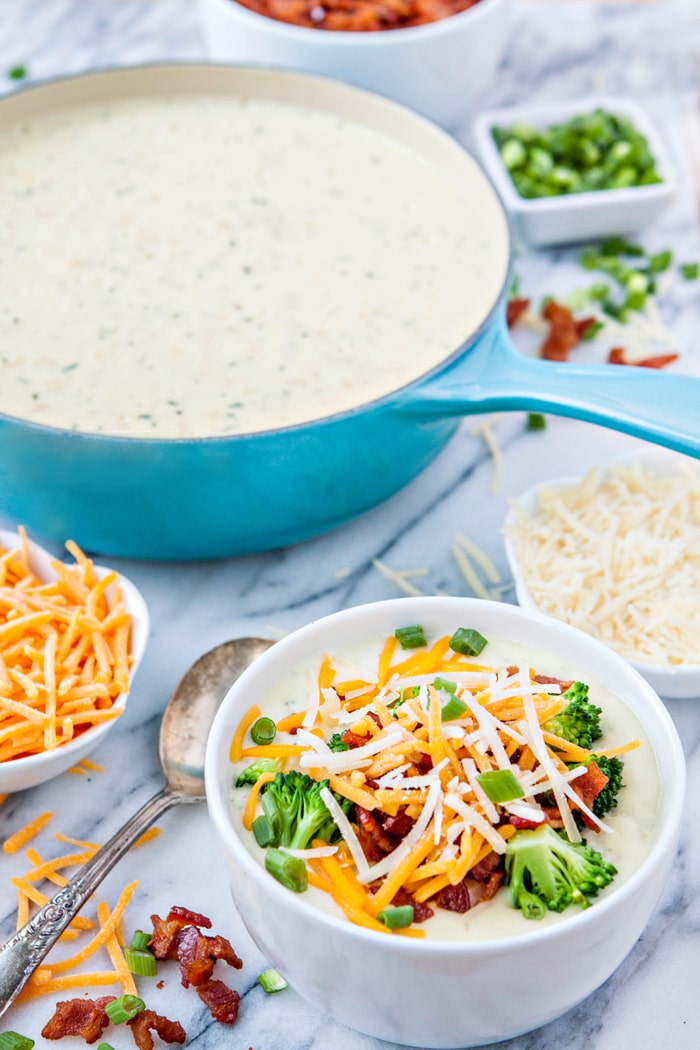 Hosting a DIY Soup Bar, such as this Easy Loaded Baked Potato Soup Bar, would be a really fun evening to have friends over as well.
I think guests would love being able to personalize their own bowls and enjoy some hot soup together on a cold evening, maybe with some board or card games to play with while socializing.
Have you ever had a soup bar before?
Easy Loaded Baked Potato Soup Bar
This Easy Loaded Baked Potato Soup Bar makes for a super simple and fun family dinner. Dress up your bowl of soup with all the delicious toppings traditional to a loaded baked potato.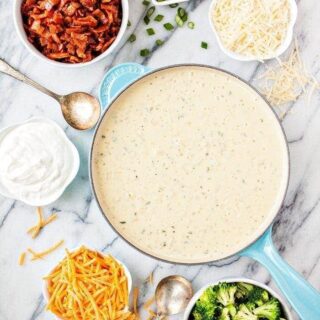 Ingredients:
For the Soup:
Topping Ideas:
Shredded Cheddar Cheese
Shredded Fresh Parmesan
Sour Cream
Sliced Green Onions
Steamed Broccoli Florets
Directions:
Prepare the soup according to package instructions. During the last minute of simmering, whisk in the nutritional yeast and sour cream, if using. Season to taste with salt and black pepper, if desired.
Serve the soup alongside your preferred toppings. For a delicious loaded baked potato style soup, I like to include shredded cheddar cheese, shredded parmesan, sour cream, homemade bacon bits, sliced green onions, and steamed broccoli florets.
Each person can personalize their bowl with the toppings they prefer.
Bear Creek Country Kitchens began over 20 years ago with one goal in mind: to create home-style soups that will satisfy every appetite.  Combining high-quality ingredients and a special blend of spices, Bear Creek soups are delicious and easy to prepare. 
This is a sponsored conversation written by me on behalf of Bear Creek Soups. The opinions and text are all mine.