Perfect Homemade Bacon Bits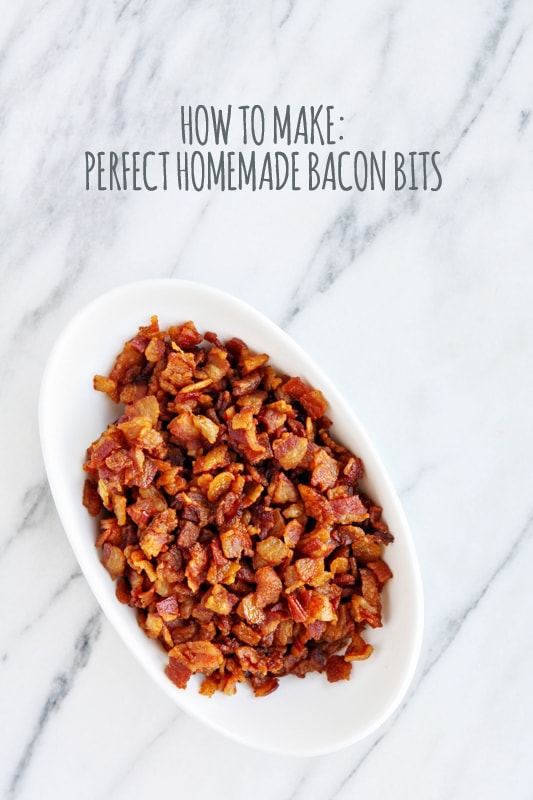 I had a couple girl friends over a few weeks ago for dinner when the kids were gone. As part of the dinner I served wedge salad. My friend Laura and I recently shared one when out for lunch and we both had been craving it again so I told her I'd make it when she came over.
My other friend, Becca, commented that the homemade bacon bits were cooked and crumbled perfectly for the salad. Honestly, before that I hadn't thought twice about what I did or how I cooked my bacon bits. But it got me thinking maybe that making homemade bacon bits was a worthy tip to share. So, without further adieu…
How to Make Perfect Homemade Bacon Bits
Note: I prefer to use thicker cut bacon for this method.
1. Preheat the oven to 425 degrees F.
2. If the bacon is frozen, thaw it about 2/3 of the way. If it isn't frozen, pop it in the freezer for about 30 minutes. Either way, the bacon should be very cold and a little firmer than straight out of the refrigerator, but you don't necessarily want it icy. This will make the bacon easier to cut.
3. Stack the bacon strips directly on top of one another in piles that are thin enough that your knife can cut through.
4. Slice the strips in half lengthwise so they are thinner. Then, cut horizontally into chunks (remember they will shrink down when they cook).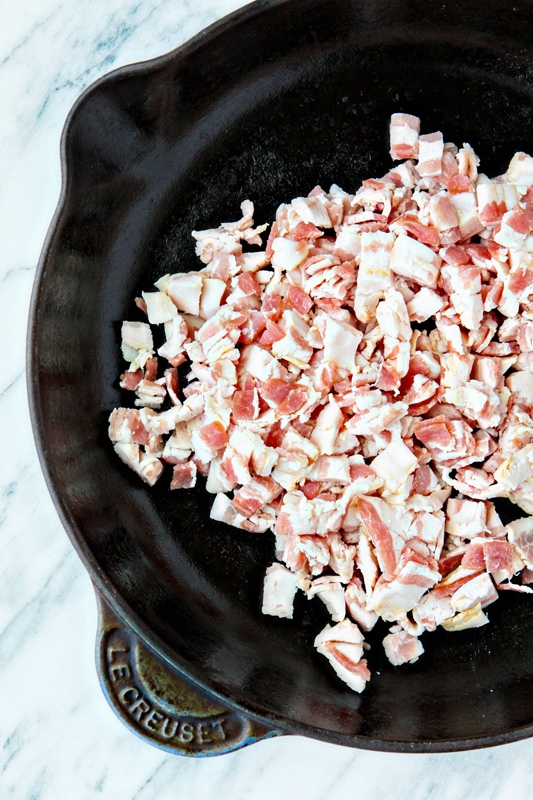 5. Place the cut bits into a cast iron pan. Cook for just a couple of minutes over medium high heat on the stove to heat the pan and separateany chunks of bacon.
6. Transfer the cast iron pan to the oven and bake at 425 degrees F for 25 – 30 minutes. Check every 5-7 minutes or so and give the pan a stir.
7. Drain on paper towels.
Tip: This is a great way to touch up the seasoning on your cast iron pan. Read here for full details on how to season cast iron pans.
Homemade Bacon bits can be stored in the refrigerator for up to a week. I love to cook a whole pack of bacon at a time this way and have homemade bacon bits on hand in the fridge for sprinkling on salads, in omelets, or for use in Mac n Cheese recipes. If you're looking for tips on how to bake whole bacon strips, try this post: How to Bake Bacon.
Bacon Recipes
Looking for some new Bacon Recipes to try? Check out a few of these: