Fontina, Spinach, and Bacon Shells and Cheese
As I sit down to write this the snow is falling and wind blowing. I can't help but think how perfect Macaroni and Cheese is for a day like today and I'm definitely tempted to make a change to our meal plan tonight.
Without any fontina on hand, I won't be making this Fontina, Spinach, and Bacon Shells and Cheese, but I do have several other cheeses stashed in my refrigerator door and can easily whip up a new creation using these fun tips.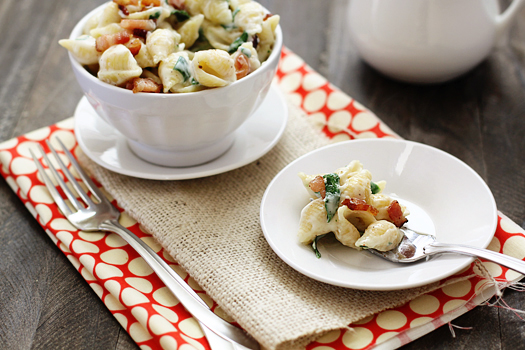 3 Steps to Fancy Mac n Cheese
It's time to get creative in the kitchen. Try these three, simple ways towards creative macaroni and cheese recipes. Sure we all love the traditional recipe, but it's fun to mix things up once in a while.
Use Different Pasta Shapes
Embrace your inner child, or appeal to your own children with fun and different pasta shapes. Just because it's "Macaroni" and Cheese, doesn't mean you have to actually use macaroni pasta. In fact, I rarely do. I love shells, rotini, penne, wagon wheels and more.
Fancy Up the Cheese
I love to experiment with different cheeses in my mac n cheese. Fontina is accented by Mascarpone and Parmesan Cheese creates a rich, velvety sauce in this recipe. You could dream up infinite cheese combinations for your sauce.
Lacking inspiration?  Check out the Cheesecyclopedia for the wide variety of available cheeses. Then, look up some of your favorites cheeses in The Flavor Bible: The Essential Guide to Culinary Creativity to find complimentary combinations.
Add a Few Mix-Ins
Adding accent meats and vegetables turns macaroni and cheese into a delicious, one pot meal with lots of flavor and color. I like to add steamed broccoli or chopped baby spinach to my mac n cheese. My two favorite meat mix-ins are ham and bacon. They both go so well with cheesy sauce, but experiment with others as well.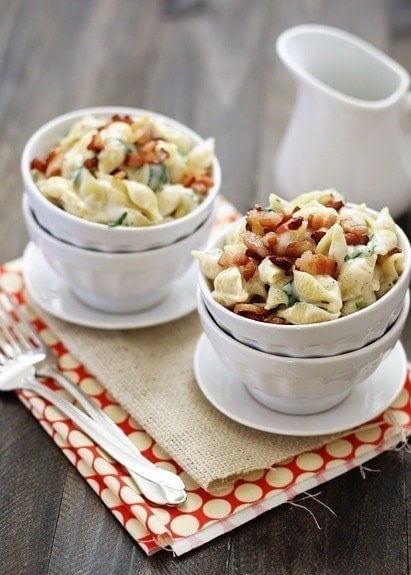 I love the buttery and earthy flavor of fonitina cheese. It pairs deliciously with smoky applewood bacon and a bit of chopped baby spinach. I think you'll agree that the ingredients in this Fontina, Spinach, and Bacon Shells and Cheese take your traditional shells and cheese to a whole new level.
Do you have a favorite non-traditional Macaroni and Cheese recipe? What is your favorite way to dress up this childhood classic recipe?
Fontina, Spinach, and Bacon Shells and Cheese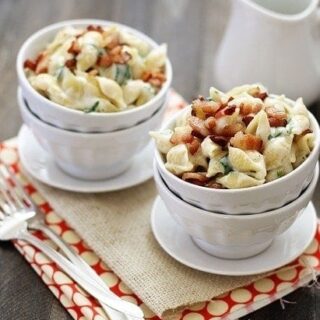 Ingredients:
1 lb. medium shell pasta
3 tablespoon butter
1/4 cup flour
3 cups whole milk
3 ounces mascarpone
5 ounces fontina, grated
1 ounce parmesan, finely grated
1/8 teaspoon nutmeg
1/8 teaspoon cayenne pepper
1/2 teaspoon black pepper
1/2 to 1 teaspoon salt, according to personal preference
6 ounces applewood bacon
3 1/2 ounces fresh baby spinach, chopped
Directions:
Cook pasta one to two minutes less than package instructions. Drain and set aside.
Meanwhile, cut the bacon pieces in half vertically, then into small bite sized pieces. Cook until crispy. Then drain, and set aside.
In a large French or Dutch oven, melt the butter. Whisk in the flour and cook over medium heat till golden. Slowly whisk in the milk while cooking over medium heat.
Stir in the mascarpone cheese, whisking until melted and creamy. Then, whisk in the fontina and parmesan until melted and creamy. Add the nutmeg, cayenne, black pepper, and salt (if desired). Bring to a slow simmer, and then stir in the pasta and spinach. Cook just until heated through
Serve immediately, sprinkling each portion with bacon.
This post was sponsored by the Wisconsin Milk Marketing Board. They've collaborated with 30 different food bloggers to create 30 inventive recipes for the classic dish — Macaroni & Cheese.