Add this recipe for homemade garlic salt to your spice cabinet and you'll never need to purchase it from the grocery store again. Plus, homemade spice blends are super easy to customize exactly how you like!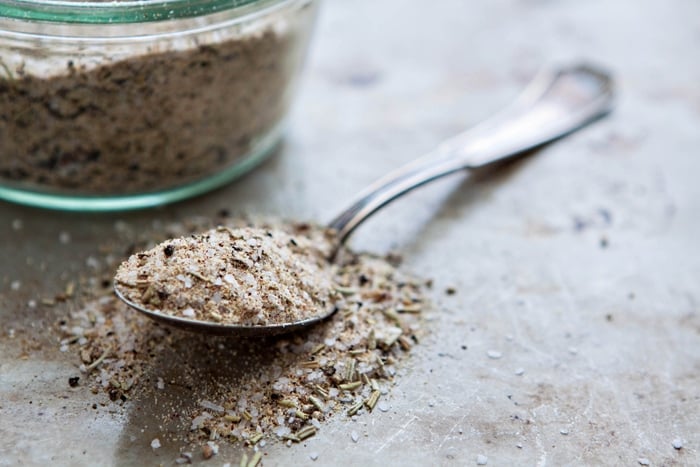 Click HERE to save this Homemade Garlic Salt recipe!
Homemade Garlic and Herb Seasoning
It seems like every January I get a bit obsessed with dejunking and organizing. It feels so good to get rid of all the things that are broken, don't fit, out grown, or no longer needed, and start with a fresh space.
Anyone else? (And I've only watched half and episode of Tidying up with Marie Kondo, so Netflix isn't to blame).
As soon as the Christmas decorations get put away, I end up almost with a compulsion to clean ALL THE THINGS. I have a hard time focusing and not feeling overwhelmed and distracted when my environment is a mess so it is always really refreshing when I finish my January cleaning obsession.
In the last couple of weeks I have done a lot of organizing. Last weekend I helped Logan, Kayden, and Madeline completely dejunk their rooms. When I told them we were going to do this, Kayden said "is that the thing where you dump everything out and we have to put it all away?"
HA! Basically. Yes. And get rid of anything that is trash, broken, or no longer needed.
I cleaned my office up and got some of my storage situations in a much better organizational state. I practically gutted the girls' bathroom. It felt so good to throw away all the empty bottles of junk they had stashed in every possible drawer and cabinet and get things all neat and tidy looking.
After that, I organized my makeup drawer in our bathroom. While I was in there, I threw away all the gross stuff that doesn't make my skin feel good, old makeup that I haven't used in years but I thought I had to keep "just in case," and stuff that was just the wrong color. It felt so good.
I've been saving the worst task for last, though. The kitchen. UGH.
Now that we've lived here for 2+ years, things are not as organized as they once were. For the most part, the kids empty the dishwasher and more often than not things get put away in places they don't belong. The pantry is almost overwhelmingly cluttered and messy. And every cabinet and surface needs a really good wipe down.
One task that I have tackled in the kitchen is cleaning out and organizing my spice cabinet. It was an all time bad one evening when I was getting ready to make dinner and couldn't find a thing I needed. So I took EVERYTHING out to find what I needed.
While I was in there, I found a jar of this homemade herb and garlic salt shoved way in the back. And then I was reminded that I still hadn't posted this recipe but the pictures were parked on my hard drive.

Click HERE to save this Homemade Garlic Salt recipe!
Garlic Salt vs Garlic Powder
Garlic salt and garlic powder are extremely similar, but there are a few key differences between them. Garlic powder is simply dehydrated ground garlic, whereas garlic salt is garlic powder that's been mixed with salt.
They're fairly interchangeable in recipes, but note that garlic salt doesn't have as strong of a garlic flavor since it's been diluted with salt. Also, you don't want to add too much garlic salt to a recipe since you can easily over salt a dish that way.
Homemade Garlic Salt Ingredients
This homemade garlic salt recipe is incredibly easy to make! Homemade spice mixes are simple to prepare and customize according to your personal preferences.
This particular garlic salt recipe has:
salt
pepper
garlic powder
rosemary
onion powder
and smoked paprika
For the complete ingredient list and detailed instructions, scroll to the bottom of this post for the FREE printable recipe card.
How to Make Garlic Salt
I chose to make this a garlic and herb seasoning rather than plain garlic salt, but the premise is the exact same. Simply whisk together the ingredients, then store in a cool, dry place. Homemade garlic salt will last for months!
Tips for Making This Garlic Salt Recipe
I love how you have total control over what goes into the mix. If you don't like a particular flavor, you can leave it out. If you want something more garlicky, then you can add more garlic.
Or if you're watching your sodium intake, you can decrease the amount of salt. Or maybe you like thyme way better than rosemary. Swap it out.
I love that this Homemade Garlic Herb Salt stores well in a jar so that you can make a large batch ahead of time and use it throughout the year. Homemade seasoning mixes make great homemade pantry staples and serve as a homemade gift for anyone who likes to cook. Before you know it, it will be time to think about end of year teacher gifts.
My favorite jars for this Homemade Garlic Herb Salt are these cute Weck Jars! I adore them for storing all of my homemade spice mixes. They're sturdy, attractive, and stack easily.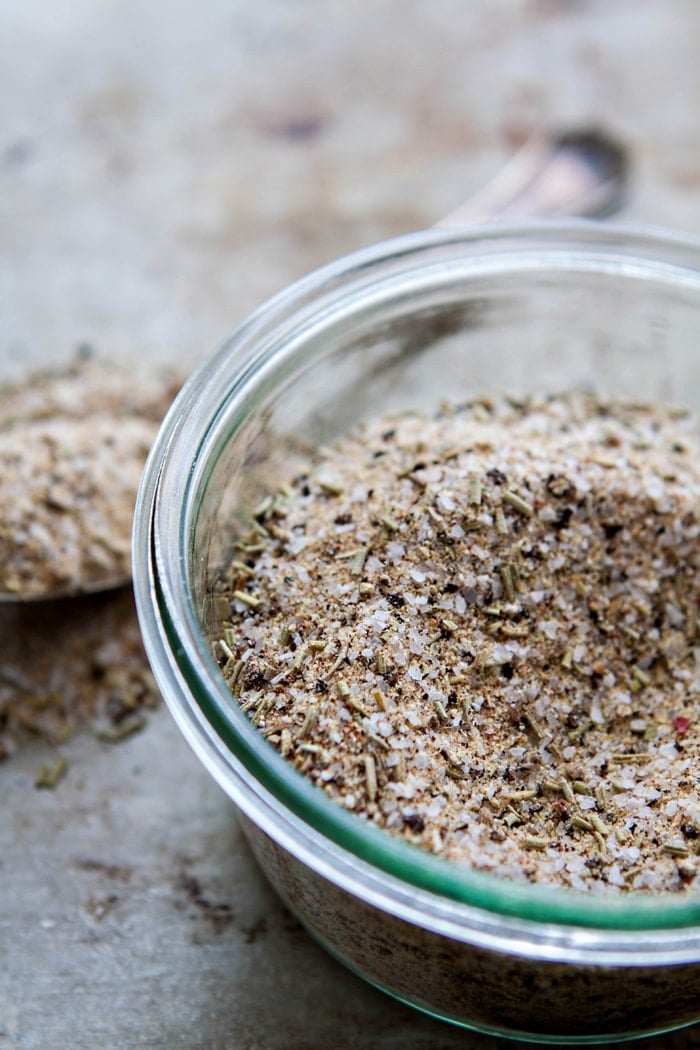 Click HERE to save this Homemade Garlic Salt recipe!
Homemade Garlic Salt Uses
You can use this all-purpose homemade garlic salt blend on just about anything, but here are a few of my favorite uses for this homemade spice blend.
I love to season my Roasted Sweet Potatoes with Garlic and Sage the this homemade spice blend when I need a quick side dish.
Take this Easy Roasted Cauliflower recipe to the next level by seasoning it with homemade garlic herb salt
If you're making a batch of these easy homemade croutons, try seasoning them with this DIY spice blend for some extra flavor. Who needs expensive bags of store-bought ones when you can make your own croutons exactly how you like them?
This Easy Smoked Chicken is a great summer meal. Mix it up by seasoning it with Homemade Garlic Herb Salt for a different flavor!
Homemade Microwave Popcorn is super simple to make and it is a great snack when you're craving something a little salty and a little crunchy. It would be so good with some of this homemade garlic herb salt sprinkled on top!
Sprinkle your Oven Baked Seasoned Fries with some of this seasoning mix.
Homemade Whole Wheat Pita Chips would be really good seasoned with this homemade seasoning blend. This Homemade Garlic Herb Salt is a great all-purpose seasoning when baking chicken to use in a variety of recipes.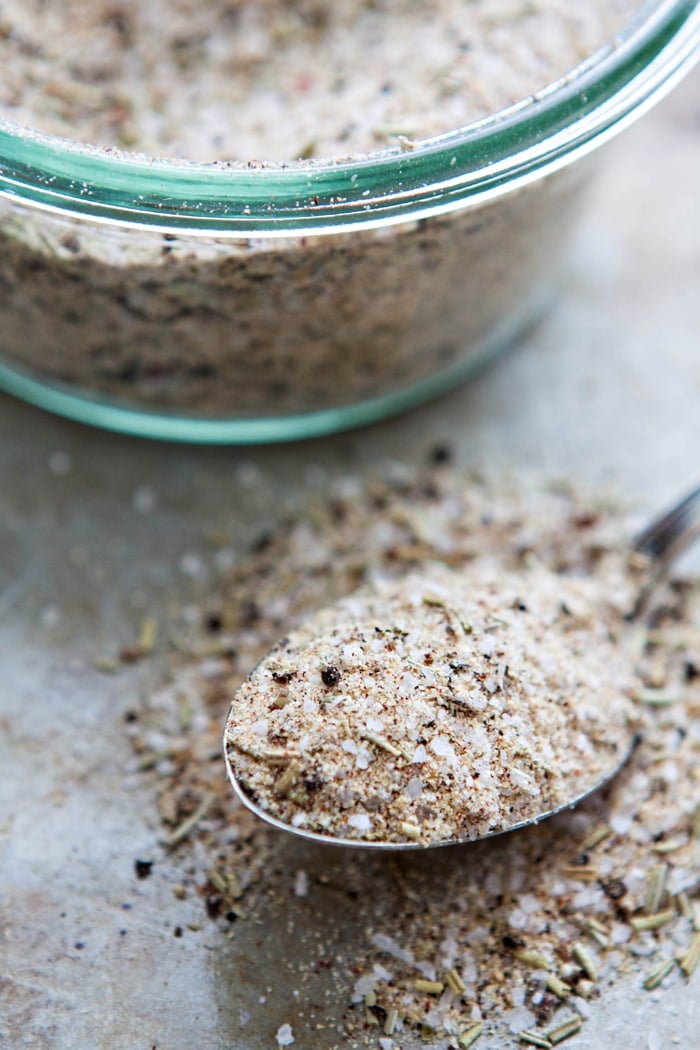 Click HERE to save this Homemade Garlic Salt recipe!
More Homemade Spice Mixes:
If you want to try your hand at making a few more homemade spice mixes, besides this Homemade Garlic Herb Salt, for your pantry or gifting purposes, here are a few recipes that you might want to check out:
Homemade BBQ Chicken Rub features a mix of brown sugar, salt, pepper, garlic powder, cumin, chili powder, and smoked paprika for a flavorful homemade spice rub.
Spicy Taco Seasoning is perfect to keep on hand to make taco nights super quick.
I think this Cajun Spice Mix would be really good on chicken!
Zesty Italian Seasoning Mix would go great on a variety of meats, but I'm also thinking it would make some really delicious herbed dipping oil!
I like the idea of this Homemade Ranch Seasoning. I would sprinkle it all over my Homemade Microwave Popcorn!
Homemade Southwestern Pork Rub is perfect to have on hand in your pantry. It features a mix of brown sugar, garlic powder, oregano, chili powder, cumin, pepper, smoked paprika, onion powder, salt and pepper for a flavorful spice rub.
Love this Garlic Salt Recipe? Sign up for Good Life Eats email updates and never miss another recipe!
What are your favorite homemade seasoning blends?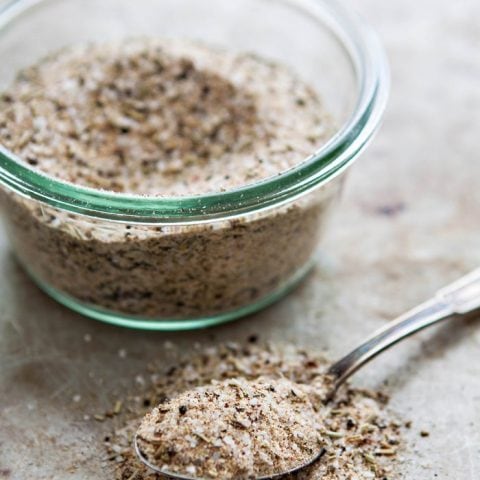 Homemade Garlic Herb Salt
Add this recipe for homemade garlic herb salt to your spice cabinet and you'll never need to purchase garlic herb salt from the grocery store again.
Plus, homemade spice blends are super easy to customize exactly how you like!
Ingredients
2 tablespoons Kosher Salt
1 tablespoon Black Pepper
4 teaspoons Garlic Powder
4 teaspoons Rosemary
1 1/2 teaspoons Thyme, Basil, or Oregano (or a mix!)
1 teaspoon Onion Powder
1/4 teaspoon Smoked Paprika
Instructions
Add the kosher salt, black pepper, garlic powder, rosemary, oregano or basil, onion powder, and smoked paprika to a medium sized mixing bowl.
Using a wire whisk, mix until well combined.
Alternatively, you may sift the spices together with a mesh strainer or flour sifter or another method is to add all of the ingredients to a food processor and process until well mixed.
After combining, transfer the mixture into a clean, dry container that has a lid (such as a glass jar).
Store the Homemade Garlic Herb Salt covered in a cool, dry place, such as a pantry or spice cabinet.
Recommended Products
As an Amazon Associate and member of other affiliate programs, I earn from qualifying purchases.
Nutrition Information
Yield

25
Serving Size

1
Amount Per Serving
Calories

4
Total Fat

0g
Saturated Fat

0g
Trans Fat

0g
Unsaturated Fat

0g
Cholesterol

0mg
Carbohydrates

1g
Fiber

0g
Sugar

0g
Protein

0g
Be sure to follow Good Life Eats on Instagram. Tag @goodlifeeats and include the hashtag #goodlifeeatsrecipes so I can see what you're cooking up in YOUR kitchen!
Click HERE to save this Homemade Garlic Salt recipe!
Homemade Spice Blend Recipes
If you want to try your hand at making a few more homemade spice mixes, here are a few recipes that you might want to check out: