Celebrate fall with these easy to make Pumpkin Chai Chocolate Chip Granola Bars featuring oats, real pumpkin puree, chai spices, mini chocolate chips, and pepitas.


Sponsored by Pampered Chef to promote their new Classroom Kitchen program in partnership with Big Green.
Find more recipes and great tips to get kids in the kitchen on Facebook and Instagram!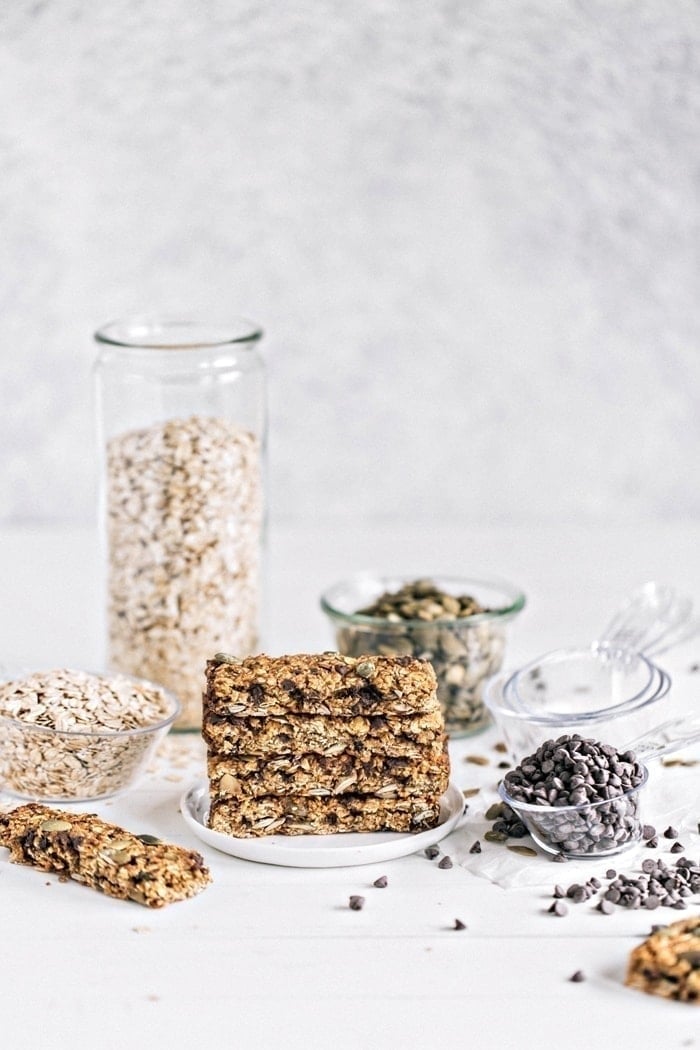 Save this recipe for Pumpkin Chai Chocolate Chip Granola Bars to Pinterest!
Once this past summer, we found the kids in our kitchen playing Cutthroat Kitchen.
Yes, they were actually competing against each other using ingredients found in our pantry and refrigerator as if they were participating in the show.
Complete with a host and a judge.
After getting over the mess, I was thrilled to see the kids having so much fun together.
And that over the years they have learned enough about cooking in our home to play a game like this.
I even shared a few of the videos they took on my Instagram stories because they were actually laugh-out-loud funny.
I realize that this is probably not a normal behavior for kids.
Most likely, it is something unique to a group of kids between the ages of 11 and 15 who have a mom/step-mom who has been a food blogger for the past decade.
I know many kids have not been able to learn these type of skills either at home or at school.
I wasn't surprised when I read that nearly three-fourths of parents wish their kids learned cooking skills in school.*
Yet, more than half of their kids' schools aren't offering cooking literacy classes.*
That is some serious disconnect!
I've talked about my passion for cooking with kids before in my post about 5 Reasons to Cook with Kids.
So, I am really excited that Pampered Chef asked me to help them promote their partnership with non-profit Big Green this fall.
Currently, more than 500 schools working with Big Green are waiting for kitchen tool supplies to bring produce from their learning gardens into the classroom.
Then, schools across the country can incorporate cooking in their classrooms through teacher-lead cooking skill classes.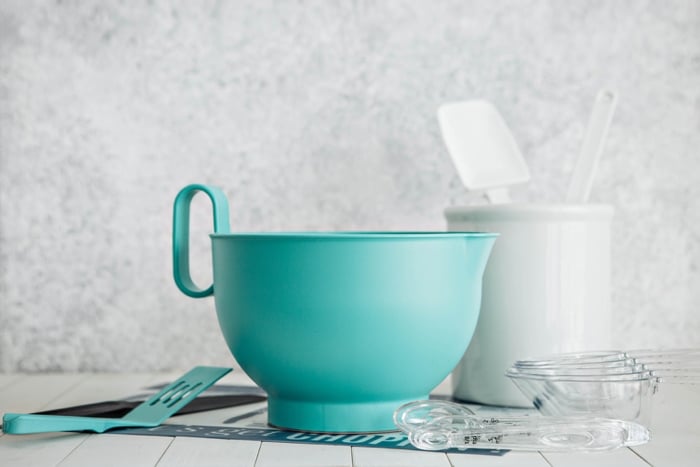 Save this recipe for Pumpkin Chai Chocolate Chip Granola Bars to Pinterest!
How Pampered Chef Helps You Give Back
Together, Pampered Chef and Big Green are working to promote and facilitate this type of education in schools across the country by getting kitchen tools into the hands of educators.
Their goal: deliver cooking education to 150,00 students in just 2 months.
And, you can help, too!
By hosting a fundraiser party for a school-affiliated program during October, Pampered Chef gives back in 3 ways:
Money for Your School: Pampered Chef donates 10-15% of fundraiser sales to your school's needs, whether that is band instruments, art supplies, or science equipment.
Cooking Education for Your School: Earn a Classroom Kitchen Kit for your school (value $150-$900). The tool set size is determined by the size of your fundraiser party.
Cooking Education for Schools in Need: Pampered Chef donates an additional cooking kit to Big Green with supplies that are essential for schools in need to teach healthy food-focused curriculum.
To get involved and give back to a local school in your community or a Big Green school in need, contact your local consultant or visit the Pampered Chef Classroom Kitchen website to learn more and book a show.
As a Pampered Chef partner, I received my own Kitchen Classroom Kit to experiment with.
It's the same as one that teachers across the country are using to bring these valuable lessons and cooking skills to life.
I decided that we would make a recipe for Pumpkin Chai Chocolate Chip Granola Bars using my Kitchen Classroom Kit.
The kit is full of great basics for any classroom kitchen, and all of the tools included can be purchased on PamperedChef.com or through your local consultant for your own kitchen if you want to have a set of kid-proof cooking basics.
It's October now so I feel totally okay posting pumpkin recipes!
And since it has been a bit cooler outside I no longer groan internally every time I turn on the oven because the kids want to do some baking.
Lately that has been occurring quite frequently.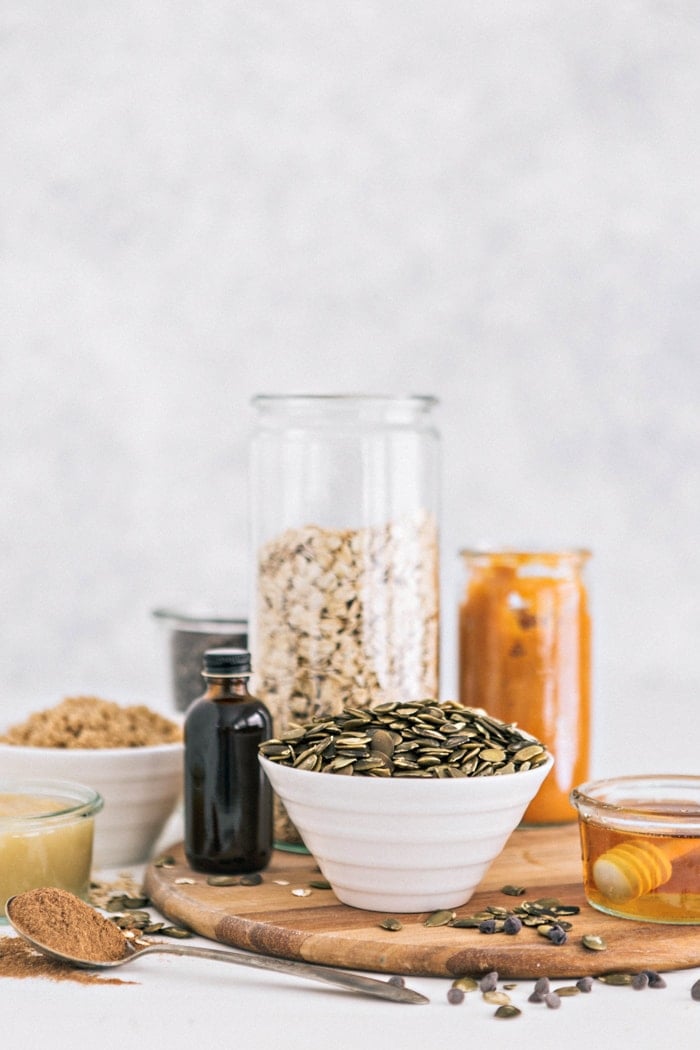 Save this recipe for Pumpkin Chai Chocolate Chip Granola Bars to Pinterest!
Tools to make Pumpkin Chai Chocolate Chip Granola Bars
When I cook with my kids I like to collect all of the ingredients and the tools that I'll need first.
It makes the process a lot smoother when we have everything that we need at the beginning.
We also avoid making big mistakes when we organize ourselves in the beginning and the kitchen usually ends up being less of a mess as well.
To prepare this recipe, you'll need:
a mixing bowl
measuring cups
measuring spoons
and a spatula
The Pampered Chef Kids' Mixing Bowl is perfect for stirring up recipes like these Pumpkin Chai Chocolate Chip Granola Bars.
It has some great features like a nonslip bottom, high sides to help keep ingredients contained, and an easy-grin handle for kids to hold.
Perfect for kids who are learning how to handle kitchen equipment.
The Pampered Chef Mix 'N Scraper from the Classroom Kitchen Kit works great for stirring and scraping the sides of the bowl to make sure all the ingredients are combined, something that is really important in this recipe.
You'll also need something to bake in, either a 9×9 inch baking pan and parchment paper or a silicone mold, such as the Pampered Chef Snack Bar Maker Set.
An all-purpose knife and a serving spatula are great for serving the bars.
If you choose to bake the bars in a 9×9 pan, a cutting mat with measurements is really helpful for cutting the bars into evenly sized portions.
How to Make Pumpkin Chai Chocolate Chip Granola Bars
This granola bar recipe is super simple and a great way to start teaching kids kitchen skills like proper measuring techniques.
Plus, it is the perfect yummy snack to get kids excited about wanting to help out in the kitchen.
I think it provides a great balance of healthy ingredients along with a little something to satisfy a sweet tooth.
The ingredients you need are:
oats
mini chocolate chips
pepitas
pumpkin puree
applesauce
brown sugar
agave
vanilla extract
chai spices
salt
First, you'll combine the oats, mini chocolate chips, and pepitas (pepitas are shelled pumpkin seeds and are greenish in color) in your mixing bowl.
Set aside.
In another bowl, combine the pumpkin puree, applesauce, brown sugar, honey, vanilla extract, chai spices, and salt.
Stir until blended.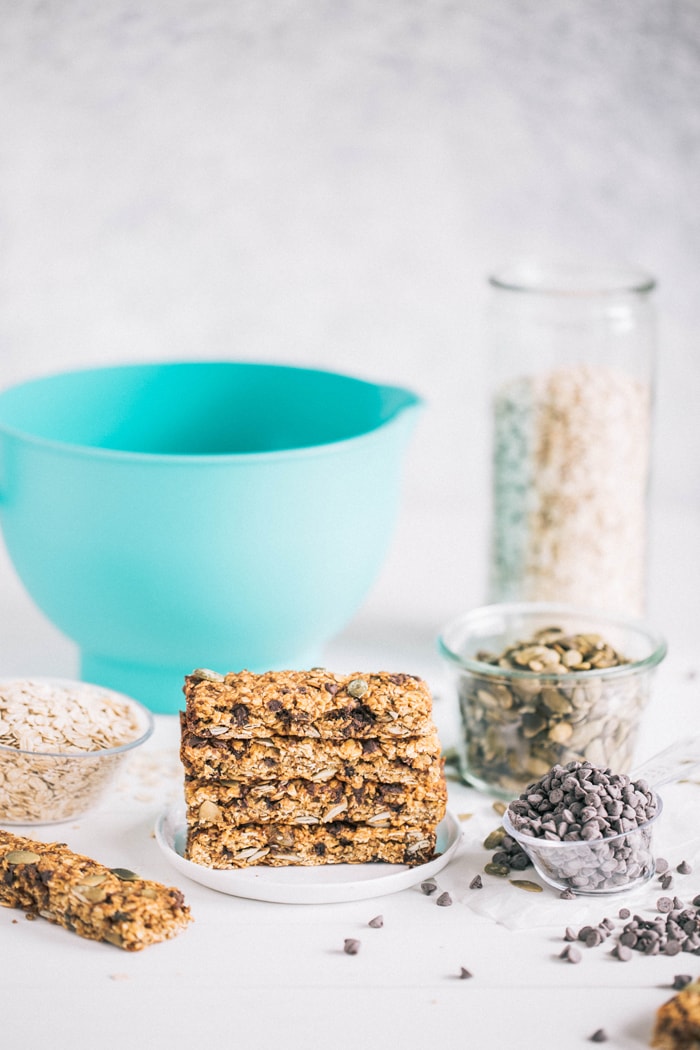 Save this recipe for Pumpkin Chai Chocolate Chip Granola Bars to Pinterest!
After you've mixed up these two bowls of ingredients, take the oats mixture and pour it into the pumpkin puree mixture. Stir that all up using a spatula.
Depending on your preferred baking method, you'll transfer the Pumpkin Chai Chocolate Chip Granola Bar ingredients that you've stirred up into one of the two baking options:
a 9×9 baking pan lined with parchment paper or the Snack Bar Maker Set.
After that, it is time to bake!
When the granola bars are done baking, let the cool completely before eating them.
ENJOY!
HAPPY FALL!
Love this recipe for Pumpkin Chai Chocolate Chip Granola Bars?
Sign up for Good Life Eats email updates and never miss another recipe!
What are your favorite easy fall snack recipes to get kids cooking in the kitchen?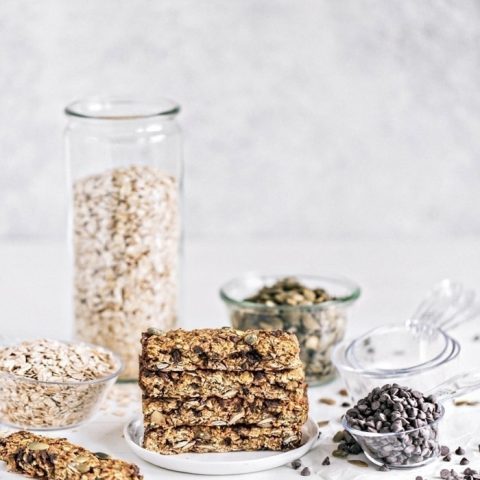 Pumpkin Chai Chocolate Chip Granola Bars
Celebrate fall with these easy to make Pumpkin Chai Chocolate Chip Granola Bars featuring oats, real pumpkin puree, chai spices, mini chocolate chips and pepitas.
Ingredients
3 cups Old Fashioned Oats
1/2 cup - 2/3 cup Mini Dark Chocolate Chips
3/4 cup Pepitas
1/2 cup Pumpkin Puree
1/4 cup Unsweetened Applesauce
3/4 cup packed Brown Sugar
1/4 cup Agave
1 teaspoon Vanilla Extract
2 teaspoons Chai Spice Blend
1/2 teaspoon Sea Salt
Instructions
Preheat oven to 350 degrees F.
If using a baking pan, prepare it by lining it with parchment paper. You should leave excess of an inch or two of parchment paper hanging over the side of the pan so that you can easily remove the baked bars from the pan. Set aside.
If using a Snack Bar Maker Set, just set it out so it is ready to use. The silicone baking pan does not need to be greased.
In a mixing bowl, stir together the old fashioned oats, mini chocolate dark chips, and the pepitas. Set aside.
In another mixing bowl, add the pumpkin puree, unsweetened applesauce, brown sugar, agave, vanilla extract, chai spice blend, and sea salt. Stir until the ingredients are evenly blended, scraping down the sides of the bowl with a spatula as necessary.
Pour the oat mixture into the bowl containing the pumpkin puree mixture.
Stir until the oats are moist and all ingredients are fully incorporated, making sure to scrap down the sides of the bowl with the spatula.
Transfer the mixture into the prepared 9x9 pan, making sure to spread the mixture evenly in the pan. Press it down using the spatula until it is tightly packed and level on the top.
Alternatively, you can divide the mixture between the 12 sections of the silicone baking pan in Snack Bar Maker Set.
Transfer the baking pan to the preheated oven.
Bake at 350 degrees for 30 - 40 minutes, or until golden brown, checking starting at the 30-minute mark.
Note: the pumpkin puree adds moisture, do not under bake or the bars will have a difficult time holding their shape.
Remove from the oven and cool completely on a cooling rack.
Once cool, cut into 12 bars if you baked in the 9x9 inch pan. If you baked using the Snack Bar Maker Set, use a mini serving spatula to remove the bars from the pan.
Store in an airtight container.
Recommended Products
As an Amazon Associate and member of other affiliate programs, I earn from qualifying purchases.
Nutrition Information
Yield

12
Serving Size

1
Amount Per Serving
Calories

235
Total Fat

8g
Saturated Fat

3g
Trans Fat

0g
Unsaturated Fat

5g
Cholesterol

1mg
Sodium

97mg
Carbohydrates

37g
Fiber

4g
Sugar

20g
Protein

5g
GoodLifeEats.com offers recipe nutritional information as a courtesy and is an estimate only. This information comes from online calculators. Although GoodLifeEats.com makes every effort to provide accurate information, these figures are only estimates.
Be sure to follow
Good Life Eats on Instagram
. Tag @goodlifeeats and include the hashtag #goodlifeeatsrecipes so I can see what you're cooking up in YOUR kitchen!
This post was created in partnership with Pampered Chef.
I have been compensated for my time creating this recipe for, however all of the contained opinions are my own.
*According to a statistically significant +/-3 percent online survey of 1,000 American adults fielded by Pampered Chef on July 1-13, 2018.