Baked White Cheddar Mac n Cheese with Kale and Bacon
Macaroni and Cheese is a bit sinful. Pasta loaded with rich, velvety cheese gets my taste buds watering during these often colder than fall but not quite winter yet evenings. My latest obsession: Baked White Cheddar Mac n Cheese with Kale and Bacon.
I am a bit nuts about Kale these days. It often finds a place in the vegetable bin of my refrigerator. I have found that it is an easy way to add extra vegetables, color and nutrition to many of my favorite cold weather recipes so I am adding it to everything.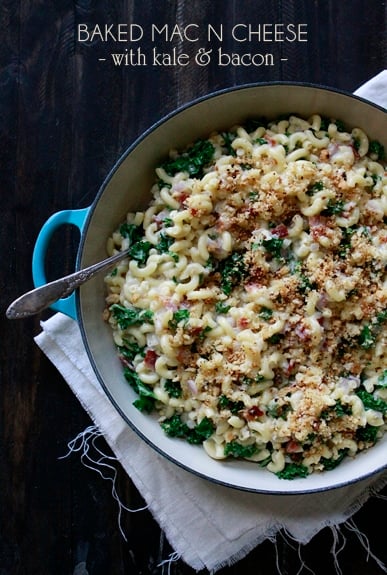 On a chilly evening with snow in the forecast last week I found myself craving Macaroni and Cheese. A lonely bunch of Kale sat in the produce bin of my refrigerator. It was an obvious addition for a nutritional boost on such a rich dish of Mac n Cheese.
4 Things You Should Know About Kale
1. Nutritional Benefits of Kale
Kale is a nutritional powerhouse and a great way to add extra dark, leafy greens to your diet. As a member of the Brassica family, it finds itself in good company with other nutritious cruciferous vegetables such as cabbage, collards, broccoli, and Brussels sprouts. Kale is rich in iron, Vitamin A, C and K, and Calcium.
2. Kale Flavor Pairings
Kale Pairs well with cheese, especially Parmesan and cheddar, garlic, pasta, onions, pancetta (Italian bacon), chicken, olive oil, and chicken stock which makes it a natural addition to fall and winter comfort foods like soups or pasta based casseroles like this Baked White Cheddar Mac n Cheese with Kale and Bacon.
3. Kale Varieties

There are several varieties of kale which include curly, dinosaur, and red Russian – I'm sure there are other varieties, but these are what I have found available. I typically only see curly at a standard grocery store. Sometimes I will see the dinosaur variety, but I have found that if I am looking for something other than curly it is best to rely on health food stores such as Whole Foods.
4. Kale Selection Tips
Select Kale during autumn through spring months for peak nutrition and quality. Leaves should appear dark colored, small to medium in size, and with no brown or yellow leaves. It may be stored in the refrigerator for 3 – 5 days.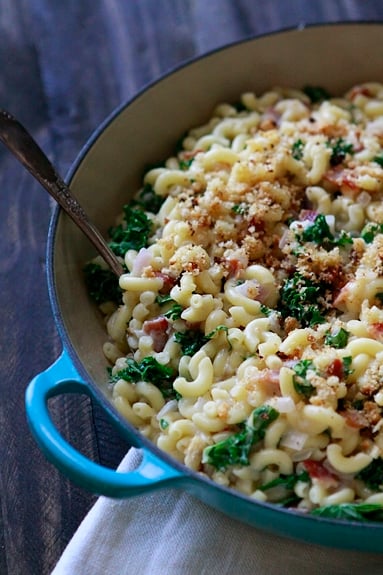 More Recipes Featuring Kale
What are your favorite ways to eat kale?
Baked White Cheddar Mac n Cheese with Kale and Bacon
Yield: serves 8
Prep Time: 5 - 10 minutes
Total Time: 35 - 45 minutes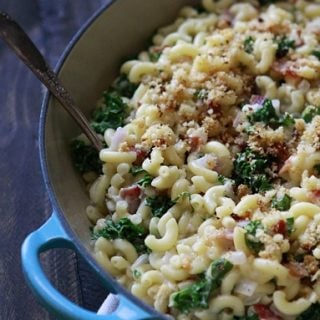 Ingredients:
1 lb. macaroni
3 tablespoon butter
1/2 of a purple onion, diced
1/2 teaspoon minced garlic
1/4 cup flour
3 cups whole milk
8 ounces sharp white cheddar, grated
1 ounce parmesan, finely grated
dash nutmeg
dash cayenne pepper
1/4 teaspoon black pepper
1/4 to 1/2 teaspoon salt, or according to personal preference
6 ounces center cut bacon or pancetta, cooked and crumbled
3 1/2 ounces fresh kale, chopped (about a half a bunch)
1/2 cup crushed Homemade Sourdough Garlic Butter Croutons
Directions:
Cook pasta one to two minutes less than package instructions. Drain and set aside.
Meanwhile, cut the bacon pieces in half vertically, then into small bite sized pieces. Cook until crispy. Then drain, and set aside.
In a large French or Dutch oven, melt the butter. Saute the onion for 3 - 5 minutes over medium heat, or until tender and golden. Add the garlic and saute and additional minute or two, until fragrant. Whisk in the flour and cook over medium heat till golden. Slowly whisk in the milk while cooking over medium heat.
Stir in the sharp white cheddar and parmesan cheese, whisking until melted and creamy. Add the nutmeg, cayenne, black pepper, and salt (if desired). Bring to a slow simmer, and then stir in the pasta, bacon, and kale.
Transfer the pasta mixture to a 3 1/2 quart oven safe casserole dish or cast iron pan. Sprinkle the top with the crushed Homemade Sourdough Garlic Butter Croutons. Bake at 375 degrees F on the center rack in the oven for 10-20 minutes, or until the mixture is hot and bubbly. Serve immediately.