Bittersweet Chocolate Swirl Fruit and Nut Bark
Bittersweet Chocolate Swirl Fruit and Nut Bark pairs bittersweet chocolate, white chocolate, almonds, raspberries, strawberries, pumpkin and chia seeds for a delectable holiday treat.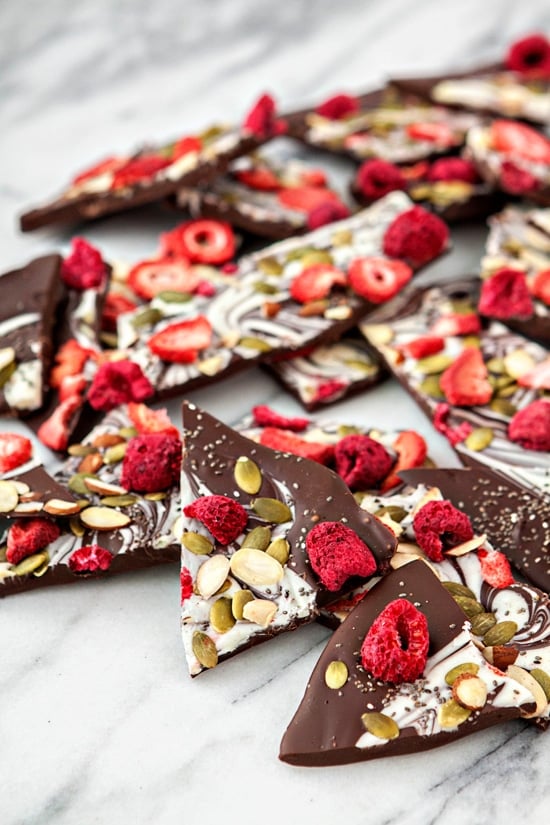 Chocolate Bark is one of the easiest homemade gifts that you can make this holiday season, and it is totally customizable depending on what you (or your recipients) like best paired with chocolate.
The trickiest park is melting the chocolate. You don't want it to get too hot, because then the chocolate will lose its temper (How to Temper Chocolate). But, it really isn't as complicated as it sounds. The gist is to not let the chocolate get too hot, above 90 degrees F to be exact. Using a double boiler and the lowest heat possible on my stove did the trick.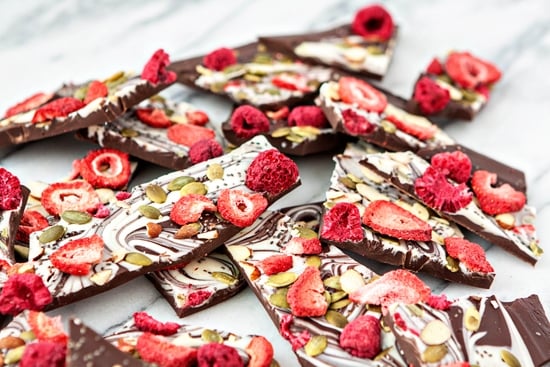 I am personally partial to the pairing of dark chocolate with the sweetness of fruits, like strawberries and raspberries. But I also love the savory crunch that nuts, like Fisher Nut's Sliced Almonds and seeds offer when paired with the smoothness of bittersweet chocolate.
In this Bittersweet Chocolate Swirl Fruit and Nut Bark, I decided to pair some of my favorite sweet berries with my favorite savory nuts and seeds.
I swirled white chocolate with bittersweet chocolate for a gorgeous color contrast and then sprinkled generous amounts of Fisher Nut's preservative-free Sliced Almonds, pumpkin seeds, chia seeds, and freeze dried strawberries and raspberries on top. Then, dusted the top with just a bit of sea salt.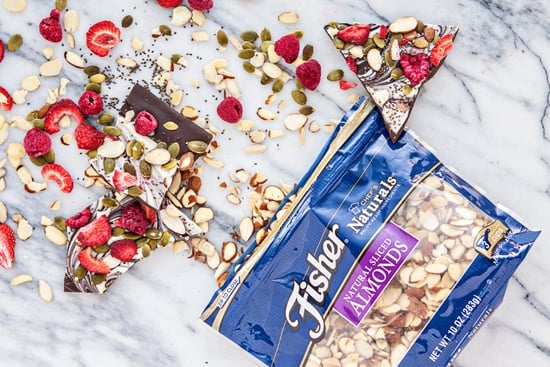 Dare I say that this is even a healthy homemade holiday treat? It is full of super foods after all! So, go ahead and indulge a little. It is rich enough that you won't need to eat a lot, but it is oh soooooo good.
The kids and I will be passing this Bittersweet Chocolate Swirl Fruit and Nut Bark out to their school teachers and all our neighborhood friends this holiday season.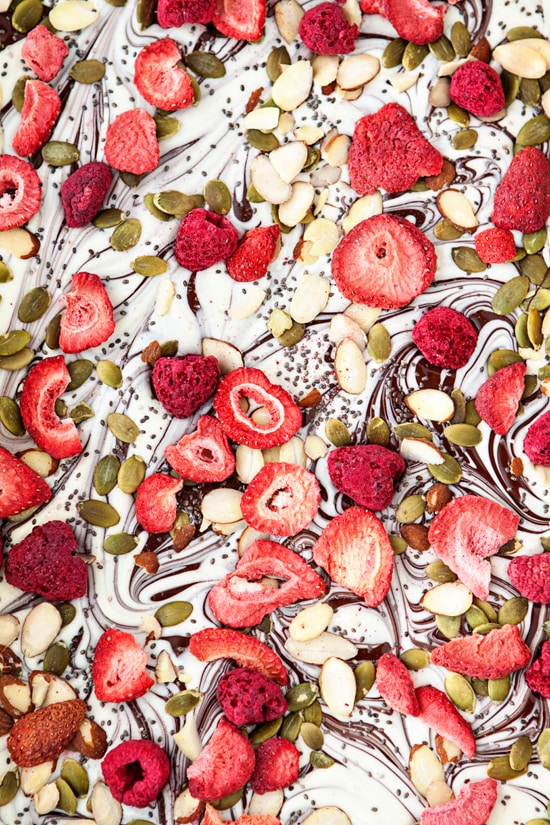 More Homemade Candy Recipes to Try
Homemade candies like this Bittersweet Chocolate Swirl Fruit and Nut Bark, marshmallows, and caramels make great holiday gifts for friends, teachers, and neighbors. Here are some more ideas for your inspiration
For more seasonal recipes created by celebrity chef Alex Guarnaschelli, visit FisherNuts.com/Alex
Superfoods Fruit and Nut Bark
Yield: about 2 lbs. of bark
Prep Time: 30 minutes
Total Time: 2 hours
This dark and white chocolate swirled bark is loaded with tasty super foods - berries, almonds, chia seeds, and pumpkin seeds. It makes a great homemade, holiday gift.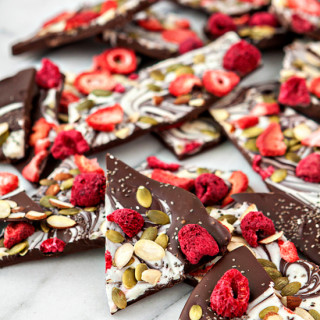 Ingredients:
24 ounces Dark Chocolate
6 ounces White Chocolate
2/3 cup Freeze Dried Raspberries
2/3 cup Freeze Dried Strawberries
1/2 cup Fisher Nut's Sliced Almonds
1/4 cup Raw Pumpkin Seeds
2 teaspoons Chia Seeds
1/8 teaspoon sea salt
Directions:
Line a cookie sheet with parchment paper. Set aside.
In a double boiler, slowly melt the dark chocolate over low heat. Making sure to stir the chocolate regularly.
Monitor the temperature using a candy thermometer to ensure that the chocolate does not get above 90 degrees - otherwise the chocolate will lose its temper. Turn the heat off as needed so the chocolate doesn't get too hot. Just keep stirring and eventually the chocolate will slowly melt.
Meanwhile, you'll need to repeat this same procedure with the white chocolate.
Pour the dark chocolate on the prepared cookie sheet, spreading with a spatula to smooth it evenly. The thickness is up to you depending on how thick you'd like the finished product to be.
Drizzle large spoonfuls of the white chocolate on top of the dark chocolate, then use a butter knife or wooden skewer to swirl through the chocolate.
Sprinkle the raspberries, strawberries, Fisher Nut's Sliced Almonds, pumpkin seeds, chia seeds, and sea salt on top.
Let sit at room temperature until set, about 1 - 2 hours. Then, break into individual serving size pieces.
Notes:
Store in a cool, dry place for up to 2 weeks.
This is a sponsored conversation written by me on behalf of Fisher Nuts. I choose to work with Fisher Nuts because it is one of the only brands of recipe nuts entirely without preservatives. I have been compensated for my time, but all opinions are my own.