Bourbon Maple Salted Caramels
Bourbon Maple Salted Caramels are a perfect holiday gift for anyone who craves sweet and salty. Traditional salted caramels are enhanced with the flavors of bourbon, maple syrup, and vanilla beans.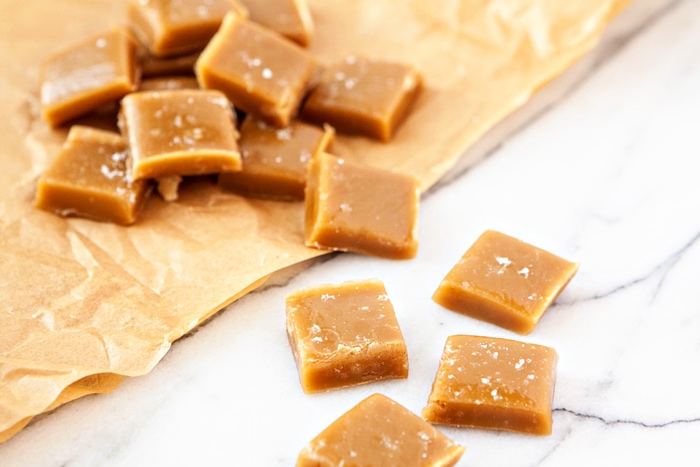 Making homemade caramels has been a tradition in our house for at least five years now. It is something that the kids and I really look forward to because we love eating them!
I have a special weakness for things salty and sweet and these Bourbon Maple Salted Caramels are the perfect combination of sweet and salty. I think I need a bit of saltiness with my sweet to balance things out. Salted caramels are one of my most favorite treats, so several years ago I decided that I needed to learn how to make them myself.
Making caramels might sound tricky. At first I was intimidated too. Making candies can seem a lot more complicated than baking cookies when you start talking about candy thermometers and cooking your caramel to the right temperature.  Maybe you've tried before and haven't had good luck with them. The trick is to know the elevation for where you live and then factor that into the instructions for the recipe.
Living significantly above sea level will result in hard candy rather than soft, chewy caramels if you don't adjust the temperature in the recipe. For soft, chewy caramels, subtract 2 degrees off the final cook temperature for every 1,000 feet above sea level that you live.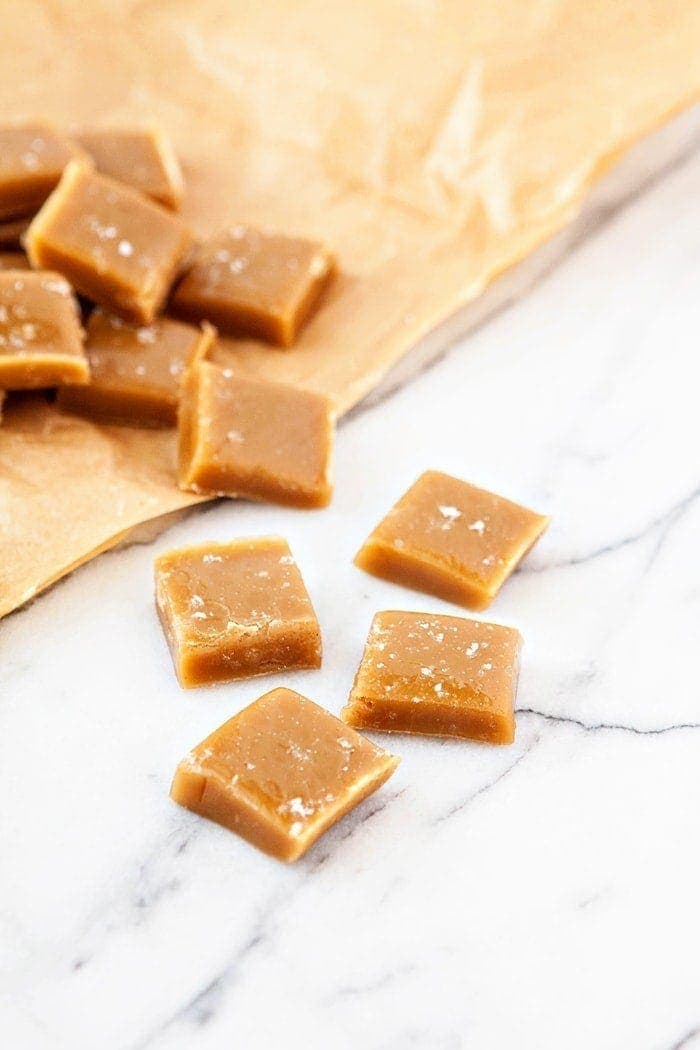 They can be finicky if you aren't paying attention. My first time making this recipe I got distracted by a little sibling squabble that happened at the most inopportune moment and, unfortunately, the caramel got too hot, which then ruined the entire batch.
If you'd like you can eat these Bourbon Maple Caramels as is, or you can dip them in tempered chocolate. Just melt your favorite chocolate low and slow over a double boiler (keeping the chocolate temperature under 90 degrees F) and dip the cooled caramel squares in the chocolate.
Homemade candies, like these Bourbon Maple Salted Caramels, are perfect for sweet gifts this holiday season. For more ideas, try some of these candy recipes:
More Christmas Candies for Homemade Gifting
What are your favorite homemade candy recipes?
Bourbon Maple Salted Caramels
Yield: 1 9x13 pan of caramels
Prep Time: 10 minutes
Cook Time: 30 minutes
Total Time: 40 minutes, plus cooling time
Bourbon Maple Salted Caramels are a perfect holiday gift for anyone who craves sweet and salty. Traditional salted caramels are enhanced with the flavors of bourbon, maple syrup, and vanilla beans.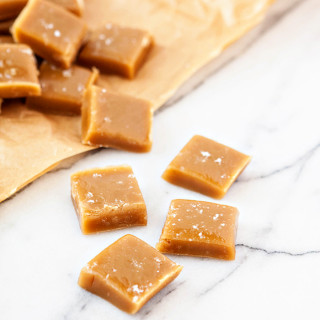 Ingredients:
2 cups Heavy Cream
1/2 cup Bourbon
10 tablespoons Butter
2 whole Vanilla Beans
1/2 cup Water
3/4 cup Brown Sugar
1/2 cup Granulated Sugar
1 cup Maple Syrup
2 teaspoons Sea Salt
Maldon Flake Salt, for garnish (if desired)
Directions:
Prepare a 9x13 inch baking pan by lining it with parchment paper.
In a medium saucepan, combine the heavy cream, bourbon, butter, and whole vanilla beans. Cook over medium heat until the butter has melted, then turn to low heat and simmer for 10 minutes to let the vanilla beans infuse into the cream mixture. Discard the vanilla beans.
Meanwhile, combine the water, brown sugar, granulated sugar, maple syrup and sea salt in a large saucepan. Bring to a boil over medium heat. Boil, without stirring but gently swirling pan, until mixture is a light golden caramel and sugar is dissolved.
Carefully stir in the cream mixture (mixture will bubble up) and simmer over medium low heat, stirring frequently, until caramel registers 248°F on thermometer, 15 - 20 minutes. Pour into the prepared baking pan. Sprinkle the top with Maldon salt, if desired, and cool 2 hours.
Remove caramels from pan and cut into 1 inch pieces, set aside. Store in an airtight container.
Notes:
Before you start this project you will also need find out what your elevation is and adjust the temperatures accordingly. For every 1,000 feet above sea level, you will need to subtract 2 degrees from the final cook temperature. For example, I live at 5,000 ft. above sea level, so I subtract a total of 10 degrees from the temperature indicated in the recipe, cooking until the candy thermometer reaches 238 degrees F.