Be the best guest at all of your holiday parties this season with this handy Holiday Party Dos and Don'ts guide, brought to you by EVITE® and Lindt.
For someone who is used to being the one that entertains and hosts holiday dinners or other parties, the last couple of years have been a bit of an adjustment with learning how to be a gracious guest rather than playing hostess.
As a single parent, I'm alone for about half the major holidays. If I'm alone I don't typically host for the holidays because something just feels like it is missing when I'm surrounded by other families without my kids. My friends and neighbors have all been so great with this making sure to include me in their holiday gatherings.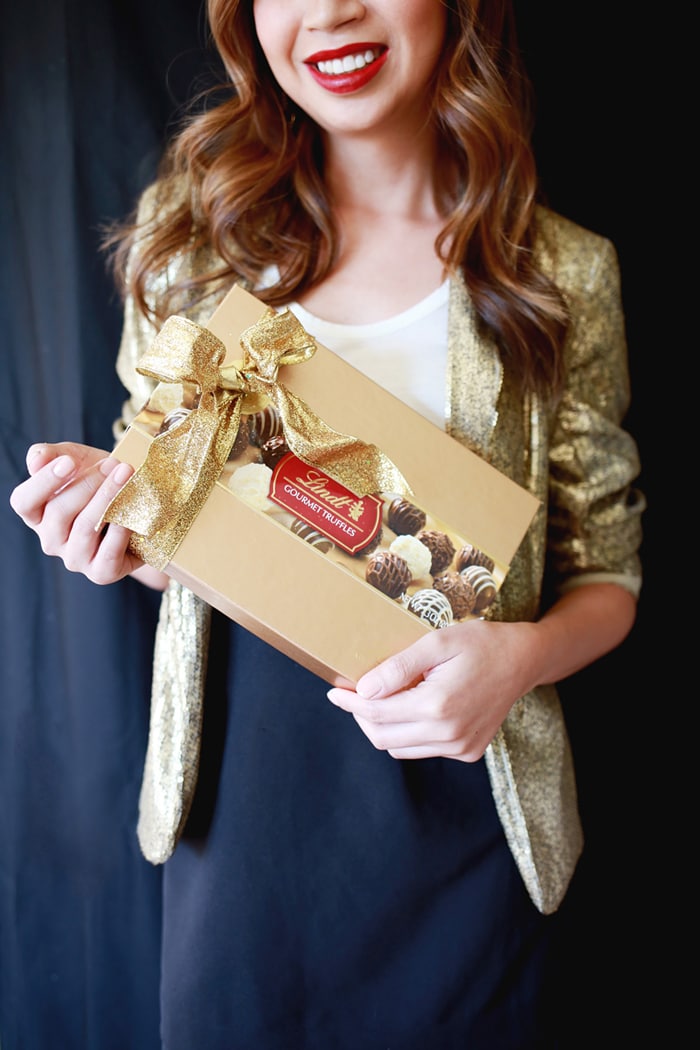 If, like me, you're used to being on the hostess end of things, but find yourself as a guest this holiday season, you might like to take a look at some of these great tips from EVITE.
Holiday Party Dos and Don'ts
DON'T show up empty-handed. Your host has likely spent a few weeks preparing for their party. It is a lot of hard work. Let your host know how much you appreciate their time and the invitation with a small hostess gift. It doesn't have to be anything fancy or expensive. Lindt Gourmet Truffles are a great gift that your host can enjoy later or set out to share with guests.
DON'T arrive right on time. I think it is best to check beforehand to see if your host would like you to arrive earlier or right on time for some last minute help with party preparations. Otherwise, arrive just a few minutes after the official start time – and definitely don't arrive earlier. As someone who has played hostess more times that she can count, early guests just add more stress. No matter how organized I am, there always end up being last minute details to settle.
DO mingle. I find it challenging to mingle when I'm alone at a party and don't know many, or any of the guests. However, it isn't polite to sit and talk with your host, or the couple of people you do know, the whole night. Need some conversation starter ideas? Check out these top 10 things to talk about with a guest you've never met.
DON'T bring a plus one without asking first. If I'm attending party alone, and especially if I know I won't know a lot of the other guests, I like to bring a +1 with me so I feel a little more comfortable. Make sure you clear this with your host prior to the party and RSVP for your +1. Your host will need an accurate headcount when planning the menu.
DON'T whip out your phone. Silence your phone and put it away. You can get caught up on your Instagram feed after the party. Instead, enjoy the moment and the people around you. Relax and just have fun!
DO thank your host. Don't leave the party without saying goodbye. A digital thank-you card, text, email or phone call only take a couple of minutes and will make your host feel appreciated. Make sure you do this in a timely manner though, a couple of days after the event is best.
For more Holiday Party Dos and Don'ts, head over to EVITE and check out their handy guide!
What are your best holiday party tips?
Disclosure: This is a sponsored post on behalf of EVITE in collaboration with Lindt. All opinions are 100% my own.