Candy Cane Hot Cocoa
This time of year Madeline is a broken record when it comes to requests for hot cocoa. I think it is one of the cutest things ever that she loves the tradition of cocoa at Christmastime.
My kids don't know it, but I look forward to their requests of hot cocoa just as much as they look forward to me making it. Candy Cane Hot Cocoa is the favorite as of late.
Because Hot Cocoa is super simple to make from scratch, we never buy pre-made mixes. Instead, I prefer to infuse our own homemade cocoa with different flavors depending on our mood. Candy Cane flavor is just one example, but there are many other ways to customize your hot cocoa.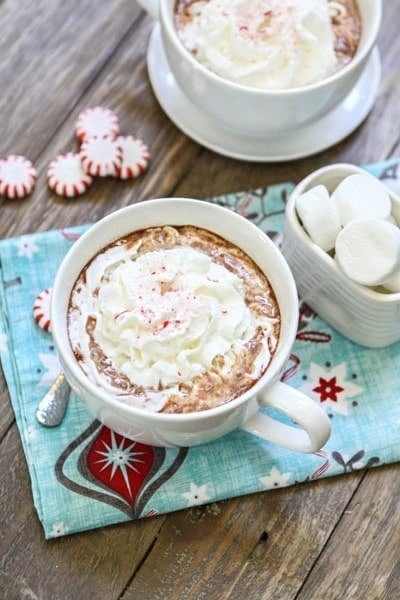 Customize Your Hot Cocoa
Herbal teas are a fun way to customize your cup for an extra special flavor. Peppermint, Raspberry, and Orange or Tangerine teas all pair well with chocolate.
Holiday Candies are fun to place at the bottom of a mug of hot chocolate. Things like homemade fleur de del caramels or fudge melt easily and can be stirred into the drink. Seasonal flavored Hershey Kisses are also fun to try.
Toppings are great too! Whipped cream, naturally, goes well on top of hot cocoa. Try flavoring it with different extracts. You can sprinkle things like shredded coconut, toffee bits, nuts, shaved chocolate, or crushed peppermints on top.
Don't forget to give homemade marshmallows a try sometime. Two of our favorite recipes are Chocolate and Peppermint Dipped Marshmallows and Chocolate Raspberry Vanilla Bean Marshmallows. They're worth the extra effort!
This Candy Cane Hot Cocoa is perfect for the cold and snowy nights we have here in Colorado. A steaming mug of hot chocolate with Christmas stories before bed is definitely something the kid in me enjoys as well.
For a fun evening activity, pair a mug of Candy Cane Hot Cocoa with a round of Christmas Book Bingo.

How do you like your hot cocoa?
More Kid Friendly Holiday Drinks
Candy Cane Hot Cocoa
Yield: serves 2
Total Time: 5 minutes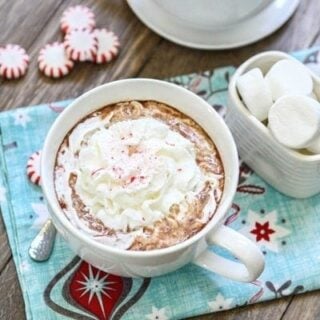 Ingredients:
2 cups of water or milk
2 tablespoons. cocoa powder
1/2 oz. dark chocolate
2 tablespoons. honey
2 bags Celestial Seasonings Peppermint Herbal Tea
Whipped Cream
Candy Canes or Round Peppermints, crushed
Directions:
Combine 2 cups water or milk, cocoa powder, dark chocolate, honey and tea bags in a saucepan. Bring to boil, simmer 5 minutes and remove tea bags. Top with whipped cream and crushed mints.
Disclosure: Celestial Seasonings hired me to photograph a selection of their holiday drinks. We all enjoyed this one so much that I thought it was perfect to share this time of year.