Cranberry Orange Walnut Relish
Thanksgiving dinner isn't complete without a little cranberry sauce on the side. I personally prefer cranberry sauce to gravy on Thanksgiving. I love this Cranberry Orange Walnut Relish for a little something extra special.
Cranberry sauce is so simple to prepare at home, taking only about 15 minutes from start to finish, that there is really no reason to use the canned stuff.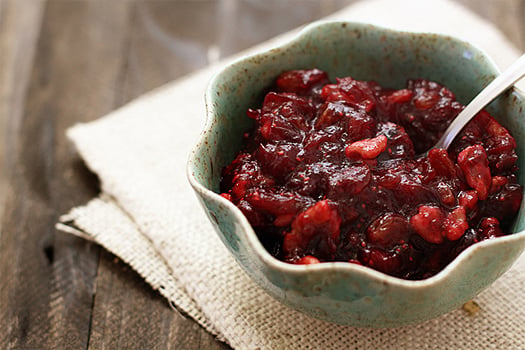 You'll appreciate how much fresher homemade cranberry relish tastes compared with the store-bought canned varieties. In addition to gracing your Thanksgiving table, there are all sorts of fun recipes you can make using any leftover Cranberry Orange Walnut Relish that you have after Thanksgiving.
Stay tuned because in the next week I'll show you a couple of other recipes that you can use leftover cranberry sauce for.
Do you have to have cranberry sauce on Thanksgiving? Or are you more of a gravy person?
Cranberry Orange Walnut Relish
Prep Time: 5 minutes
Cook Time: 5 - 10 minutes
Total Time: 15 minutes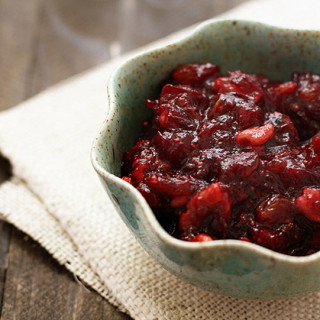 Ingredients:
3/4 cup orange juice
2 tablespoons water
1/2 cup sugar
4 tablespoons maple syrup
1/8 teaspoon cinnamon
1/8 teaspoon nutmeg
2 teaspoon orange zest
1/4 teaspoon vanilla extract
1/8 teaspoon salt
12 oz fresh cranberries
1/3 cup Golden raisins
2/3 cup Walnut pieces
Directions:
Combine orange juice, sugar, maple syrup, cinnamon, nutmeg, orange zest, vanilla, and salt in a medium saucepan. Cook over medium heat, stirring frequently, until the sugar has dissolved. Stir in the cranberries and golden raisins.
Bring mixture to a boil, reduce heat to a simmer, and cook for 3-5 minutes - or until the cranberries pop. Remove from heat and stir in the walnut pieces. Cover and chill 2 hours before serving with turkey.
Leftovers will last up to 2 days refrigerated in a sealed container.