Grilled Summer Squash Sandwich
Summer is here and that means the grocery stores, Farmer's Markets, and backyard gardens are overflowing with delicious summer produce. There is never a shortage of summer squash. I especially love zucchini because it is such a versatile vegetable for a variety of meals and recipes during the summer.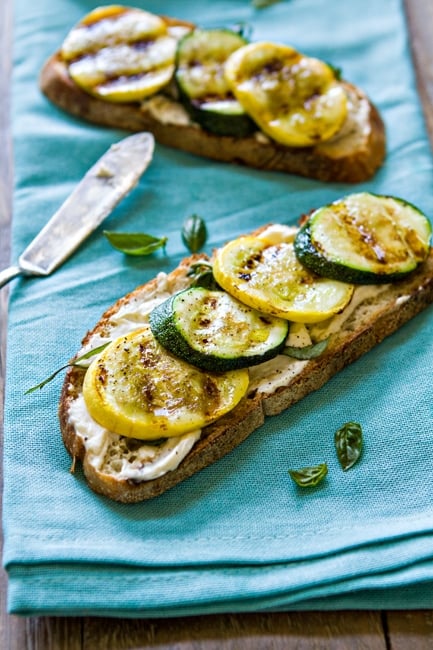 I've had a grilled summer squash sandwich on my mind lately. One of my best and oldest friends was in town last week visiting. One of the best things about Nila visiting is that we always have fun cooking and eating together, something we've enjoyed since we were roommates in college.
While she was here I experimented with my idea for a grilled summer squash sandwich for lunch one day and snapped a few pictures before we ate.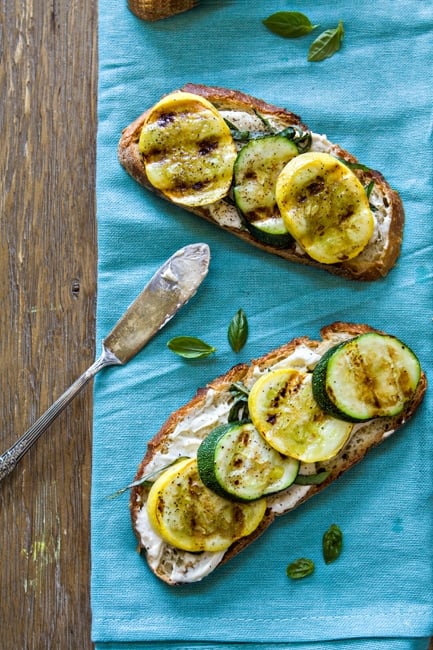 We decided that the recipe was a keeper, so I figured I should probably share it here. It was simple enough for lunch, but would be perfect for a light dinner with a nice cool drink – sparkling watermelon limeade, anyone? – or some popsicles for a light dessert.
More Summer Squash Recipes
Have an abundance of zucchini or other summer squash? Try some of these favorite recipes. The two muffin recipes listed are some of my kids' favorite muffin recipes.
What is your favorite thing to make with summer squash?
Grilled Summer Squash Sandwich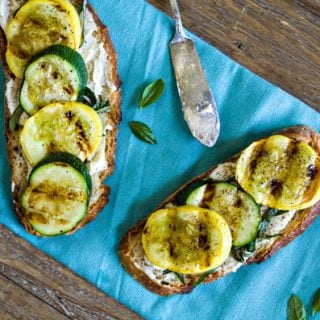 Ingredients:
1 small zucchini, sliced
1 small yellow squash, sliced
olive oil
4 slices sourdough bread
3 wedges Laughing Cow Smooth Sensations Garden Vegetable Spread
1 small bunch fresh basil, thinly sliced
balsamic vinegar
salt
pepper
Directions:
Preheat a grill pan over medium-high heat. A gas grill or indoor electric grill will also work.
Brush the sliced squash on both sides with olive oil. Place the squash on the grill and grill until grill marks start to appear and squash becomes tender. Flip and repeat.
Meanwhile, toast the bread. Then, spread the Laughing Cow Smooth Sensations Garden Vegetable Spread evenly between the slices. Layer a few slices of fresh basil on top of the cheese, then place the grilled squash on top. Brush the tops of the squash with balsamic vinegar and sprinkle with salt and pepper.
Serve immediately.
I am an official brand advocate for Bel Brands in 2013. While I receive compensation for participation as a brand advocate, opinions are my own.