As we prepare for our summer trip to go visit family, I thought I would share with you how I am packing the food this year. I wanted to make things as easy and mess-free as possible for the kids to feed themselves in the car so we don't have to pull over to make lunches if we don't feel like taking the time to stop.
I also wanted it to be fun for the kids to eat lunch, since Logan and Madeline don't think being in the car for 8 hours is synonymous with the word "fun." I don't know what they're talking about though, because it looks a lot more fun than when I was their age thanks to portable DVD players, CD and MP3 players (instead of the middle of nowhere radio static), plus the usual suspects of books, coloring pages, and games of I SPY.
We only have an 8 hour drive, so I won't be packing a ton of food. Everyone will eat breakfast before we get started. I plan to bring a few extra things in a small cooler that we can get into if we need: grapes, red pepper slices, more lunchmeat, crackers, granola bars, fruit leathers, Mini Babybel Cheeses,
Road Trip Lunch Boxes for Kids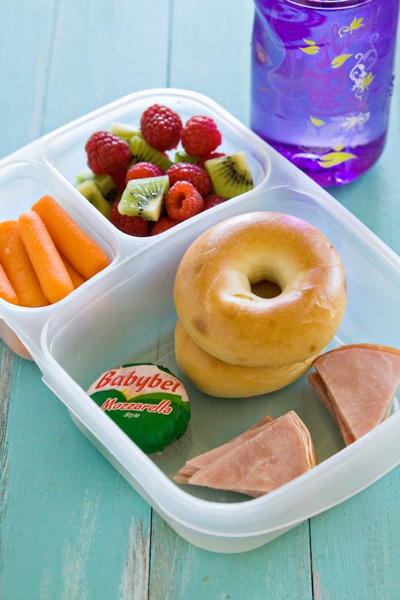 Packed in an Easy Lunchboxes container. I love these because the compartments are just the right size and the dividers go all the way to the top where it attaches to the lid so the compartments don't get mixed up if the container is jostled around. These are great and I wish I had more, but we only have 2. I think a few got lost along the way during our move last year.
Mini Bagels
Raspberries and Kiwi
Baby Carrots
Ham cut into triangles
Mini Babybel Mozzarella Cheese
Road Trip Snack Packs for Kids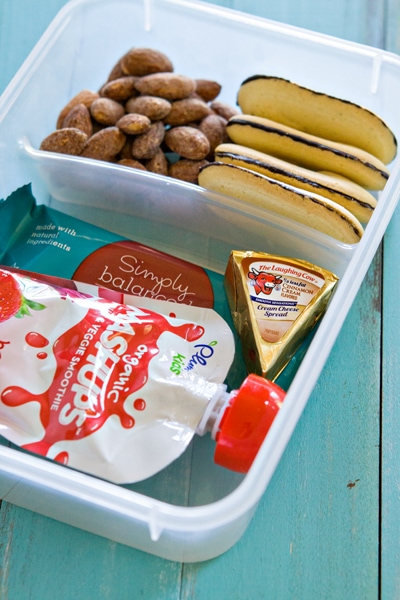 Packed in Snapware. Normally I love Snapware for storing leftovers in the fridge or packing a lunch, but these particular are not my favorite because the divider isn't tall enough to keep the contents in each compartment from spilling around and getting mixed up, but I figured for the snacks it didn't matter as much if this happened since everything is dry or in a wrapper.
Road Trip Drinks

I am an official brand advocate for Bel Brands in 2013. While I receive compensation for participation as a brand advocate, opinions are my own.