Recipe Exchange: Homemade Fudgy Brownies
I teased you with an image of these delicious brownies in my parchment paper kitchen tip last week (related: Kitchen Tip: Lining Pans with Parchment). Are you ready for the recipe now? These simple from scratch brownies are one of our family's favorite weeknight desserts.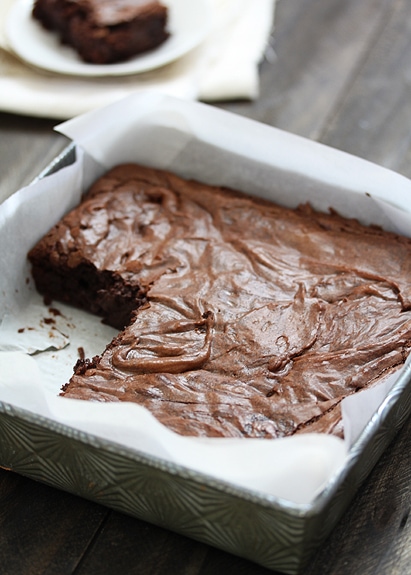 Without fail, we always have the ingredients on hand and can whip them up in a matter of minutes. I love decadent, elegant, and creative desserts. But, some evenings all I really need is a cushy place on the warm couch, a little something to watch on TV, and a fudgy chocolate brownie. Why complicate something so deliciously simple?
If you want to mix things up from the traditional, you can change up the extracts you use, add some orange zest, chopped peppermints, or any number of mix in ideas. This is the perfect bare bones brownie recipe, and it's delicious just like this.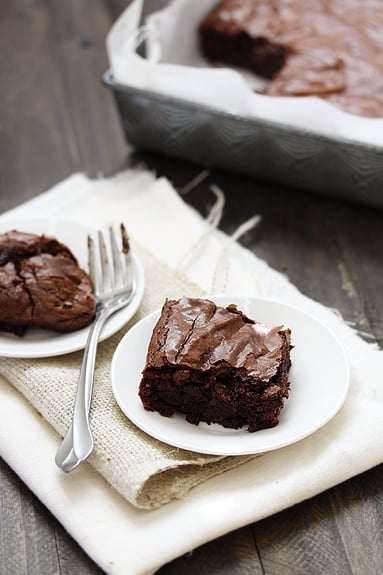 I really enjoyed making this recipe with Kerrygold butter. The brownies tasted so rich and moist. If you'd like to try Kerrygold too you can participate in this recipe exchange for a chance to win an amazing gift basket!
What is your favorite recipe to use butter in? Is it a sweet one or a savory one? Come share your favorite recipe! Check out Jamie's recipe for Holiday Recipe Exchange: Cranberry Bliss Bars.
Simplest Homemade Fudgy Brownies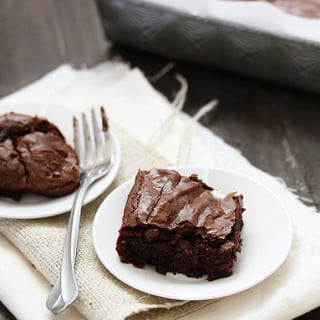 Ingredients:
12 tablespoons Kerrygold Salted Butter
1 1/2 cups granulated sugar
2/3 cup cocoa powder
1/2 - 1 teaspoon pure vanilla, orange, or peppermint extract, optional
3 large eggs
1 cup flour
A heaping 1/2 cup chocolate chunks, optional
Directions:
Preheat oven to 350 degrees F. Line an 8x8 or 9x9 square baking pan with parchment paper. Set aside.
Set a medium sized saucepan over medium-high heat and melt the butter. Next, add the granulated sugar and your choice extract. Stir well. Remove pan from heat and whisk in the cocoa powder.
In a separate bowl, lightly beat the eggs. Pour the chocolate mixture into the bowl and whisk in with the eggs until well combined. Stir in the flour and chocolate chunks, but do not beat.
Pour batter into the previously prepared baking pan. Bake at 350 degrees F for 30-40 minutes. Cool completely, or if you're impatient like me – at least 15 minutes, on a wire rack.
Remove parchment paper (with brownies) from the pan. Peel away the parchment paper and cut the brownies into serving size pieces and store in an airtight container for up to 3 days – if they last that long!
How To Participate
For a chance to win a $150 Kerrygold Cheese and Butter Gift Basket:
Write and post a recipe on your blog featuring BUTTER.
Include "Come join the fun at the My Baking Addiction and GoodLife Eats Holiday Recipe Swap sponsored by Kerrygold." in your blog post.
Add your link to the widget on either GoodLife Eats or My Baking Addiction (we have the same widget code, so only add it on one site).
Submit your post before Dec. 18, 11:59 AM. On Dec. 19, 12:00 AM the widget will switch to voting mode. Be sure to encourage your readers to vote for you and/or vote for your favorites.
Anyone can participate in the link up, but the prize will ship to US residents only.
More detailed info, including buttons for your posts are available here.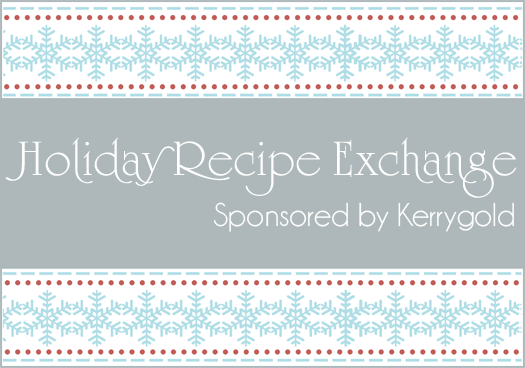 Link Up Your Recipes:
This Week's Prize:
$150 Kerrygold Cheese and Butter Gift Basket (1 winner), provided by Kerrygold.

Recipe Theme Schedule:
We still have three weeks open for this Holiday season. If you would like to discuss scheduling a sponsored recipe exchange please contact Katie or Jamie to discuss availability and themes.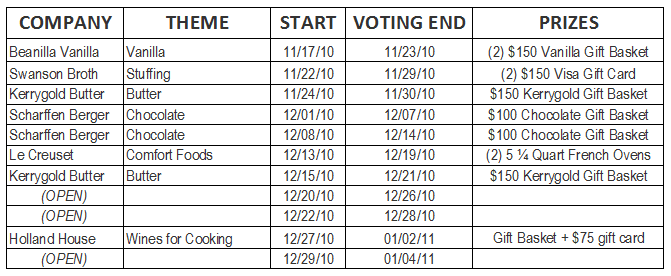 click image to enlarge
How To Promote Your Recipe:
Help us spread the word by letting your friends, family, and followers know about the contest. Email, Facebook, Tweet, Stumble…anything you want to do to promote this post is welcome.
Sample Tweet 1: Join @GoodLifeEats and @BakingAddiction for a Holiday Recipe Exchange. See how you can participate (and WIN) here: http://bit.ly/9YCFgA Pls RT
Sample Tweet 2: Enter BUTTER recipes in @GoodLifeEats & @BakingAddiction Recipe Exchange 4 chance @ $150 @kerrygoldusa gift http://wp.me/p14Uvo-14V
Sample Tweet 3: Have a winning BUTTER recipe? Share in @GoodLifeEats & @BakingAddiction Recipe Exchange 4 chance @ $150 GIFT http://wp.me/p14Uvo-14V
Sample Tweet 4: Vote 4 my BUTTER recipe in @GoodLifeEats & @BakingAddiction Recipe Exch so I can win $150 @kerrygoldusa basket http://wp.me/p14Uvo-14V