Smokey Grilled Sweet Potato Wedges
These Smokey Grilled Sweet Potato Wedges are full of flavor. They're super simple to whip up and contain only 4 ingredients – Southwestern Pork Rub, Sweet Potatoes, Oil, and Cilantro for Garnish.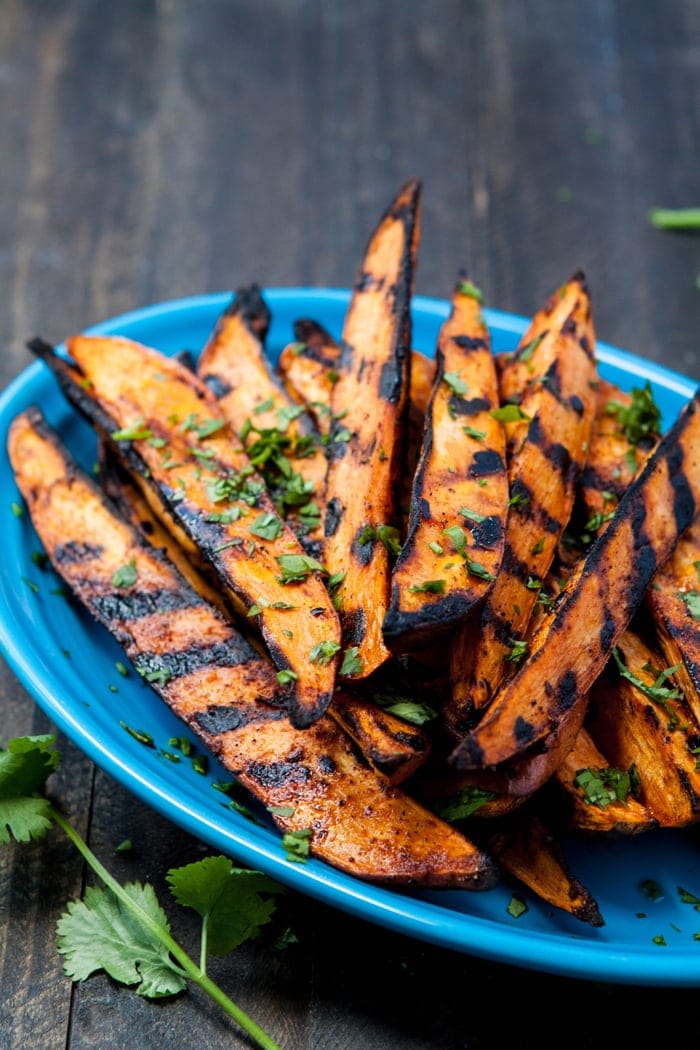 Sweet potatoes don't have to just be a recipe for Thanksgiving, though who doesn't love a big pile of marshmallow covered sweet potatoes aside their roasted turkey?
Sweet potatoes, cut into thick wedges cook up really quickly on the grill during the summer and serve as an excellent side for any summer barbecue – whether that is a a Blue Cheese Mesquite Turkey Burger with Caramelized Onions, grilled chicken breasts, or something super simple like Grilled Brats.
I recently celebrated turning 34 – and had a really fantastic day. My neighbor Becca hosted a sweet birthday dinner for me along with my kiddos, her family, and my boyfriend.
Being the one that is always cooking and taking care of everyone else, it was really nice to have someone else cook a delicious birthday dinner (and bake a cake!) for me.
I was really busy cooking and working all day prior to the dinner and happened to prepare these Smokey Grilled Sweet Potato Wedges for the blog.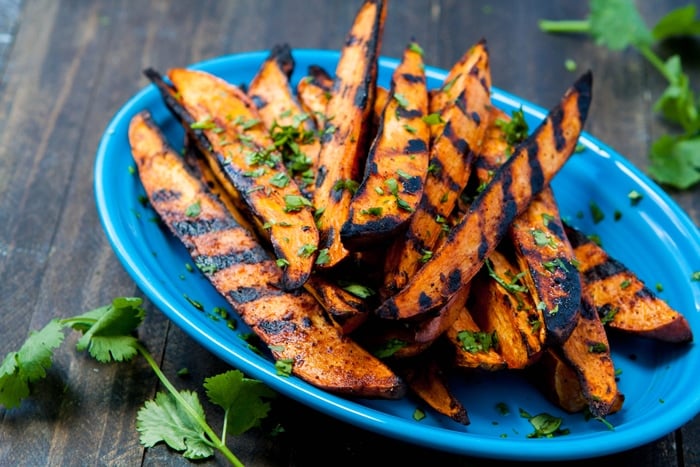 They were so good so I texted Becca and told her that I'd be bringing them go share with dinner so we could all enjoy them together.
Becca had smoked 2 whole chickens on her smoker, made a huge green salad, steamed broccoli, french fries for the kiddos and a yummy chocolate cake with cream cheese frosting that was covered in Chocolate Ganache. The Smokey Grilled Sweet Potato Wedges tasted awesome alongside everything else.
So, really quick on how to make them: All I did was wash and dry the sweet potatoes, cut them into wedges (think large steak fries size), toss with a little oil (something high smoke point is preferable since you'll be grilling them) and sprinkle with this Homemade Southwestern Pork Rub.
I preheated my grill to medium and then placed the wedges directly on the grill grates. They only needed to cook about 3 – 4 minutes per side to get some nice grill marks and then get tender enough to eat.
If you're charr too quickly and don't get tender fast enough, you can then transfer them to the top rack of the grill (avoiding the direct heat) and turn the heat down while they cook till tender. I didn't find that necessary though. Afterwards, sprinkle the cooked wedges with chopped, fresh cilantro and enjoy!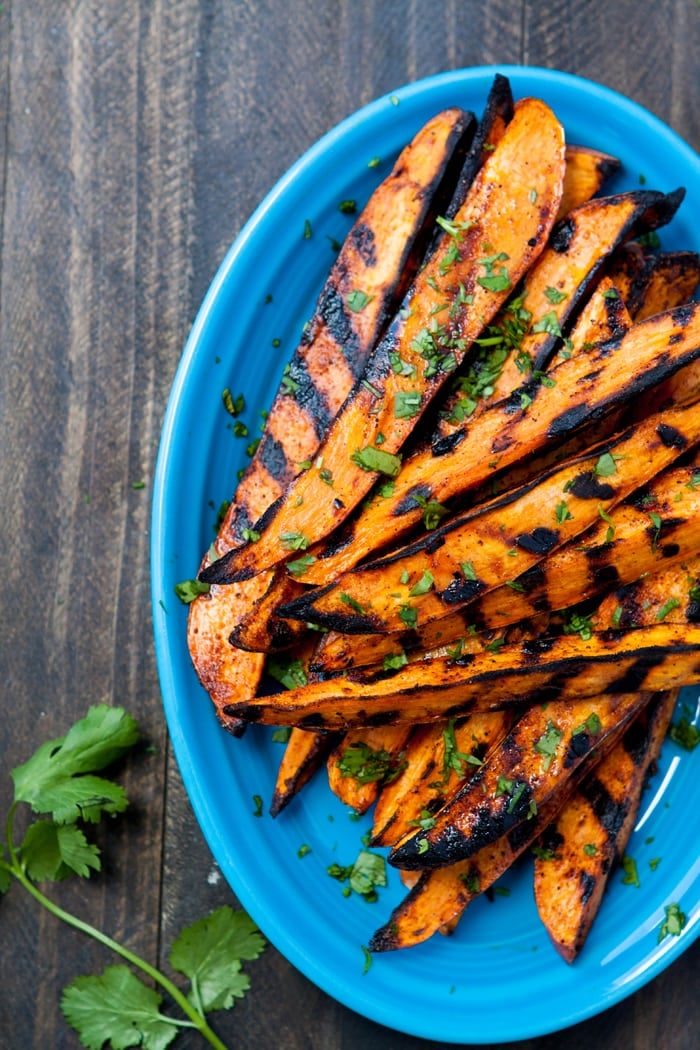 More Grilled Veggies
Looking for more grilled vegetable recipes to try? Here are some that look great to me:
I have never grilled carrots before, but these Grilled Carrots with Chipotle Lime Dip look tasty.
Grilled corn is one of my all time summer favorites! I would eat that all summer long. I bet it would be great added to tacos if you're looking to Up Your Taco Tuesday Game, or cut off the cob and added to a bowl of 5 Minute Basic Guacamole.
In the winter I usually make Roasted Brussels Sprouts with Bacon and Balsamic, but I like the idea of Foil Grilled Brussels Sprouts in the summer.
It has been a long time since I posted about Grilled Baby Artichokes. I just came across these Grilled Artichokes with Lemon Garlic Butter and now artichokes are now on my must make list.
Grilled Vegetables with Flatbread are a fun appetizer or meatless meal in the summer.
My favorite way to cook potatoes during the summer is still this Rosemary Foil Grilled Potato Recipe that I posted way back in 2009.
What veggies do you like to grill?
Smokey Grilled Sweet Potato Wedges
Yield: serves 4 - 6
Prep Time: 10 minutes
Cook Time: 8 - 12 minutes
These Smokey Grilled Sweet Potato Wedges are full of flavor. They're super simple to whip up and contain only 4 ingredients - Southwestern Pork Rub, Sweet Potatoes, Oil, and Cilantro for Garnish.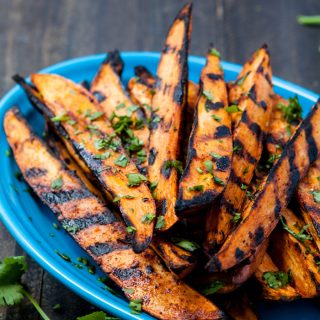 Ingredients:
Directions:
With the lid closed, reheat the grill to medium heat.
Leaving the skin on, cut the sweet potatoes into large wedges, similar in size to thick cut steak fries. Transfer the cut sweet potatoes to a large baking sheet and drizzle with oil, tossing to coat evenly.
Sprinkle half of the Homemade Southwestern Pork Rub evenly over the oiled sweet potatoes. Flip and sprinkle the remaining rub on the other side.
Remove the sweet potatoes from the baking sheet and transfer them directly onto the hot grill. Cook, with the lid closed, for 3 - 4 minutes. Flip, and cook for an additional 3 - 4 minutes on the other side.
Note: If the sweet potatoes are not tender enough after grilling both sides, transfer to a top rack in the grill, reduce the heat to medium-low, and cook until tender.
Remove the sweet potatoes from the grill, transfer to the baking sheet previously used and sprinkle with cilantro. Serve.
Notes:
Canola, Safflower, Sunflower Oil, or Avocado Oil are great for grilling because they have a high smoke point.