Strawberry Mango Salsa and Easy Cinnamon Sugar Chips
I know I just shared a salsa recipe last week with this Creamy Cucumber Salsa, but I have another delicious summer salsa for you to try. This time something a little sweeter. My friend Becca and I were experimenting with some fruit salsas last week after discussing summer recipes that we wanted to try (and getting hungrier and hungrier by the minute!).
One of the recipes that we came up, and spent the better part of an afternoon testing, was this Strawberry Mango Salsa. It turned out so good I had to share it. Now, if you haven't every had a fruit salsa before, you might be thinking: fruit??? and salsa??? But just trust me on this one.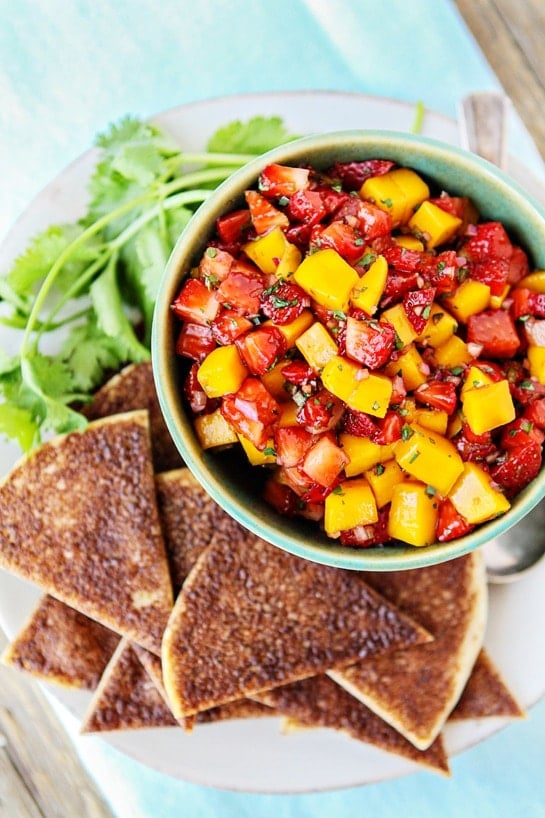 The juicy strawberries and mangos pair really well with the heat of the jalapeño, hint of lime, onion and cilantro. At first we even thought we would try fresh mint to keep it more sweet themed but we tested that version and it wasn't as good as with the cilantro.
We whipped up a few Easy (read: cheater) Cinnamon Sugar Chips to go with the salsa for dipping purposes. You can easily buy cinnamon sugar pita chips at your local grocery store.
However, if you happen to have flour tortillas on hand Easy Cinnamon Sugar Chips only take a couple minutes and are the perfect vehicle for getting this delicious Strawberry Mango Salsa into your mouth.
More Salsa Recipes to Try
Salsas make such great summer appetizers and snacks. Here are a few more salsa recipes for your to try out: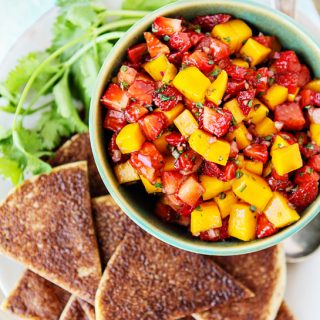 Ingredients:
Cinnamon Sugar Chips:
4 tablespoons soft butter
2 teaspoons cinnamon
2 teaspoons granulated sugar
4 small flour tortillas (fajita size)
Lime Sugar:
1/3 cup Granulated Sugar or Organic Cane Sugar
Zest of 1 Lime
Salsa:
1 cup diced fresh Strawberries
1 tablespoon Raspberry Balsamic Vinegar
2 tablespoons Lime Sugar
1 tablespoon very finely minced fresh Cilantro
1 1/2 tablespoons very finely minced Red Onion
1 1/2 - 2 tablespoons (depending on heat preferences) very finely minced deseeded Jalapeño
1 cup diced fresh Mango
Directions:
Cinnamon Sugar Chips:
In a small bowl, combine the soft butter, cinnamon, and sugar. Stir until well mixed. Spread on top of each tortilla, then cut tortillas into sixths.
Lay the tortillas, cinnamon sugar butter side up, on top of a baking pan. Bake at 400 degrees for 5-10 minutes (depending on your crunch preferences and oven temperature as ovens often vary). Tortilla chips should be crisp but not hard. Cool on a wire rack.
Lime Sugar:
In a small food processor, process the lime zest and sugar until fragrant. Set aside.
Salsa:
Combine the strawberries, raspberry balsamic vinegar, lime sugar, cilantro, red onion, and jalapeño in a medium bowl. Let sit 5-10 minutes. Stir in the mango. Best eaten the same day it is prepared. Serve with Cinnamon Sugar Chips.