In this recipe for Beef Ragu, chuck roast is cooked until tender with garlic, herbs, and plenty of tomatoes. Serve this Instant Pot Italian Beef Ragu with Ppappardelle for a delicious and hearty family pasta night recipe.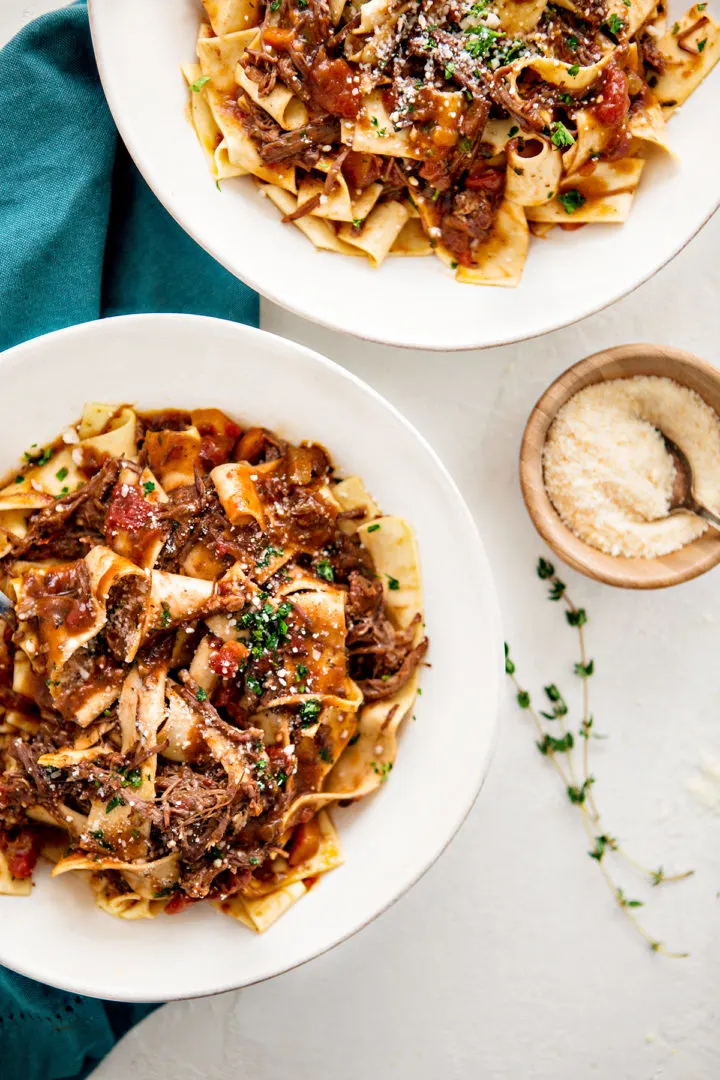 This recipe for Instant Pot Italian Beef Ragu with Pappardelle was created in partnership with Red Gold Tomatoes. I have been compensated for my time, but all opinions are my own. Thank you for continuing to support the brands that continue to make Good Life Eats possible.
Beef Ragu Pasta Sauce
Eating a family dinner and spending quality time together during the week is really important to me. These are the days when everyone is busy with work, homework, sports, and other school activities.
It would be really easy to not check in with each other. That makes family time seem that much more important though.
Or to all eat at different times and not have any fun family conversations. And sometimes there is no avoiding it.
Kendall will have a basketball game, someone else will have practice, and parents need to be in two places at once. We usually end up with one really crazy night a week that leaves us eating in shifts depending on what is going on.
So, I try really hard amidst all of our busy schedules to make sure at least one night during the school week we are all sitting down together at the same time to eat a good dinner.
Usually one night a week we have pasta night for family dinner. Pasta night is probably the kids' favorite dinner of the week.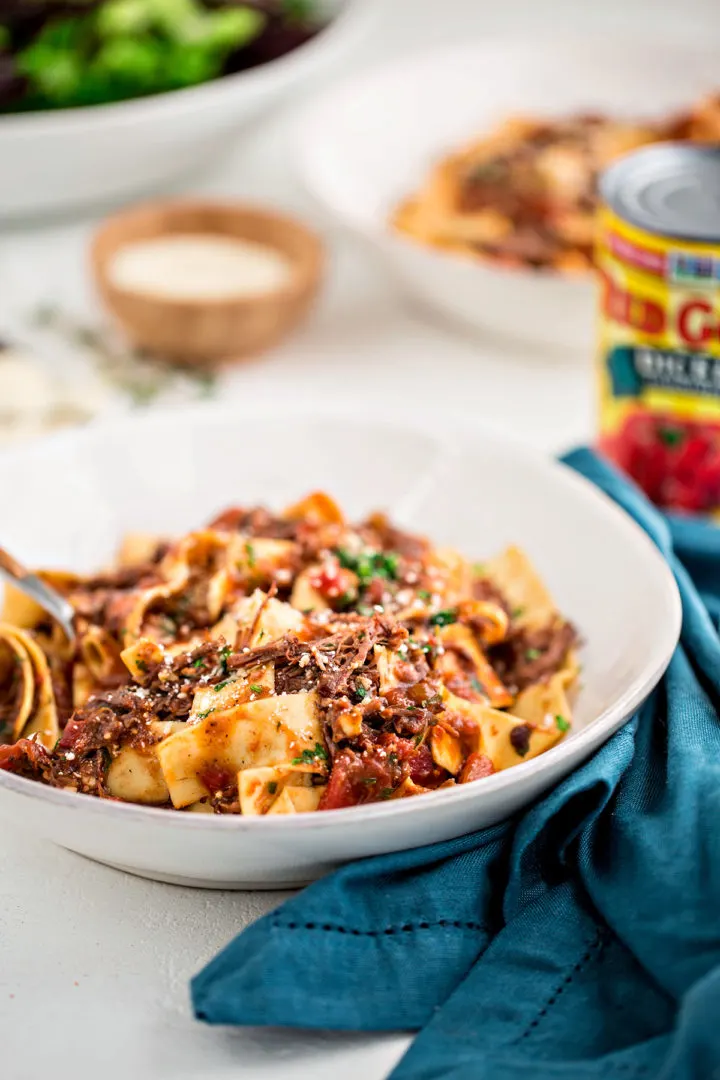 Save this recipe for Instant Pot Beef Ragu to Pinterest!
Beef Ragu is Cozy Comfort Food
Especially during the fall and the winter when we are craving cozy evenings and comfort foods. Or maybe I mean "I" and not "we."
Kevin is always teasing me about how I like to be cozy. I can't help it. I like soft comfy clothes. Fuzzy socks and flannel pajamas. Having "cozy date nights" where we get all snuggled up in bed under the covers and watch a movie in our room.
If I like all of this, why would I also not like foods that feel and smell comforting and make me feel cozy eating them?
That is my reasoning for family pasta night. I'm not really sure what it is for the kids', but they all seem to inhale dinner when we have pasta.
Often times it will be Spaghetti with my Best Ever Homemade Classic Marinara Sauce. I love that sauce recipe, but it takes all day to simmer, and sometimes that just isn't in the cards for me.
Creating this Beef Ragu
So, I wanted to come up with another equally comforting Italian pasta dinner that I could cook up in the Instant Pot and wouldn't require hours and hours of simmering.
The kids also love Pot Roast, which usually takes a long time to cook as well.
In this beef ragu recipe, I decided to combine some of the flavors of both a rich tomato sauce served over pasta and the fall apart tender beef of a pot roast.
And then cook it in the Instant Pot so it wouldn't have to braise for 4+ hours.
Tools Needed to Make this Beef Ragu Pappardelle
I recommend having the following kitchen tools on hand before you start preparing this delicious shredded beef ragu:
Cutting Board – to cut the vegetables and garlic on.
Sharp Knife – for cutting the vegetables and garlic. I like a chef's knife.
Measuring Cups and Spoons – to measure the ingredients.
Pressure Cooker (such as an Instant Pot) or Crock Pot – to cook the beef ragu sauce
Wooden Spoon – to scrape the bottom of the pot after browning the meat.
Stock Pot – to cook the pappardelle pasta in.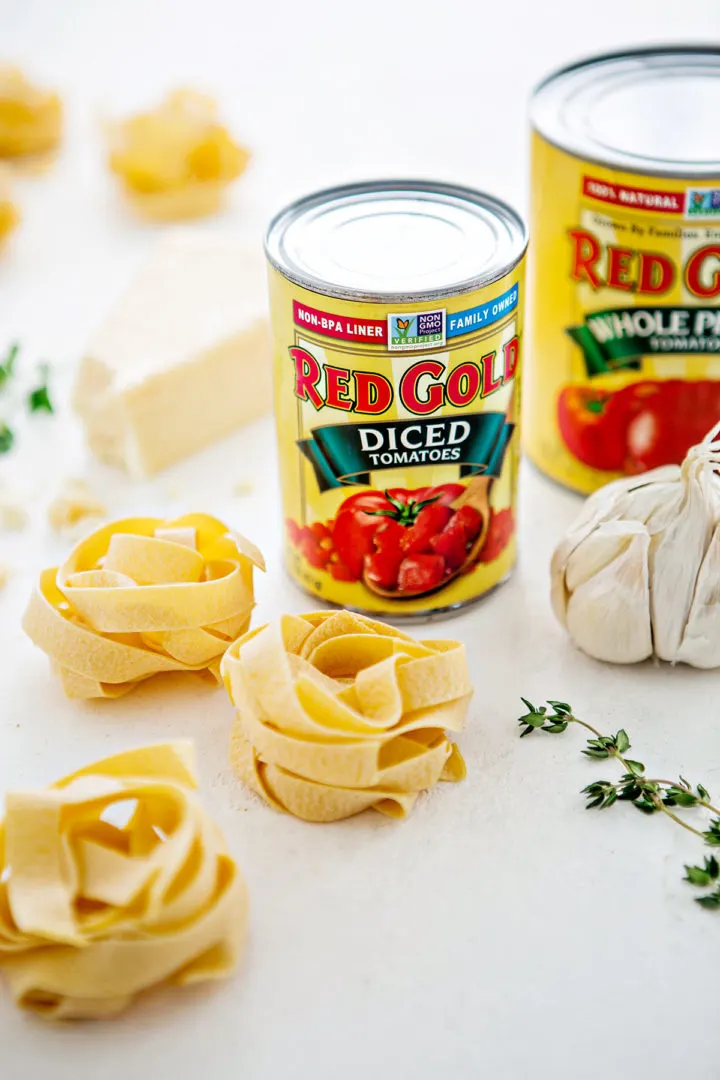 Save this recipe for Beef Ragu with Pappardelle to Pinterest!
Beef Ragu Ingredients
This beef ragu recipe starts with quality ingredients:
Boneless Beef Chuck Roast
Salt and Ground Black Pepper
Extra Virgin Olive Oil
Veggies and Aromatics: yellow onion, carrot, celery, garlic
Quality Red Wine
Double Strength Beef Broth
Crushed Tomatoes and Diced Tomatoes
Balsamic Vinegar
Herbs: fresh thyme, bay leaves, and fresh parsley
Bay Leaves
Pappardelle (or your favorite pasta)
Butter
Parmesan Cheese
For the complete ingredient list and detailed instructions to make this beef ragu pappardelle, scroll to the bottom of this post for the FREE printable recipe card.
How to Make Beef Ragu in an Instant Pot
First, you'll brown the roast on both sides until a nice crust is developed.
Next, you'll sauce the vegetables and the garlic.
The wine deglazes the pan so you can get all of those good crusty browned bits that have tons of flavor. Simmer for a bit to reduce.
And then you'll add the broth, tomatoes, balsamic, bay leaves, and thyme.
Then, cook in the instant pot until the meat is fall apart tender, about an hour.
Shred the beef when it is done and serve it with pasta and plenty of parmesan cheese.
I usually like to use the time that it is cooking to get a few things checked off my list so after dinner I can spend time with the family.
The above is simply a quick summary of this hearty meal. Check out the full recipe in the free printable recipe card at the bottom of this post for all the detailed instructions.
Tips for Making the Best Beef Ragu
Any red wine will work in this beef ragu recipe, but make sure it is a quality wine.
Purchase a quality chuck roast.
I recommend going to the meat counter at your local grocery store and purchasing a roast there. Sometimes the prepackaged roasts aren't the best quality. Use your best judgement!
Make sure you deglaze the pot.
Use a wooden spoon to scrape up all of the browned bits from the bottom of the pan once you add the liquids. There is tons of flavor in these caramelized bits that add flavor to the rich sauce!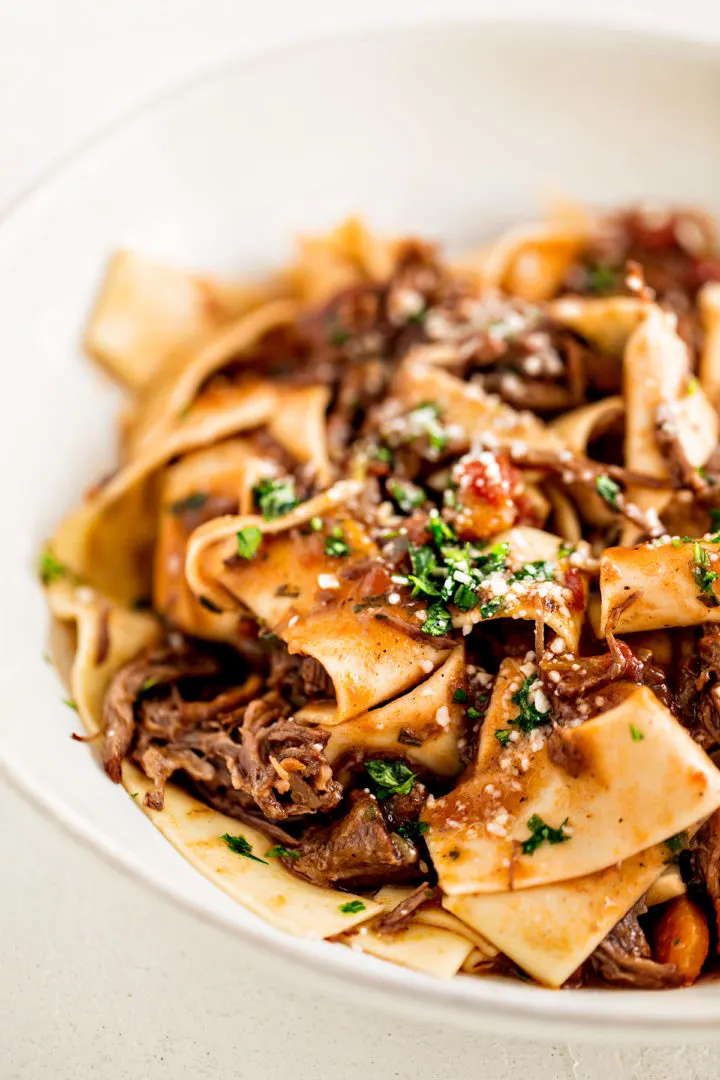 Save this Ragu Recipe to Pinterest!
Beef Ragu Recipe FAQs
Got questions about how to make this recipe? Here are the answers to a few commonly asked questions. Feel free to leave any other questions in the comments on this post and I'll respond with answers.
What is the Best Cut of Beef for this Ragu Recipe?
My personal favorite is beef chuck roast. It has plenty of fat marbling throughout to keep the meat really moist.
Cooking it in the instant pot (or in a slow cooker) provides amble time for the connective tissue to break down which results in incredibly tender meat.
Most likely, you could also use boneless short ribs, but I haven't tested it so I can't speak to the cook time or if there is a taste difference.
How Should I Store the Leftovers?
Leftovers should be transferred to an airtight container and stored in the refrigerator. I prefer to store the pasta and the ragu sauce separately.
Leftover Beef Ragu will be good for approximately 3-5 days.
Can You Freeze Instant Pot Italian Beef?
Yes! Both the Italian beef itself and the prepared beef ragu pasta sauce can be frozen. So if you wind up with too much sauce, you can always freeze portions for later.
This Instant Pot Italian Beef Ragu is a great recipe for freezing. Let the beef cool completely, then transfer it in to freezer safe containers or freeze it flat in a zip top bag.
The portion size is up to you. For lunches, I recommend freezing in individual portions.
I do not recommend freezing the pasta with this recipe as pasta becomes mushy when it is frozen and reheated.
Can I Make Beef Ragu in a CrockPot?
Yes, but I haven't made a slow cooker beef ragu version of this particular recipe in my CrockPot yet, so I can only give you rough estimations on cook times. Here are my tips:
First, you'll need to use a stove top safe pan, such as a cast iron pan, to sear the roast and cook the veggies.
You will definitely need to cook the meat MUCH longer. I would aim for 6-8 hours total to get the meat tender enough to shred. You want the end result to be beef chuck roast that is fall-apart tender!
If it were me, I would probably start with 2 hours on high and do the rest on low. (I'm just going off of how long I normally would cook a roast in a CrockPot to get it very tender.)
What to Serve with Beef Ragu
If you're looking for side suggestions to go with this recipe, I recommend a big green salad.
It doesn't have to be fancy at all. We often use mixed greens, lettuce, cucumber, shredded carrot, and tomato for a basic side salad. Check out these 3 Simple Salad Dressing Recipes to go along with your salad.
If salad isn't your thing, try this easy recipe for Roasted Broccoli for a vegetable side dish.
Sometimes instead of a simple garden salad it is a Caesar salad, or sometimes a Copy Cat Olive Garden Salad is fun.
I also love this recipe for Italian Mixed Greens Salad with Prosciutto and Lemon Dijon Vinaigrette.
And if salads aren't your family's favorite, a simple side of Honey Roasted Carrots with Balsamic or Lemon Roasted Broccolini would also pair nicely with Instant Pot beef ragu.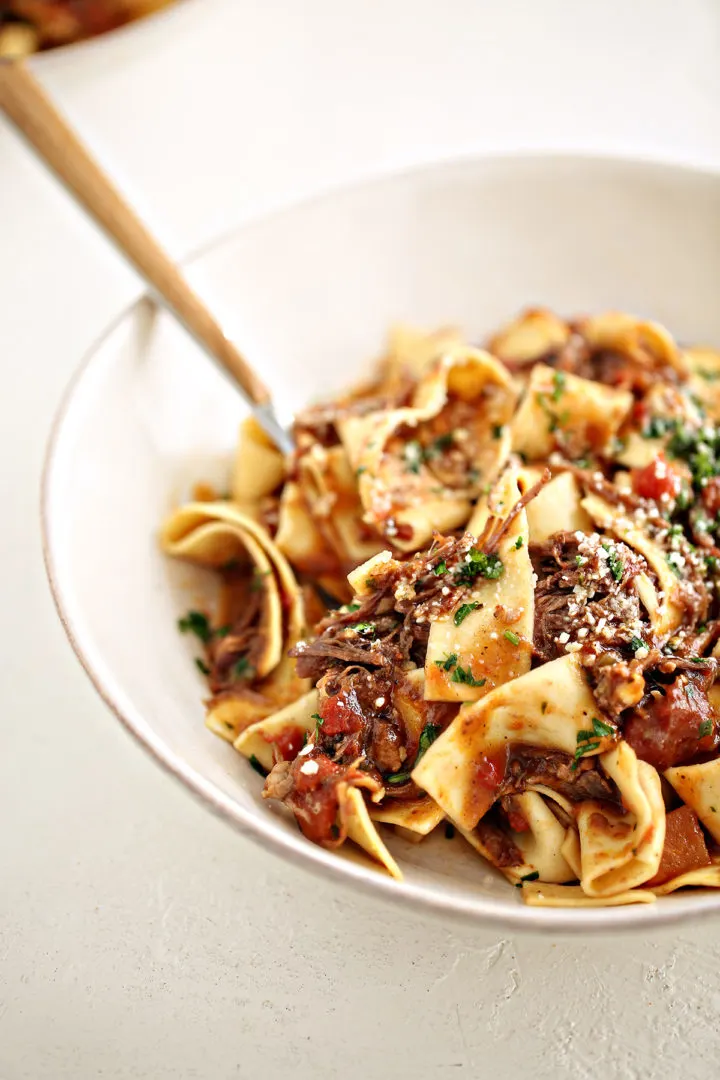 Save this recipe for Beef Ragu Recipe to Pinterest!
Try this Ultimate Comfort Food Recipe!
Next time you're looking for a meat sauce to serve with your favorite pasta, give this Instant Pot Beef Ragu a try!
Did the whole family love it? Leave a comment below and give it a review for others to see what you thought of this great recipe.
On Instagram? Share your photo and tag me with @goodlifeeats and #goodlifeeatsrecipes. I'd love to see your photo of this braised beef ragu!
Get More Delicious Pasta Recipes
Did you love this recipe for Instant Pot Italian Beef Ragu with Pappardelle?? Sign up to receive Good Life Eats Email Updates and never miss another recipe!

What are your favorite family dinner recipes?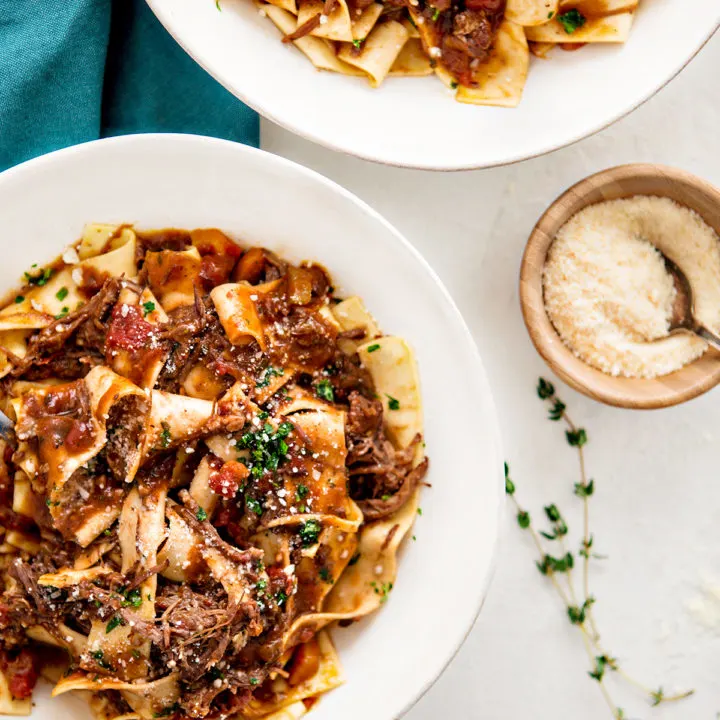 Instant Pot Italian Beef Ragu with Pappardelle
Additional Time:
10 minutes
Total Time:
1 hour
30 minutes
Chuck roast is cooked until tender with garlic, herbs, and plenty of tomatoes in this Instant Pot Italian Beef Ragu with Pappardelle for a delicious and hearty family pasta night recipe.
Ingredients
For the Instant Pot Italian Beef Ragu
2 1/2 pounds Boneless Beef Chuck Roast
3 teaspoons Salt
1 1/2 teaspoons Ground Black Pepper
2 tablespoons Extra Virgin Olive Oil
For the Sauce
1 medium Yellow Onion, diced
2 Carrots, peeled and chopped
2 Celery Stalks, sliced
6 cloves Garlic, minced
1 1/2 tablespoons All-Purpose Flour
2 tablespoons Tomato Paste
3/4 cup Red Wine, such as Chianti or Sangiovese
1/2 cup double strength Beef Broth
14 ounces canned Crushed Tomatoes
2 - 14 ounce cans Diced Tomatoes, drained
1 tablespoon Balsamic Vinegar, optional
3 sprigs Fresh Thyme
2 Bay Leaves
3 tablespoons Fresh Italian Parsley, finely chopped
For the Pasta
1 1/2 pound Pappardelle, or preferred noodle
3 tablespoons Butter
3/4 cup fresh finely grated Parmesan Cheese, divided
1 tablespoon Fresh Italian Parsley, finely chopped, for garnish
Instructions
For the Instant Pot Italian Beef Ragu
Add 1 tablespoon oil to the instant pot cooking vessel. Heat the oil using the saute function.
Cut the roast in half. Pat the beef dry using a paper towel, and season generously with salt and pepper.
Add the beef to the instant pot, and brown for 4 - 6 minutes per side
Once browned, remove using tongs and place on a plate.
Repeat with remaining piece. Set aside after done.
For the Sauce
After browning all of the beef, add the remaining 1 tablespoon of oil, if needed, and saute the onion for 2 minutes.
Add the carrot, celery, garlic, and saute for an additional 2 minutes.
Sprinkle the flour in and add the tomato paste, stirring to combine with the veggies, and cook for 1 minute.
Add the red wine, and stir to combine using a wooden spoon to scrape any of the browned bits from the bottom.
Simmer the vegetable and wine mixture for 5 minutes, then return the beef to the pan along with any accumulated juices.
Stir the beef broth, tomatoes, balsamic vinegar, thyme, and bay leaves in to the beef mixture.
Cooking the Beef Ragu
Place the lid on the instant pot, locking to secure it. Make sure the vent is set to the sealed position.
Switch the Instant Pot to "pressure cook," on high and set for 65 minutes.
After cooking for 65 minutes, allow the pressure to naturally release for 20 minutes (if you are new to Instant Pot, that means to just let it sit there and do nothing).
After the natural release has finished, switch the vent from seal to pressure release and release all of the remaining pressure before opening the lid. (keep hands and face away from the steam)
Remove and discard the thyme stems and the bay leaves. Using two forks, shred the beef, add the parsley, and stir it into the sauce.
With the lid off, set the Instant Pot to "keep warm," while you cook the pasta.
For the Pappardelle
Bring 4 quarts of water and 1 1/2 tablespoons of sea salt to boil in a large pot.
When water is boiling, add the pasta and cook until al dente (according to package instructions).
After pasta is done cooking, drain reserving ⅓ cup of the pasta water.
Return the drained pasta to the pot along with the butter and 4 tablespoons of parmesan cheese, stirring gently until combined.
Then, add 2 - 3 cups of the beef with sauce, stirring well until the pasta is coated. Season to taste with additional salt and pepper, if desired.
Stir in some of the reserved pasta water, as needed, to loosen the noodles, if needed.
Serving the Beef Ragu
Serve pasta with the remaining Italian Beef Ragu spooned over top.
Garnish each bowl with the remaining parmesan cheese and a sprinkling of fresh parsley, if desired.
Notes
If this recipe makes too large a portion for your family, the beef ragu can be divided after cooking (before combining with the pasta) and frozen in portions. Simply cool the mixture first before freezing in your preferred freezer safe containers.
Recommended Products
As an Amazon Associate and member of other affiliate programs, I earn from qualifying purchases.
Nutrition Information
Yield

10
Serving Size

1
Amount Per Serving
Calories

538
Total Fat

27g
Saturated Fat

11g
Trans Fat

1g
Unsaturated Fat

14g
Cholesterol

132mg
Sodium

830mg
Carbohydrates

31g
Fiber

3g
Sugar

4g
Protein

36g
GoodLifeEats.com offers recipe nutritional information as a courtesy. This provided information is an estimate only. This information comes from online calculators. Although GoodLifeEats.com makes every effort to provide accurate information, these figures are only estimates.
More Family Favorite Dinner Recipes
Here are a few of our favorite family dinner recipes that you can make with Red Gold Tomatoes. You'll see what a difference quality ingredients make in the quality of food you put on the table, even in simple recipes like these! For more dinner recipe ideas, be sure to visit the Recipe Index and browse through all of the main dish recipes.