This Lemon Margarita is a simple variation on the classic. Lemon juice cuts through tequila for a tangy cocktail with extra flavor dimension from a salted rim. This 3 ingredient tequila cocktail couldn't be easier to make!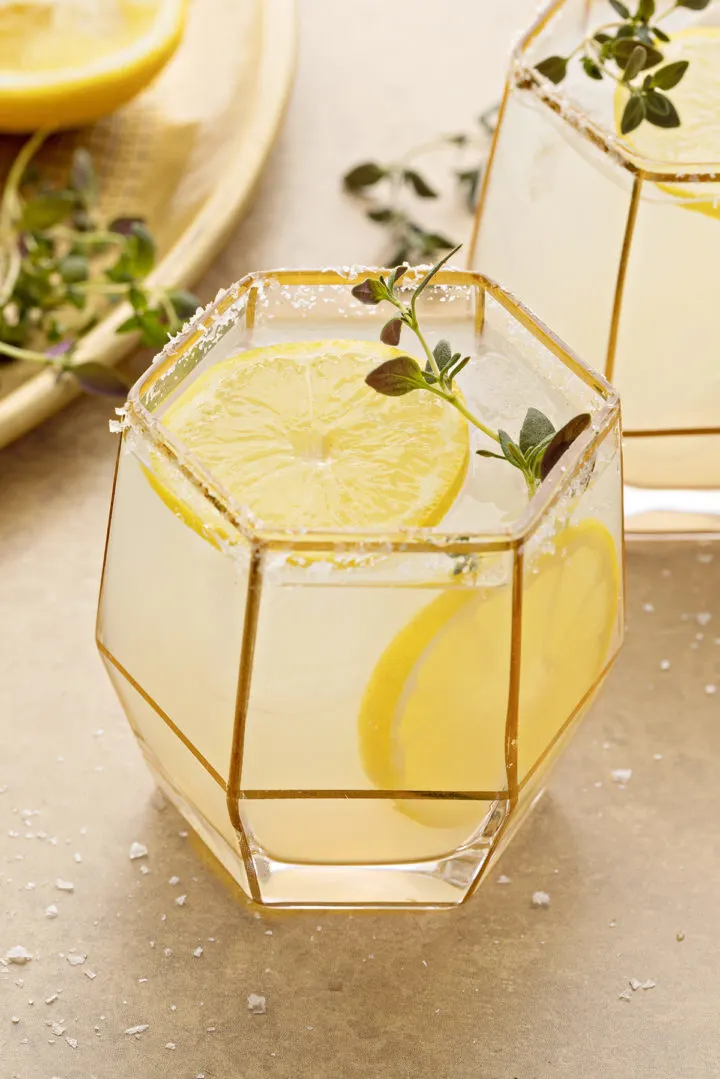 Lemon Margaritas vs Classic Margaritas
A traditional margarita is made with just 3 simple ingredients: tequila, fresh lime juice, and Triple Sec or Cointreau with a salted rim.
The only difference between this recipe and a classic lime margarita is that the lemon margarita uses fresh squeezed lemon juice instead of lime juice.
What Does a Margarita Made with Lemon Juice Taste Like?
If you've ever had a margarita, you can likely imagine what this simple Lemon Margarita tastes like. It has a very similar tang to it, but with a fresh lemon flavor instead of lime.
In short, this tequila and lemon juice cocktail is a sweet and sour cocktail with a distinct lemon flavor.
Tools to Make a Lemon Margarita
You'll need a few kitchen tools to prepare this cocktail. Here's what I recommend having on hand before getting started:
Shaker — you'll use a shaker to combine and mix the cocktail ingredients with ice.
Strainer for Shaker — Most cocktail shaker sets come with a strainer included, but if you don't have one you need it for this recipe.
Jigger — a jigger is what's used to measure the ingredients.
Citrus Juicer — I love my citrus juicer for getting lots of lemon juice out of my lemons.
Small Plate — if you like a salt rim on your margaritas, a small plate is useful for pouring the coarse salt onto.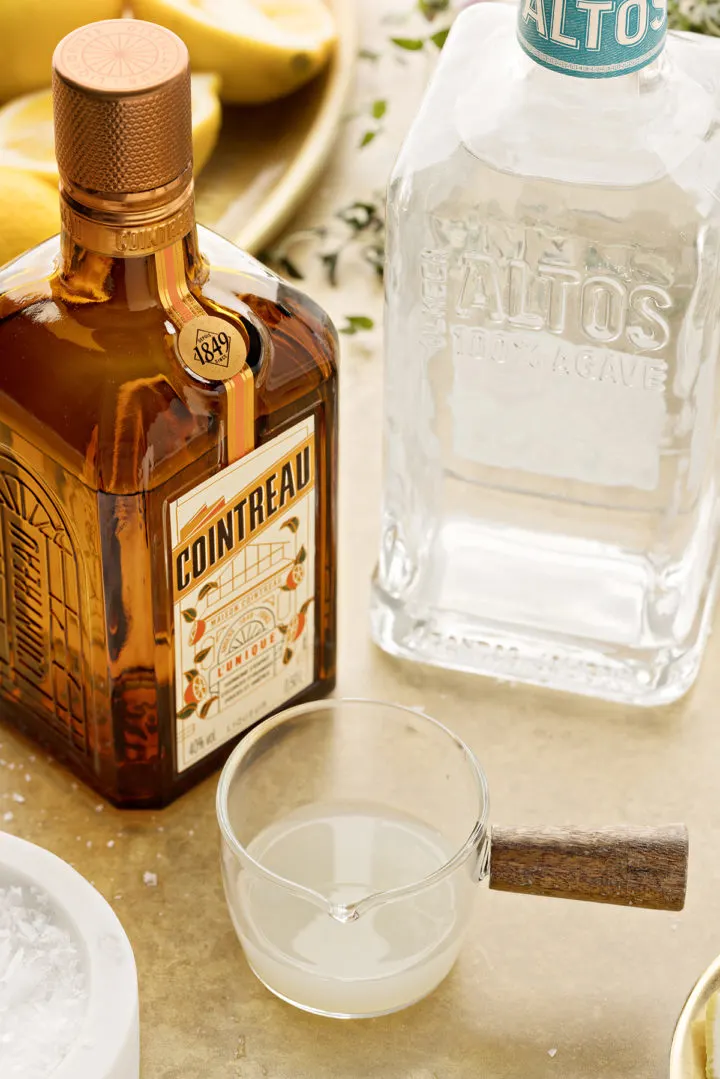 What is in a Lemon Margarita?
For the complete ingredient list and detailed instructions, scroll to the bottom of this post for the FREE printable recipe card.
Tequila – Blanco or Reposado
Cointreau
Fresh Lemon Juice
Ice
Kosher Salt, for rimming the glass
What Is Tequila?
Tequila is a distilled spirit made from the agave plant.
According to the Mexican law that oversees the protection of Tequila, true tequila must be made with Blue Agave or Agave Azul (Agave Tequilana Weber blue variety) AND only in the following Mexican states: Jalisco, Nayarit, Guanajuato, Michoacan, and Tamaulipas.
There are three main types of tequila:
Blanco (sometimes called silver tequila or white tequila) — A clear spirit with the purest flavor. It's aged for a maximum of 60 days, making it more affordable. It's a good all-purpose tequila to keep on hand.
Reposado — "Rested" tequila is aged for at least two months in oak casks. Reposado tequila is typically lightly golden in color, with a mellower flavor than white tequilas.
Añejo — "Old" tequila is aged for at least one year. This results in a darkly colored, richly flavored tequila with hints of butterscotch and caramel.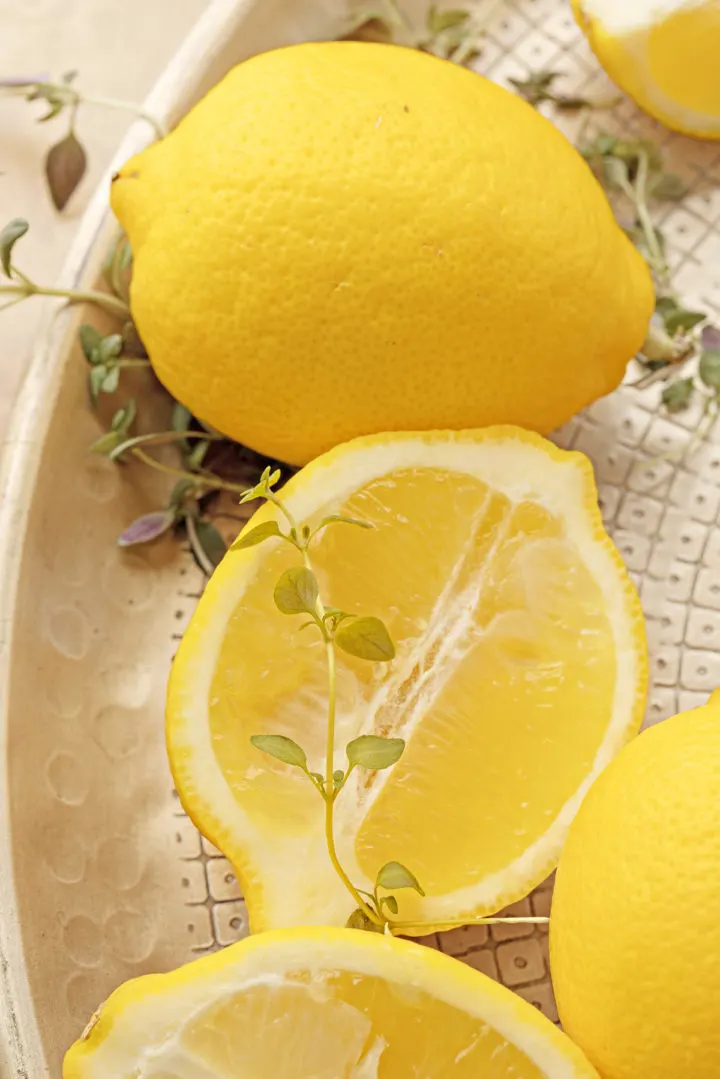 What Can I Substitute for Tequila?
If you don't have tequila on hand, a good substitute would be mezcal. Mezcal is made by burying part of the agave plant (the heart, or piña) with hot rocks and smoking it.
For the purposes of this lemon margarita recipe, you can use mezcal if you're out of tequila, however it will have a slightly different flavor due to the production differences.
What Is Cointreau?
Cointreau (pronounced "kwan-troh") is a colorless, orange-flavored liqueur. It's a type of triple sec, but it's stronger and smoother in flavor than name-brand Triple Sec.
When buying cointreau for making margaritas, I typically stick with the Cointreau brand cointreau.
Don't have cointreau? Try substituting one of these if you have it on hand: Grand Marnier, Triple Sec or dry Orange Curaçao. My preferred substitute is Grand Marnier.
How to Make a Margarita with Lemon
The below is simply a quick summary of this recipe. Check out the full recipe in the free printable recipe card at the bottom of this post for all the detailed instructions.
Make the salt rims: Fill a saucer with salt. Wet the rim of your cocktail glasses using a lemon wedge, then dip the rims into the salt.
Fill the glasses halfway with ice: Then, set aside.
Shake the cocktail: Measure the cocktail ingredients into a shaker with ice, then shake the contents.
Strain and serve: Strain the margarita mixture into the prepared glasses.
See how easy that is?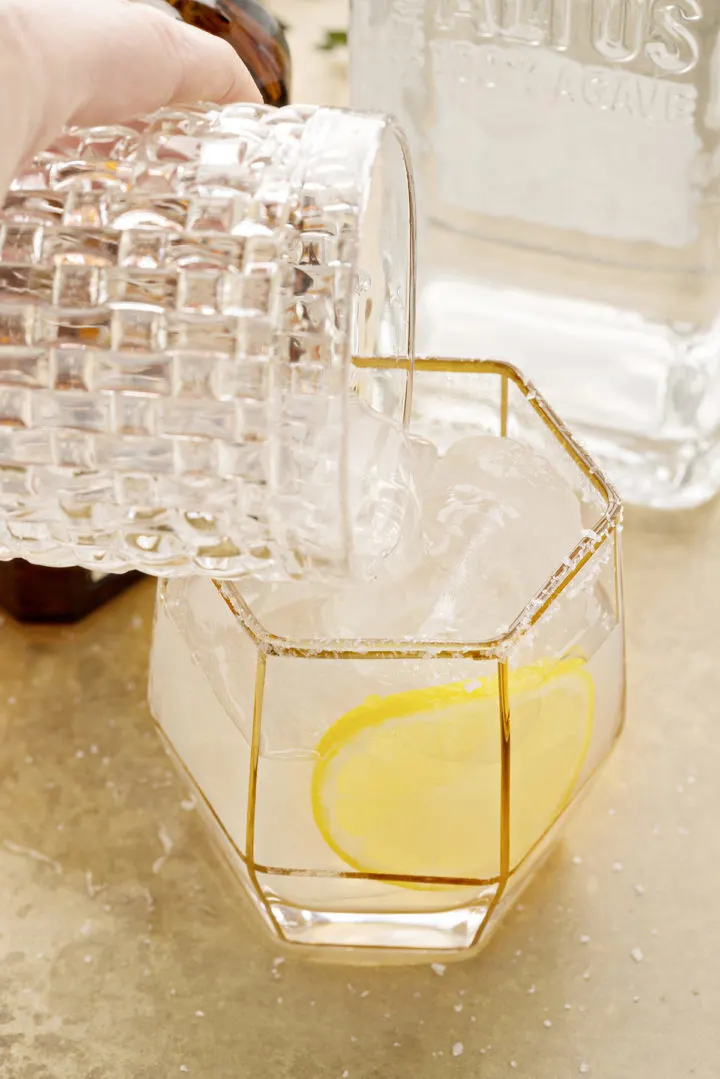 Lemon Margarita Garnish Ideas
Want a little extra something to pretty up your drinks before serving them? Here are some ideas:
A fresh sprig of thyme
A slice or two of fresh lemon
Lemon wedge
How to Make Large Batch Lemon Margaritas
If you're planning a party or barbecue, you can prep a pitcher of lemon margaritas up to 48 hours in advance. Store the cocktail mixture in the fridge until ready to serve and do NOT add ice to the pitcher.
Instead, add ice to the individual glasses and pour the lemon margarita mixture over the ice. You don't want a bunch of ice cubes melting in the pitcher and diluting the flavor of the margaritas!
To prepare pitcher lemon margaritas, measure out the ingredients list in the recipe card below using ratios rather than ounces or tablespoons.
For example: 2 1/2 cups tequila, 1 cup cointreau, 3/4 cup lemon juice. You're keeping the same ratios, just using cups instead of ounces.
Tips for the Best Lemon Margarita
Fresh lemon juice is better than bottled — However, bottled lemon juice will work in a pinch. The flavor of the margaritas just won't be as fresh.
Buy quality alcohol — Your pineapple margs will only taste as good as the quality of ingredients, so avoid buying the cheapest tequila and liqueurs if you can help it. A good quality tequila will make all the difference!
Opt for ice cubes, not shaved or crushed ice – You don't want to water down the margaritas!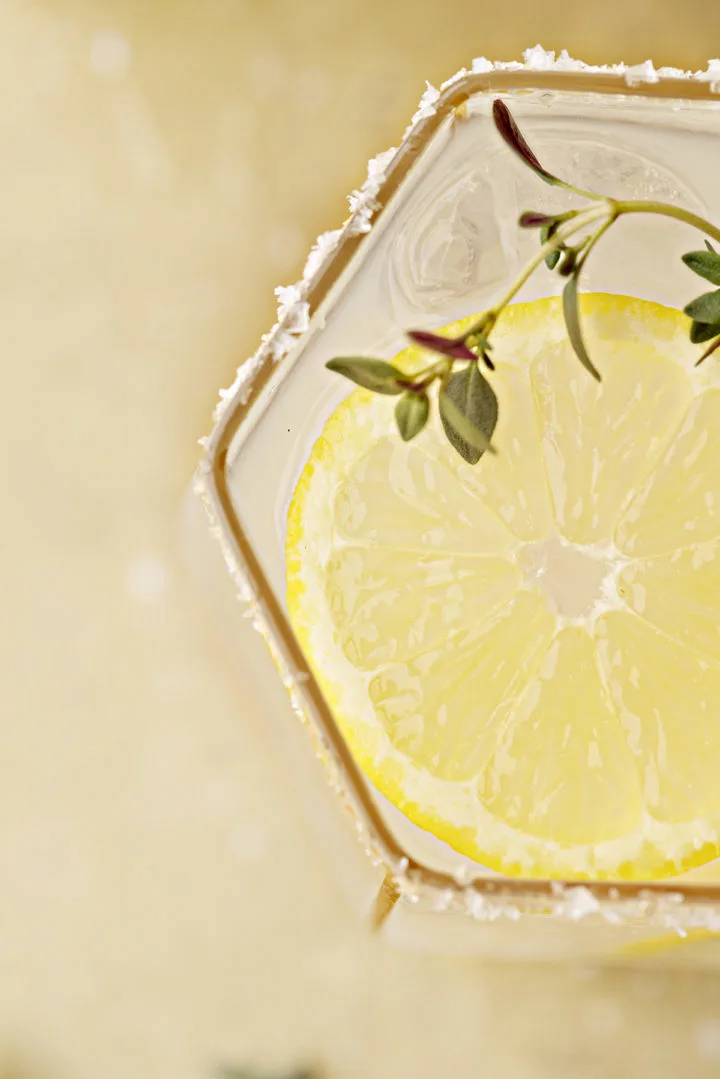 Recipe Adaptations
Feel like experimenting with your cocktail? Here are a few fun suggestions for getting creative in the kitchen:
Sweeter margarita – I love the sourness of this Lemon Margarita but if you prefer a sweeter lemon taste, you can add 1/2 an ounce of simple syrup or agave nectar to your cocktail.
Meyer lemon margaritas – meyer lemons are in season in the spring. They're less tart than regular lemons and have a tangerine like lemon taste. Use them instead for a unique citrus margarita with a sweeter lemon flavor.
Extra lemony margarita – use a microplane grater to add lemon zest to the cocktail shaker when you prepare the margarita.
A different citrus – substitute limes for a regular margarita or oranges for an orange margarita.
Spicy rim – combine flaky sea salt and Tajin in a 1:1 ratio, then dip the rim of the glass in that mixture.
Sugar rim – make this lemon sugar to rim the glass with (like you would a lemon drop cocktail) and call them lemon drop margaritas.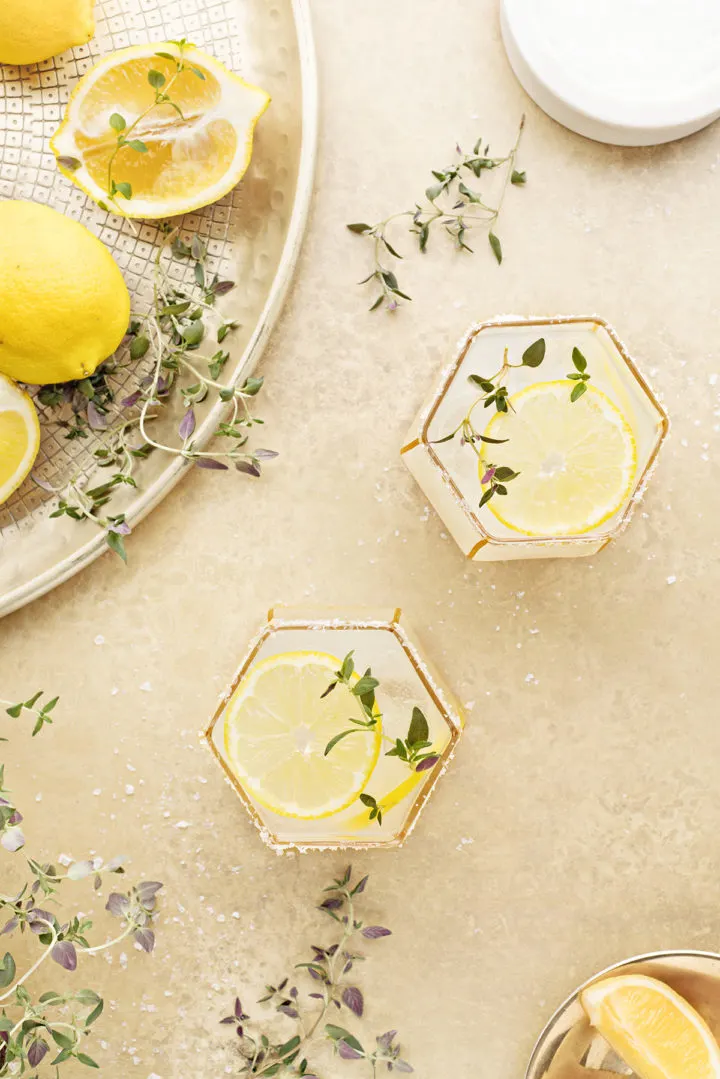 Can I Make a Mocktail Lemon Margarita?
Alcohol-free spirits are great as an alternative if you're sober curious or don't consume alcohol.
I haven't experimented with alcohol-free spirits, so I can't speak to the exact taste, but here are some well rated non-alcoholic substitutes if you'd like to test them out:
Club soda paired with the alcohol-free orange liqueur might also be a good substitute for the tequila if you want a refreshing, bubbly alcohol-free version of this drink.
Safety tip: Depending on the particular product, some alcohol-removed spirits may still contain trace amounts of alcohol. Check the label before using if you're pregnant, serving the mocktails to kids, etc.
What to Serve with a Lemon Margarita
Mexican food is my favorite thing to serve with a margarita, so it's not surprise that this easy lemon and tequila cocktail goes great with our favorite enchiladas, taco nights, chips and salsa or guacamole.
Need more recipe ideas to pair with this tequila cocktail? You can always head over to check out the recipe index to look for more Mexican inspired recipes.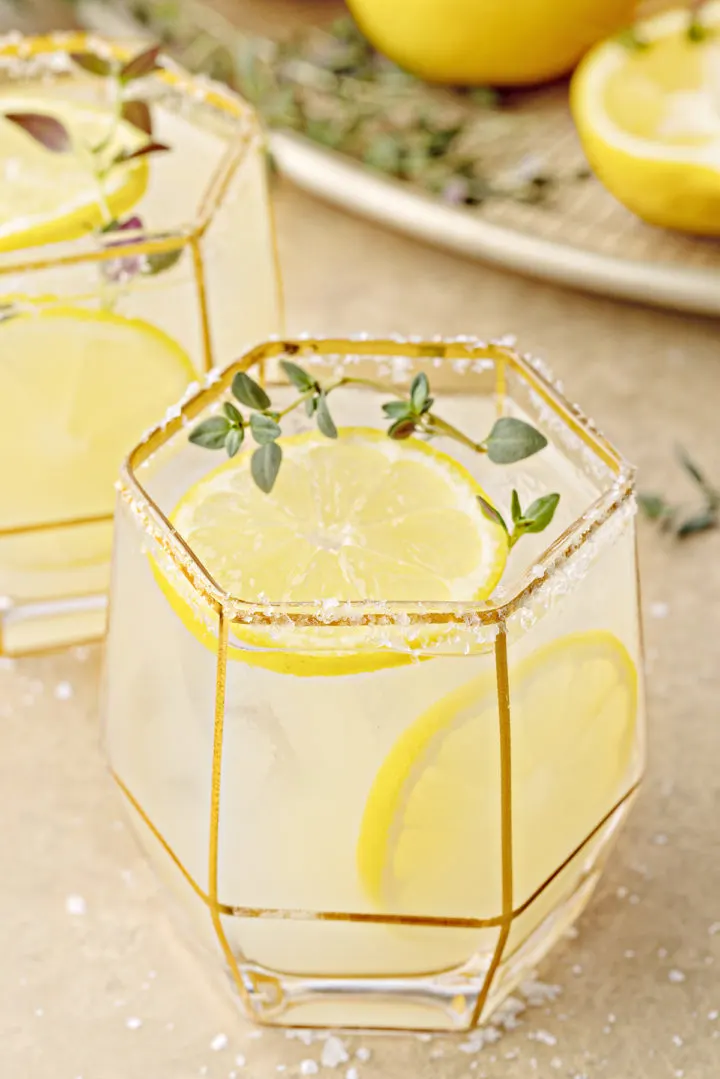 Try this Lemon Margarita at Home!
Next time you're looking for an easy cocktail to make using tequila, give this Fresh Lemon Margarita recipe a try!
Did you like this simple variation on a classic tequila cocktail? Leave a comment below and give it a review for others to see what you thought of this drink.
On Instagram? Share your photo and tag me with @goodlifeeats and #goodlifeeatsrecipes. I'd love to see your photo of this margarita with lemon!
More Margarita Recipes
Fresh strawberries, basil, and lime juice infuse this Strawberry Basil Margarita with bright summer flavors.
Pineapple, cilantro, and lime juice infuse this Pineapple Margarita with refreshing summer flavors.
Sweet and sour from the passion fruit and lime juices and slightly smoky from the mezcal, this Passion Fruit Margarita recipe makes a unique cocktail that everyone will love.
Get More Great Cocktail Recipes via Email
Did you love this recipe? Sign up to receive Good Life Eats Email Updates and get delicious recipes delivered straight to your inbox!
Have you ever had a margarita with lemon juice?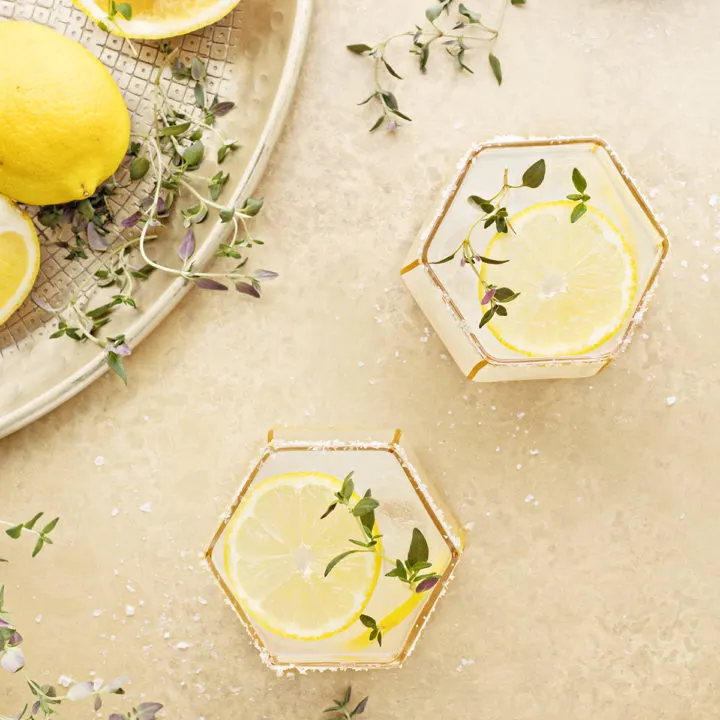 Lemon Margarita
Yield:
2 Lemon Margaritas
This Lemon Margarita is a simple variation on the classic. Lemon juice cuts through tequila for a tangy cocktail with extra flavor dimension from a salted rim
Ingredients
For the Lemon Margaritas
2 1/2 ounces Tequila
1 ounce Cointreau
3/4 ounce Fresh Lemon Juice
For the Garnishes
Coarse Salt
Lemon Wheels
Sprigs of Thyme, optional
Instructions
To Rim the Glasses
Fill a saucer or small plate with coarse salt. Set aside.
Cut a small slice in a lemon wedge and run the lemon around the rim of two glasses.
Then, dip the rim of the glasses in the salt. Spin around to coat the outer edge of the glass in the salt .
Fill the glasses halfway with ice. Set aside.
To Make the Lemon Margaritas
Fill a cocktail shaker halfway with ice. Measure the tequila, cointreau, and fresh lemon juice into the ice filled cocktail shaker.
Place the lid on the cocktail shaker and shake for 20-30 seconds
Serving the Cocktail
Remove the lid from the shaker and strain the lemon margarita into the two prepared glasses, dividing evenly.
Serve immediately.
Notes
Measurement Conversions
Don't have a jigger? Here are the conversions from fluid ounces to tablespoons:
2 1/2 ounces = 5 tablespoons
1 ounce = 2 tablespoons
3/4 ounce = 1.5 tablespoons
Recommended Products
As an Amazon Associate and member of other affiliate programs, I earn from qualifying purchases.
Nutrition Information
Yield

2
Serving Size

1 cocktail
Amount Per Serving
Calories

126
Total Fat

0g
Saturated Fat

0g
Trans Fat

0g
Unsaturated Fat

0g
Cholesterol

0mg
Sodium

1mg
Carbohydrates

4g
Fiber

0g
Sugar

4g
Protein

0g
GoodLifeEats.com offers recipe nutritional information as a courtesy. This provided information is an estimate only. This information comes from online calculators. Although GoodLifeEats.com makes every effort to provide accurate information, these figures are only estimates.