The focus of this blog has always been and will always be: finding the good in the kitchen and in life. For me those two go hand in hand. But sometimes, on days like today, it's harder to see the good in life in the passing moments until you sit back and look at the whole picture. Let me explain.
I was over scheduled today and had to decline on something I'd really have enjoyed participating in for a responsibility I was already committed to, but had forgotten to make note of in my agenda book. It's always a bummer when you say "yes" to something and have to change to "no" because you had forgotten about other plans.
Later the kids and I were at Costco. Terrible two's for Madeline? I think not. How about an obnoxious four and a half year old instead. I'm just being honest. Wanting everything in his path, not asking pleasantly or accepting no for an answer. Kicking. Scream. Lots and lots of kicking and screaming. Lots of stares from strangers chastising me in their heads. Why would she bring two children to Costco in the afternoon? Logan running away from me while I'm trying to pay and get the heck out of there as fast as possible. Needing help to get my kids and groceries out to the car. More kicking and screaming the whole way home.
Hearing Logan screaming at me from his time out as I type this. Knowing that he's probably covered the inside of his door with crayon marks in a fit of rage (for the third time).
It's kinda hard to see the good in that. But I'll tell you the good anyway.
The woman who at Costco told me so sweetly not to worry because this too shall pass. (I hope she's right) She has a granddaughter. She understands. The man who took Logan's hand and brought him back to me when he made a break for it while I was paying. The Costco employee who saw I needed help and did it without being asked even though she was on her lunch break. And then she talked to me for a good 5 minutes at the car and told me her son was just like this, maybe even worse. And how I could ask for her at the membership desk any time I needed help with him while shopping.
Madeline being a perfect angel through all of this. Giving me hugs and kisses. Cuddling and reading stories with Madeline before she went down for a nap. That my hubby will be home in a couple hours and do most, if not all, of the work it getting the kids ready for bed because that's what he does when I've had a bad day, and lots of times on the good days too. That Logan still loves me even though he isn't acting like it. How happy he's going to be when I tell him that time out is over and ask him if he'd like to help me make dessert. Who cares about what's for dinner. After a day like today, I'm going to need a little something sweet before bed.
And it's probably worth noting that this dessert couldn't have happened without the trip to Costco. I guess you can't have the good without the bad.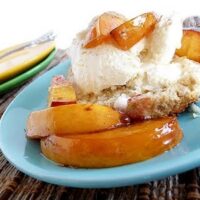 Shortcakes with Roasted Nectarines and Vanilla Ice Cream
Strawberry is the classic shortcake flavor, but these yummy nectarines really take it to the next level! They are the perfect "just right" dessert as far as sweetness goes.
Ingredients
Shortcakes
1 cup all-purpose flour
1/4 cup sugar
1 1/2 tsp baking powder
1/4 tsp salt
4 Tbs cold unsalted butter, cut into slices
1 large egg, beaten
1/4 cup + 1 tsp half-and-half
1 tsp vanilla
1/4 tsp cinnamon
Roasted Nectarines
2 ripe, but firm nectarines
1/4 c brown sugar
1/8 tsp cinnamon
2 Tbs butter, melted
1 1/2 tsp vanilla extract
1 tsp lemon juice
Instructions
Shortcakes:
Preheat the oven to 425 degrees F. Adjust the oven rack to the lower-middle position. In a food processor, combine the flour, 1 1/2 Tbs sugar, baking powder, and salt. Pulse to combine. Scatter butter pieces over flour and process until mixture resembles a coarse meal, about 15 one-second pulses. Transfer to bowl.
Mix the beaten egg and half and half together. Pour into the bowl and stir until larges clumps form. Turn out onto a floured work surface and lightly knead until it comes together.
Pat dough into a 9 x 6 inch rectangle, about 3/4 inch thick. Flour a 2 3/4 inch biscuit cutter (or a glass works well too) and cut out 6 dough rounds. Place rounds 1 inch apart on a small baking sheet, brush tops with the beaten egg white and sprinkle with the remaining 1 1/2 Tbs sugar.
Bake until the shortcakes are golden brown, 12-14 minutes. Cool on a wire rack for 10 minutes.
Roasted Nectarines:
Preheat the oven to 425 degrees F. Slice nectarines and place in a bowl. Sprinkle with brown sugar and cinnamon. In a small bowl, combine the butter, vanilla, and lemon juice. Pour over the nectarines and toss. Place nectarines, juices, and butter mixture in a greased shallow baking dish. Roast for 12 minutes at 425 degrees F.
To serve:
Split a shortcake in half horizontally. Place a large scoop of vanilla ice cream on top of the bottom half of the shortcake. Top with nectarines and juices. Place the other half of the shortcake on top.
Recommended Products
As an Amazon Associate and member of other affiliate programs, I earn from qualifying purchases.
Nutrition Information
Yield

6
Serving Size

1
Amount Per Serving
Calories

268
Total Fat

13g
Saturated Fat

8g
Trans Fat

0g
Unsaturated Fat

4g
Cholesterol

62mg
Sodium

266mg
Carbohydrates

35g
Fiber

1g
Sugar

18g
Protein

4g
GoodLifeEats.com offers recipe nutritional information as a courtesy and is an estimate only. This information comes from online calculators. Although GoodLifeEats.com makes every effort to provide accurate information, these figures are only estimates.