Apple Cranberry Oatmeal Muffins and 5 Tips for Successful Muffins
On a cold Saturday morning, I had these Apple Cranberry Oatmeal Muffins baking so I could send Eric off to the airport with something tasty and warm to eat. The delightful smell of apple and cinnamon permeated the entire house.
The true test would be if the muffins tasted as good as they smelled. Lucky for all of us the Apple Cranberry Oatmeal Muffins were a success.
They were a welcome treat reheated the next morning as we awoke to snow. I think they would be fantastic served with a cup of steaming Spiced Pomegranate Apple Cider.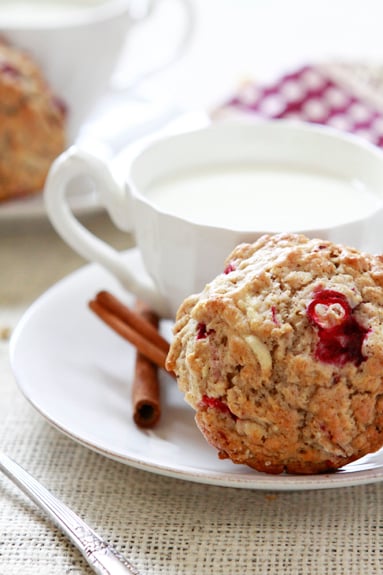 I haven't always had success with baking muffins. I've had some real busts and some real wins. One time, about 2 years ago, I even left out the butter because I got so distracted. That batch went straight to the trash.
So, through my trials, errors, and successes over the years, I bring you 5 Tips for Baking Great Homemade Muffins that apply to this recipe for Apple Cranberry Oatmeal Muffins as well as any muffin recipe you would bake at home.
5 Tips for Baking Great Homemade Muffins
1. Unless specified in the recipe, don't use an electric mixture. Muffin batters are best mixed by hand with a wooden spoon and should be slightly lumpy. Batter mixed until smooth, like cake batter, will result in tough muffins.
2. Not all muffin pans have the exact same fill capacity. Your results may produce more or less muffins than listed in the recipe. If you have empty cups, fill them halfway with water to help the keep the heat evenly distributed.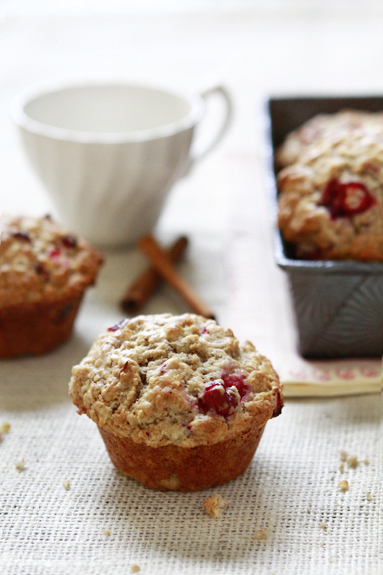 3. If you are baking more than 1 dozen muffins at a time, space between the muffin pans will allow the heat to circulate in the oven and produce more evenly browned muffins. Additionally, it is helpful to rotate the pans halfway through baking.
4. For muffins that are easily removed from pans, grease the pans – even if they are nonstick – prior to baking. Then allow muffins to rest for 5 minutes in their pans after baking before removing. Alternatively, you can use muffin tin liners.
5. Bake extra and freeze them to enjoy muffins all week (or month) long. The instructions for freezing muffins are essentially the same as my instructions for freezing pancakes and waffles.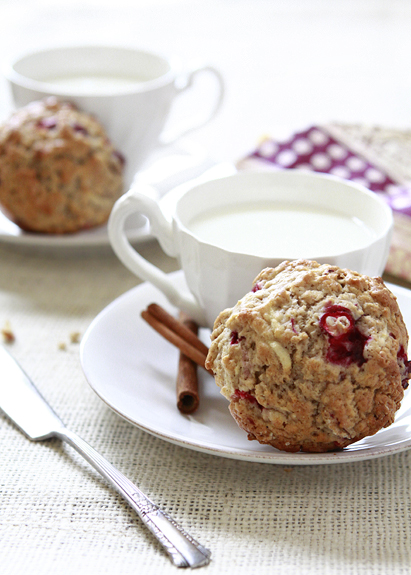 Bonus Tip for Baking Great Muffins at High Altitude:
High altitude baking is more successful when acidic liquids are included in the batter. This gives a better rise and enables the cupcakes set more quickly in the oven rather than rising too high and then collapsing.
Buttermilk, Greek yogurt, sour cream, or added lemon juice are good sources to make the batter more acidic. Don't have buttermilk? Try making your own with these Homemade Buttermilk Substitutes.
More Muffin Recipes:
What are your best tips for delicious homemade muffins?
Apple Cranberry Oatmeal Muffins
Yield: approx 3 dozen
Prep Time: 10 - 15 minutes
Cook Time: 15 - 25 minutes
Total Time: 25 - 40 minutes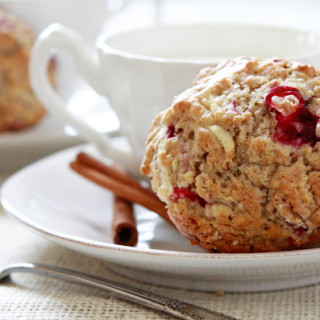 Ingredients:
4 cups flour
1 cup quick oats
1 1/4 cup organic cane sugar
3 teaspoons baking powder
2 teaspoons baking soda
1 teaspoon salt
4 teaspoons cinnamon
1/2 teaspoon allspice
1/4 teaspoon cardamom
4 eggs
2 cups buttermilk
2 sticks (1 cup) butter, melted and cooled
4 large green apples, grated
8 ounces chopped fresh cranberries
Directions:
Grease three standard 12 cup muffin tins. Set aside. Preheat oven to 400 degrees F. Place oven rack in the center position.
In a large bowl, combine flour, quick oats, sugar, baking powder, baking soda, salt, cinnamon, allspice, and cardamom. Whisk until well sifted. Set aside.
In another bowl, whisk the 4 eggs. Add the buttermilk, melted butter, and grated apples. Stir until combined.
Make a well in the center of the dry ingredients. Add the buttermilk mixture to the well and stir until moistened. Do not beat. Batter will be very thick. Once moistened, gently fold in the chopped cranberries.
Divide the batter between the 36 prepared muffin cups. Cups should be 2/3 to 3/4 of the way full. If you aren't able to get a full 3 dozen out of the batter, don't worry. Just fill the empty cups halfway with water.
Bake at 400 degrees F for 15 - 25 minutes (rotating half way through), or until done and golden on top.
Let muffins cool for 5 minutes in their tins before removing to cook on a wire rack.
Notes:
This recipe also makes 2 dozen standard muffins plus 2 miniature bread loaves. Baking time will need to be adjusted for the bread loaves, approximately 20-35 minutes, or until done and golden on top.
3 muffin tins do not fit at the same time in most standard sized ovens. Bake 2, then bake the remaining.
Don't have buttermilk? Try making your own with these Homemade Buttermilk Substitutes.