How to Make a Copy Cat Olive Garden Salad
Do you love Olive Garden's Salad? Learn how simple it is to make it at home so you can enjoy your favorite flavors without the cost of eating out!
When my kids were younger, eating out on a budget wasn't too terribly difficult, even for our family of seven.
One of our favorite restaurants has always been the Olive Garden, affectionately known to our family as "The Grape Place," because that's what the kids called it when they were very young based on their familiar logo.
Big portions of pasta and endless bowls of salad and baskets of breadsticks make for a hearty meal and went a long way with our large family.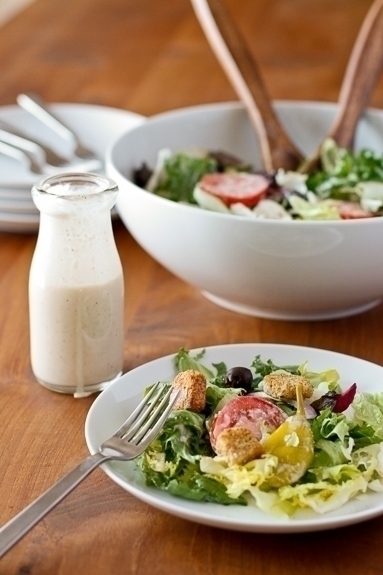 Written by Tara of Unsophisticook
But as time marches on, one by one my kids are starting to graduate from the children's menu to the regular menu, and we're finding out that a meal out can put quite a dent in our finances — which is why we've started trying to recreate some of our favorite dining out dishes, like Olive Garden's Salad, at home.
A favorite restaurant copy cat dish of ours is this recipe for Olive Garden's salad dressing. Creamy and tangy just like the original, it's delicious poured over a big bowl of salad greens, topped with red onion, black olives, Roma tomato, pepperoncini, and your favorite croutons – try this recipe for buttery sourdough garlic croutons.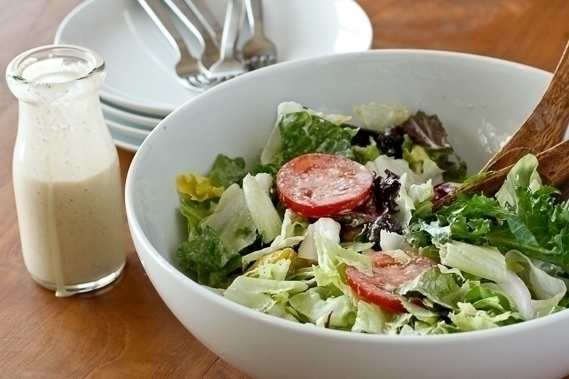 For a real restaurant-style experience, pick up one of these handheld rotary cheese graters and a chunk of real, fresh parmesan cheese. Though fresh parmesan is a little more pricey than its shelf-stable counterpart, a little of this cheese will go a long way, and it lasts quite awhile when wrapped well and stored in the refrigerator.
If you're a fan of Olive Garden's Zuppa Toscana, you may want to try this creamy and rich Italian Sausage and Kale Soup (known as Zuppa Toscana) to serve alongside your Olive Garden Salad.  Add a few slices of rustic homemade bread for a delicious comforting Italian dinner at home for a fraction of the cost of eating out.
What is your favorite restaurant dish to recreate at home?
Copy Cat Olive Garden Salad and Dressing Recipe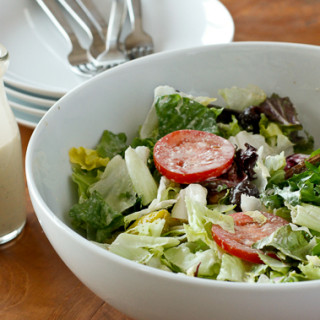 Ingredients:
For the dressing:

1 cup mayonnaise
2/3 cup white vinegar
5 teaspoons granulated sugar
2 tablespoons lemon juice
1 tablespoon water
2/3 cup parmesan romano cheese blend
2 teaspoons olive oil
1 teaspoon Italian seasoning
1 teaspoon parsley flakes
1/2 teaspoon garlic salt
For the salad:

1 bag salad blend of your choice
sliced red onion
black olives
pepperoncini
sliced Roma tomato
croutons
freshly grated parmesan cheese
Directions:
Mix all of the salad dressing ingredients well in a blender or food processor. Chill for at least two hours before serving.
Assemble salad and toppings in a large bowl. Pour on desired amount of dressing and toss right before serving. Top with freshly grated parmesan cheese.
This makes enough dressing for about four large bowls of salad and will keep for up to a week in the refrigerator.