Slow Cooker Italian Chicken and Noodles
For some reason I always forget to use my slow cooker. I don't know why, because every time I remember that it is an option and I actually use it I realize all over again what an amazing kitchen appliance it is. My latest reminder was in the form of this Slow Cooker Italian Chicken and Noodles.
This recipe for Slow Cooker Italian Chicken and Noodles was completely perfect for a busy, chilly spring day a couple weeks ago. It took no time at all to prepare and it absolutely hit the spot as simple comfort food.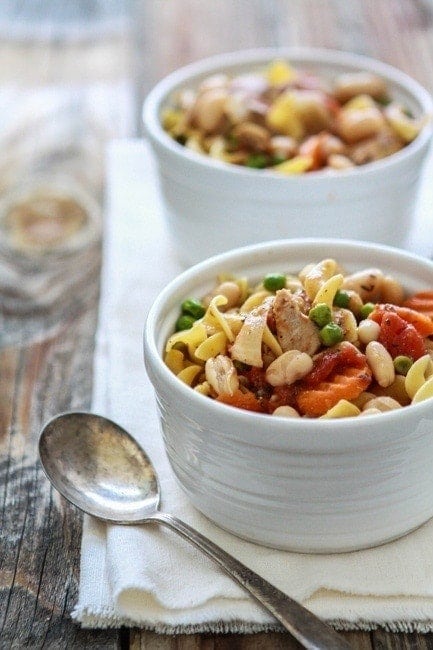 If, like me, you forget what a great tool a slow cooker can be, here are a few tips for slow cooker success.
Tips for Cooking in a Slow Cooker
1. Always sear all sides of the meats first to brown the meat and seal in the moisture.
Bonus: if your slow cooker sleeve is stove-top safe you can sear the meat in it which eliminates an extra dirty dish and leaves all those tasty browned bits from searing in the pan for deep flavor.
2. Saute aromatic ingredients like onion, carrot, celery, and garlic before adding to the slow cooker to avoid a raw taste and add deeper, more fragrant flavor.
Bonus again if your slow cooker sleeve is stove-top safe. I have one that is and I highly recommend looking for a model like that.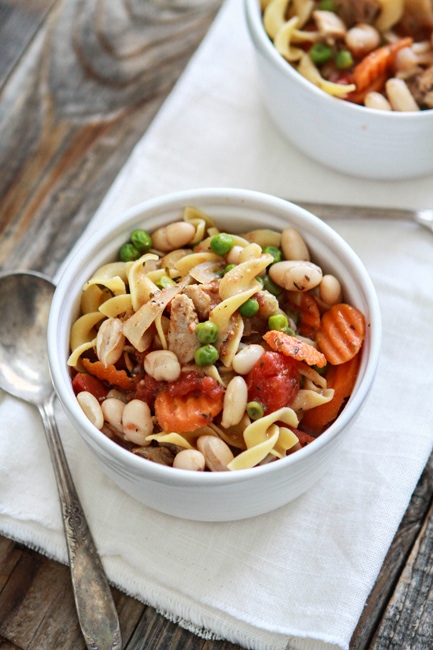 3. Cook low and slow for a longer period of time rather than quick and hot for fall apart in your mouth moist, tender meats.
4. Add dried herbs at the beginning of cooking and fresh herbs towards the end.The flavor of herbs and spices can diminish with the long cooking times, particularly with delicate fresh herbs.
It is best to taste just before serving and add a boost of flavor with additional spices and/or fresh herbs if needed.
More Slow Cooker Recipes
What are your favorite slow cooker recipes?
Slow Cooker Italian Chicken and Noodles
Yield: serves 6-8
Prep Time: 10 minutes
Cook Time: 3-4 hours on high or 6-8 hours on low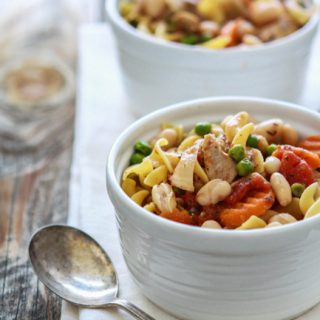 Ingredients:
1 tablespoon olive oil, divided
1 1/2 pounds boneless, skinless chicken thighs, each cut into quarters
salt, pepper, and garlic powder
1 1/2 teaspoon thyme
1 teaspoon oregano
1 large yellow onion, sliced thin
28 ounces chicken broth
28 ounces Italian style diced tomatoes
1 can Bush's Reduced Sodium Cannellini Beans, drained and rinsed
1/2 pound carrots, sliced
6 ounces egg noodles
1 cup frozen peas
Directions:
In a skillet (or your slow cooker insert if it is stove top safe), heat the olive oil over medium high heat. Add the chicken thighs, seasoning first on both sides with salt, pepper, and garlic powder. Cook just until browned on both sides and then transfer to the slow cooker insert. Sprinkle the top of the chicken with the thyme and oregano.
Adding additional olive oil if needed, sauté the onions and carrots for 3 - 4 minutes. Then, transfer them to the slow cooker, layering them on top of the chicken.
Add the broth, diced tomatoes, and beans. Cover and cook on low for 6-8 hours or high for 3-4 hours. Be sure to adjust the cooking time if you know that your slow cooker tends to cook hotter or colder than normal.
Then, stir in the egg noodles and peas. Add additional broth if needed and cook covered until the noodles are tender, about 10-15 minutes. Taste and season with salt and pepper if desired.
I have an ongoing relationship with Bush's Beans where I am compensated for my time, however this is a brand that I have always used in my own kitchen and any opinions expressed regarding the product are my own.