Red Wine Pomegranate Cranberry Sauce
Fresh, tart cranberries cooked and blended with agave, brown sugar, red wine, and pomegranate juice create a deliciously simple and smooth Red Wine Pomegranate Cranberry Sauce for your Thanksgiving feast.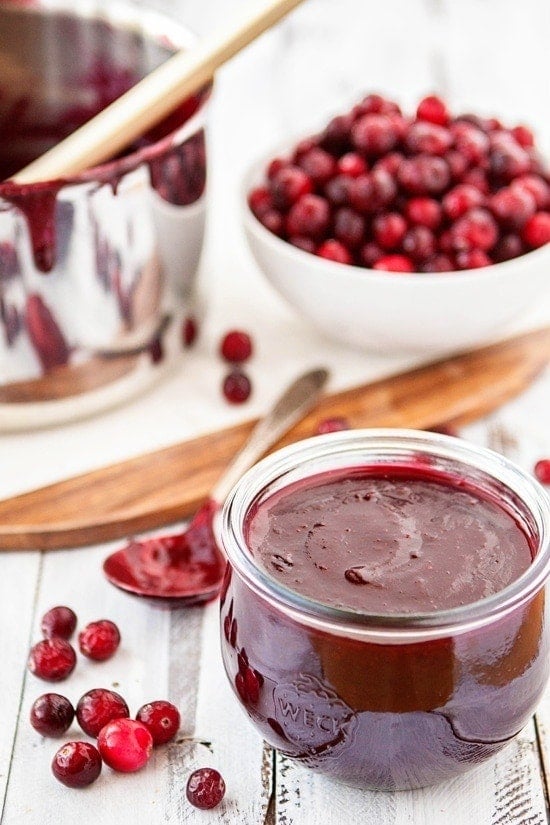 I normally make Cranberry Orange Walnut Relish, which is full of chunky cooked cranberries, golden raisins, and walnuts, for our Thanksgiving dinner. This year I wanted to test something a little bit more simple.
Homemade Cranberry Sauce is so unbelievably easy to make at home that you literally have no excuses for buying anything that comes in a can.
This recipe for Red Wine Pomegranate Cranberry Sauce is no exception. It might sound complex because it contains red wine and pomegranate, but it is actually incredibly simple. There isn't any chopping of anything required. You simply add all of the ingredients to a pot, bring to a boil, simmer for about 10 minutes and then puree. That's it!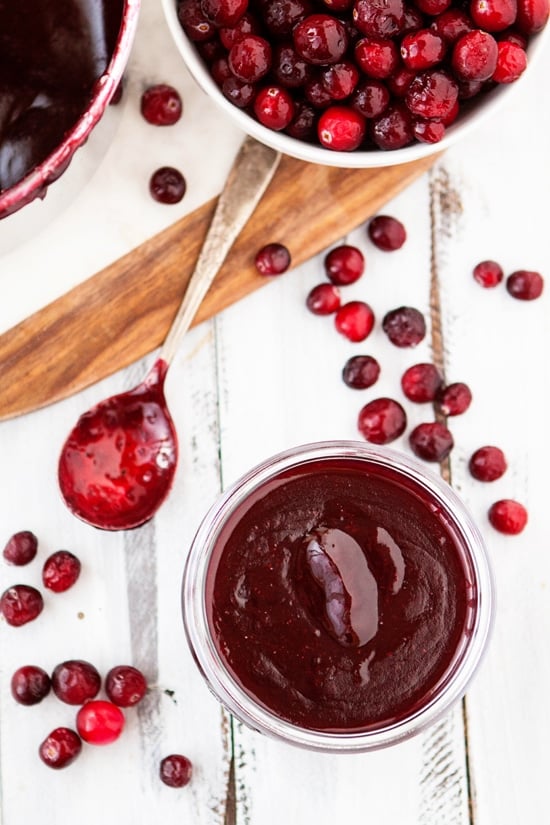 This recipe for Red Wine Pomegranate Cranberry Sauce is truly a sauce, not a thick relish or chutney. After cooking all of the ingredients together, I pureed the cranberry red wine mixture in my blender to create a silky, smooth and pourable (though still thick) sauce.
It is delicious served warm over your favorite turkey recipe this Thanksgiving. If you chill it in the fridge it will gel up a little more and be a tad closer to the consistency of jelly. Warmed, it stays more sauce-like, but it is fantastic either way.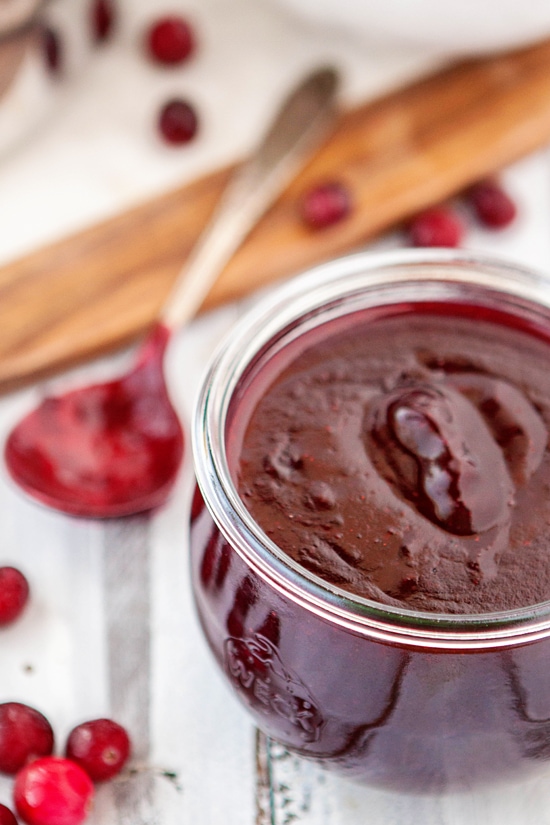 How to Use Leftover Red Wine Pomegranate Cranberry Sauce
One of the best parts of making homemade cranberry sauce is that there is usually some leftover to make something else yummy with!
This Red Wine Pomegranate Cranberry Sauce is pretty darn good on their own just slathered onto a hot, buttery roll,but here are a few fun recipes you can make using any leftover cranberry sauce after your Thanksgiving celebrations.
If you prefer gravy instead of cranberry sauce, don't worry I have you covered there too. Check out my tips and tricks for making a delicious, lump-free turkey gravy.
Do you have to have cranberry sauce on Thanksgiving?
Red Wine Pomegranate Cranberry Jelly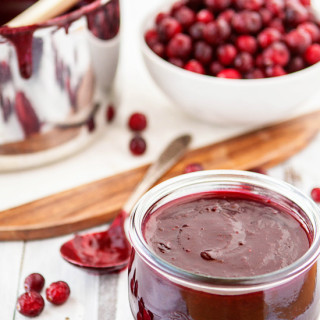 Ingredients:
16 ounces fresh or frozen cranberries
3/4 cup pomegranate juice
1/2 cup red wine
1/2 cup agave
1/4 - 1/2 cup brown sugar (depending on your sweetness preferences)
1/4 teaspoon cinnamon
1/4 teaspoon salt
pinch ground ginger
5 grinds fresh peppercorns
Directions:
Combine all of the ingredients in a medium sized sauce pan, about 2 - 2 1/2 quart sized, and mix well. Bring to a boil over medium-high heat. Then, reduce the heat to medium-low and simmer for about 10-15 minutes, until the cranberries have burst.
Remove from heat and transfer to a blender. Holding the lid on the blender very securely, puree the mixture until completely smooth. Transfer to a serving dish.
Notes:
This Red Wine Pomegranate Cranberry Sauce can be served hot or cold. The consistency is more sauce-like and pourable when warm. When chilled, the sauce is thicker and is best served with a spoon. It can be prepared ahead of time and refrigerated for up to 2 days.